Happy Sunday! I won't be showing you guys clothes or jewelry today, but don't worry, I will be showing you the BEST stylized organizer in the World! Erin Condren makes the cutest, customized and personalized organizer on the market! I have so many different products from Erin Condren, from gift tags to stationary to personalized notebooks to acrylic trays! The list could go on and on! I encourage you to check out the website and look through all of the beautiful, fun and inspirational products! I am excited to share my top two items that they offer.  The infamous LifePlanner and the interchangeable insert acrylic tray! The best part is you can get $10 off of your first order with the special link featured later in the post.  I am going to show you my new LifePlanner for 2017 and my new Good To Go Prism Metallic Tray, so grab your cup of coffee and get ready for some organizational eye candy to start 2017 off on the right foot! There isn't a cuter way to stay organized!

Erin Condren's LifePlanner
This agenda is customizable and you can even personalize it with your name or initials on the front.  It is the cutest way to get organized and plan your year! There are so many inspirational quotes inside to keep you inspired throughout the year.  There is just something about pen to paper when it comes to planning the life that you want to have and keeping up with the day to day without letting things slip through the cracks.  I am one of those odd birds who loves office supplies and anything that helps me feel in control of my CrAzY Mommy schedule, so the LifePlanner is right up my alley.
How about I give you an unboxing tour of my new 2017 LifePlanner!   Lets get started with the details on the LifePlanner…
YOUR ULTIMATE PLANNER:
Perfectly sized at 7″ x 9″
Three layouts: Vertical, horizontal, and Hourly
Two color themes: Neutral and Colorful
Available with 12 or 18-Month Calendars
COMPLETELY CUSTOMIZABLE:
Four Coil Colors: Platinum, Rose Gold, Gold, & Black
Personalized or Non-Personalized on All Classic Covers
Three Hard Bound, Leather-Like, Permanent Cover Options
I'll tell you which options I selected but first, look how beautiful the box is that will happily arrive at your doorstep!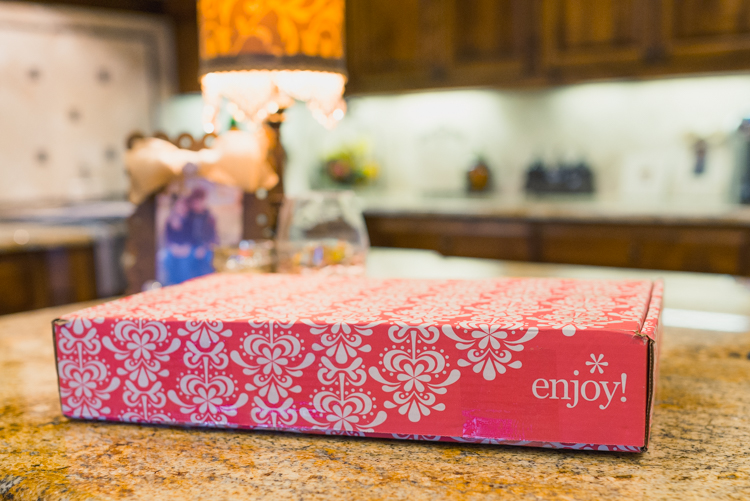 I really do appreciate when a company makes an effort to carefully package my order and make it look pretty! Erin Condren always includes cute little samples with my orders too.  The blue card is actually a postcard and there is also a super cute "be bold" sticker.  Love! I'm sure these will vary, but I wanted to show you the ones I received.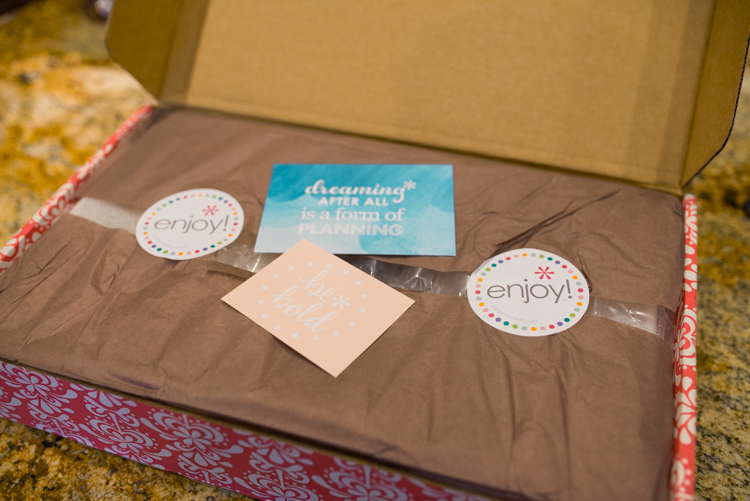 In addition to the LifePlanner, I also ordered a few of my favorite accessories! In case you haven't noticed, I am obsessed with metallics and all of the gold, rose gold and silver that she offers makes me so happy! I had to have the metallic pen holders that stick to the inside of the LifePlanner, they are so convenient.  Btw, her markers write so well! They are my favorite! I also ordered the magnetic page marker.  You will get to see them in action later.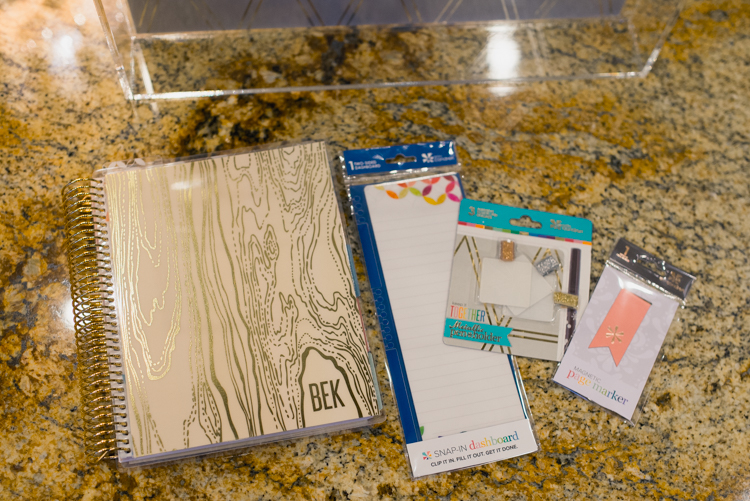 So what do you think of the design I picked for 2017? It's the wood grain metallic design in gold.  Eeeeekkkk! I am so excited about it! Love being able to put my initials on the front and the gold coil is so fun! I also got the elastic band trio in the metallic colors.  It helps keep your LifePlanner closed and then you can also use it as a headband! Perfect!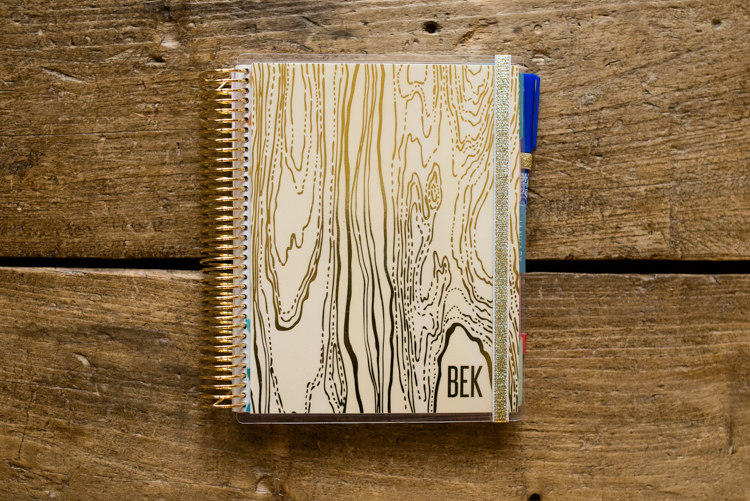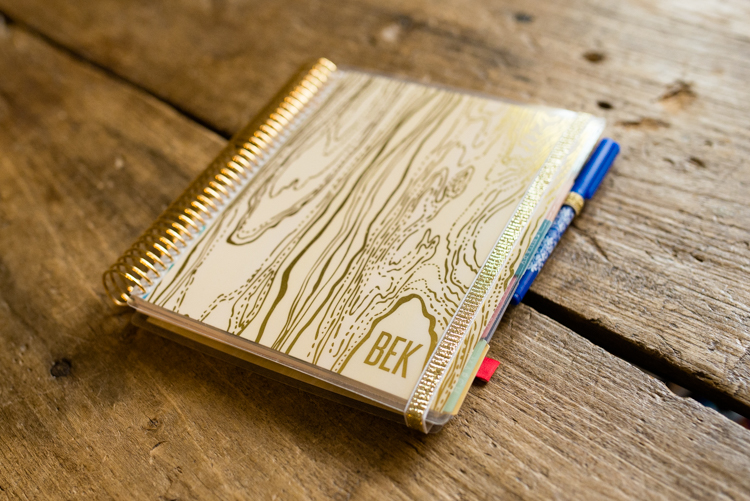 When you order your LifePlanner, it will include all of these goodies! This little pouch had sample stickers, a coil clip to add an important invitation or a special photo to your LifePlanner, the cutest cards to give your special friends, etc.  I also like getting the clear ruler divider that I like to put in the weekly calendar to quickly go to the correct week.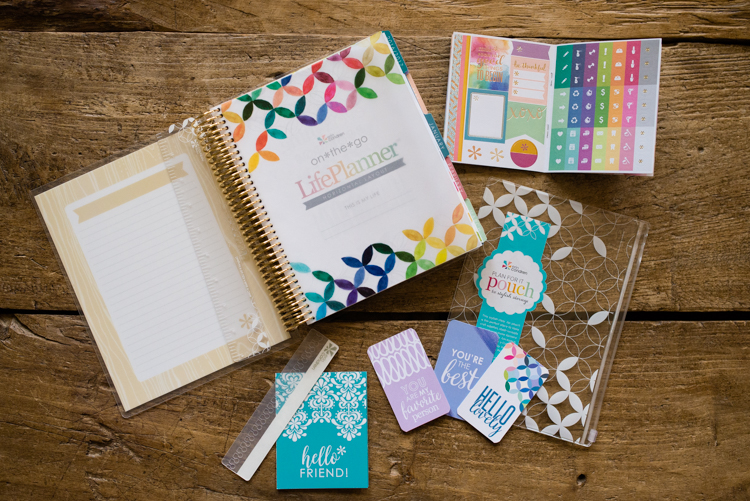 Here's an example of the inspirational quotes that are sprinkled throughout the LifePlanner.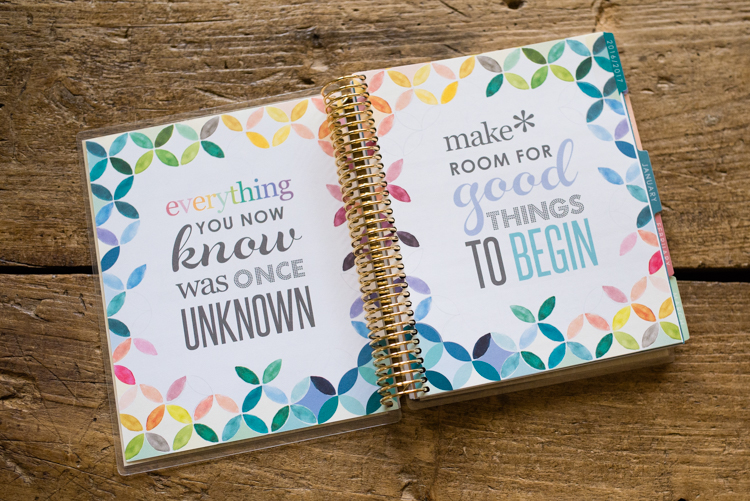 The front has the year at a view so you can quickly see the whole year.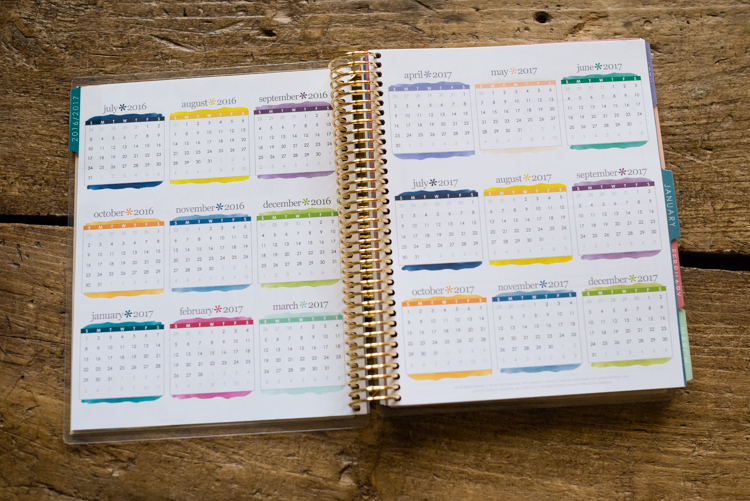 Each month has an inspirational quote to start the month off on a good note! These really inspire me and make me happy!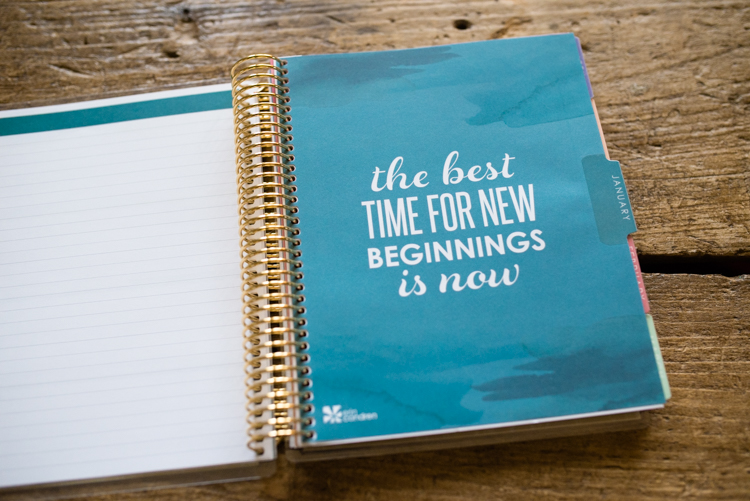 At the beginning of each month, you get a month at a view page with a section for your monthly goals!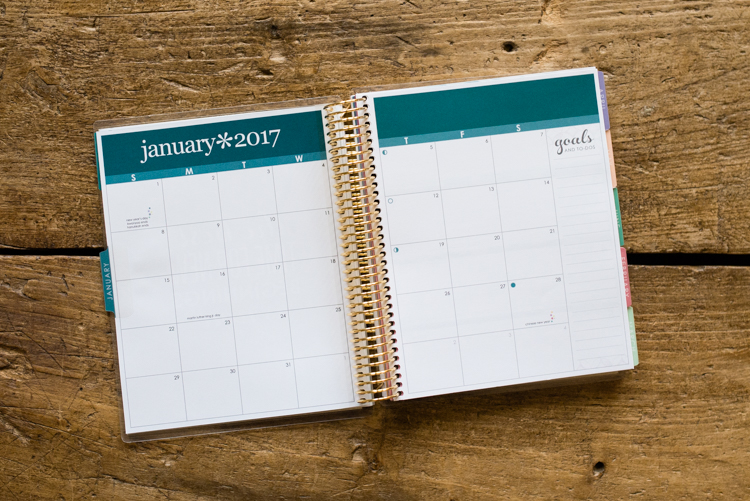 I chose the horizontal weekly layout.  You can also choose the vertical or hourly layout for the weekly pages.  I chose the colorful layout but neutral is also available if that is your style!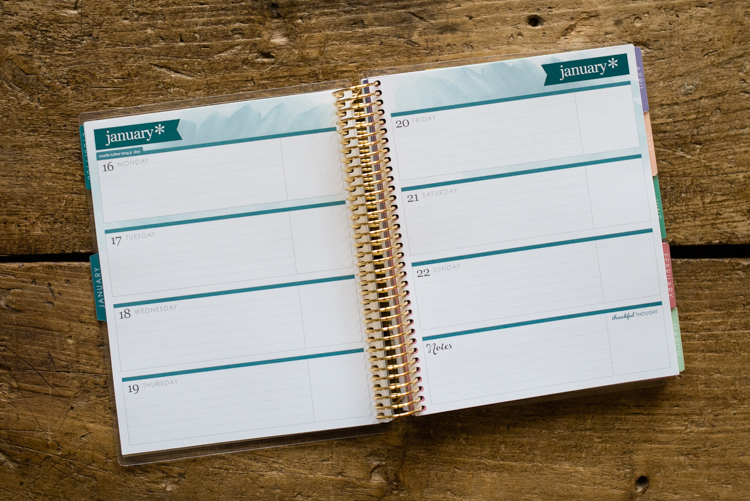 After all of the months, there is also a section for notes!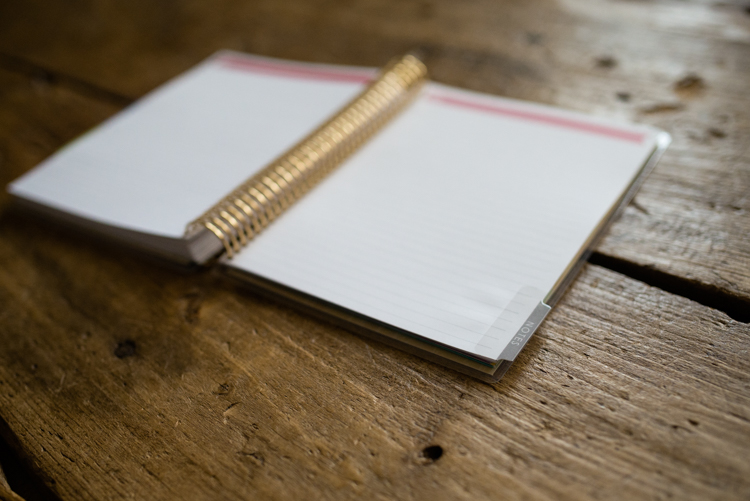 Look at all of the fun stickers that are included! From mani/pedi appointments to birthdays!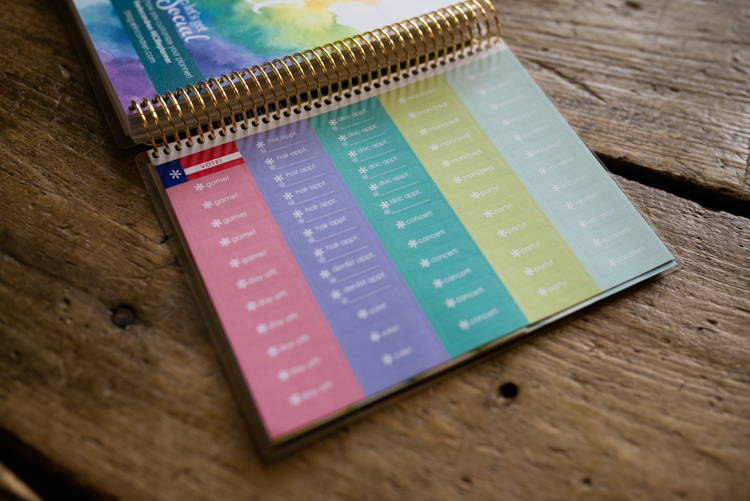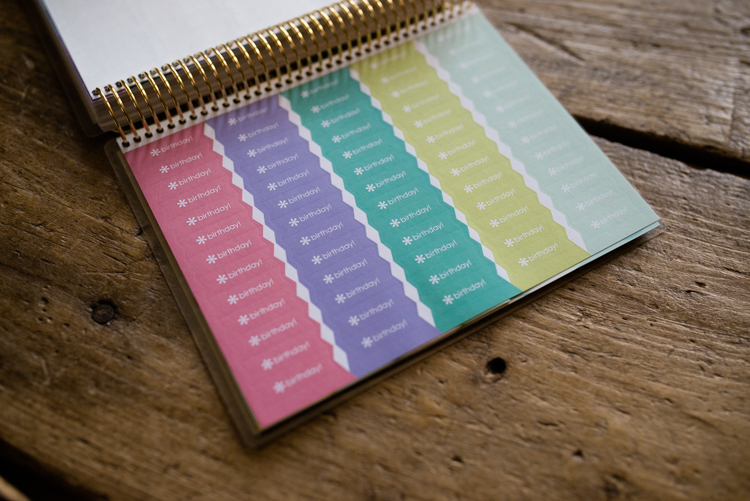 Next you will find a functional pocket…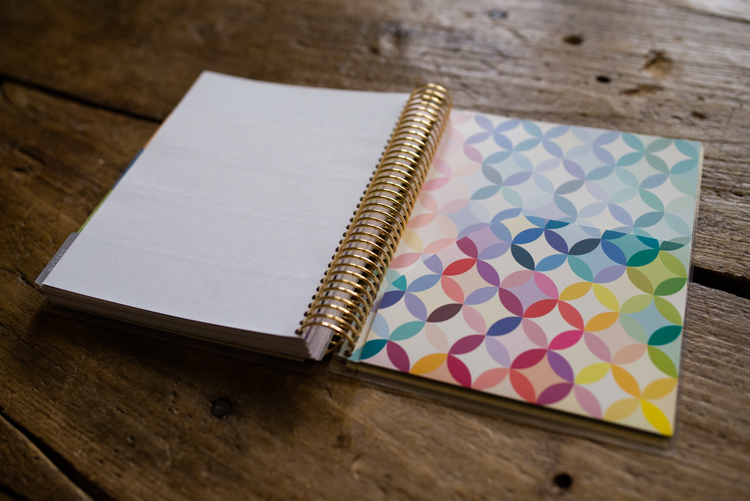 On the other side is my favorite insert, the perpetual calendar.  The back of the cover can act as a dry erase surface.  So functional! See the cute metallic gold pen holder…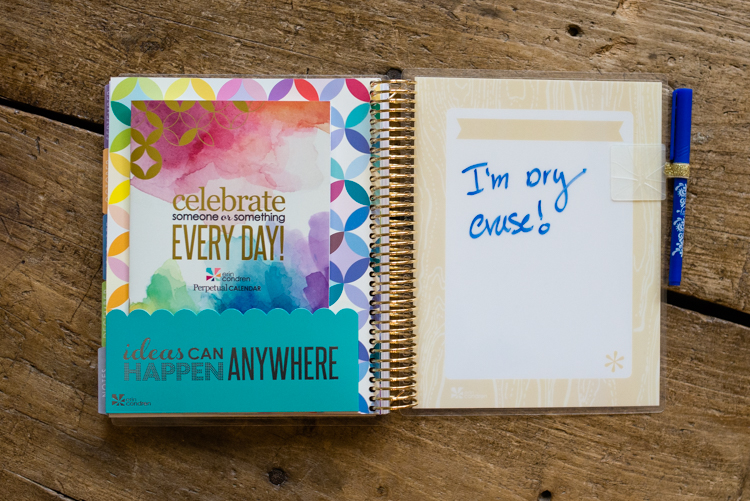 Here's a look inside the perpetual calendar.  The perpetual calendar is so handy because you can use it year after year when you get future LifePlanners, it migrates to the new one.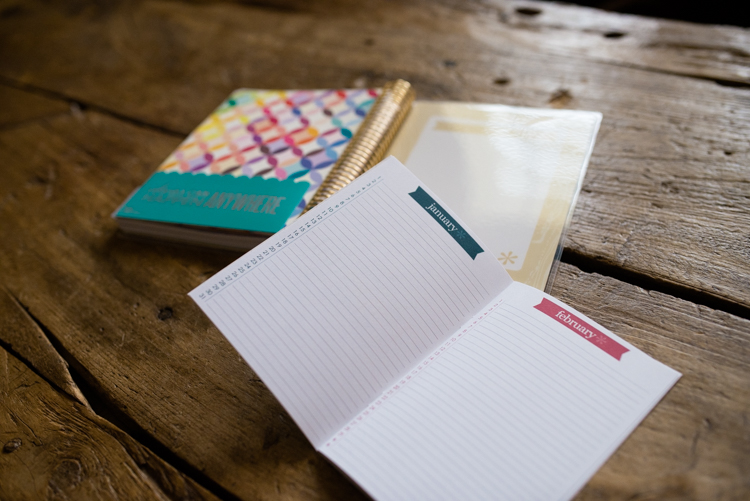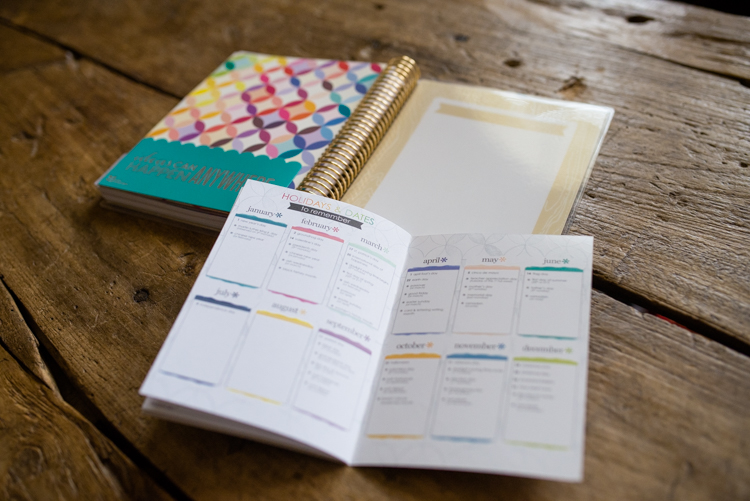 Here's the snap in dash board on a notes page.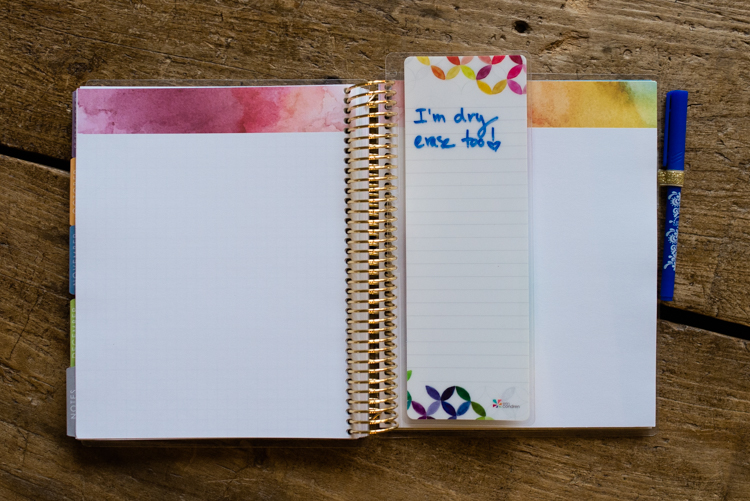 Here's my LifePlanner hard at work! I can't wait to fill up all of these pretty pages with my plans for the best year yet! You can order yours today and most LifePlanners ship within 7-10 days!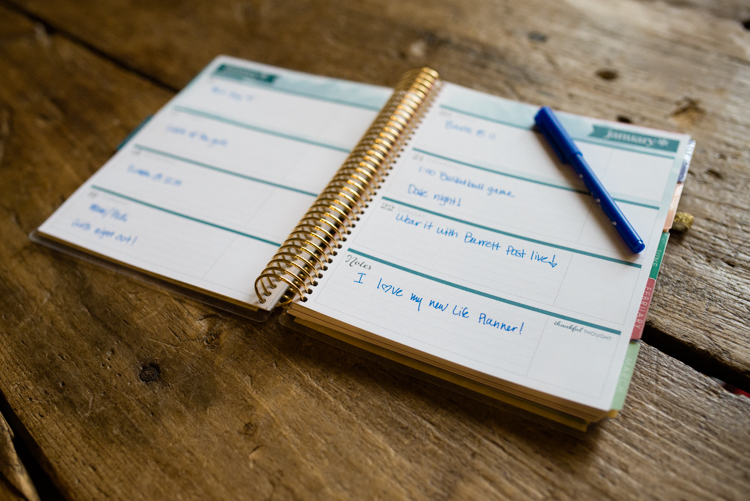 Erin Condren Acrylic Tray
Y'all, this acrylic tray is sooooooooo beautiful in person.  My pictures don't do it justice.  The acrylic is thick and has handles for easy carrying.  The coolest feature is that you can order different inserts to completely change the look of your tray! They offer all kinds of backgrounds, most of which can be personalized.  You could order one for each holiday and it's basically like you have a whole new tray! I ordered the large one, but there is also a medium.  Here is a size comparison.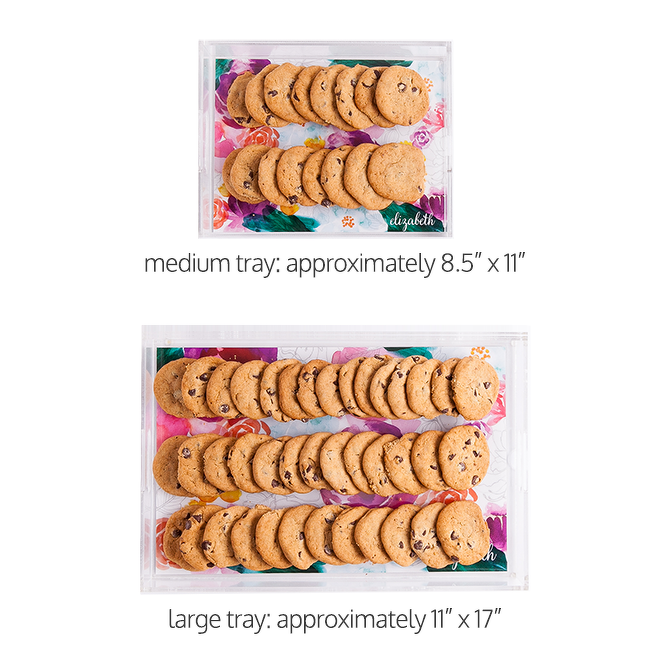 Here's the one that I ordered, I am smitten! This is the Good To Go Prism Metallic Tray in the light taupe and platinum prism, in the large size.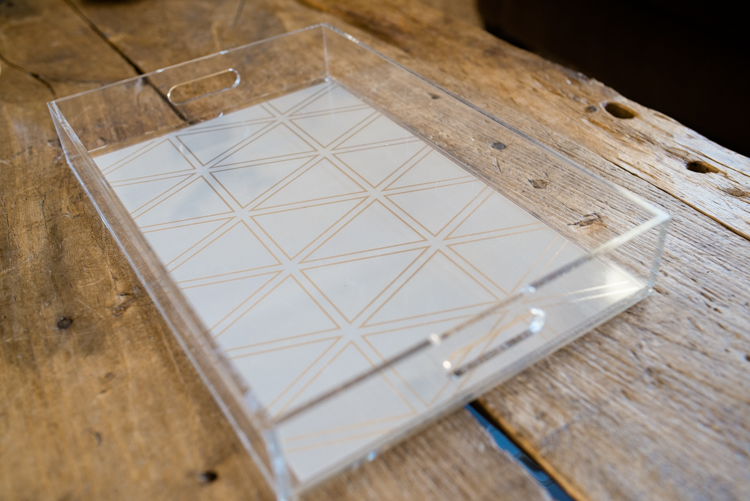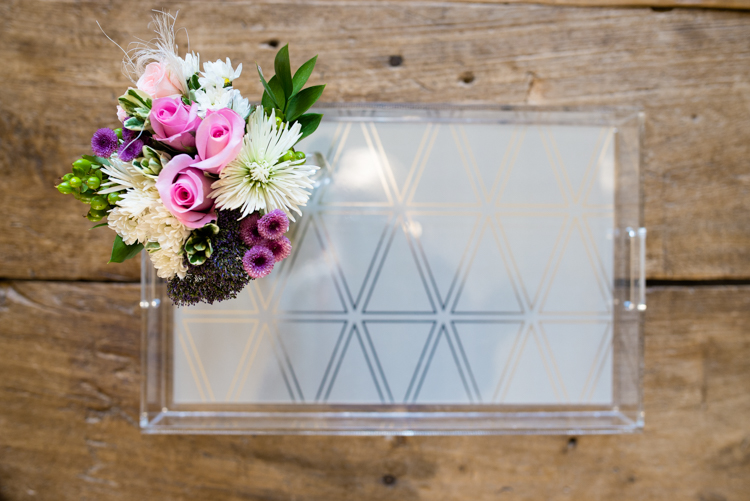 Big thanks to my Hubby for modeling the tray for me! If only I could actually get him to deliver me fresh flowers and cookies every now and then! 😉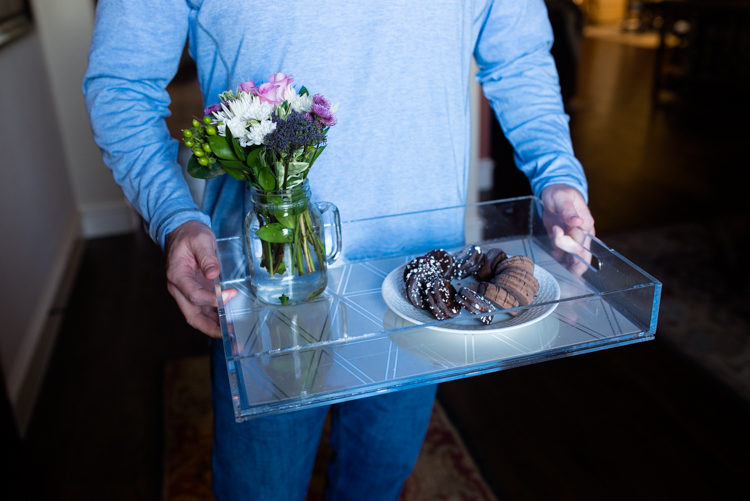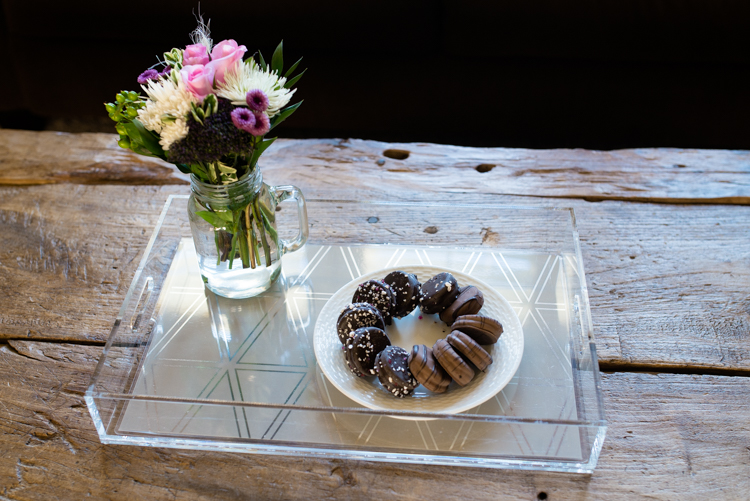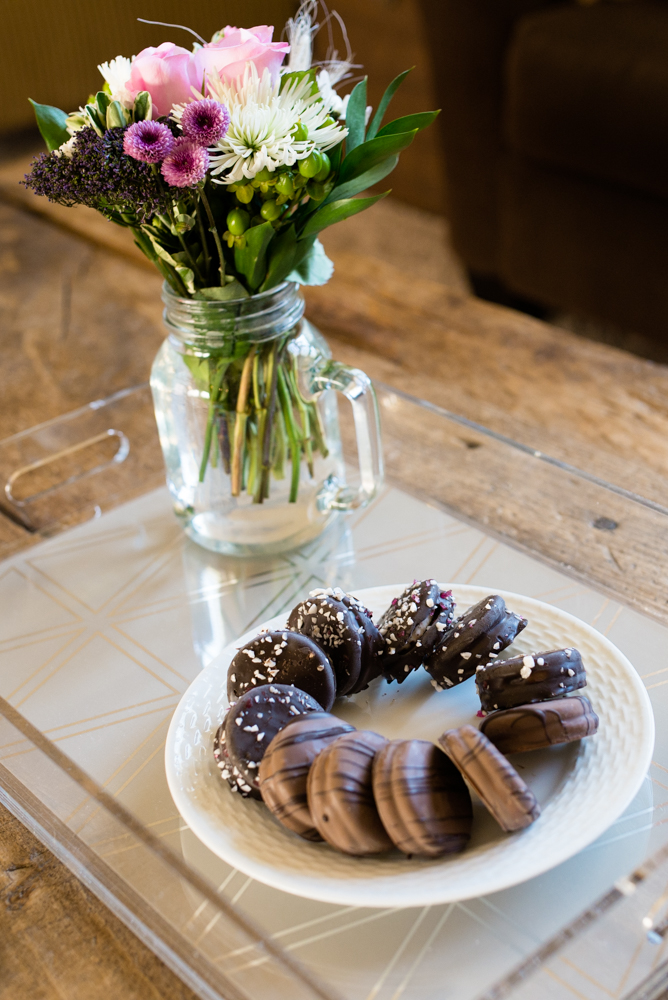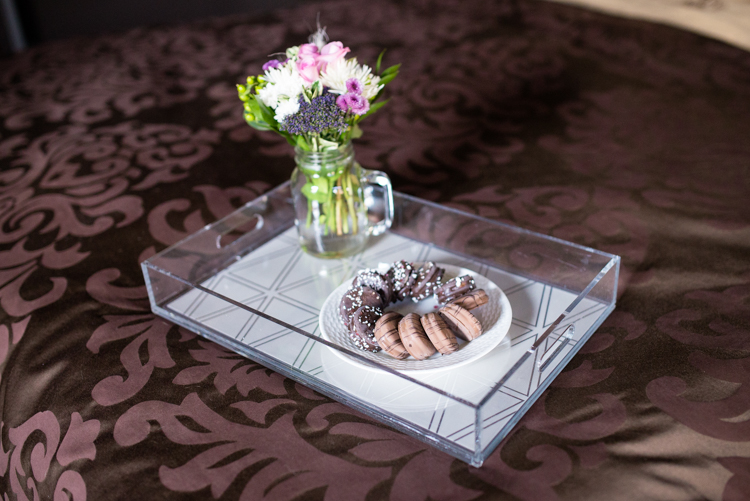 So here's the great news for you guys! When you click here and setup your account with Erin Condren, you will receive an email with a $10 off coupon to use on your first order! Hooray! I have always been so happy with their products and can't say enough good things! So, let me know if you already use a LifePlanner and how you like it! I know I am not the only one addicted to her amazing products!
Thanks for reading and I hope everyone has a great week!

Learn more about Barrett & see all of her posts HERE
*Thank you so much to Erin Condren for sending me a LifePlanner and an acrylic tray to review for you guys! I love sharing my favorite products with our readers and all opinions here are my own.*