Did you guys know that Kendra Scott makes gorgeous jewelry for your home? Yes, you read that right, Kendra Scott has beautiful pieces for your home! The HOME COLLECTION includes trays, picture frames, decorative boxes and jewelry stands.  They are really beautiful! You can even customize some of the frames and boxes by picking the style, stone, and metal.  The DESIGN YOUR OWN Tab, on their website, is where you can do this and it's only available online.  I just got my tray and picture frame and they are even more stunning in person! Kendra says it best… "A collection that has been years in the making, Kendra Scott Home is a fusion of my love of gemstones and my passion for beautiful interiors. This collection is jewelry for your home."  AWESOME DEAL ALERT! Today only, Kendra Scott's WEBSITE is offering an amazing promotion, see below for more details! I'm also really excited to show you my new All In One Bag from GiGi New York! Have you ever seen their beautiful leather handbags and accessories? I love their materials and they are great quality! I also have great news, GIGI NEW YORK is offering House of Hargrove readers a special discount for the next week! You can find lots of wonderful gifts for Mom on their website, see below for details! PS – NORDSTROM is offering Triple Points today through May 7! So now is the time to order any big ticket items because the rewards are huge! Don't you love getting rewarded for shopping?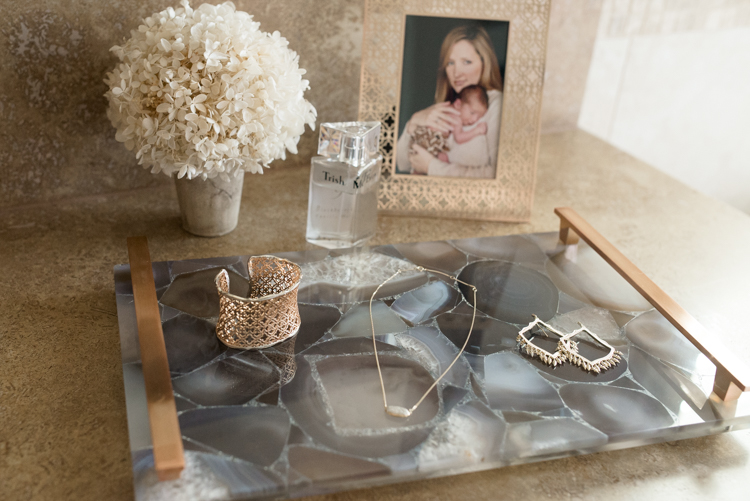 FRAME | TRAY | CUFF | NECKLACE | EARRINGS | PERFUME
I chose the TAN AGATE TRAY and it doesn't disappoint! It is solid and so well made! You could put it anywhere, the bathroom countertop (like I did here), on top of your dresser, on a side table, on an ottoman, your kitchen counter, for serving, etc.  The possibilities are endless! The handles on this one are rose gold which looks fantastic with the tan agate stones.  It is made of semiprecious banded agate so each tray will vary slightly.  It is also available in Green Agate, Blue Sodalite, Chevron Amethyst, Labradorite and their signature filigree.  The filigree items come in 3 metallic colors, Rose Gold, Bright Brass and Antique Silver.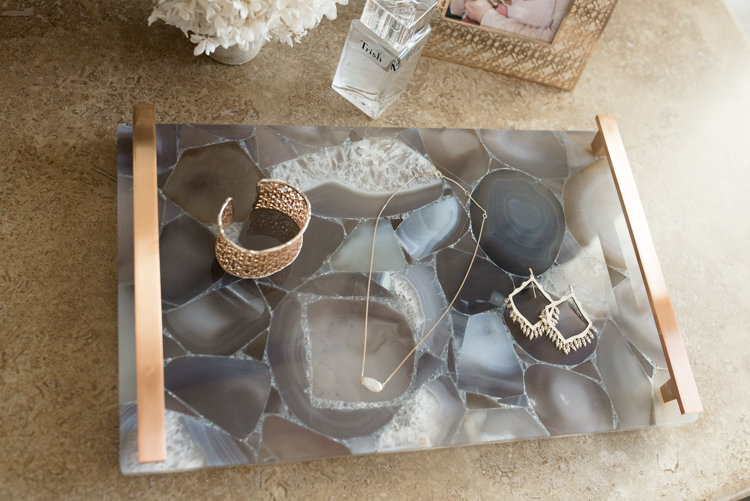 I chose the Filigree FRAME in Rose Gold and I am smitten with it! It holds a 4×6 picture and it is light and airy with their signature filigree design! This would make an excellent Mother's Day Gift, especially for the price!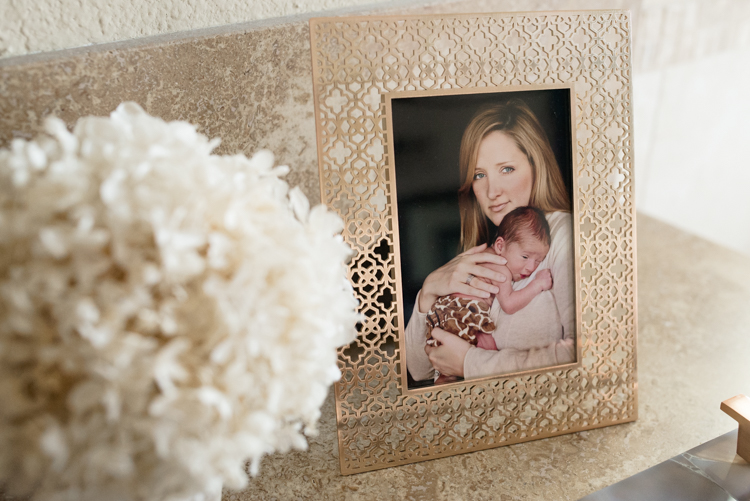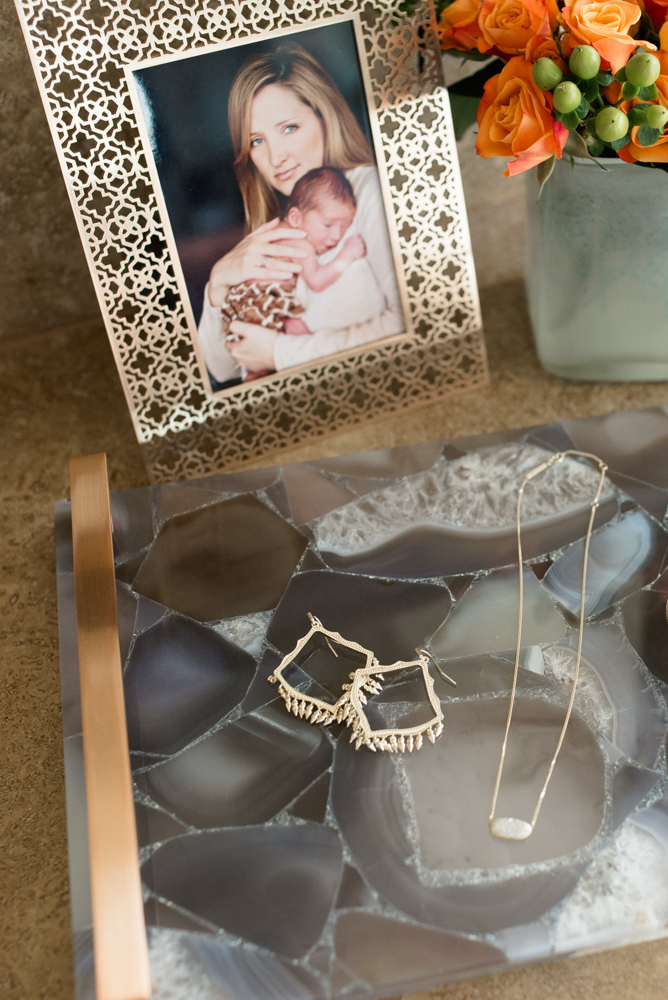 So, today only, KENDRA SCOTT is offering an amazing promotion! For every $100 you spend, you get a FREE Isla Necklace!!! You can get up to 5 FREE necklaces! Now is the time to order some goodies for yourself and you can gift your free Isla necklace to your Mom! Now that's a good deal! It comes in three beautiful options and you can get all of them for FREE! Yay!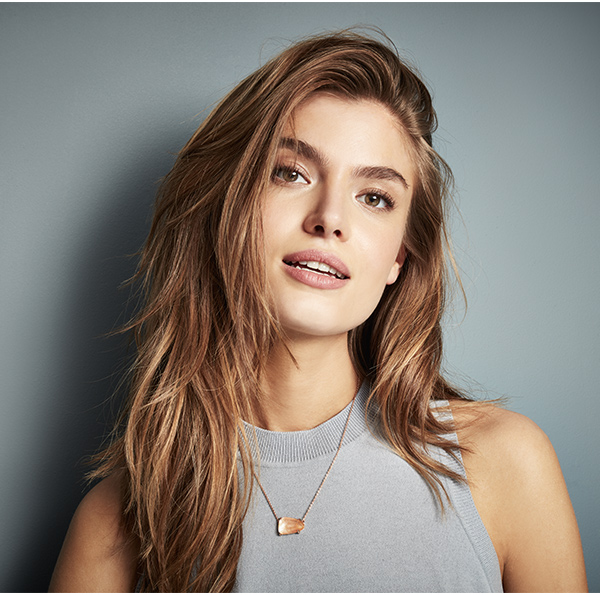 GIGI NEW YORK
I am a huge fan of GiGi New York because they offer really pretty, leather handbags and accessories! I recently added the ALL IN ONE BAG to my collection in Orchid Embossed Python.  LOVE! It's the perfect size to take on a night out because it can easily hold my large phone, keys, lipstick, etc.  I also like that I can use it as a zippered pouch inside my purses for day to day use.  I added my initials because, why not? I love when I can personalize something… must be the Southern Girl coming out in me! 😉 They offer personalization on a lot of their items.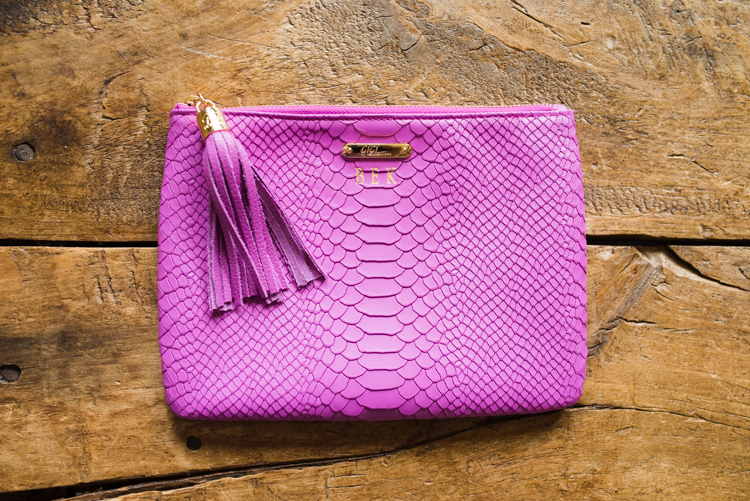 It has an awesome tassel on the zipper pull.  Did I mention how much I love tassels too? Oh, and this color is perfection! Such a fun pop of color! I think the texture is so pretty too!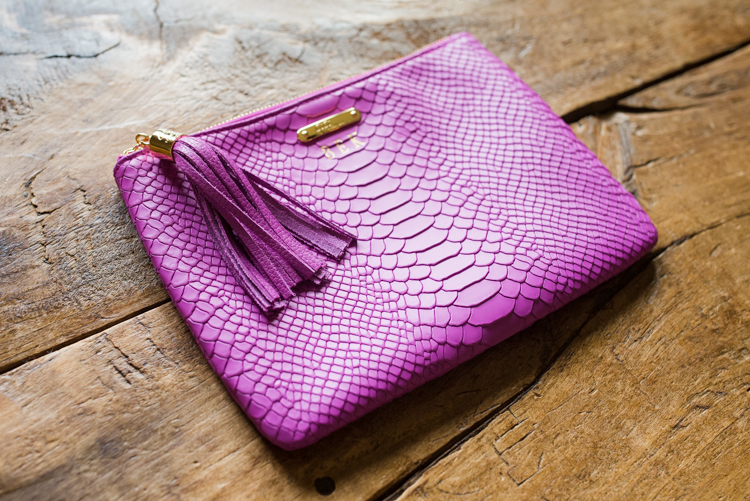 It has one pocket on the inside and a really nice lining.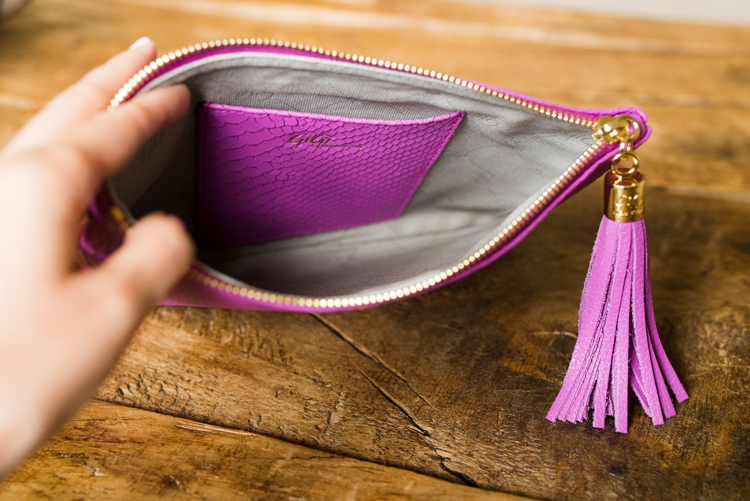 Here is a picture of me holding it so you can see scale.  It's not too big and not too small, it's just right!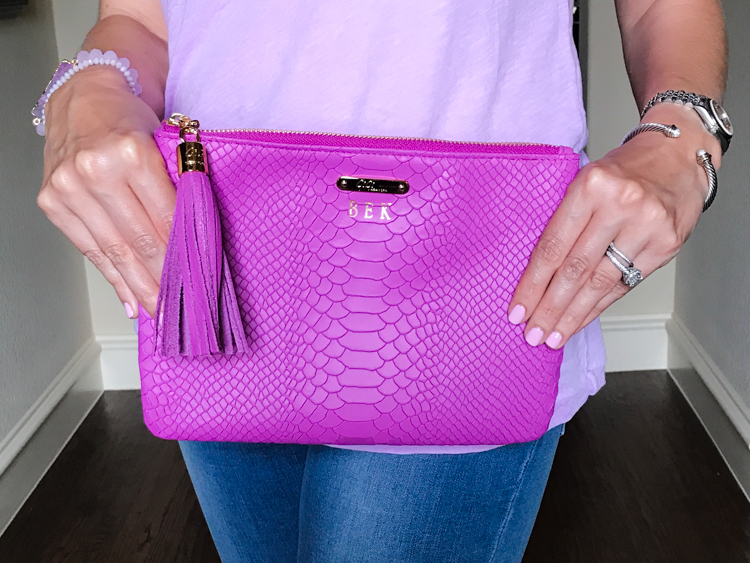 Remember how I mentioned that GiGi New York is offering our readers a special discount code? All you need to do is use code: HARGROVE20 for 20% off of your purchase! The code is valid until May 14th.  Thank you so much to GiGi New York for this great deal for our readers! Perfect timing with Mother's Day too! They have lots of great finds for your Mom or Mother-In-Law.  With all that money you saved, you can get yourself something too! I won't tell! 😉 Here are some of my favorite picks from GiGi New York.  This CROSSBODY is so pretty in the Gold Wash Embossed Python.  You can carry it as a clutch too because the strap is removable!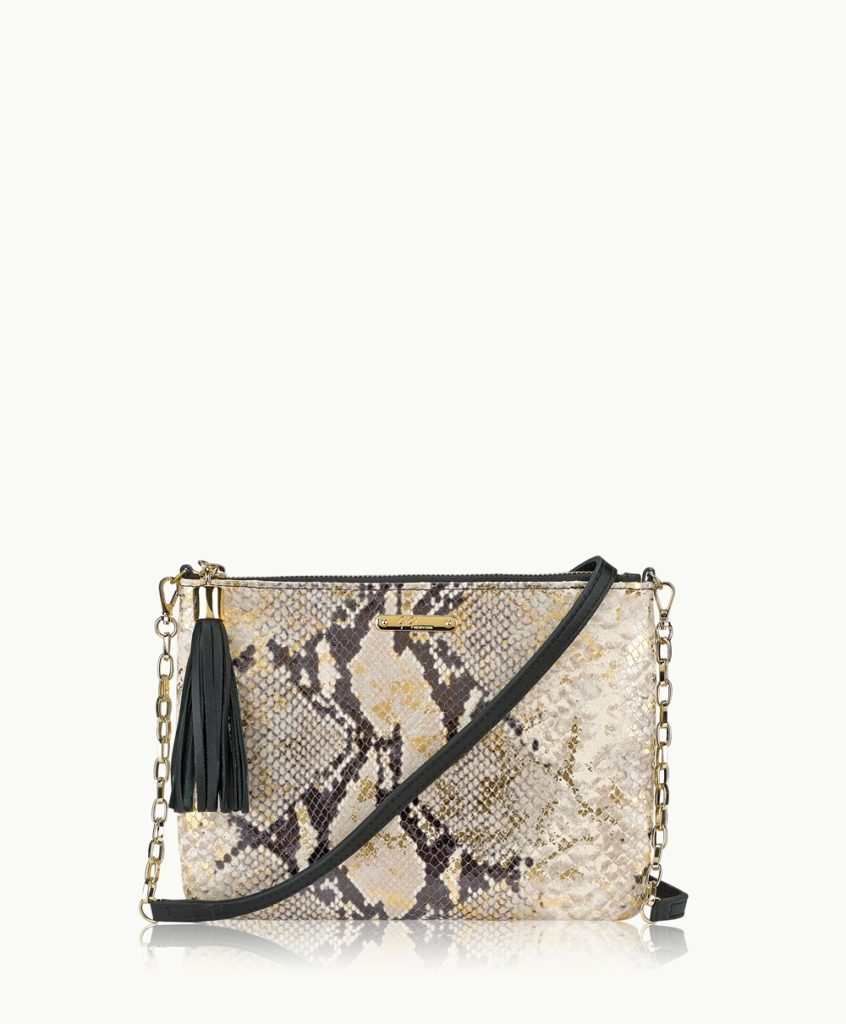 One of my other favorites is this SADDLE BAG! So pretty and it comes in lots of great colors! Love the tassel!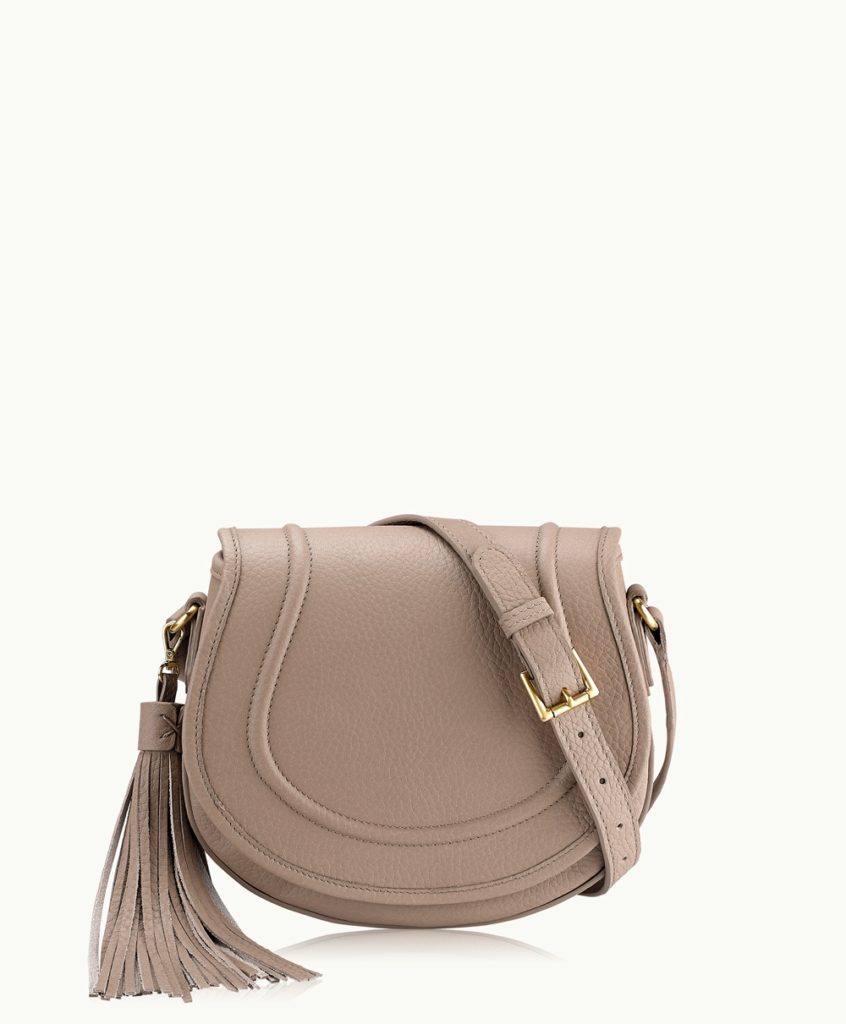 Hopefully you enjoyed all of the pretty eye candy between the Kendra Scott Home Collection and GiGi New York pretties! Mother's Day will be here so soon! Did you see my Mother's Day gift guide???  Tons of ideas for every budget.  Hope everyone has a great week and I will see you back here on Sunday!


Learn more about Barrett & see all of her posts HERE.
Follow Wear it with Barrett on Instagram and Facebook.
**This post contains affiliate links. If you purchase I may receive a small commission. Thank you!**