Can you guys believe that it is almost time for Mother's Day? I put together some Mother's Day Gift Ideas for you guys to help ease the burden of finding the perfect gift for your Mother, Mother-In-Law, or even yourself! My poor husband never has to worry about what I want for a gift because I am really good at dropping lots of hints! I separated things into three categories, under $50, under $100 and over $100 so you should be able to find something for everyone!
Mother's Day Gifts Under $50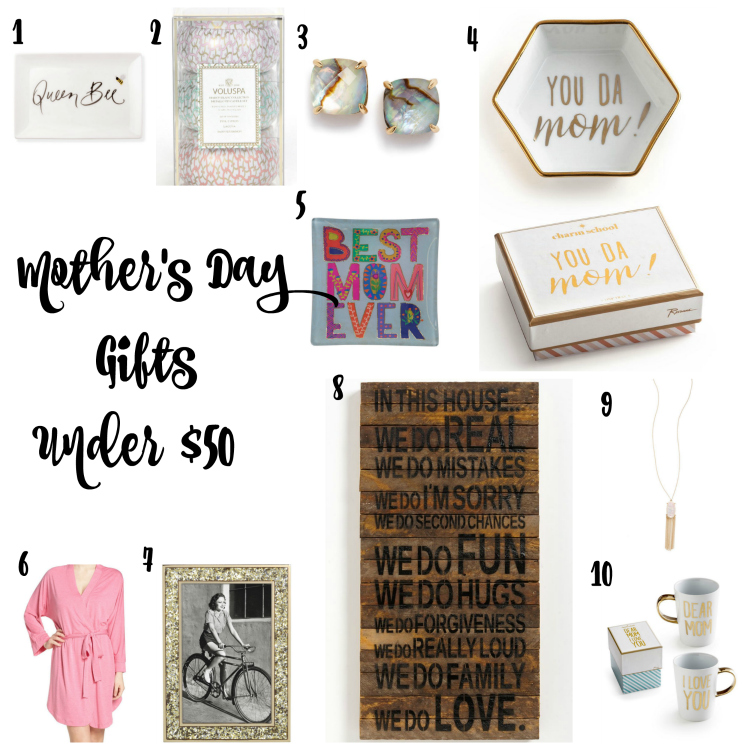 ONE – I love a cute trinket tray and this Queen Bee tray is adorable!
TWO – These are yummy candles and this trio saves you money! You could even split this up among three recipients! 😉
THREE – These are such pretty studs and they are so versatile.  They catch the light because they are faceted semiprecious stones.
FOUR – "You Da Mom!", who wouldn't like this cute porcelain trinket tray?
FIVE – This one is my favorite! Love the bright colors and this would be a such a sweet thing to remind the recipient that you think they are the Best Mom Ever, everyday!
SIX – It's always nice to get a new robe to wear around the house.  This jersey knit robe is a great value, you can even get 2 for $60, and they come in lots of pretty colors.
SEVEN – This Kate Spade glitter frame would be so cute to put a new picture of the kiddos in to give to your Mom or Mother-In-Law.  It's available in multiple finishes and sizes at a great price!
EIGHT – Love this wood sign for the home! It's 12″ wide x 24″ high.
NINE – This stone and tassel necklace is only $19!!! It's available in 3 different stone colors too!
TEN – This porcelain mug is soooooo cute! All of those coffee drinking Mommas need a new mug for Mother's Day!
Mother's Day Gifts Under $100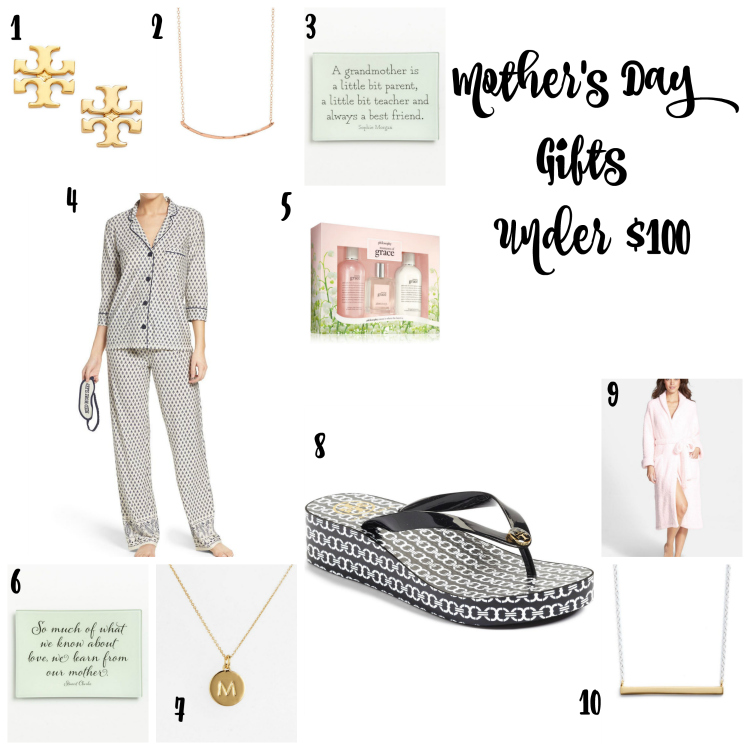 ONE – These Tory Burch Studs will fit any woman and they are a great everyday pair of earrings! They are available in rose gold, silver and gold.
TWO – This hammered bar pendant necklace is really pretty! Choose from gold, rose gold, or silver.  You can wear this by itself everyday or layer with it too!
THREE – How sweet is this Grandmother trinket tray? Any Grandmother would love to look at this everyday!
FOUR – This pajama set is too cute and it even comes with an eye mask! This set is my favorite, but they have several other options that are cute too! The eye masks are so funny!
FIVE – This philosophy gift set is a great value and it includes lots of favorites! This scent is very soft and feminine and one of their most popular! Great gift for someone who has everything and is hard to buy for.
SIX – Another sweet and sentimental trinket tray for Mom! You can't go wrong with these!
SEVEN – I love these affordable initial charms! They would be so sweet to give with your kiddos initials, or even just the recipient's initial.
EIGHT – How cute is the new gemini link pattern on these flip flops? These are a great neutral that would get a lot of wear! If you like the regular, non wedge flip flop, find them HERE.
NINE – This is the BEST robe! It's so soft and comfy and it would be a great gift for any woman! It comes in other pretty colors too!
TEN – I wear a lot of mixed metals and I love how this bar pendant has a silver chain and a gold bar! It's available in other metals too, so check them out! Again, this is a great basic necklace that you can wear everyday!
Mother's Day Gifts Over $100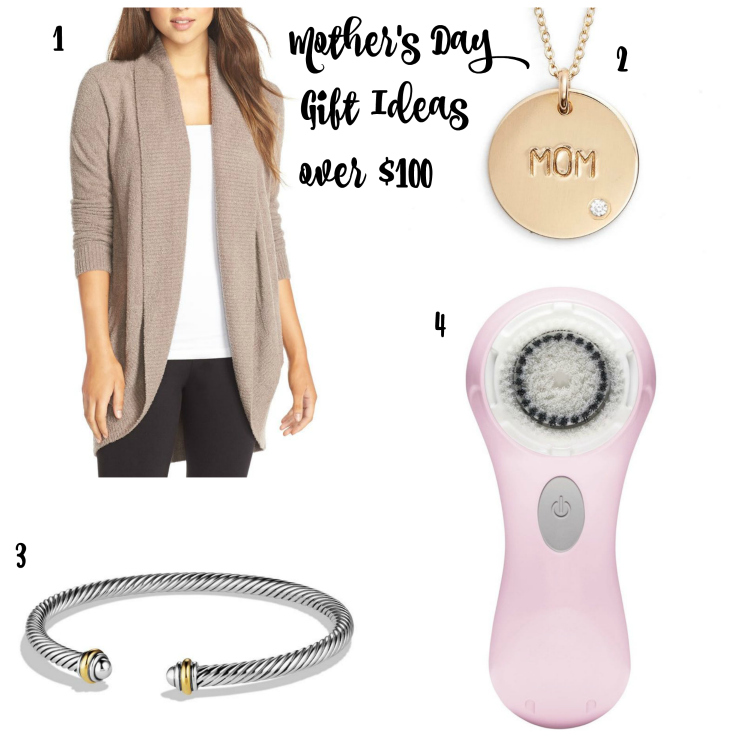 ONE – EVERY WOMAN NEEDS THIS CARDIGAN, no really, every single woman! It is the coziest thing in the World and this style can easily be worn out of the house too! It will be like giving your Mom a hug every time she puts it on! 😉 That's priceless!
TWO – So this sweet gold fill necklace has a diamond and is such a thoughtful gift! Love!
THREE – I am a huge David Yurman fan and I just don't think you can go wrong with a classic piece like this gold and silver cuff!
FOUR – I am a firm believer in my Clarisonic Sonic Skin Cleansing System.  This is a must have item that would be a great gift and the fact that it's pink doesn't hurt!
One More Gift Idea…
Many of you know that I own a personalized, hand-painted picture frame business called Feel Good Frames.  Our picture frames make a fantastic Mother's Day gift because you can put their special Grandmother name on the frame itself! They are personalized as you wish.  I am offering House of Hargrove readers a 15% off discount with code: HARGROVE15  You can see all of the options on our ETSY SHOP.  The coupon is valid through Friday, May 5.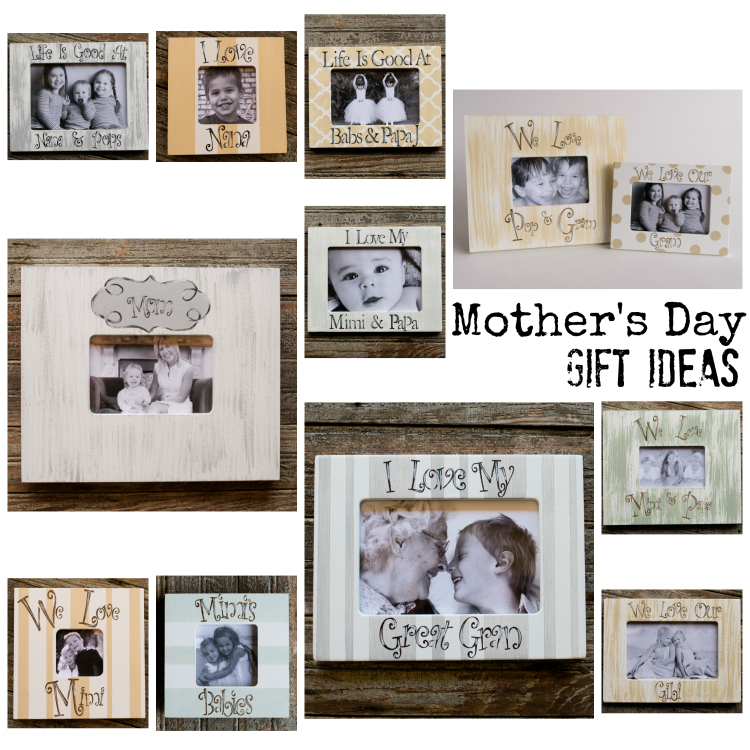 I am looking forward to Mother's Day, it's always fun to spend the day with the people who matter the most! I hope the gift guide offered some good ideas so you can show all of those important mothers in your life how special they are to your family! Enjoy the rest of your weekend!

Learn more about Barrett & see all of her posts HERE.
Follow Wear it with Barrett on Instagram and Facebook.
**This post contains affiliate links. If you purchase I may receive a small commission. Thank you!**