It's Sunday Funday and I have several cute, casual Fall outfits to show you guys! This is probably my favorite time of the year for a multitude of reasons, but the clothes are way up on the list! I love long sleeves and cardigans and scarves and jackets and jeans and boots and booties! You get the idea! I'll show you some of my favorite ways to style casual Fall outfits! There are some other great finds too, so be sure to read all the way to the end! You won't want to miss anything!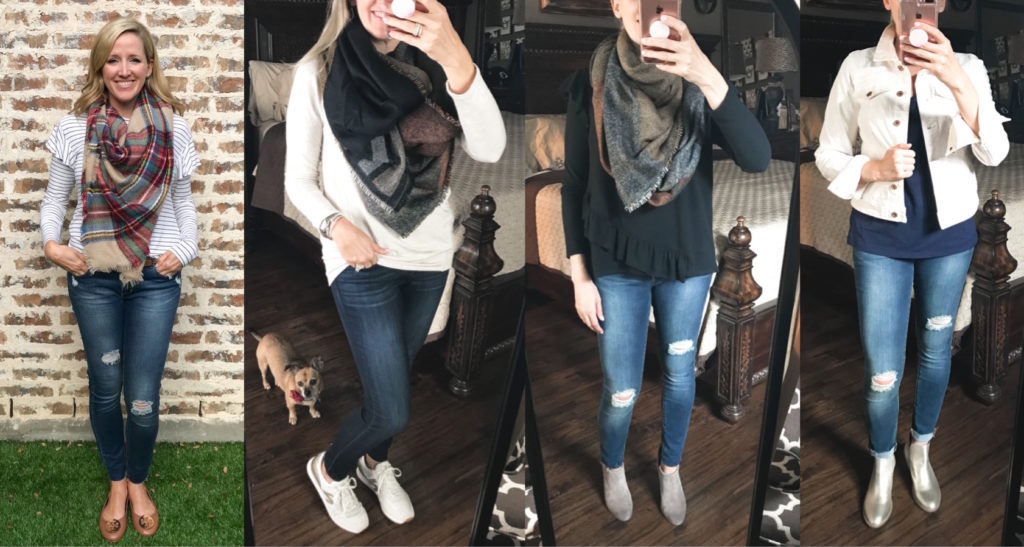 CASUAL FALL OUTFITS
Outfit Idea #1
Blanket scarves are still a huge trend this year and they really are so cozy and so versatile! I folded this one in a triangle and put the point in the front, then wrapped the corners around the other side and brought them up front to tie and tuck in under the front.  Easy Peasy! This blanket scarf is sold out, but I like this one even more because it has a toggle that makes it even more versatile! Check it out HERE.  I am a huge fan of a black and white stripe long sleeve shirt paired with a fun colorful scarf like this one! This one is the best because it has adorable ruffles on the shoulders which is perfect with a scarf because you can still see them! Even better, this STRIPED SHIRT is only $29! It runs true to size, I am in the medium.  Pair it with some distressed JEANS and a belt and you are good to go! I would size down in these jeans.  I'm not the only person who loves these jeans, look at the reviews! They are really affordable, they are $64! When I wear a blanket scarf, I like a simple STUD EARRING so that they don't get stuck in the scarf! These are my favorite studs because I can wear them with gold or silver! I am a huge fan of all things David Yurman!  Christmas will be here soon and I'm sure there will be some Yurman jewelry on my wish list! Lastly, these Tory Burch FLATS are my go to because they are so comfortable and cute! I wore this outfit the other day and I got tons of compliments on it! I love a cute, comfy outfit!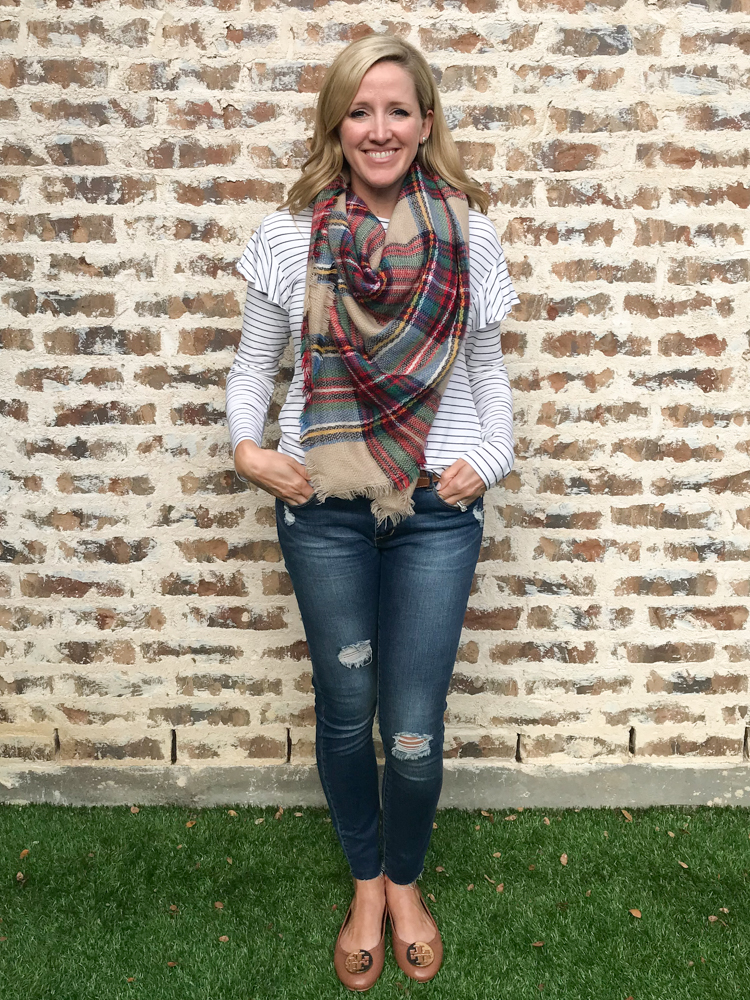 You can see the ruffles better in this picture! It's a great basic shirt for the Fall!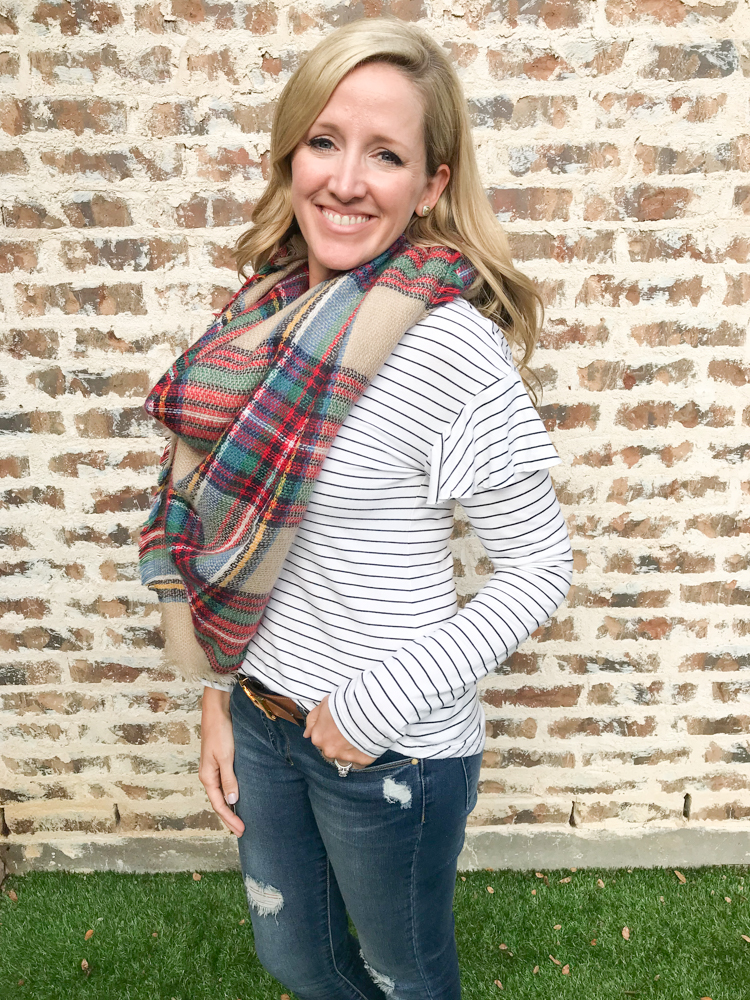 Outfit Idea #2
I wore this cute outfit to run some errands and have lunch and I loved how put together it looked.  Lets start at the top with these cute $12, rose gold AVIATORS.  You can't beat the price for a cute pair of sunglasses! This top is sold out, but this SWEATSHIRT is similar and oh so cute! I am really loving this SCARF and everyone likes it in person! (The picture on the website isn't a good representation of how great the colors are in person.)  It would make a great gift because it's $26 and has fantastic colors for the Fall! I like that the colors are darker, but you can wear it with a light shirt or a dark shirt.  Lets discuss these amazing JEANS! Please size down.  They are like leggings and they are ridiculously stretchy and flattering! They are also only $64! Everyone needs these! They are a Nordstrom exclusive.  Finally, my favorite SNEAKERS (that have gold on them).  Love these for a casual outfit! They are a J.Crew exclusive and they tend to sell out! Luckily, they are in stock right now.
My chihuahua mix, Maisy, wanted to say hi too! =)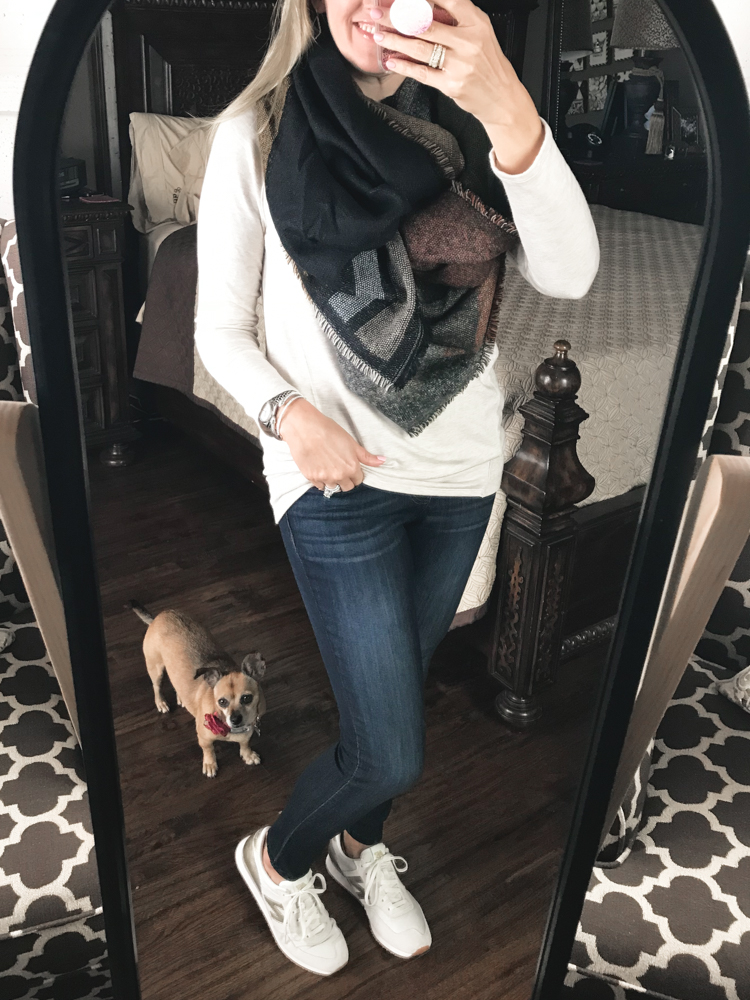 Look how great this scarf is! I love the colors!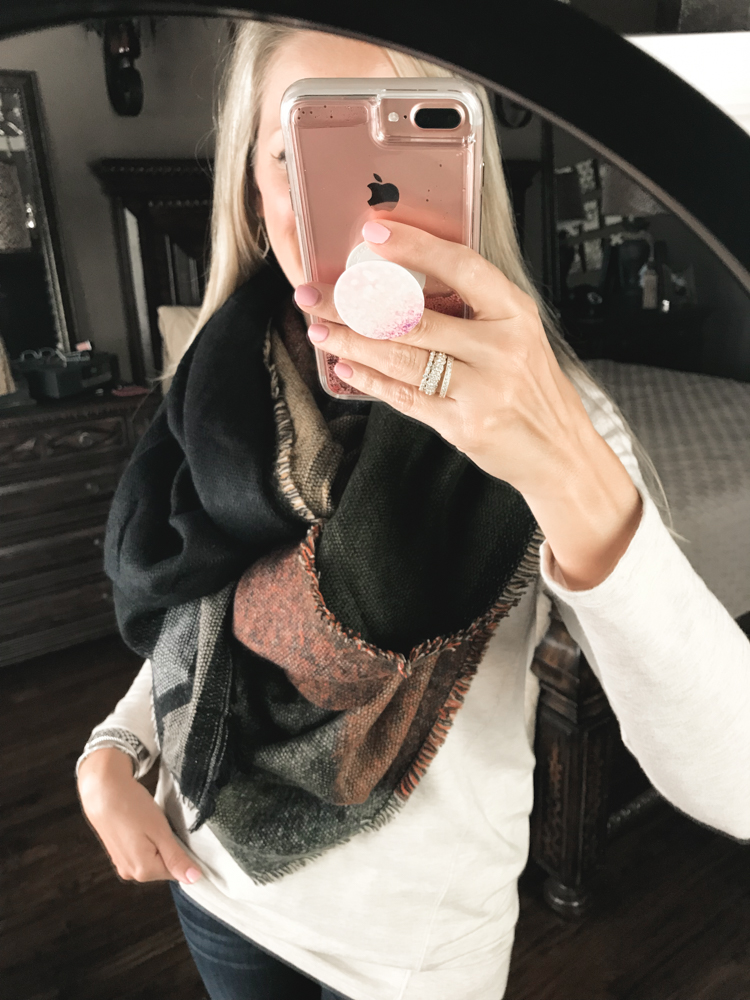 Here is the same scarf, but with my favorite BLACK RUFFLE SWEATER! I think it works well with a light shirt or a dark shirt! I paired it with these JEANS and my favorite BOOTIES!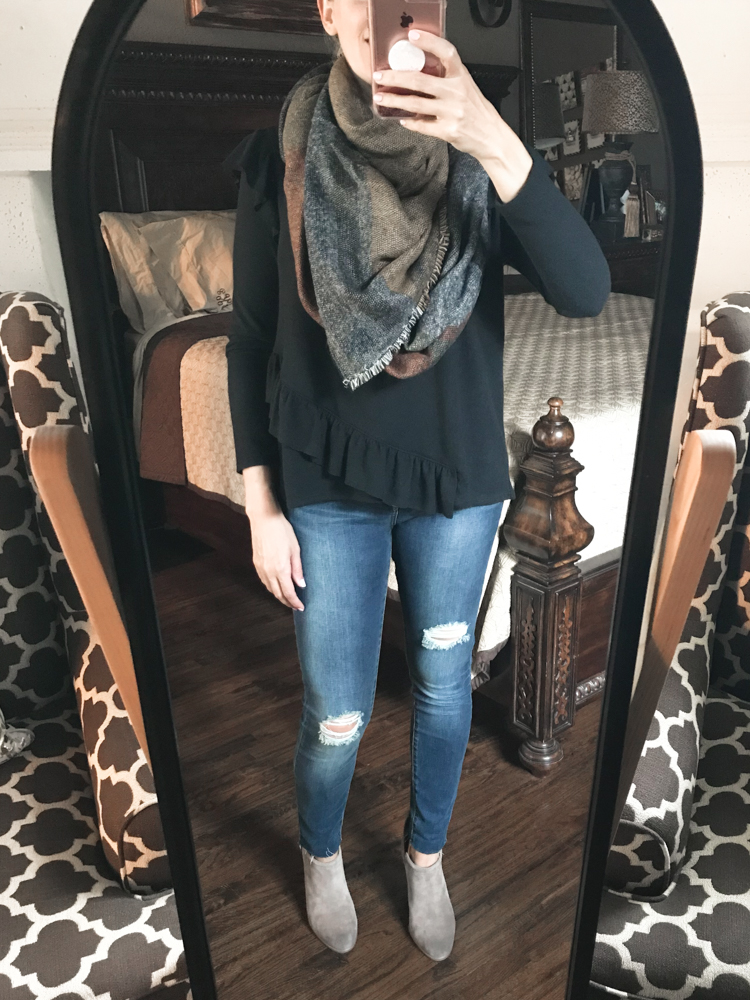 The scarf has black and navy in it so you can wear it with either!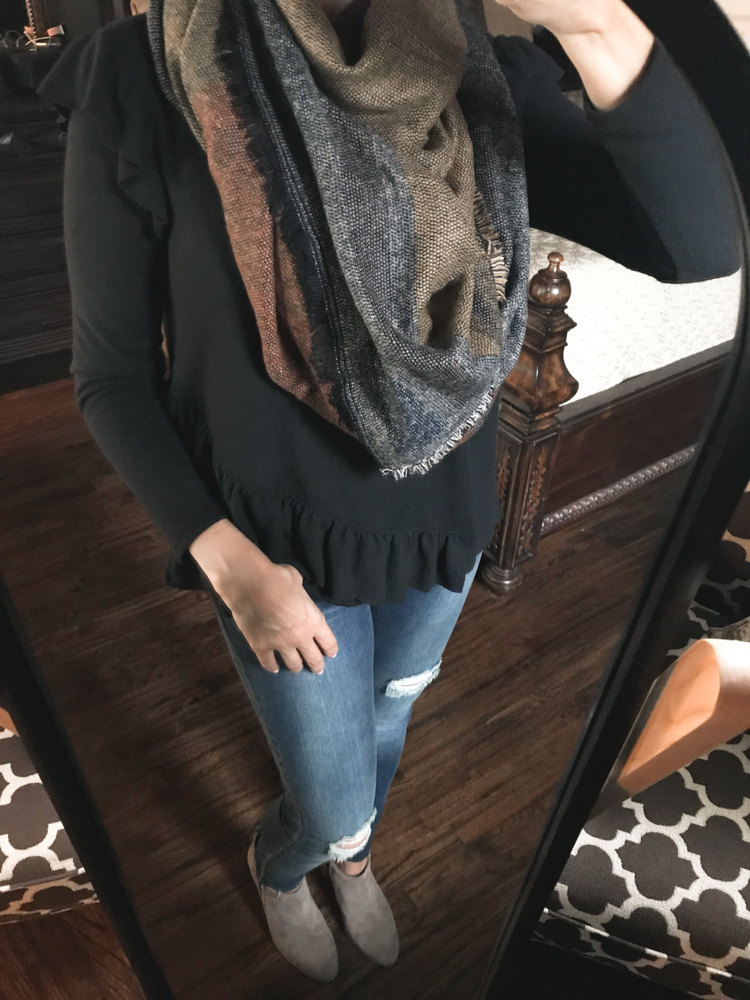 Outfit Idea #3
Not sure why I put them in the order I did, because this outfit is NOT my least favorite! In fact, I am obsessed with this VELVET JACKET! I haven't seen anything like it anywhere else and this is one of my favorite brands! I'm wearing the cream, but it also comes in black velvet.  Wearing white, winter white and cream are really big this season and I like that it isn't stark white.  The cream is beautiful and goes with so many things! Wear it over a maxi dress, tops, t-shirts (like I did here), etc.  You can wear it with any denim, patterned pants, black denim, and on and on! I like the arms cuffed up and a little pop in the collar! 😉 These are the same distressed JEANS I have already raved about above.  Lets talk about these BOOTIES! They are fabulous and unique! I love soft gold leather and these don't disappoint! Please look at the pictures on the link, mine don't do them justice!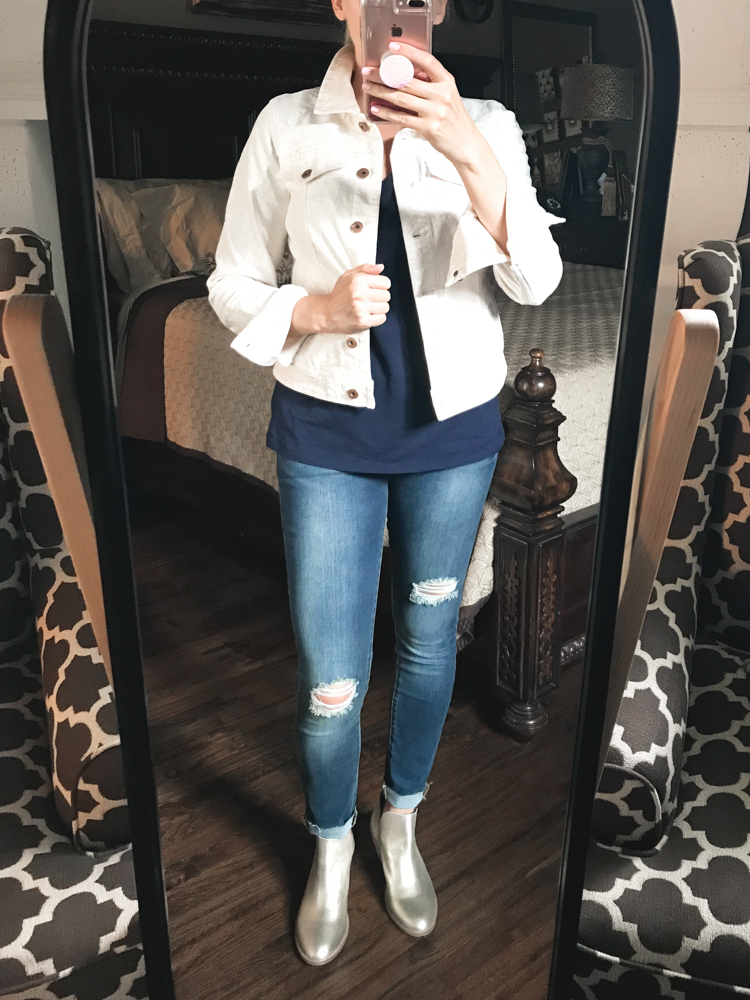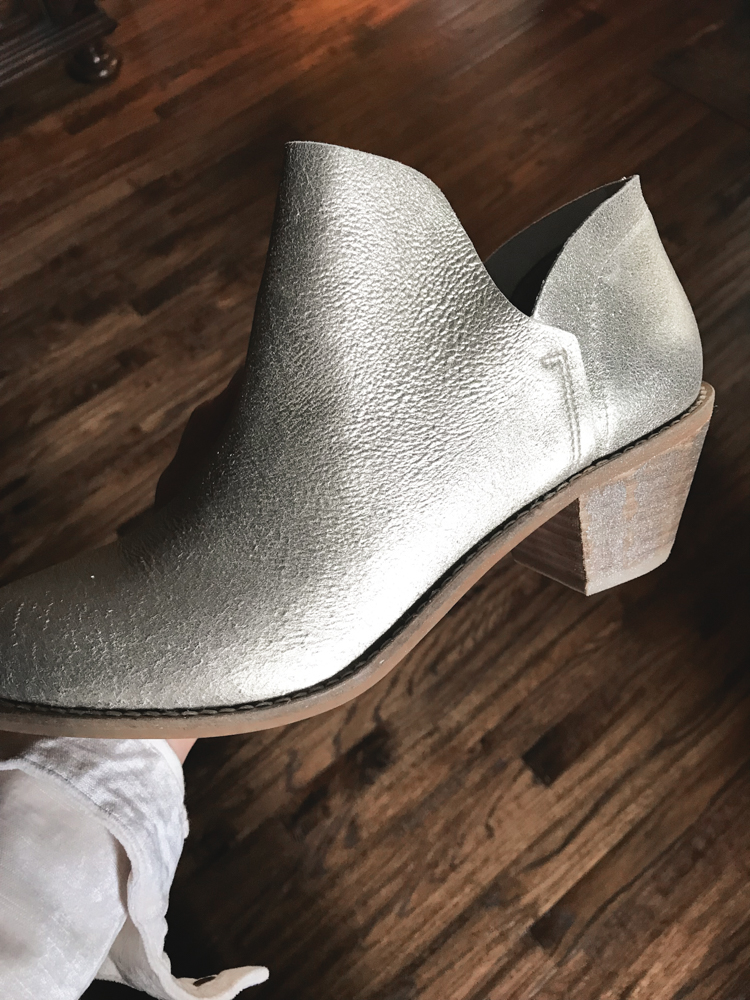 Here's a closer picture of the jacket! It is so cute!!!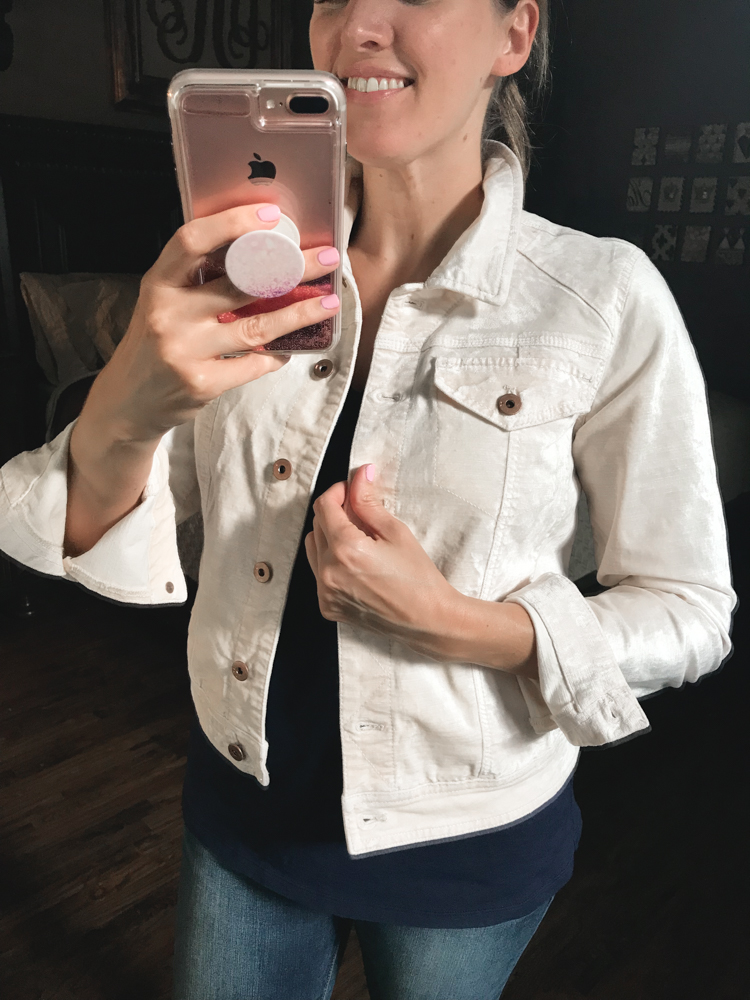 A Little of This and A Little of That
You know I have more than that to show y'all! I do spend LOTS of time shopping! Speaking of velvet, these CAMO VELVET JEANS are adorable! I am a huge fan of camo, it's like leopard to me, kind of a neutral! I do recommend sizing down in these too.  By the way, these are my favorite no-show SOCKS to wear with these sneakers and with booties! They stay in place and they really don't show! They also have THIS multi-pack right now.  They are worth every penny! I used to struggle with which socks to wear with booties and these are the best!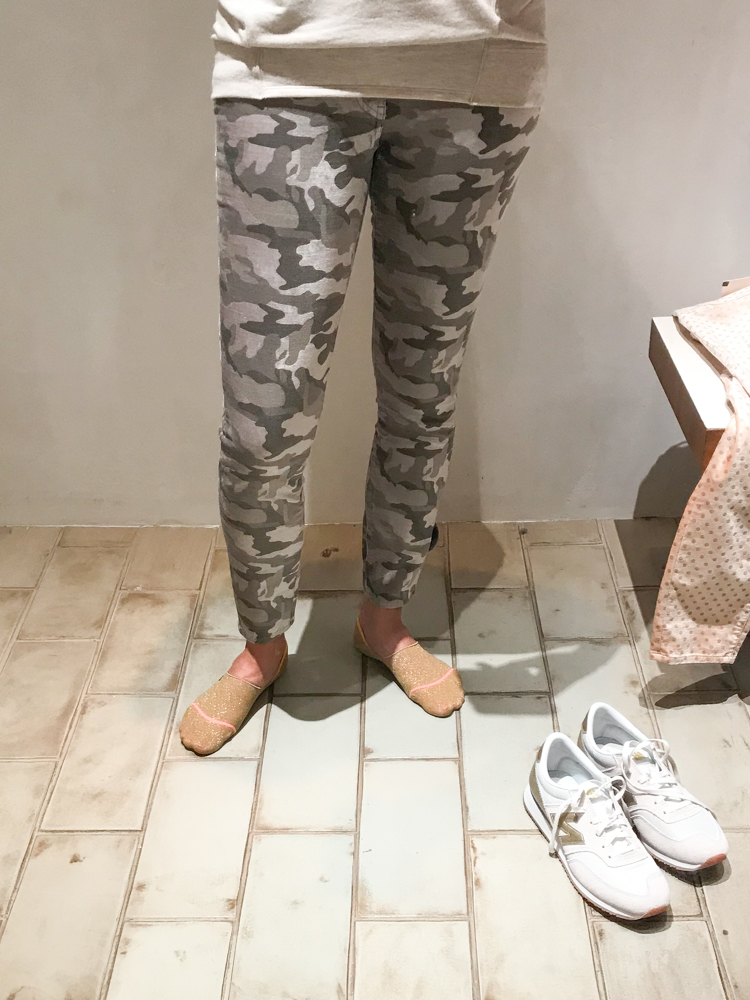 I fell in love with this CROSSBODY! It has a removable crossbody strap so you can also carry it as a clutch! It's woven and really cute in person! Both sides have a tassel! It also comes in bronze! So pretty too!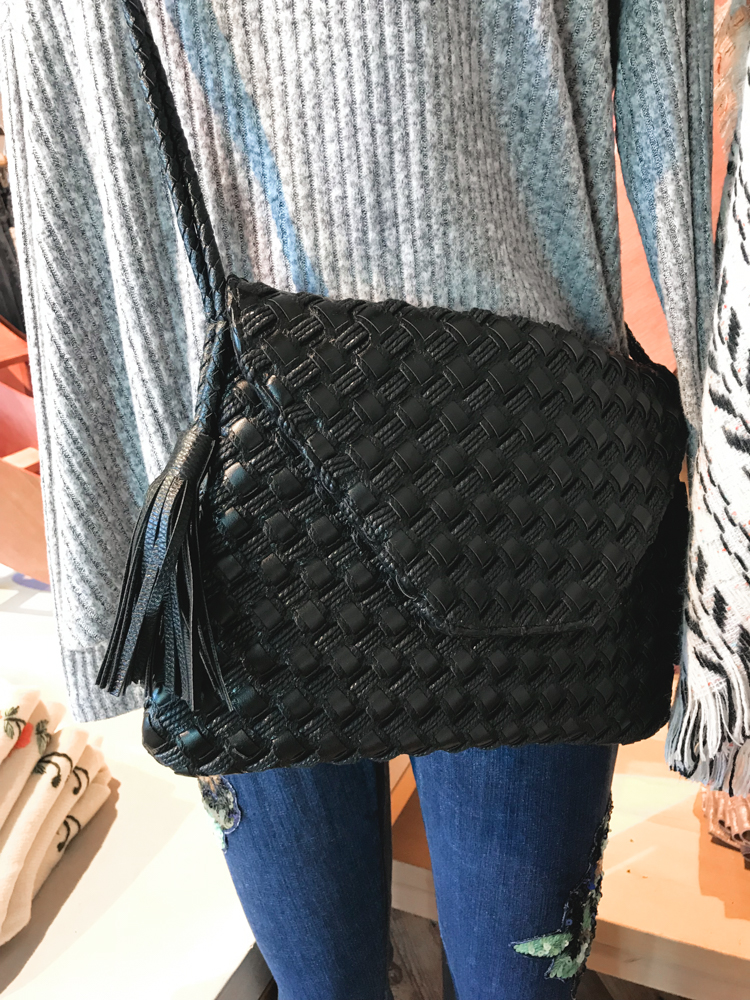 I've told you about my affection for all of the chenille clothing lately! I spotted this new CARDIGAN and had to have it! It's so soft and it has pockets! This is the grey one and it also comes in black, navy and rust!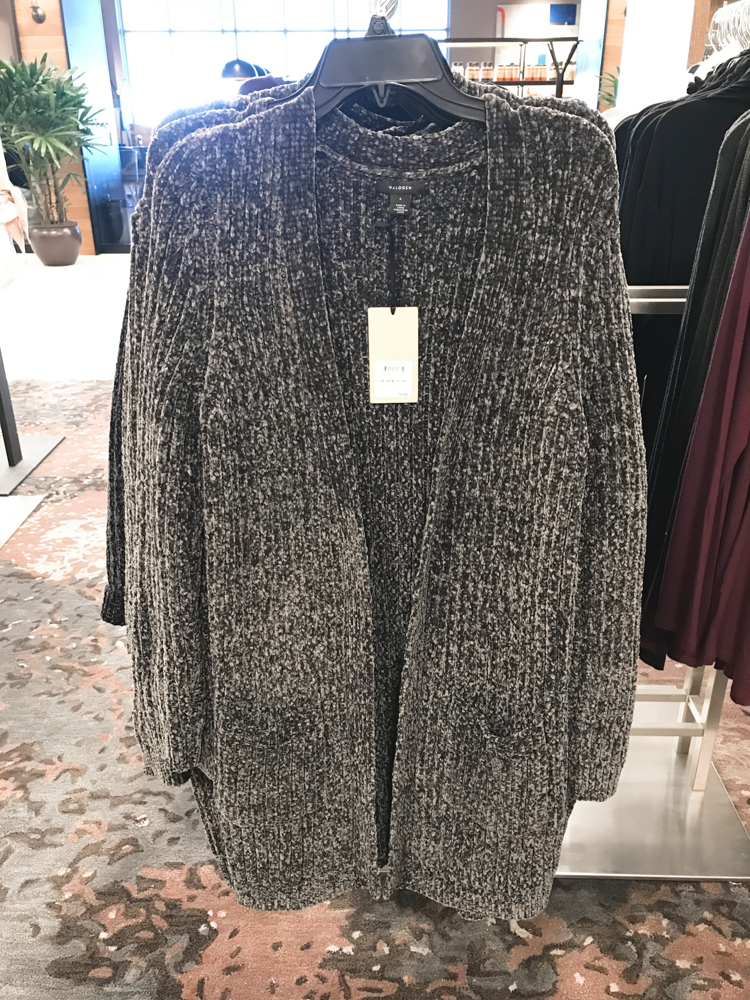 Last year, I missed out on the robe I really wanted because it sold out so quickly.  So this year, I decided to grab the World's best ROBE in my favorite shade of pink (that is a Nordstrom exclusive) as soon as I saw it! This is the powder pink color but it comes in 10 other colors.  It feels like a bit of a splurge, but I will wear it every single day and enjoy every minute of it! It is literally the coziest material ever! This would make an incredible gift (for someone you really love, ha ha)! I even slept in it the first night I got it! I am in love with it!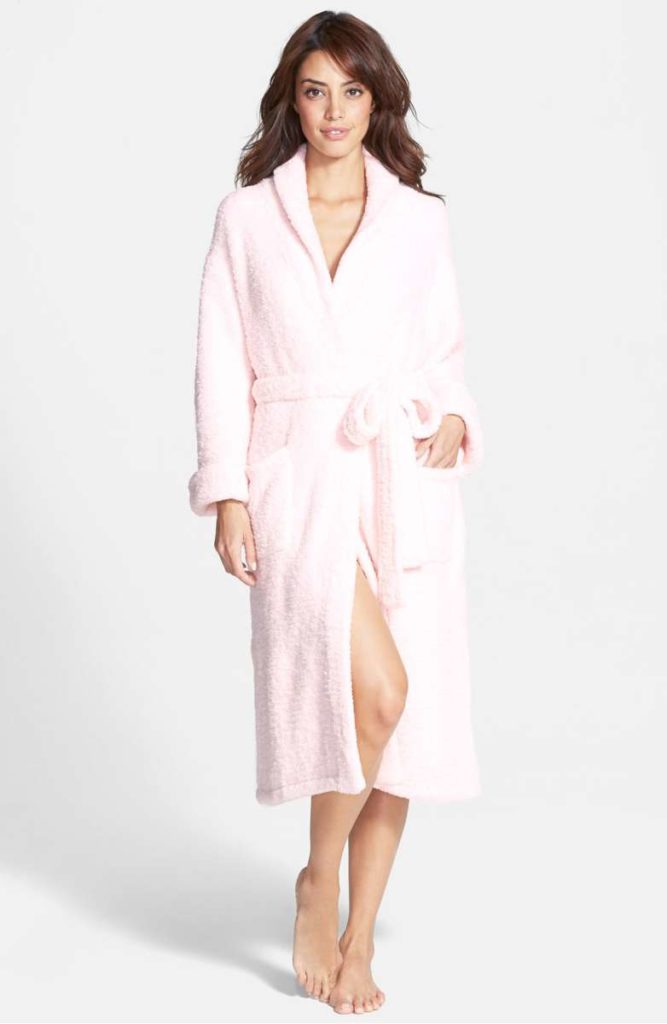 BAREFOOT DREAMS (who makes the robe above and my favorite CARDIGAN), makes SOCKS now too! These are a perfect gift for the Holidays! I would grab them now because they have already sold out and been restocked! They have a ton of different colors to choose from!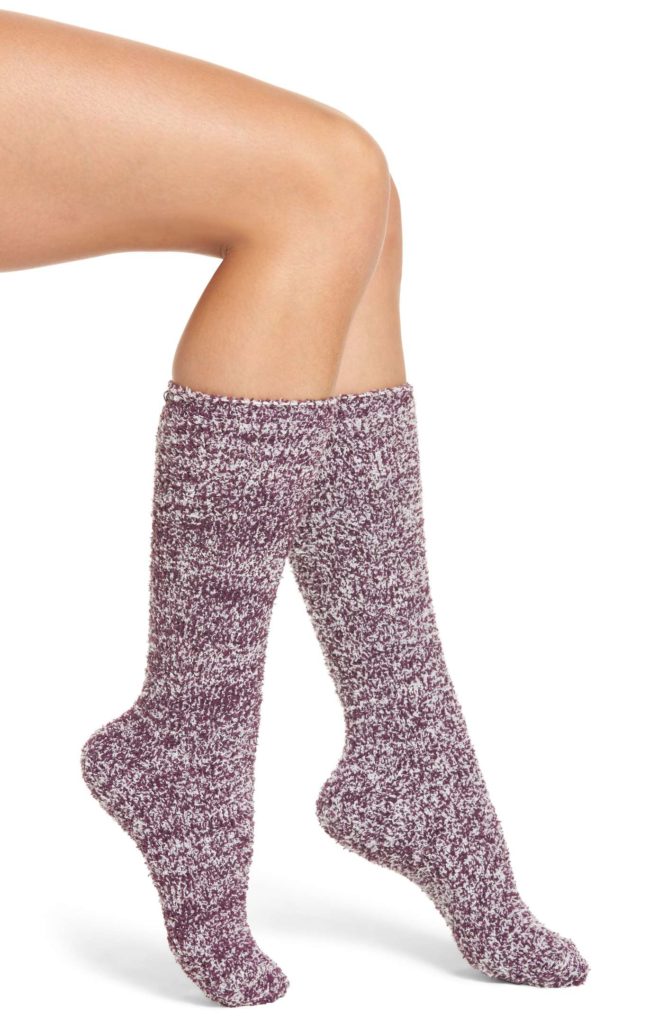 This FRINGE SCARF is so pretty and it comes in lots of pretty shades!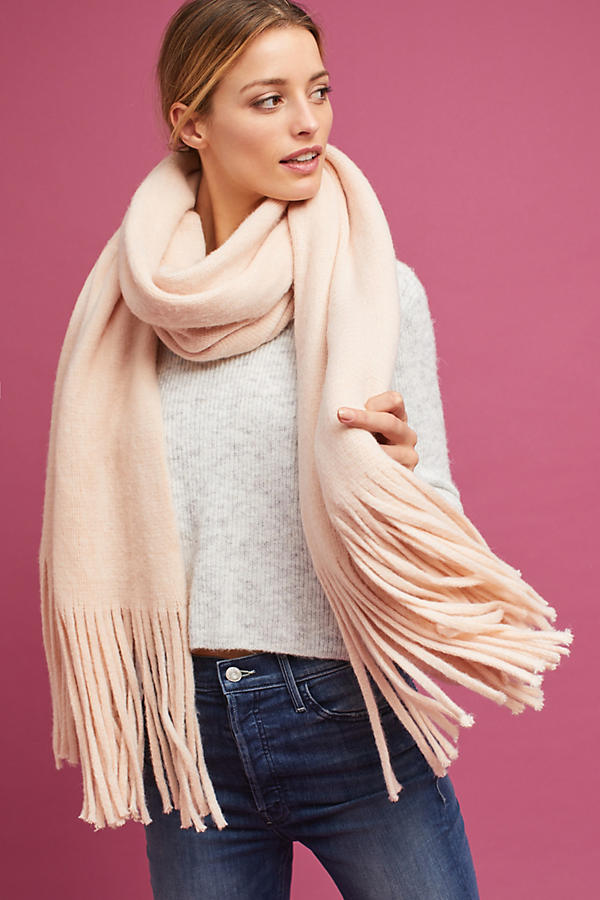 I was so excited to get my favorite Hunter RAIN BOOTS out of the box the other day (mine are sold out, but similar to these), but I forgot how the natural rubber blooms and gets that white stuff all over my shiny black boots! Grrrrr! Luckily, I had my Hunter RUBBER CARE KIT so I could quickly get them cleaned up! I really love the sponge because it makes it so easy and not messy at all! If you have Hunter boots, or know someone who does, this kit is an essential and would also make a great gift!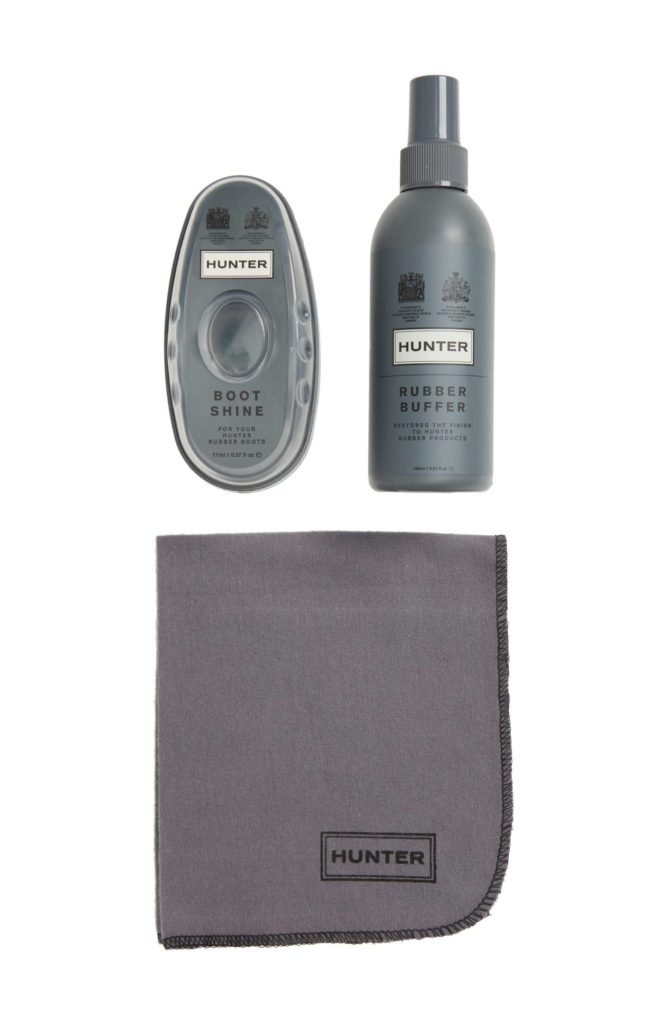 Now they look like this again!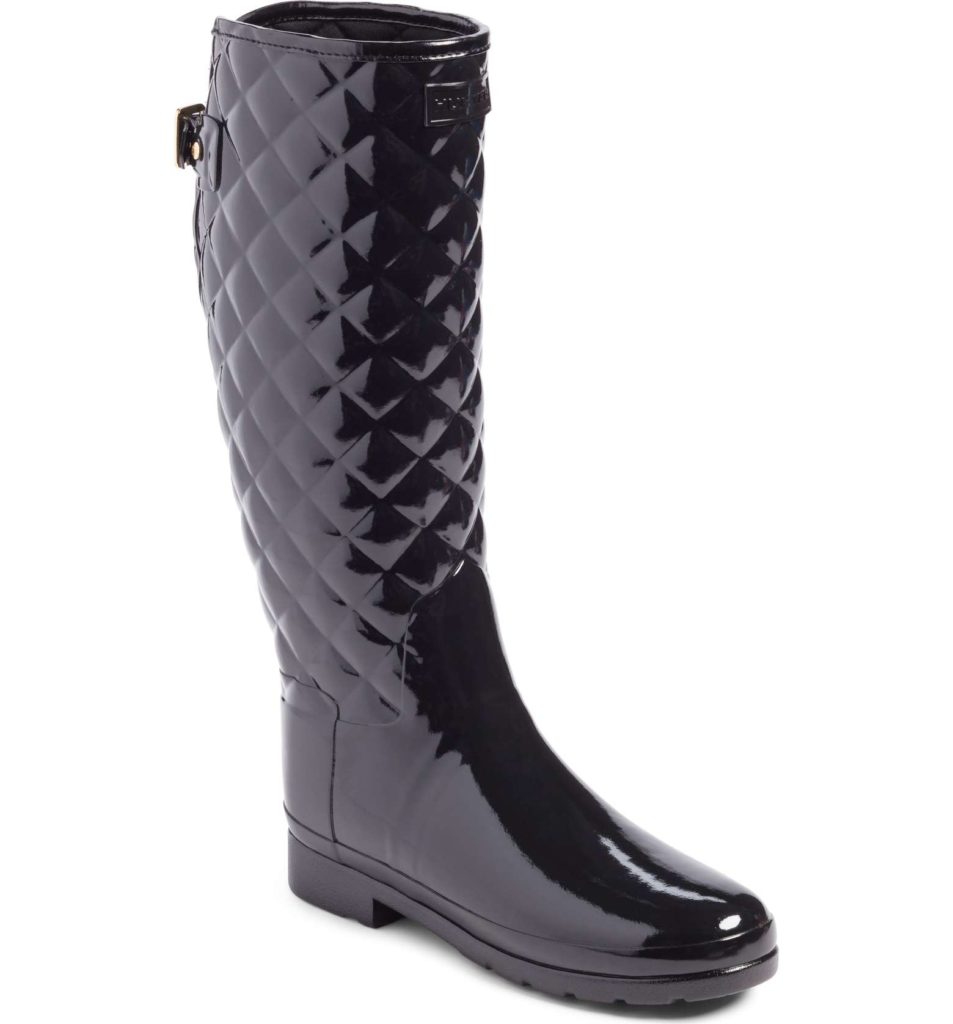 I have shared these PONYTAIL HOLDERS before because they are the best! They don't hurt your hair and they really do hold it in place! I am partial to the neutral metallic set, but they come in lots of other colors.  These are also a great stocking stuffer or gift!
Did you see the STOCKING STUFFER ROUNDUP post I did earlier this week? There are tons of great finds, and something for everyone on your list! There is also a great promotion, so check it out for all of the details! Hope you enjoyed these casual fall outfits! Enjoy the rest of your weekend! See you next week!


Learn more about Barrett & see all of her posts HERE.
Follow Wear it with Barrett on Instagram and Facebook.
**This post contains affiliate links. If you purchase I may receive a small commission. Thank you!**
SaveSave