Happy Sunday! I have lots of essential shorts, Grace & Lace tops and new shoes to share today! I was on the hunt for some new shorts and I found lots of great options! I also found tons of fabulous new shoes! Have you guys ever heard of GRACE & LACE? They were featured on Shark Tank and they have really cute clothes! She started out making lacey leg warmers and it has now grown into a full-blown women's apparel company.  A portion of every sale goes towards building orphanages in India too! How wonderful is that? They are having a huge Mother's Day sale that you can take advantage of too! Also, ANTHROPOLOGIE is having a sale on their sale items! Sale items are an additional 30% off! Check the end of the post for my favorite earrings that are included in the sale! Today is the last day to earn TRIPLE POINTS at Nordstrom too! Lets get started with Grace & Lace's cute tops!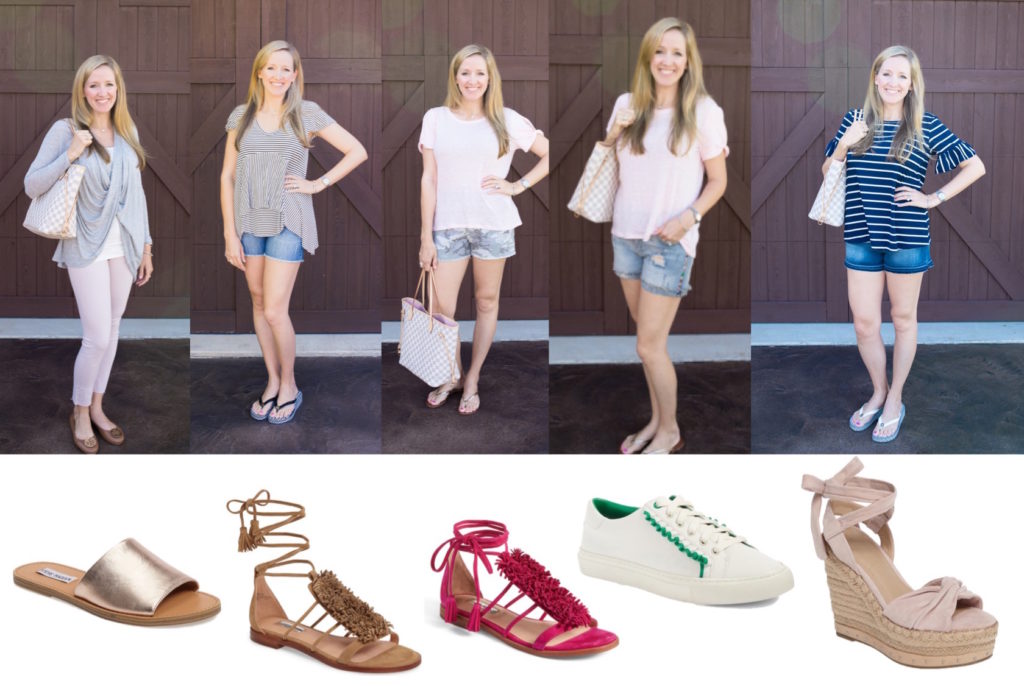 I love their GRAB AND GO multi-wear knot top because you can wear it 5 ways! This is my favorite way to wear mine, but look at the website to see a video showing you the other ways to wear it.  It comes in other great colors and plus size too.  I am wearing the heather grey.  It's a really lightweight layer, perfect to throw on after the gym or wear it with the PERFECT FIT TANK.  You can wear the long layering seamless tank under any top or cardigan or pull it down long as a camisole under a tunic or dress! It is an essential.  I am wearing the ivory and it is available in lots of colors.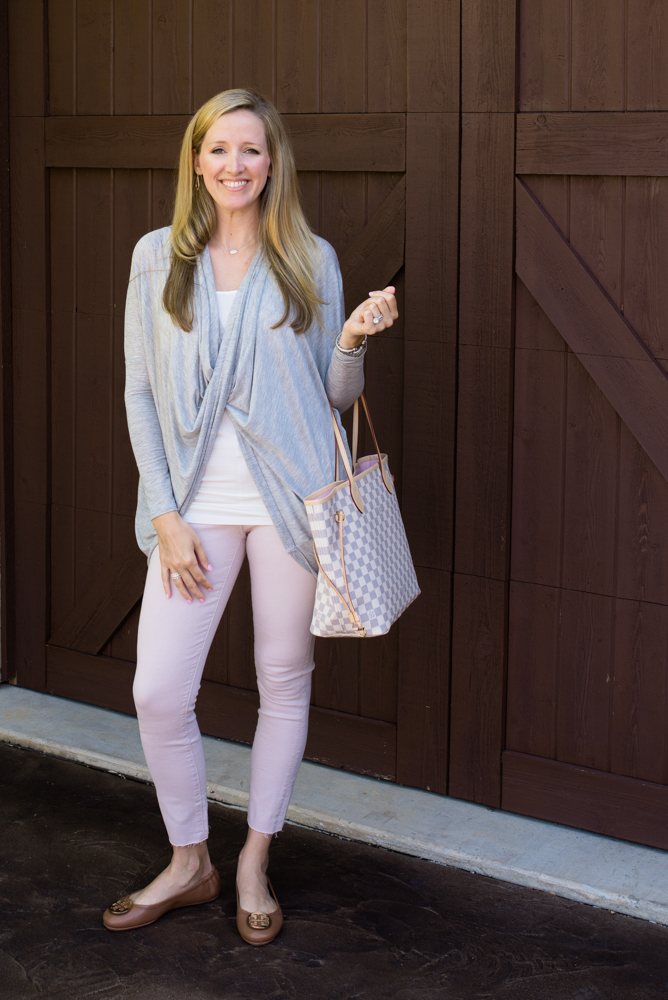 I love how this looked with my new must-have BLUSH DENIM CROPS! Y'all, these go with everything! They are so comfortable and affordable too! Seriously, everyone needs these for the Spring! I'm wearing my new SHOES that are ridiculously comfortable.  They are like wearing slippers! This color goes with just about anything too!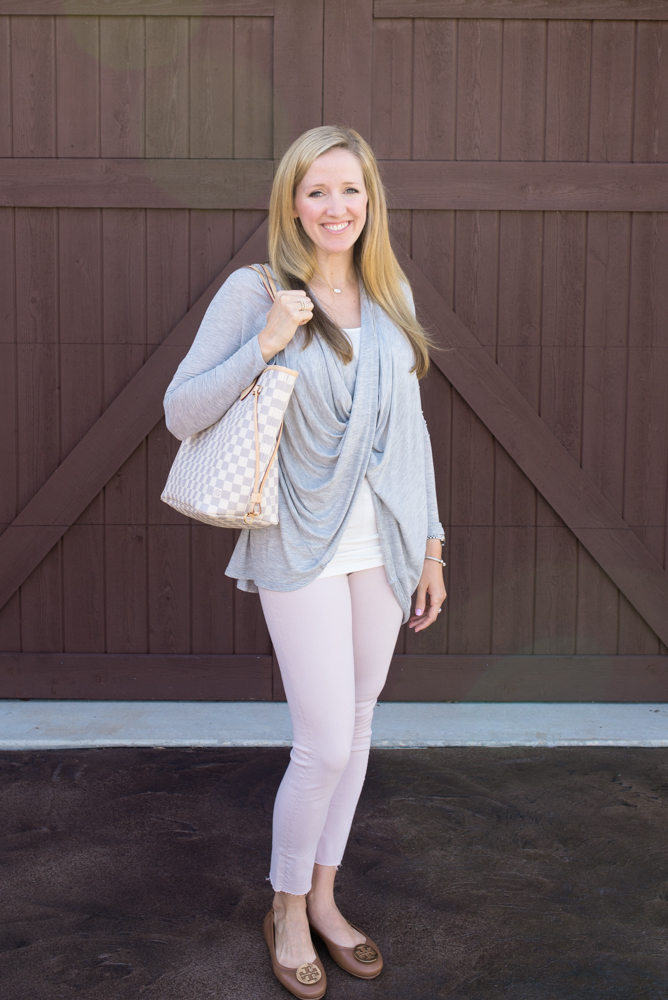 This BABYDOLL TOP in midnight tie-dye is super cute with my blush denim too, see what I mean, they go with everything! The back of this top is so fun, love the detail! This top would look great with white jeans or white shorts too!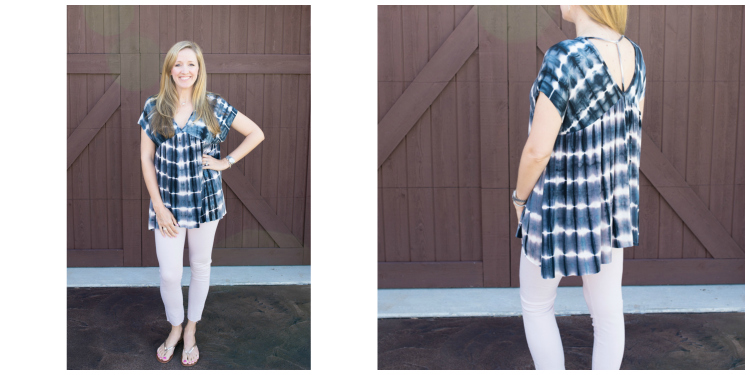 This Black & Ivory STRIPED TOP is such a cute design! Love the stripes with the way the seams go.  This top is so easy and has so much personality! These DENIM SHORTS might be my favorite shorts this year.  They are really comfortable and have the perfect 4″ inseam.  These run true to size.  I'm wearing the cutest new Tory Burch FLIP FLOPS in a black and white pattern!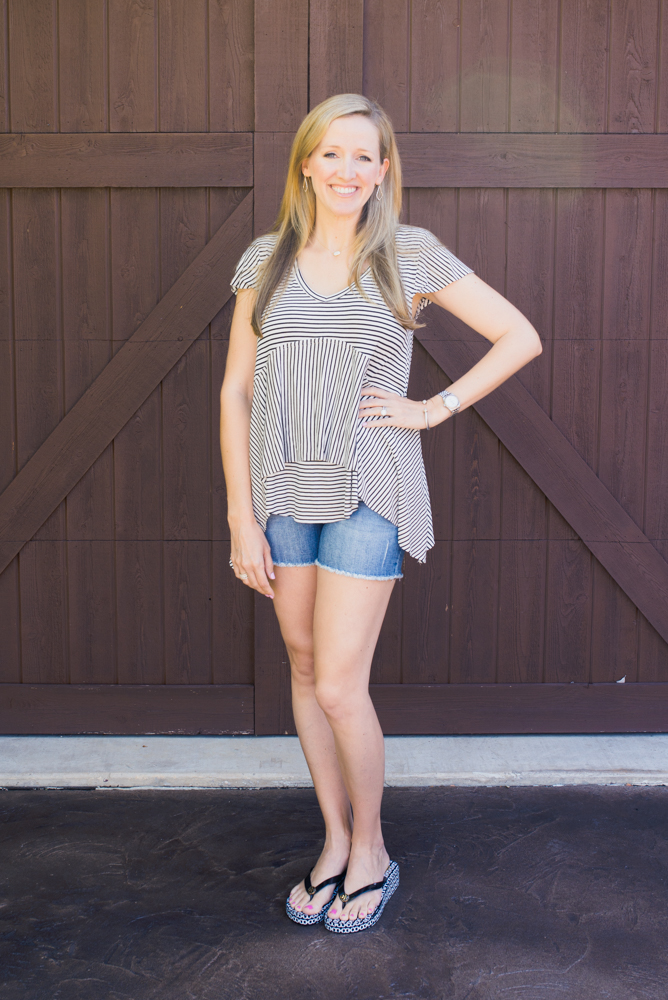 Before I forget, here are the details on the GRACE & LACE sale! Woohoo! Perfect timing!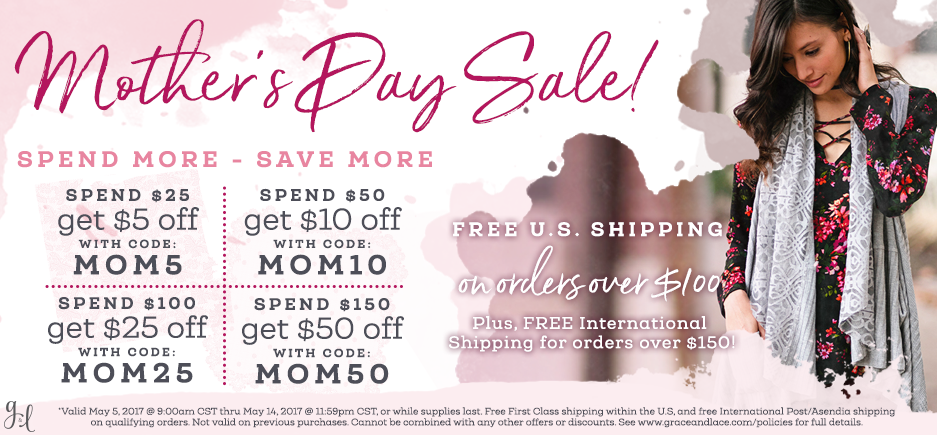 I featured this TOP before and I received mine, thank you Mr. UPS guy! 😉 I absolutely LOVE this top and every time I wear it, I get compliments! It is so soft too! It runs true to size.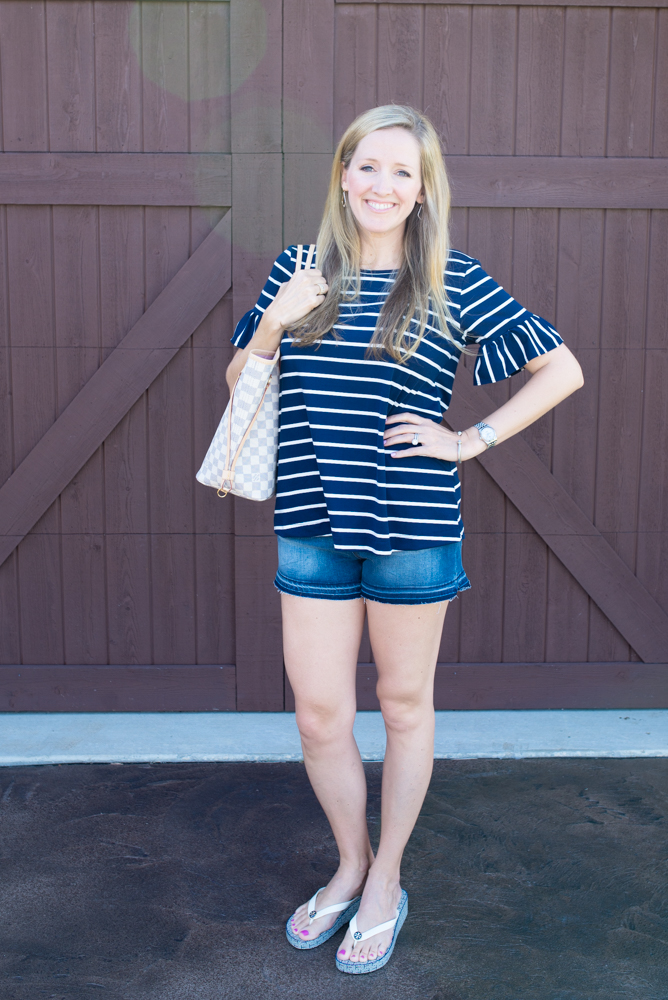 Aren't these SHORTS fun? Love the released hem, I am seeing that a lot this season and I like it! These are very affordable too! Love this outfit with my other new Tory Burch FLIP FLOPS, the ivory and navy is a great fit with this outfit! I haven't included a goofy picture in a while, so here ya go! Feel free to make fun of me, I deserve it! =) It's so awkward taking these pictures that I goof around most of the time! I am not a model and don't pretend to be… just keeping it real!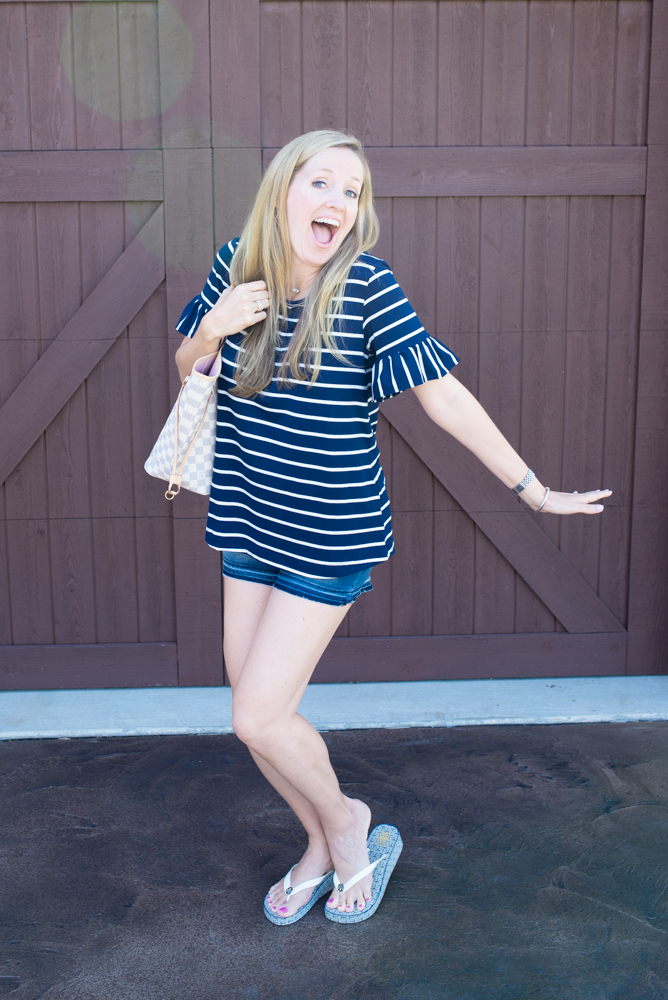 I should have put on my SUNLESS TANNER before I took all of these pictures in shorts! Sorry if I blinded you! This tanner is so highly rated and they have a limited edition STARTER KIT that even includes the mitt for a flawless application!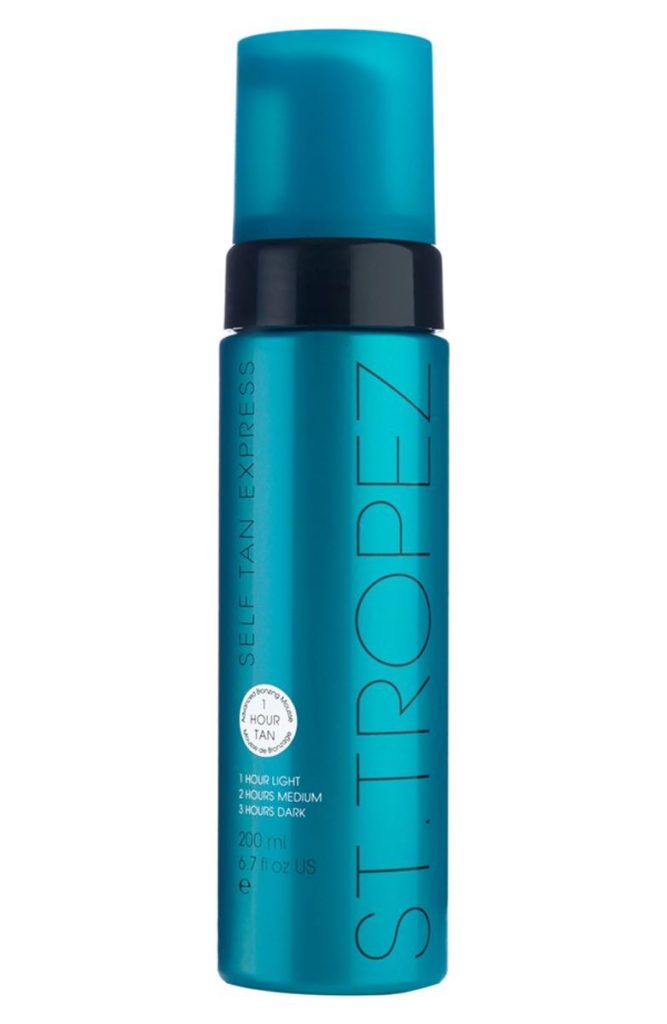 Here's the starter kit! It's a great value and includes some of their other great products to enhance your tan!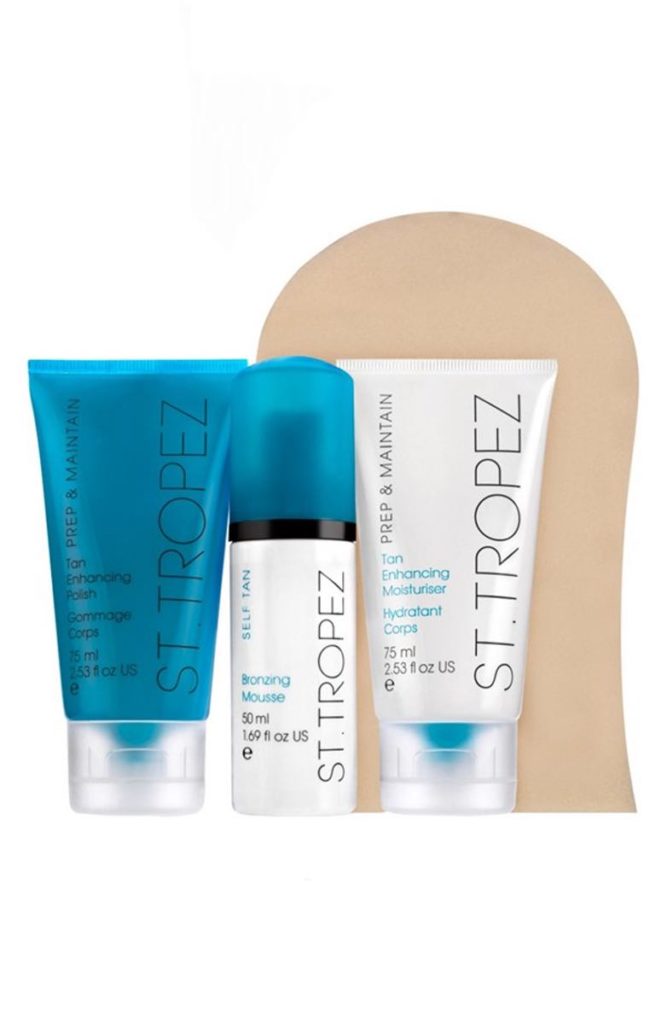 This rose pink TOP goes with lots of different shorts, here, let me show you! First up, these amazing high waisted CAMO SHORTS! These ran really big on me, I actually sized down two sizes! I'm wearing them with my favorite dressier SANDALS that are gold!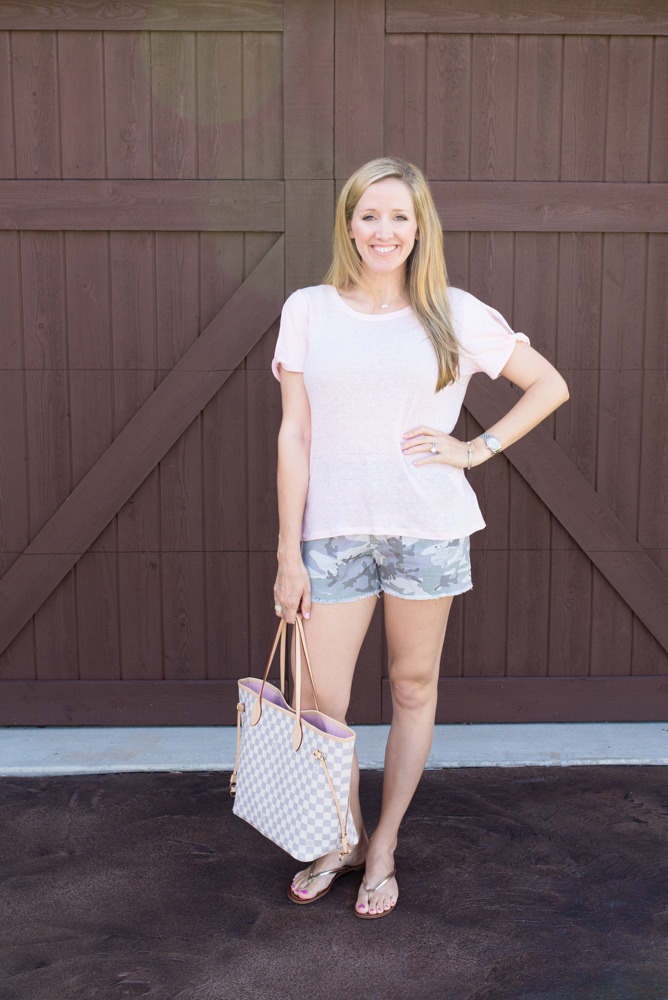 These CHAMBRAY SHORTS are the softest material and they have a comfy waist band too!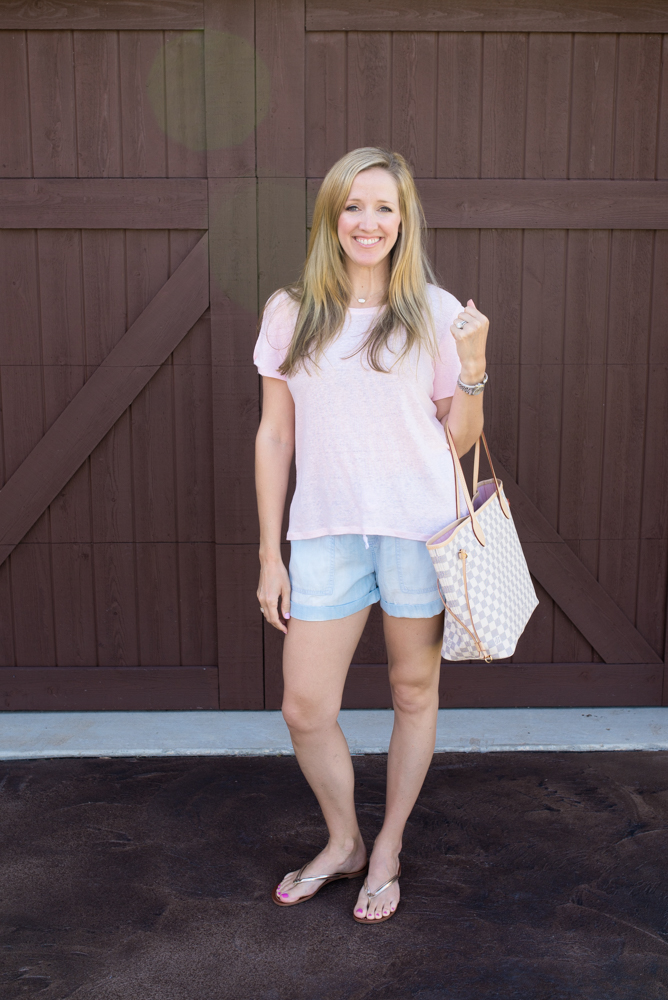 My favorite new shorts have to be these EMBROIDERED SHORTS! They are on trend and have fun colors on the side seam on both sides.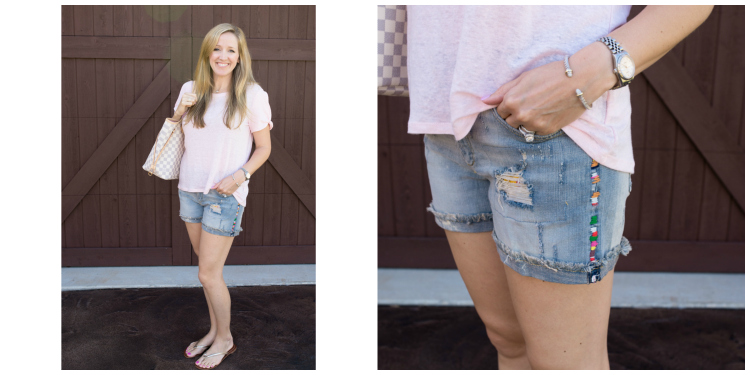 I had to share this EMBROIDERED BABYDOLL top too! So pretty!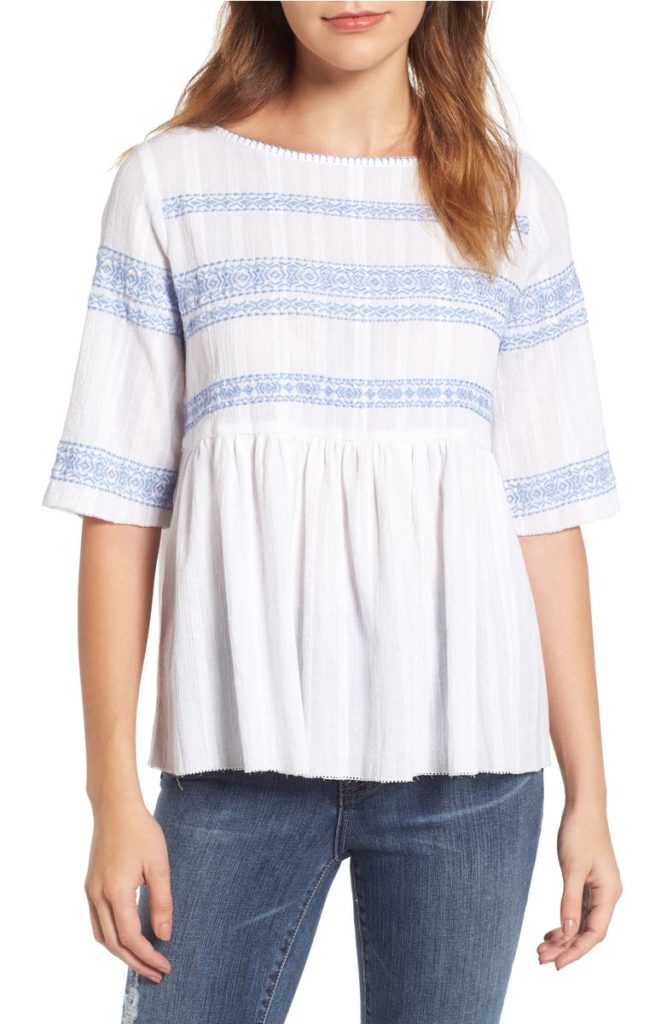 If you are looking for High-Rise RIPPED DENIM SHORTS, these are perfect! These ran true to size on me. Sorry I don't have a picture in them…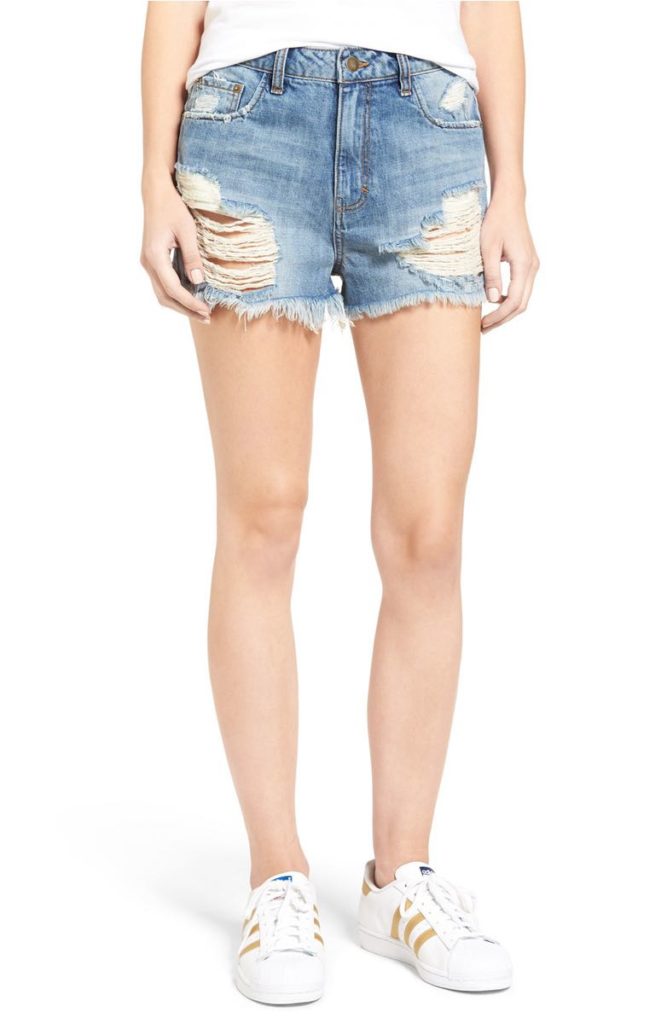 I found lots of great new shoes! A lady can never have too many shoes, right? So get your pedicure done and snag some of these great new arrivals! These Rose Gold SLIDES are adorable and we all need a cute pair of slides, they are all the rage! The price is great on these too!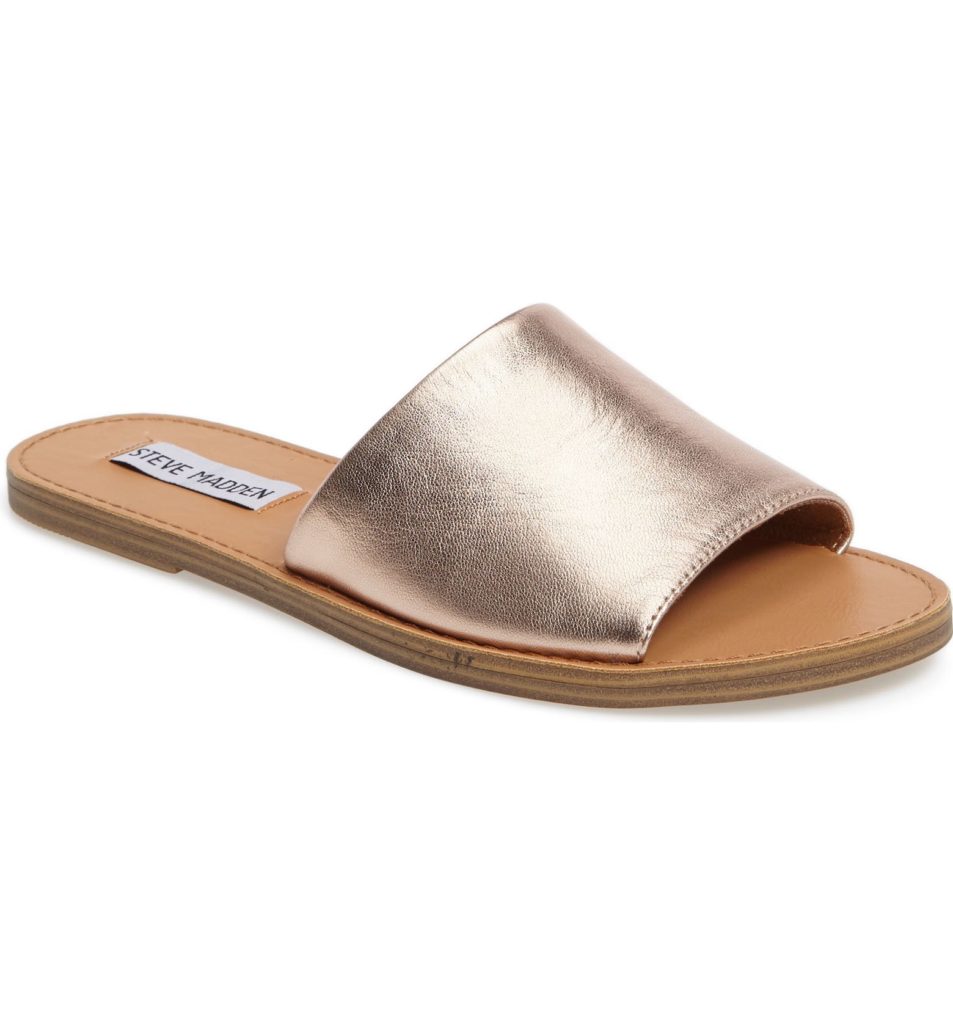 I think these silver FLIP FLOPS are really cute and they are also a really great price! They come in other colors too!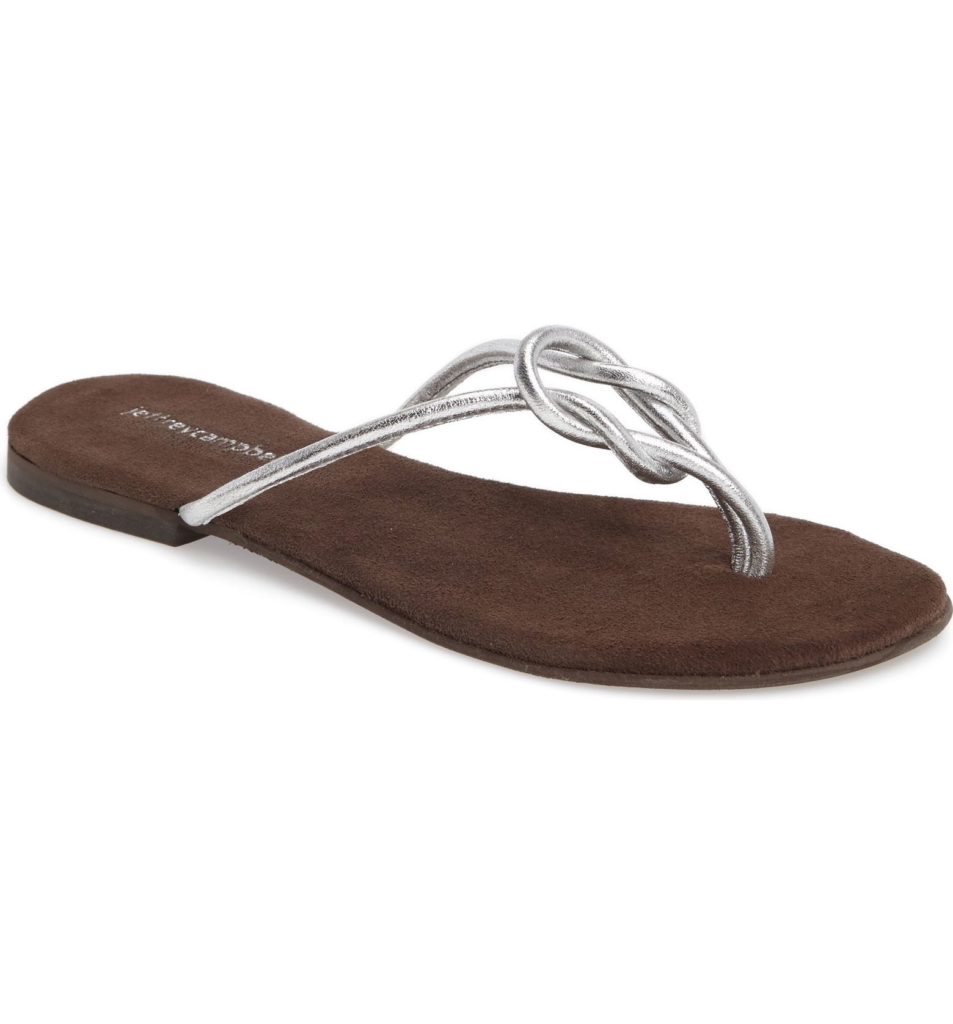 Tory Burch just released two cute new patterns for the thin flip flops.  Love the bright green and navy combo on these FLIP FLOPS.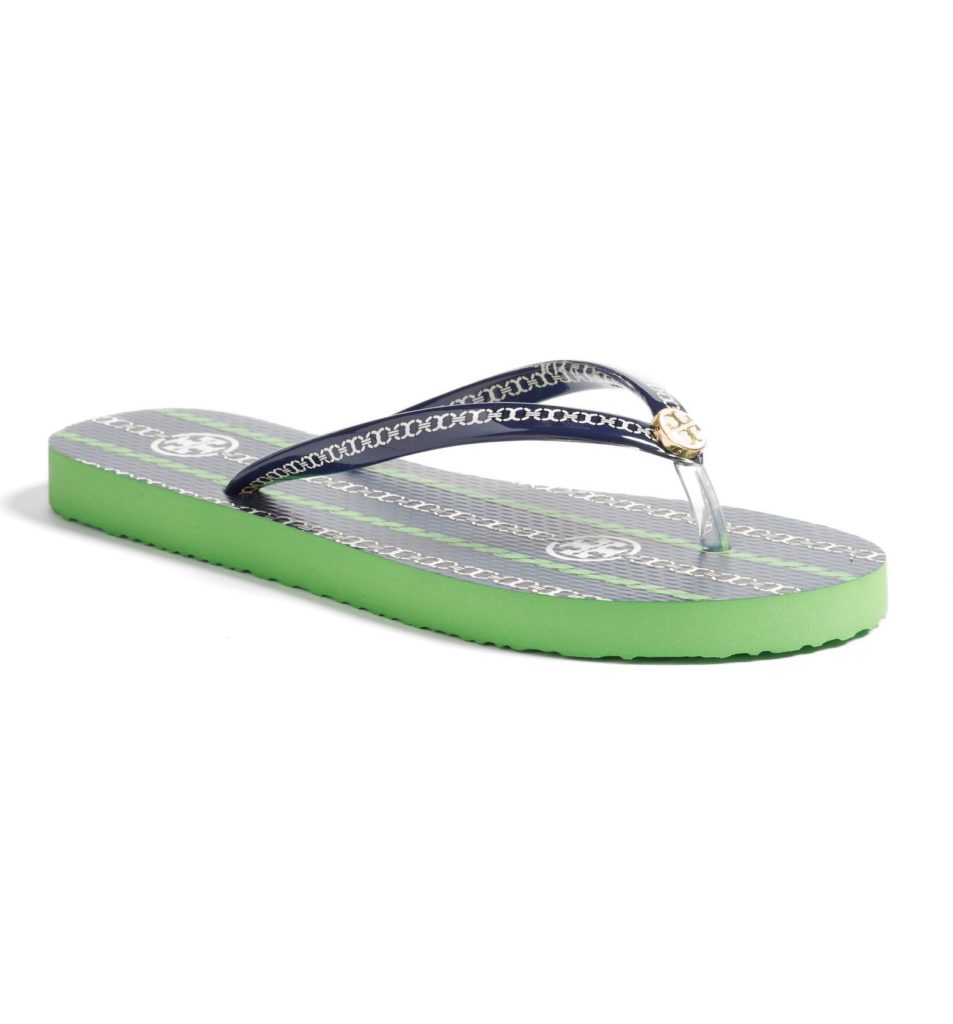 I think these are the cutest wrap around ankle strap SANDALS I have seen and they are under $100! I couldn't decide which color I preferred, so here are my two favorite colors.  Love the versatility of the straps, you can do them short or tall based on the outfit!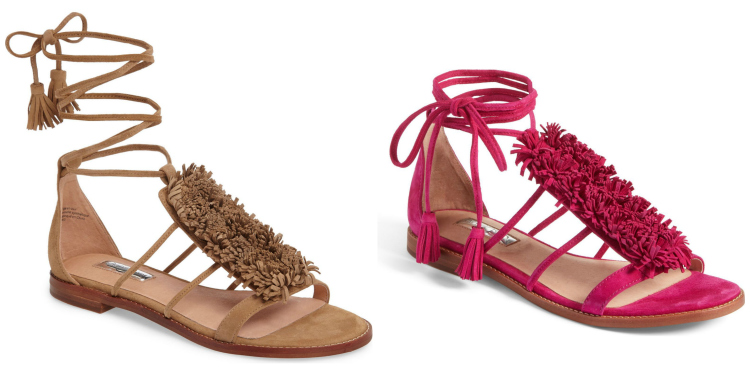 Tory Sport has the cutest RUFFLE SNEAKERS! They have green or navy! Super cute with boyfriend jeans and a t-shirt!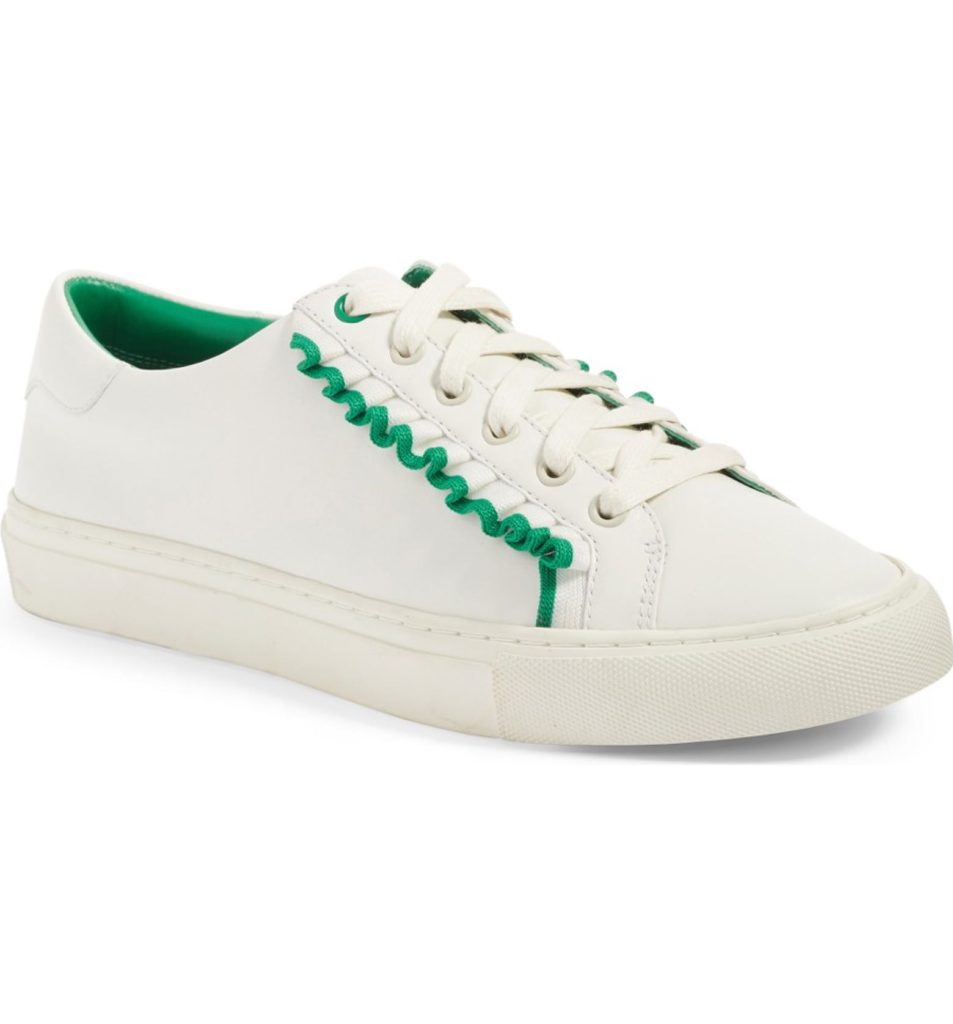 Texture is really in right now, and these Espadrille PLATFORM WEDGES are great! They will be so versatile and comfortable! They come in white too!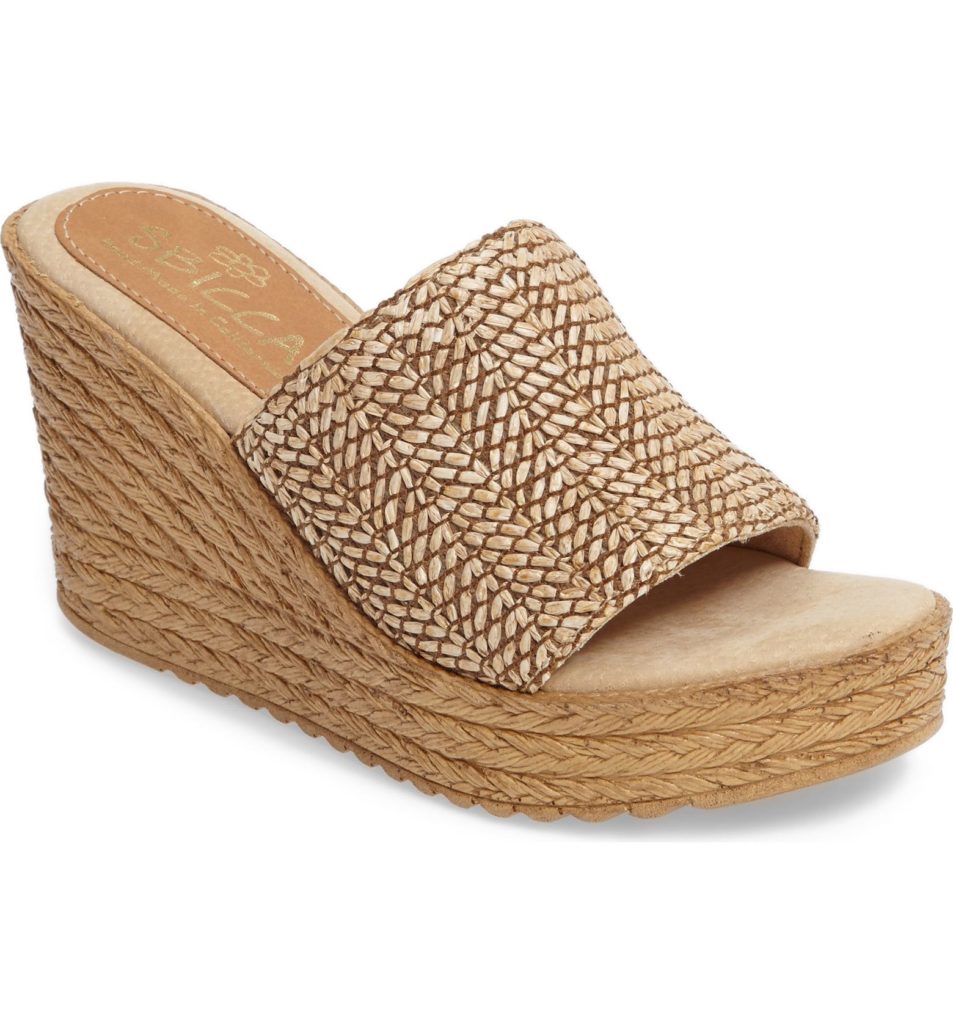 Now these ESPADRILLE WEDGES are so fun! They are pretty tall, but they are really cute! I like the pink (as pictured) but they also come in beige.  Either option is a great neutral!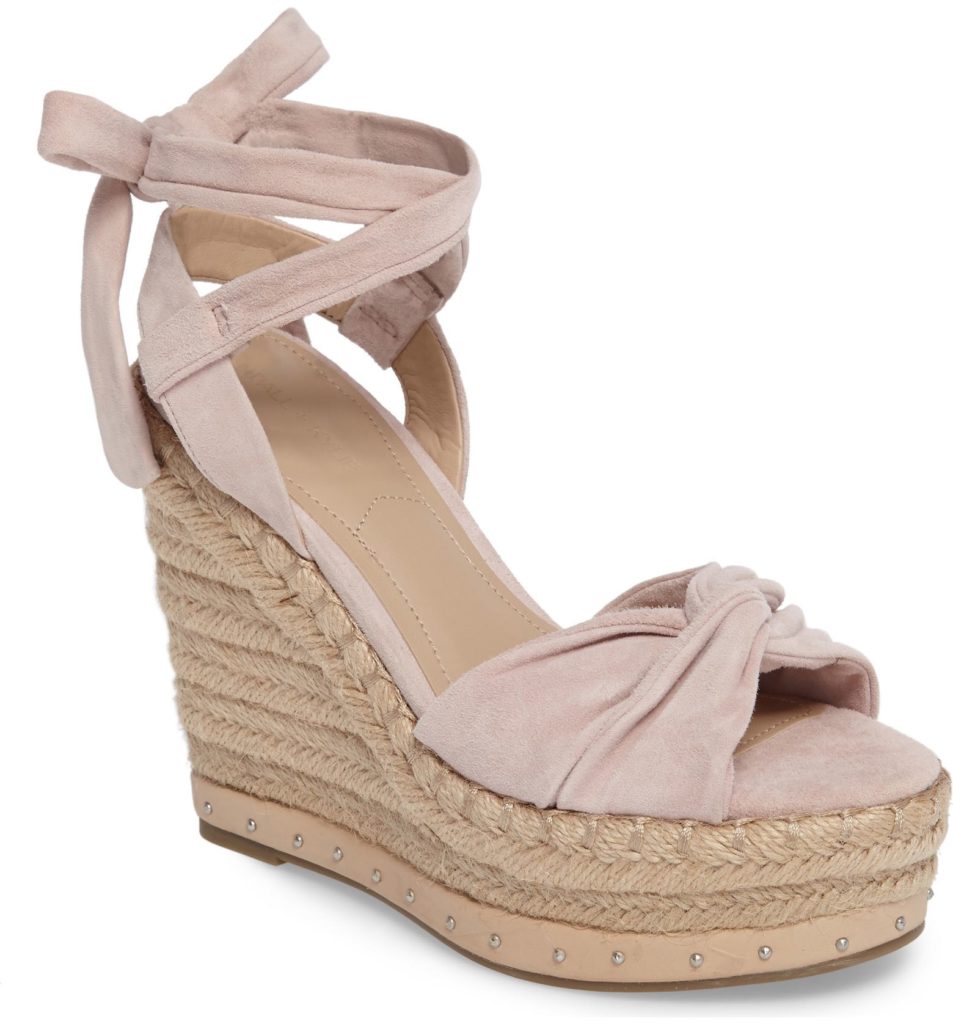 Lastly, how cute are these leather FLIP FLOPS.  I am a fan of the thicker straps on these and you can pick from several colors.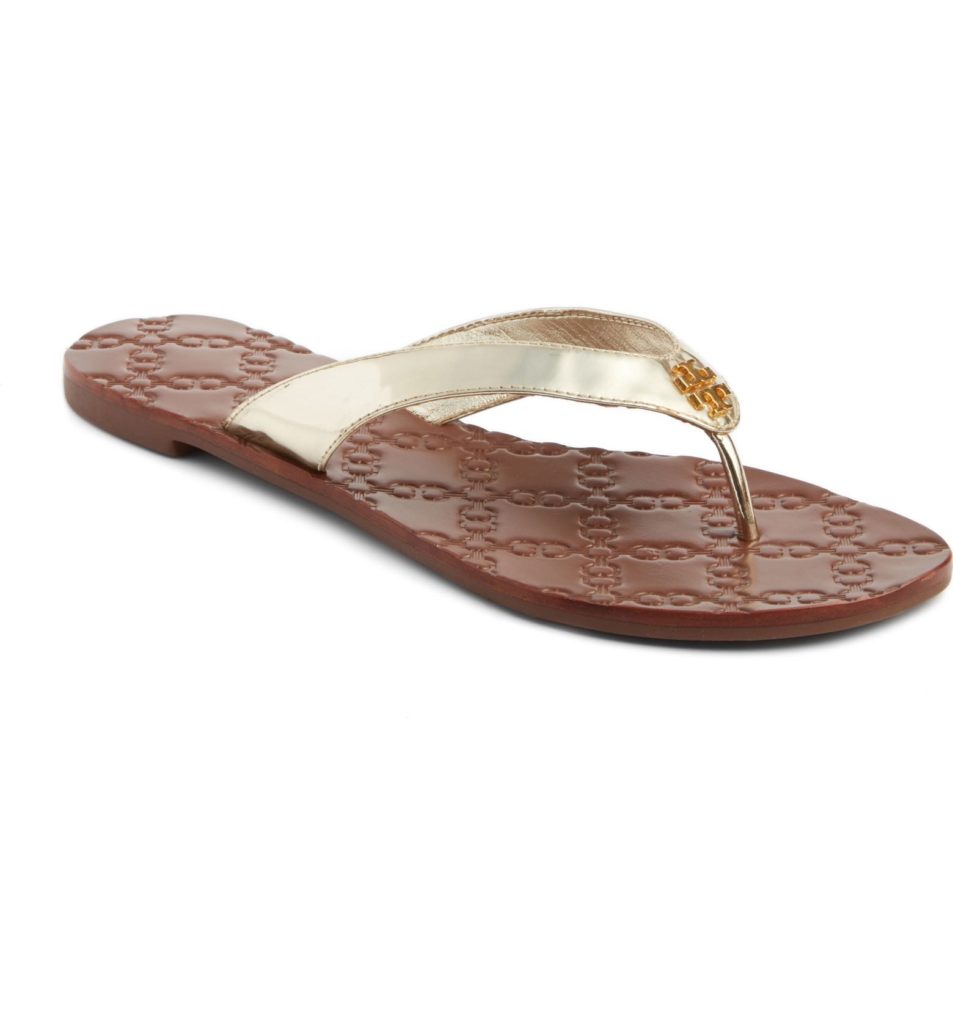 I shared this on social media with you guys last week and wanted to make sure that everyone saw these amazing new CAPRIS! They are a limited edition and the day I wore them, I got tons of compliments.  Seriously, a lady stopped me in the grocery store to ask me where I got them! Ha! They are already selling out of sizes, so hurry! They are made out of the softest, compressive fabric.  I would say to size down if you are between sizes.  Please excuse the terrible picture, my 6 year old son took it! 😉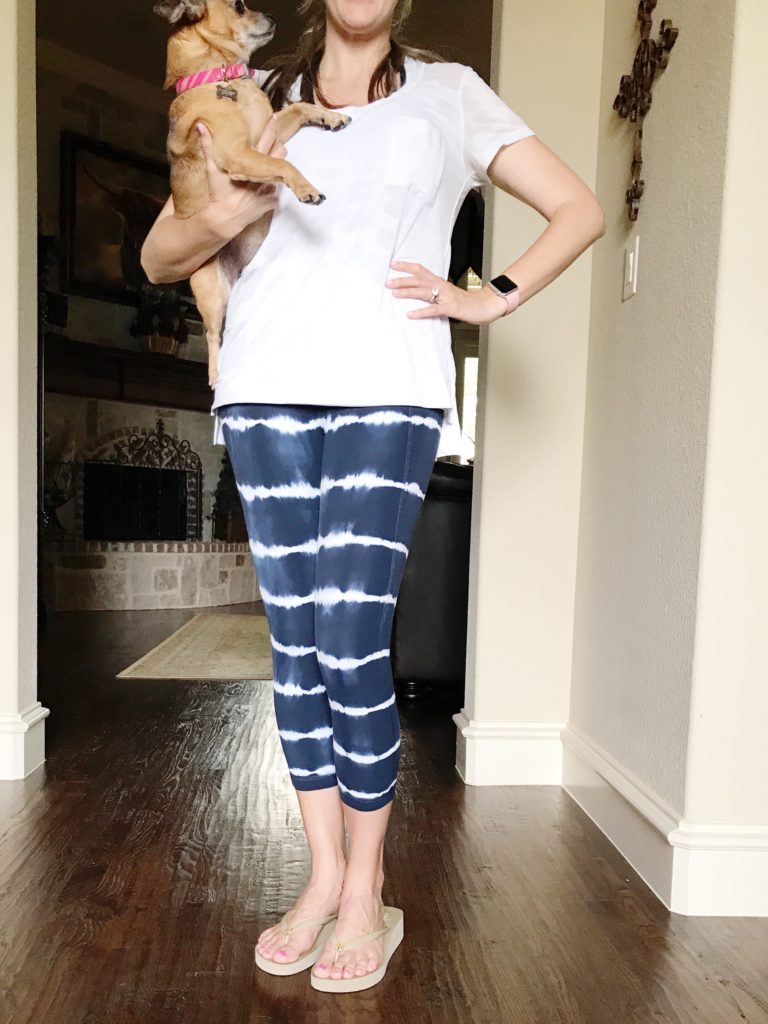 Don't forget about ANTHROPOLOGIE'S extra 30% off of their SALE items! These EARRINGS are my favorite item included in the sale and they are only $34.97 now, originally $78!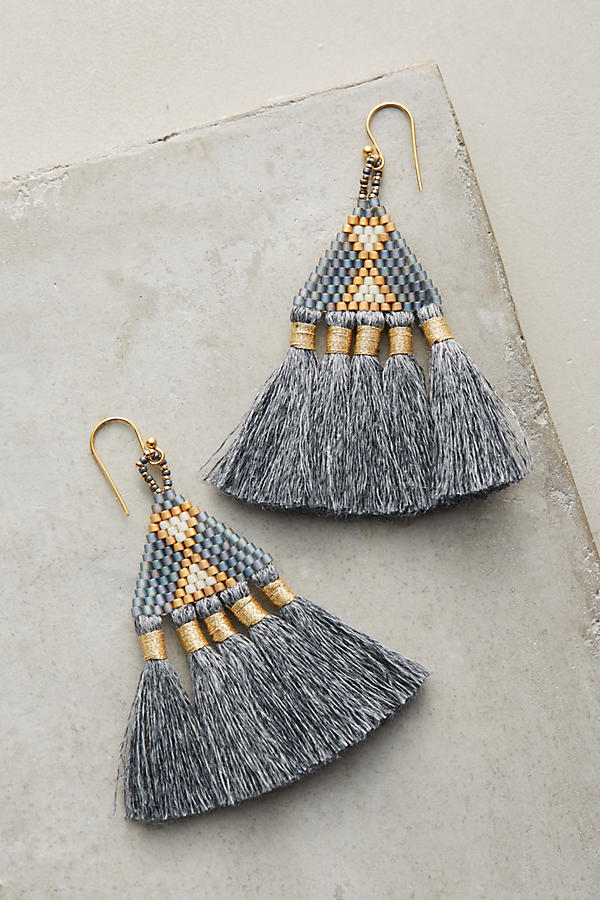 I was talking to a friend the other day and she was complaining about not being able to wear heavy earrings because her piercing had stretched out.  I told her about the LOBE WONDER earring support patches because they provide support for heavy earrings.  It's a clear "sticker" that you put on the back of your ear lobe and then you puncture the earring through it when you put on your earring.  It supports the weight of the earring so it won't pull on your ear! Genius!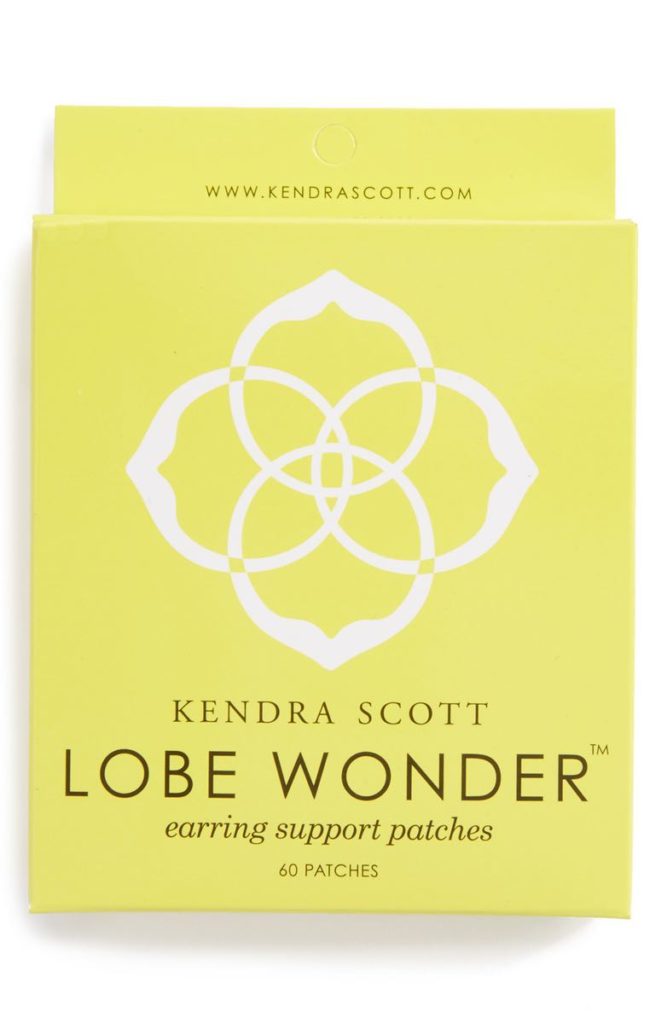 I am excited about all of my new essential shorts, Grace & Lace tops and new shoes! Thanks for reading and I hope everyone enjoys the rest of their weekend! Be sure to follow me on Instagram and Facebook for sale alerts and hot new items during the week! Mother's Day is next Sunday! Be sure to check out my MOTHER'S DAY GIFT GUIDE for great gift ideas!

Learn more about Barrett & see all of her posts HERE.
Follow Wear it with Barrett on Instagram and Facebook.
**This post contains affiliate links. If you purchase I may receive a small commission. Thank you!**