Hello Ladies! I'm excited to show you some ruffle tops, Spring shoes & affordable denim! I have been hard at work, shopping around the clock to find the latest and greatest so that you guys don't have to lift a finger to look cute! Spring is coming and it has certainly hit the stores lately! It's my favorite time of the year and I am looking forward to short sleeves and sunny days! By now you know that I love jewelry a little too much, and I found a few treasures for y'all! Ruffles are all the rage right now and I LOVE them! I found some really cute options that won't break the bank AND more amazing, affordable denim! Lots of fun shoes too, from espadrilles to booties!

First up is this adorable and very soft ruffle top! It is also available in different color combinations, like all black.  It's a soft t-shirt with crisp poplin ruffles! So easy and so cute! I am also obsessed with these jeans that are under $60! I would recommend sizing down one size in all of the jeans I am showing you today.  This ruffle top fits true to size though.  I'm going to show you three pairs of affordable jeans today, but I think these are my favorite!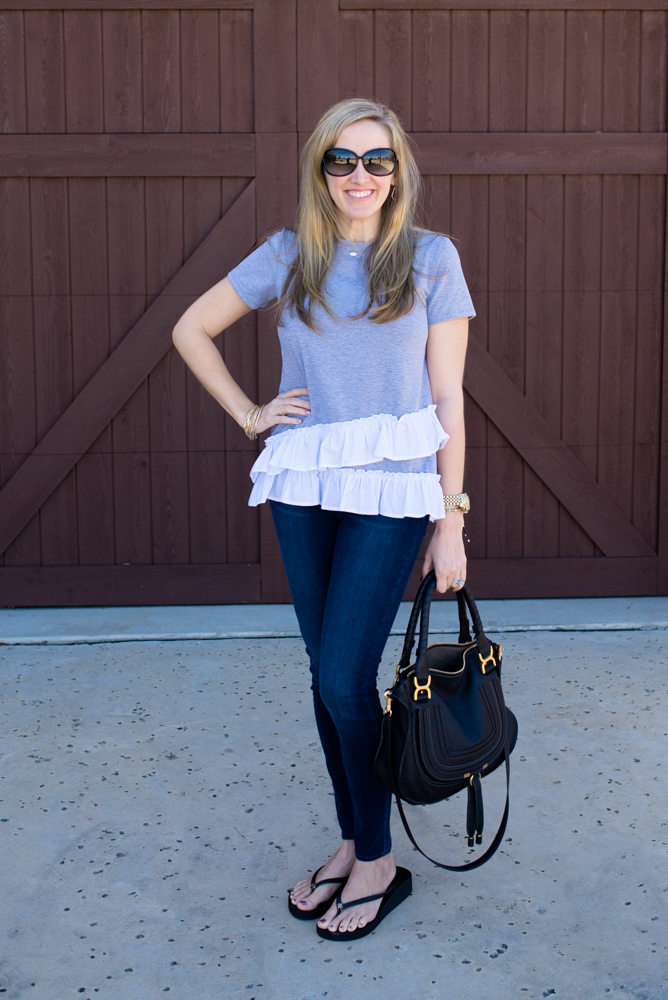 RUFFLE TOP | JEANS | FLIP FLOPS | PURSE | EARRINGS | NECKLACE | BRACELET | WATCH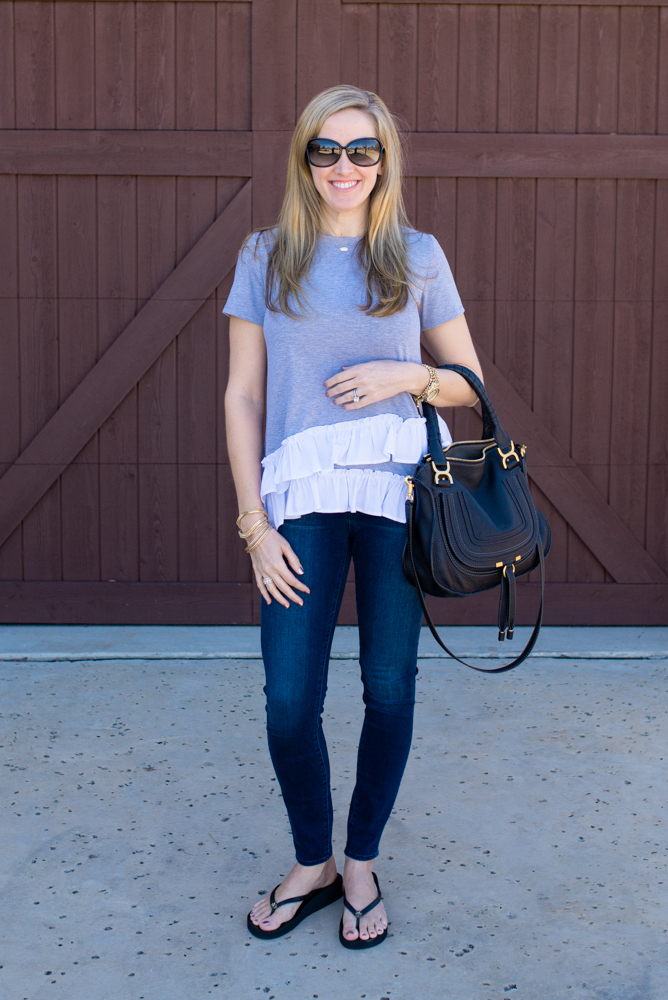 Next up is this ruffle t-shirt and I can't decide which color I like the best! I want the grey one to wear with regular jeans and the navy one to wear with white or really light denim.  Which one should I pick? It's so affordable that I might need both! These gold bangles are soooooo fun and easy to throw on with anything!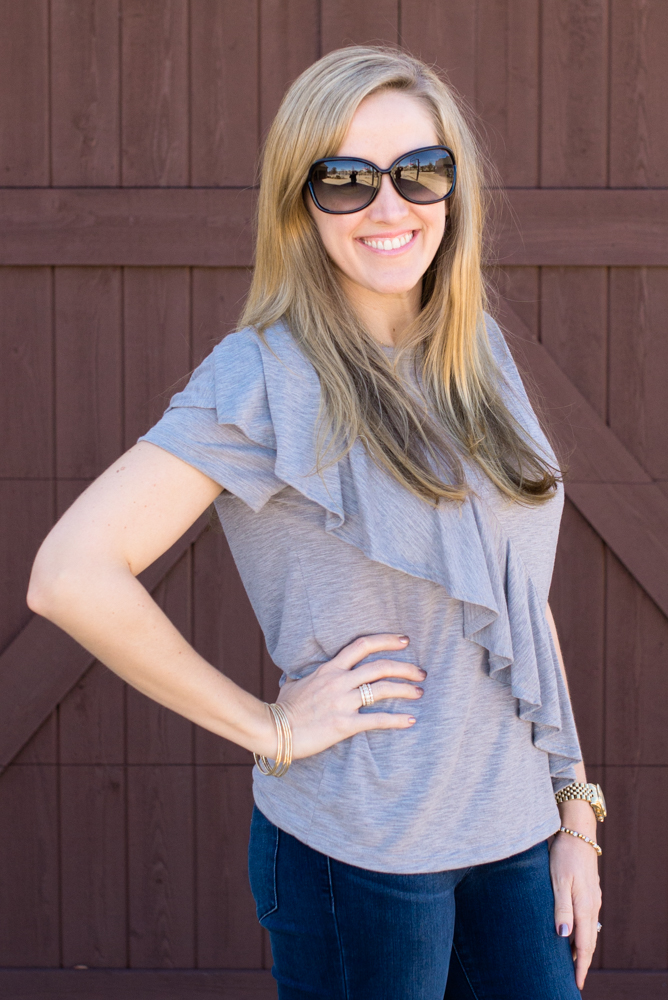 RUFFLE TOP | JEANS | BANGLES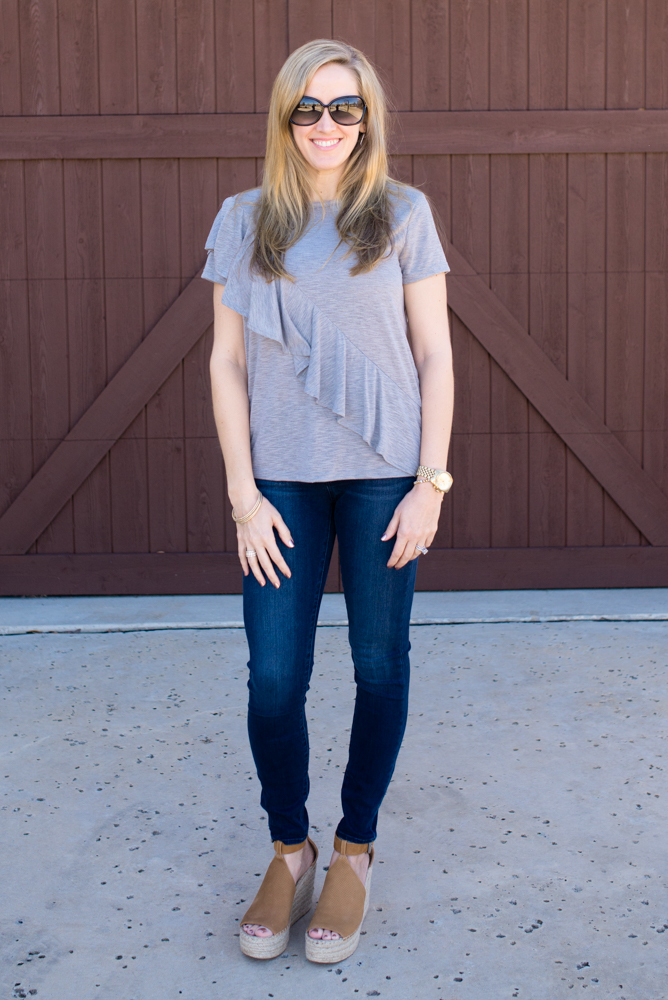 I'm going to interrupt this discussion to talk about these shoes!!! They are so cute that they must be uncomfortable, right? NOPE! They are so cute and so comfortable too! Hooray! They are a perforated espadrille platform wedge and they would look even better with a great dress! Here they are in all of their glory! This is the tan suede color.  I think they will go with just about anything!
Ok, back to the ruffle t-shirt! Here it is in the navy, what do you think? I did prefer this shirt sized up.  I am not a fan of a super snug shirt. 😉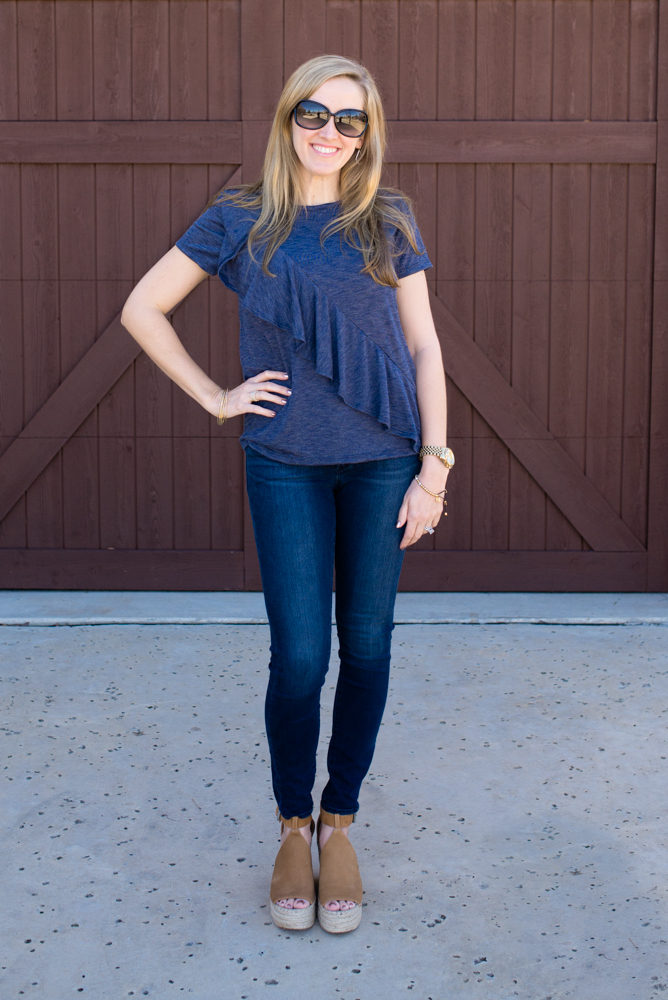 This amazing draped tee is on SALE and is only $20.98!!! I wore it on our Valentine's date with my faux leather pants and it looked great dressed up too! It's true to size and its longer in the back… perfection.  Also available in black, grey, green and this wine tasting color.  I am wearing the darkest of the three jeans in this picture and I really like these too.  They aren't quite as soft as the first pair but they are still stretchy and wonderful! I like the classic dark wash, you can dress them up a little and they are slimming.  Don't forget to size down in these!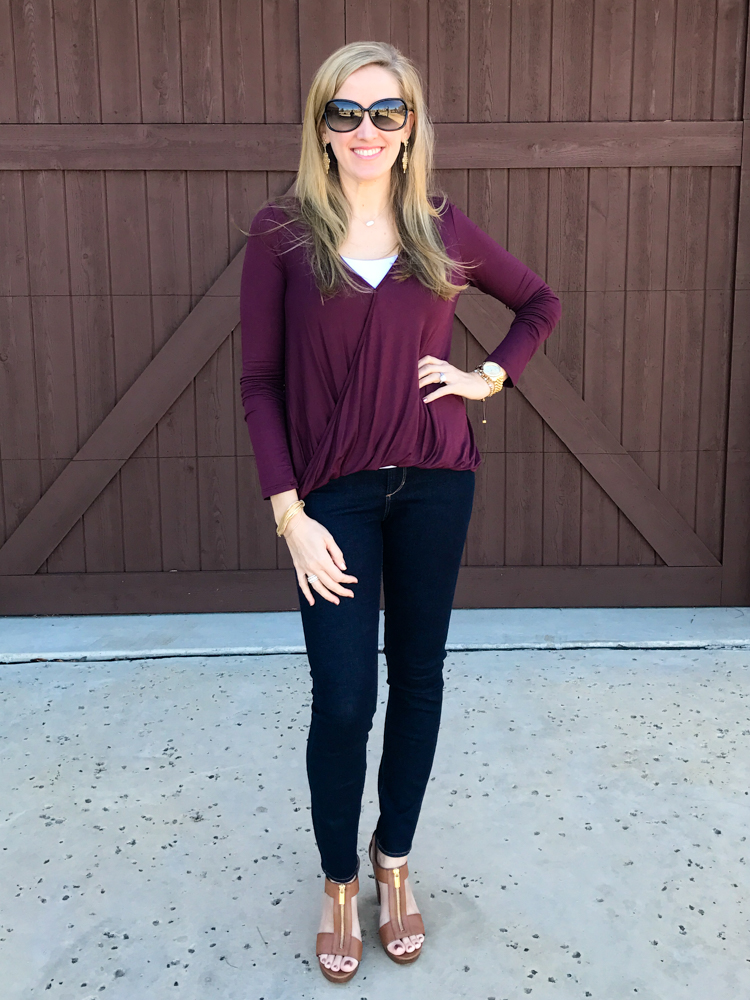 DRAPED TEE | TANK | JEANS | EARRINGS | NECKLACE | SHOES
This is such a cute anorak and the price is great because it just went on SALE, it's only $41.40! It runs pretty big, I sized down and I think I might have liked it sized down even more.  I am wearing the third pair of affordable jeans and these are the lightest of the three washes.  I'm wearing an awesome tank top that looks great under jackets because it's loose in the mid section! Yay for no cling! I really like these mules that are on sale right now! I think they look great with skinny jeans!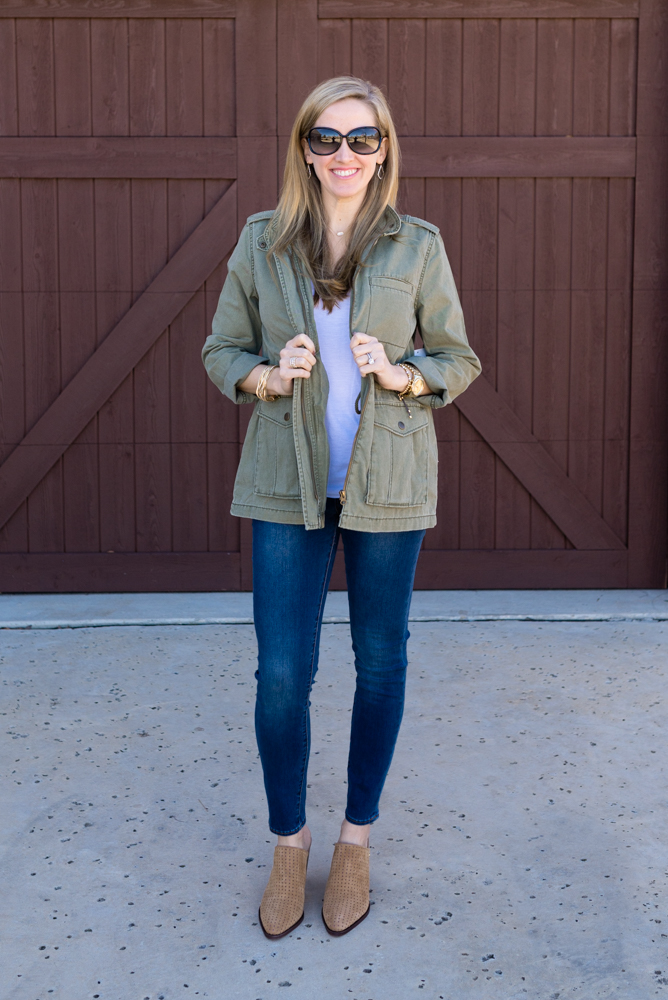 ANORAK | TANK TOP | JEANS | MULES (40% off)
Lets compare the three jeans I have shown you guys… the best news is that they are all under $60! One pair is only $54! I think these all feel like premium denim but they aren't nearly as expensive.  So exciting! Don't forget to size down please, they really do run big.  I LOVE how the waist fits on all of these, it isn't too tight and they give some (in the best kind of way).  Here are the three washes up close.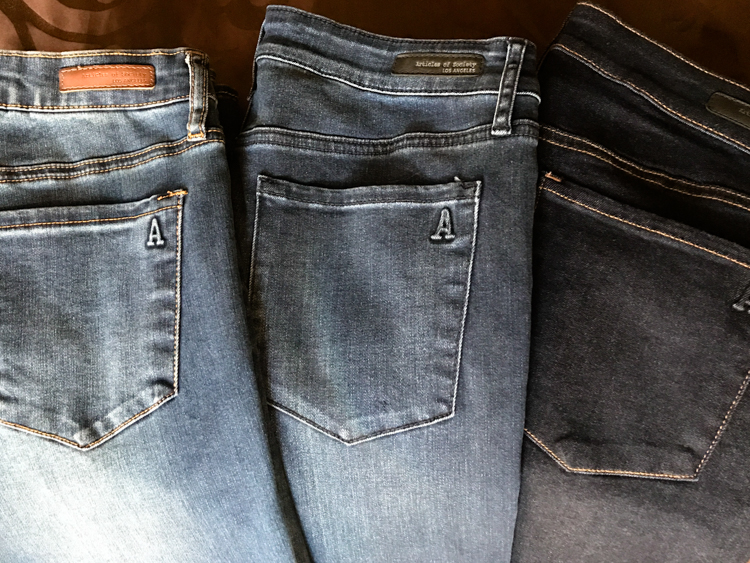 I have to show you these bracelets up close! I love the BANGLES and the CHAIN BRACELET separate and especially worn together! Top left is both sets together.  Top right, bangles, bottom right, chain bracelet and the bottom left is the toggle for the chain bracelet.  I will be wearing these a lot!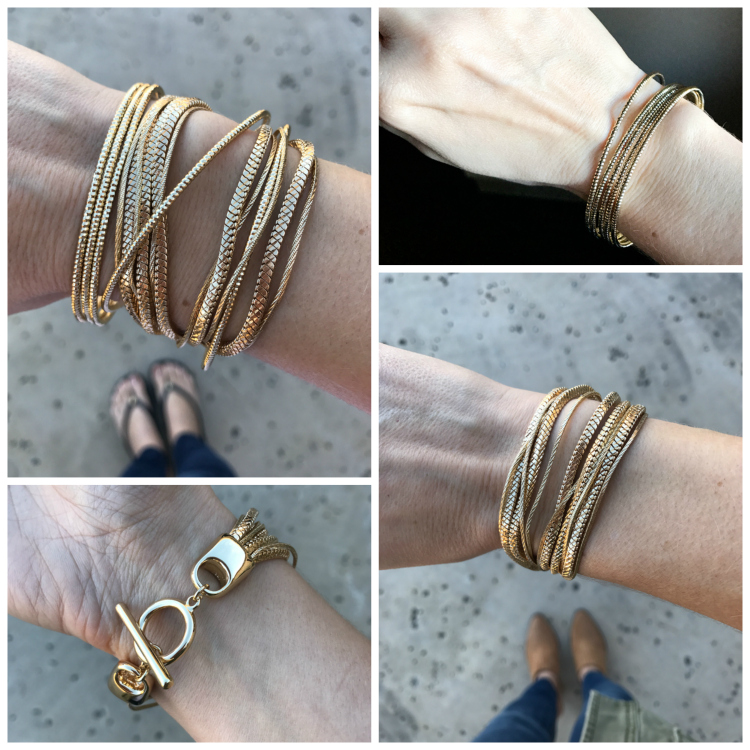 I also have to show you these gorgeous TORY BURCH BOOTIES that a friend of mine just got.  They are so pretty that I had to go try them on myself! They are suede and the color is so rich and beautiful in person! These beauties are on my wish list!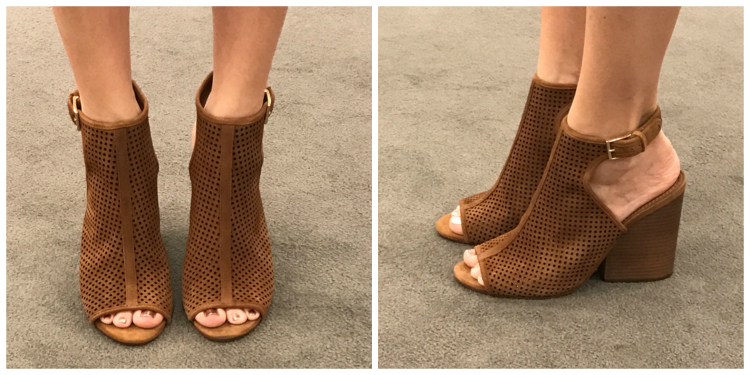 This faux leather scallop TOTE is so cute! I can't decide which color I prefer… I like the tan and the black.  They both have a tan pouch included too! This is a great bag for the Spring and the price is right! It is also available in white and a light blue.

Have y'all noticed that bright, big earrings are in right now? I saw these EARRINGS and these fun BRACELETS and thought they would be so cute with a white t-shirt and jeans! Or you could dress them up with a little black dress! I love the bright colors! Please excuse my pictures from inside the store. 😉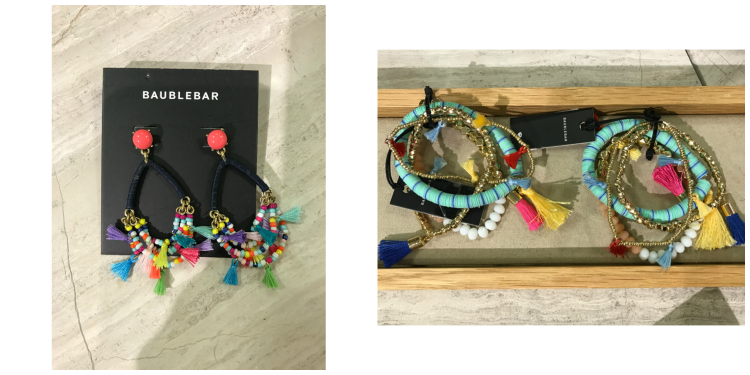 I also have to show you this adorable RUFFLE SLEEVE TEE! How cute would the jewelry above be with this tee! LOVE! Pay attention to the size chart because it runs a little small.  It's available in scarlet and white.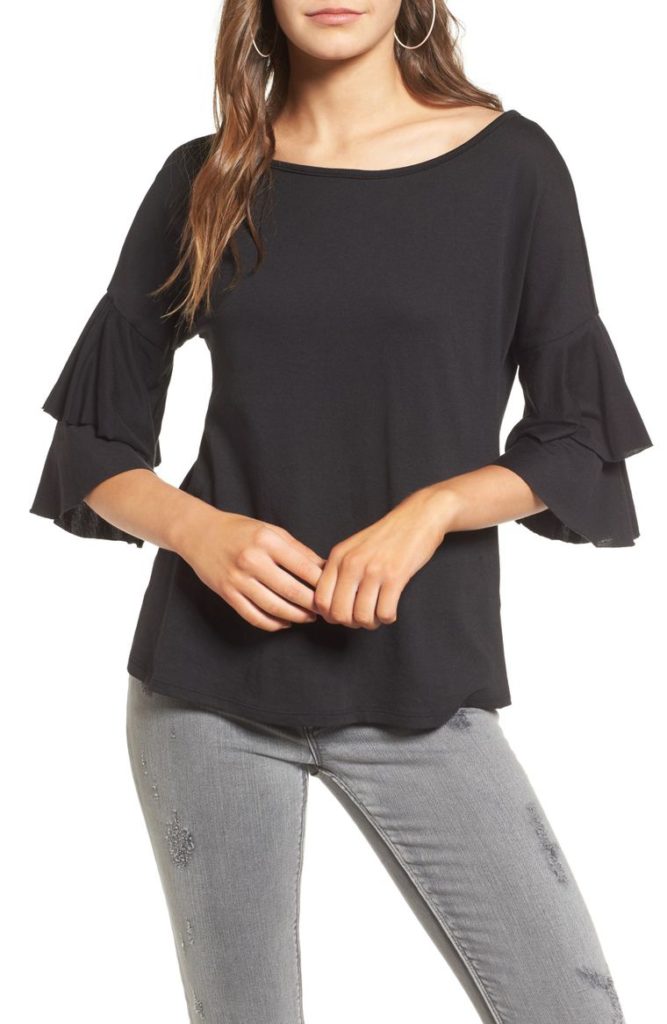 Last but not least is this ruffle sleeve TEE! It's selling out quickly, so snag your size if they still have it! This shirt is only $22!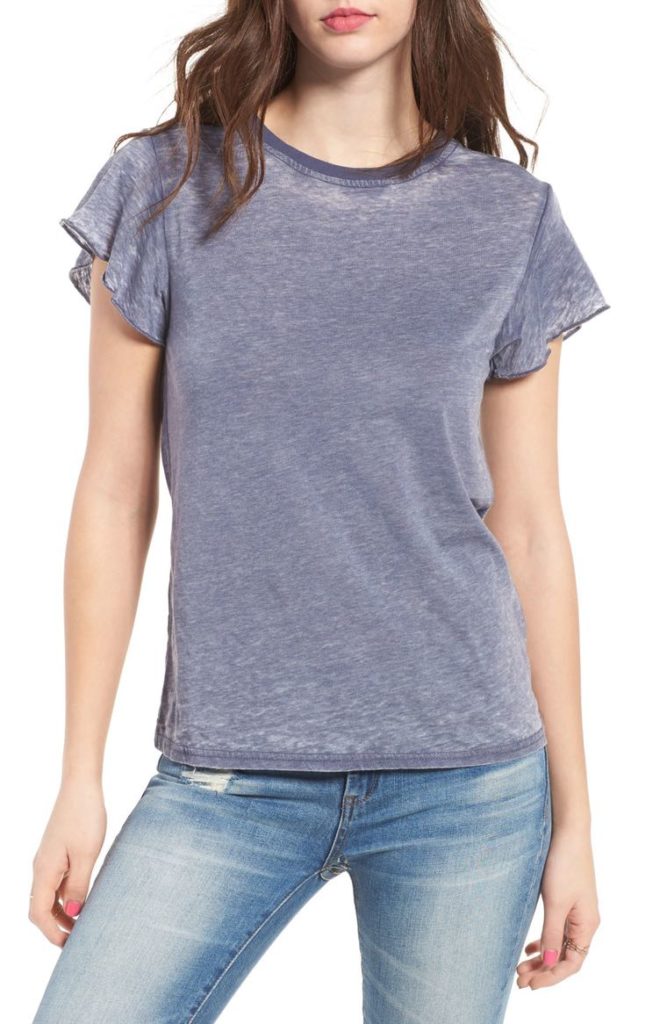 One more thing before I go… did you guys know about Nordstrom's Curbside Service??? Hello convenience! I'm not 100% sure if it is available at every Nordstrom store or not, so please check ahead at your local store.  You can order it online and select pick up in store.  Then when you pull up, you just call the phone number on the sign and a friendly Nordstrom employee will bring it to you in the car! Is that amazing or what? This is reason #956,001 why I LOVE Nordstrom! Where was this option when my kids were little and dragging them into the store wasn't a fun thing to have to do? Have any of you tried this yet? Here's the sign that is at my local Nordstrom.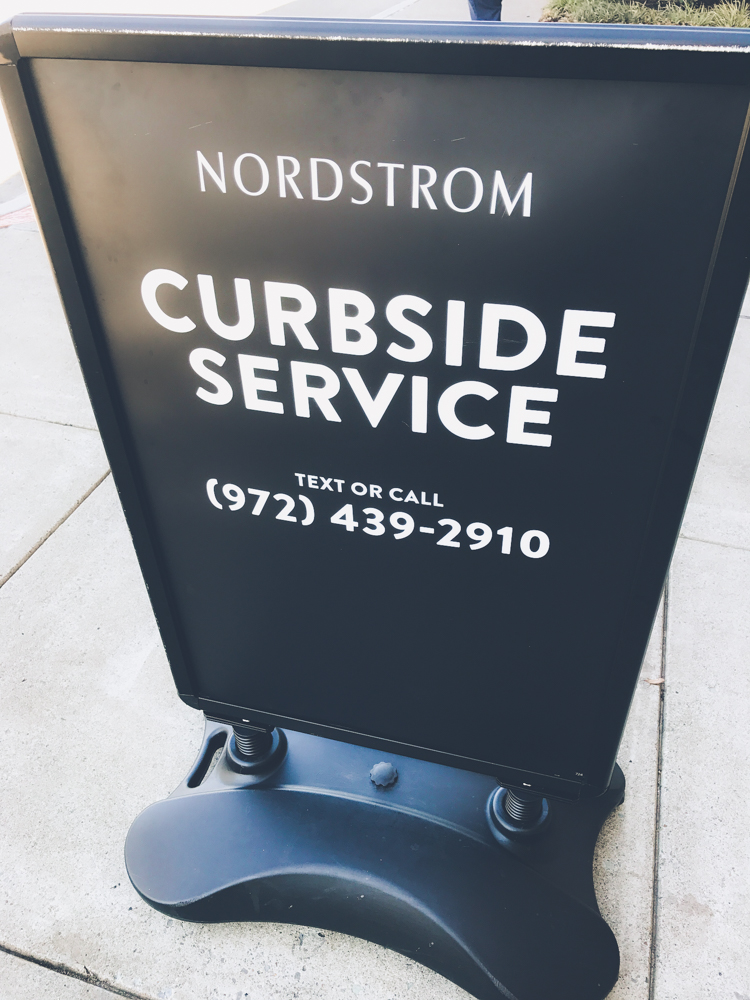 I hope you found some fun new ruffle tops, Spring shoes and affordable denim! Enjoy the rest of your weekend and I will see you next week! Same time, same place! Be sure to follow me on Facebook and Instagram because I will continue to share steals and deals throughout the week!

Learn more about Barrett & see all of her posts HERE.
Follow Wear it with Barrett on Instagram and Facebook.
**This post contains affiliate links. If you purchase I may receive a small commission. Thank you!**