Good Morning Ladies! I am thrilled to get to share one of my favorite jewelry lines with you, along with two versatile casual outfits to wear now and into the Spring! A good friend introduced me to SonyaRenee jewelry a couple of years ago and now I get to share this affordable jewelry line with all of you! Yipee! SonyaRenee Jewelry began in 2002 and is a line of simple and elegant pieces designed specifically to be incorporated into your everyday wardrobe.  Today SonyaRenee is sold in over 600 retail outlets across the U.S. and overseas. It is consistenly featured in fashion magazines, tv & cinema, & worn by celebs.   The best part is we are doing a GIVEAWAY for one of my favorite pairs of earrings AND they are giving all of you an exclusive discount code for 25% off too! Here are all of my picks that I will style for you today!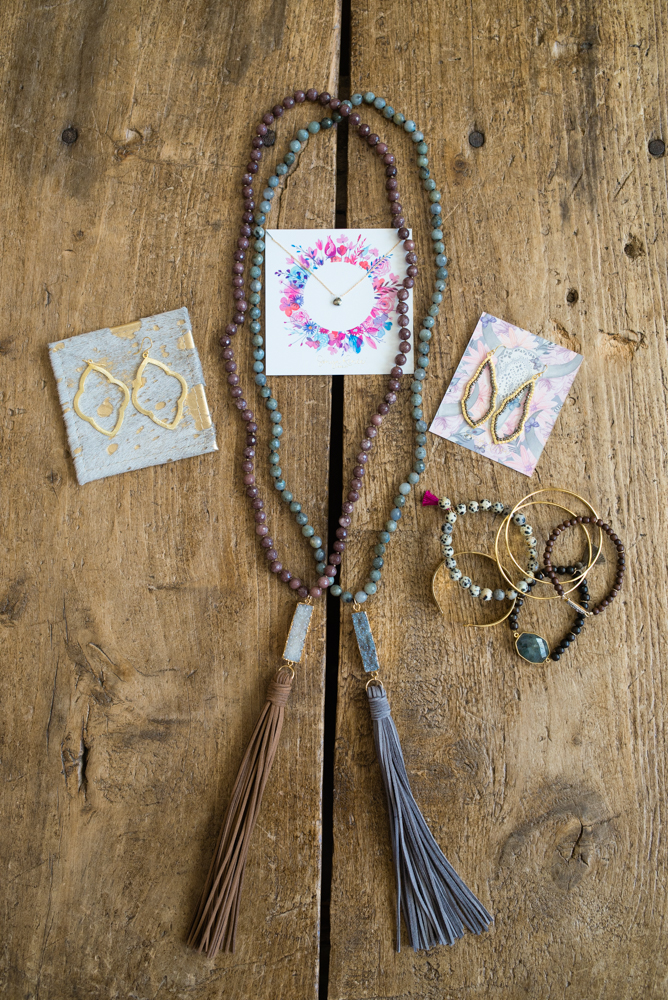 SonyaRenee Jewelry – Barrett's Favorites
First up has to be these gorgeous key hole earrings in gold tone! I love these and you can wear them with just about anything! They are lightweight yet have a big impact! They are giving away a pair of these beauties to one of our lucky readers! You will find the entry at the bottom of today's post.  Good luck!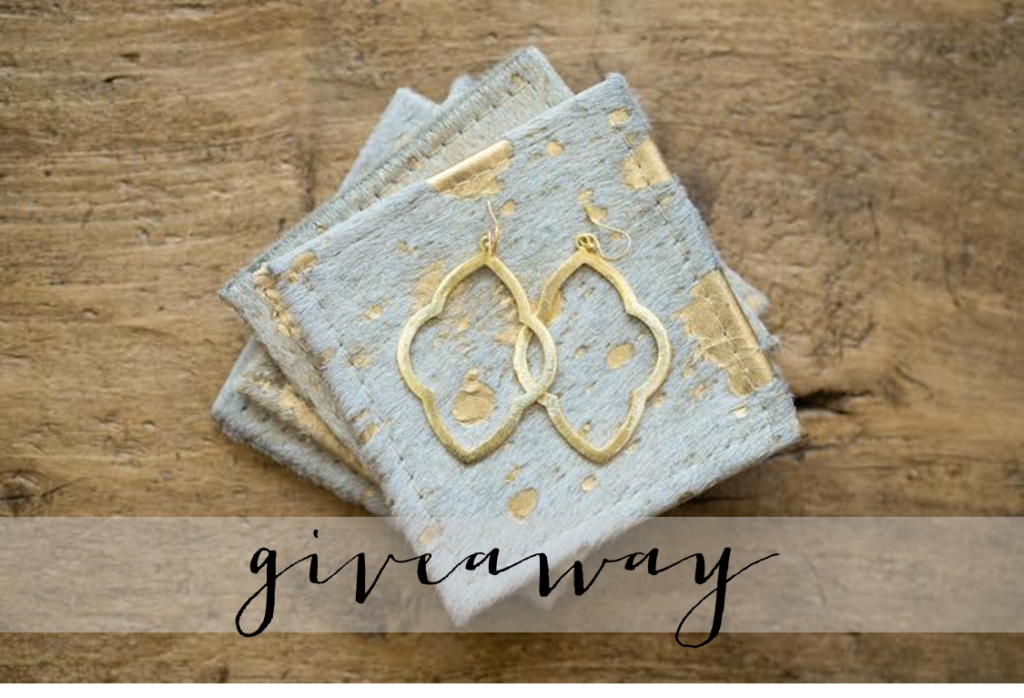 I couldn't decide which color was my favorite in this long necklace, so I have to show you both of them! The brown quartz is amazing and I wear a lot of brown! The labradorite is so gorgeous though and looks great with black or gray or white for that matter! The Drusy bars are so pretty and sparkly on these necklaces.  Love the extra long, suede tassels too! Which one is your favorite?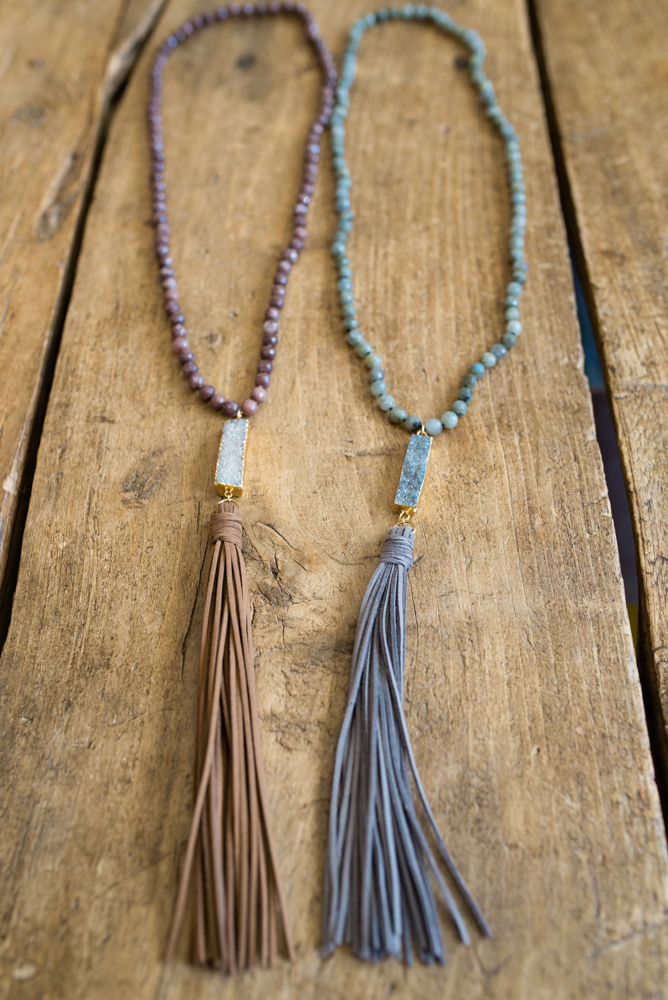 I am a Drusy loving girl and both of these are beautiful!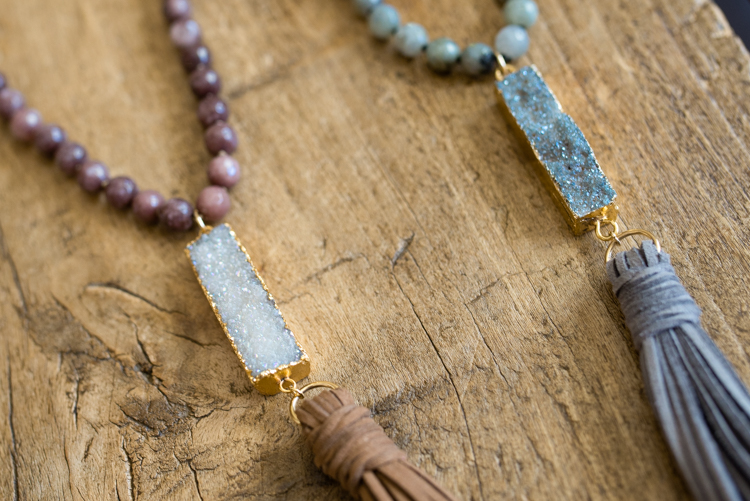 This necklace is so versatile and a must have for sure! You can layer it with just about any long necklace and it looks great in pyrite with either of the long necklaces above.  It even has a cute little accent bead at the clasp! Such a nice detail.  This is one of their number one sellers for good reason and it's very affordable!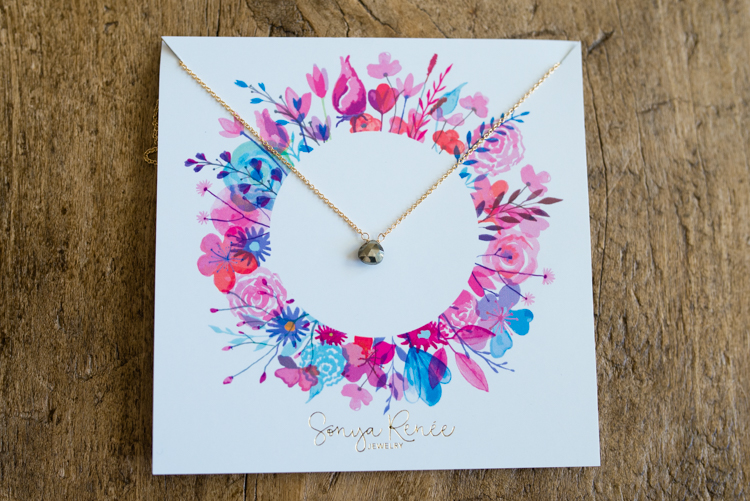 Since we are talking about pyrite, lets talk about these beaded earrings next! They are so beautiful and the perfect size and shape.  They catch the light and sparkle just enough to look great against any hair color.  You will see them on me later in the post. =)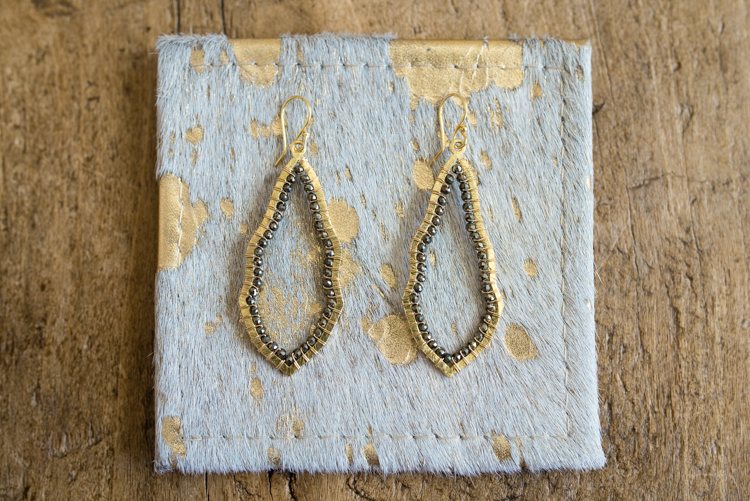 Next up are these amazing bracelets! I don't know about you, but when something is already put together for me, it makes it so much easier! I love how they offer these bracelet stacks that are ready to go! I adore each bracelet in this 6 bracelet stack set!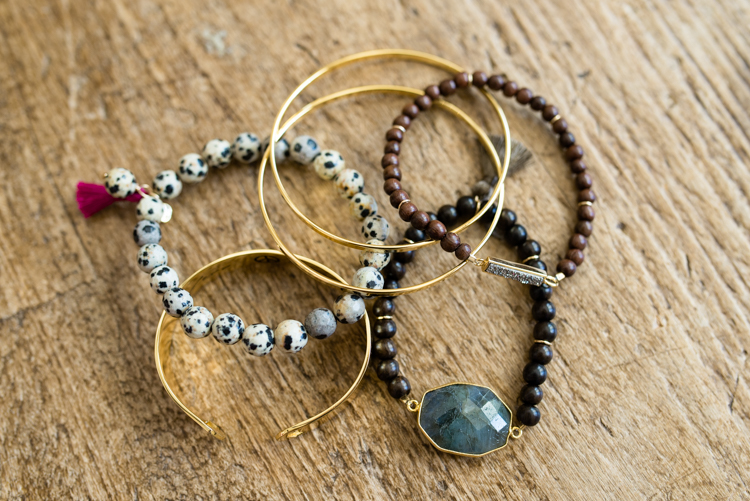 Here is a close-up of each bracelet.  You can either buy the stack as is (which includes a discount already), or you can pick and choose which bracelets you want! Some of them are only available in the stack set though.  This is the free spirit cuff, it's so shiny and I love the cutout chevron details! It's adjustable too!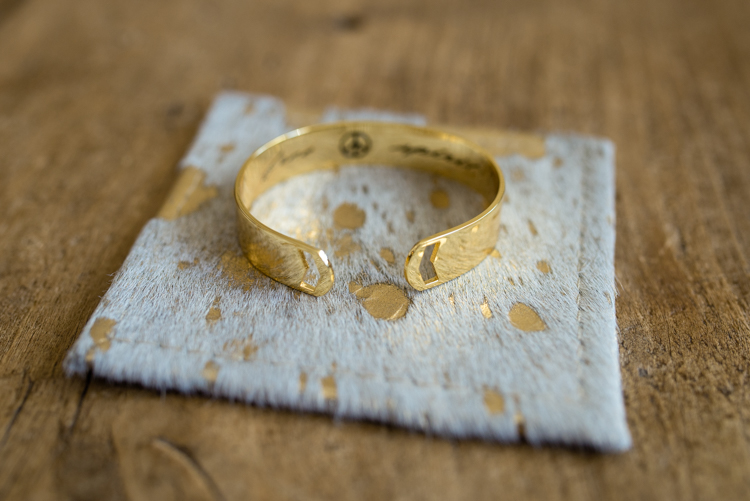 Silver Drusy Bar Stretch Bracelet.  LOVE!!!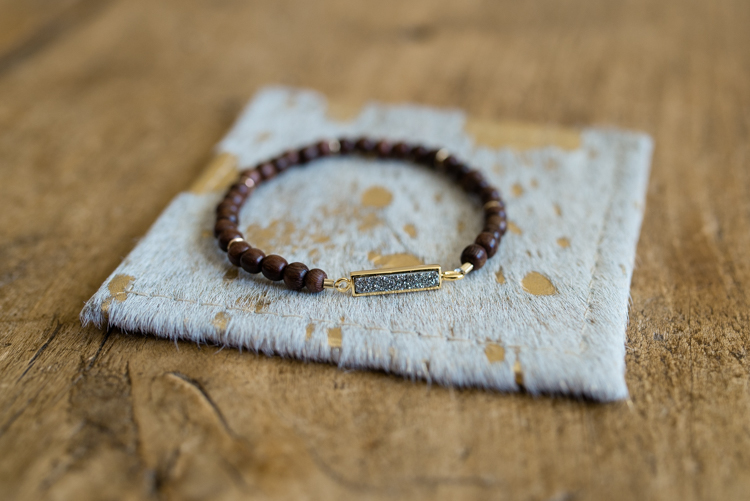 This is the Healing Stones Bracelet in Leopard Jasper! The pink tassel is so fun!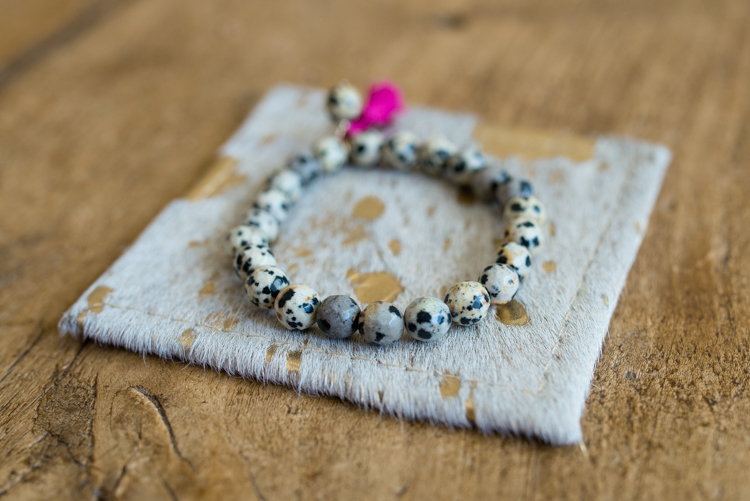 This is the Jasmine bracelet in labradorite… the stone is gorgeous! It also has a cute little tassel.  It coordinates with the long necklace beautifully!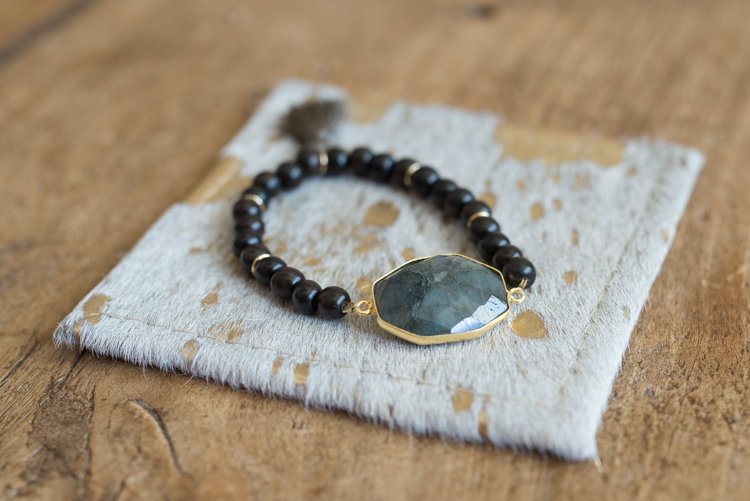 I love these gold stack bangles too!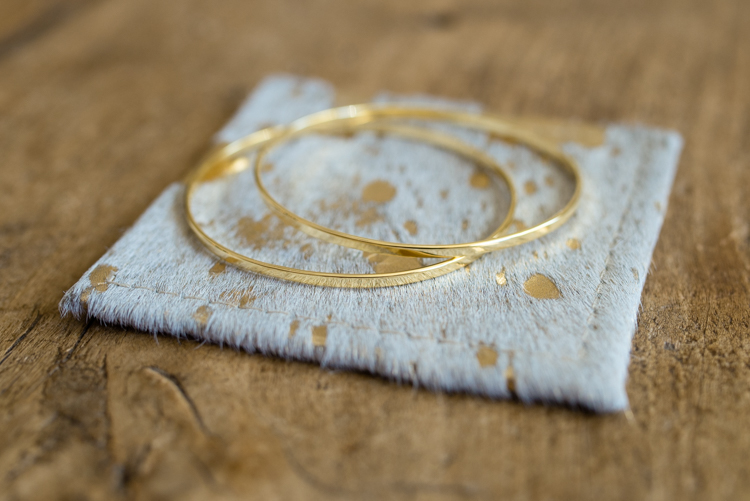 In case you want to know where I got the gold cowhide coasters that I took these pictures on, you can find them here.  I love metallics so much, they pick up the light and add a little fun to my living room!
Here are all of the bracelets put together! I will be wearing these all the time!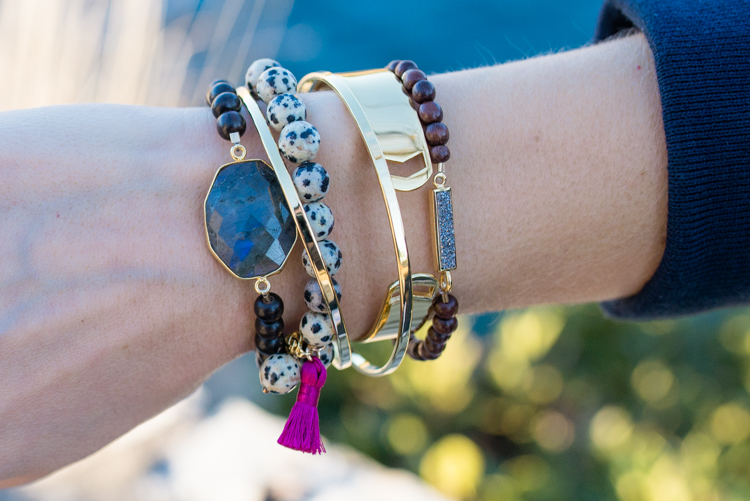 Two Versatile Outfits to take you into Spring
I'm going to show you all of this beautiful jewelry in action now! I put together two great outfits that have great basic t-shirts that are great staples, along with layering pieces you can wear now and into Spring.  First up is this fabulous navy bomber jacket! I love the zippers and the fit.  My favorite jeans work well with this casual outfit!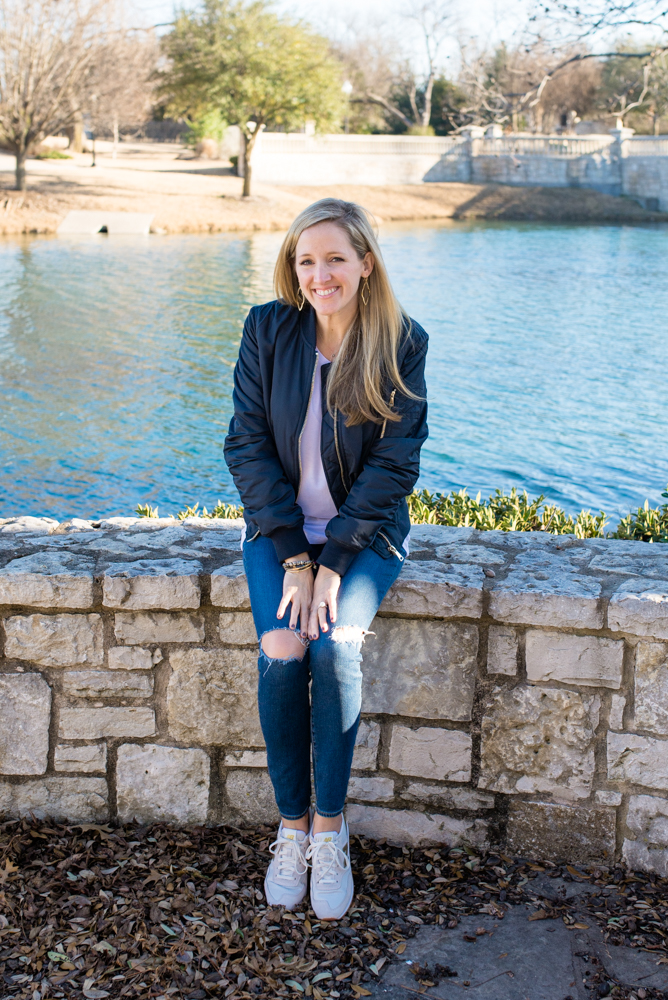 It even has leopard faux fur lining!!! I'm not going to lie, that's what made me pick up the jacket! This is your token silly picture.  I seem to squeeze one into each post!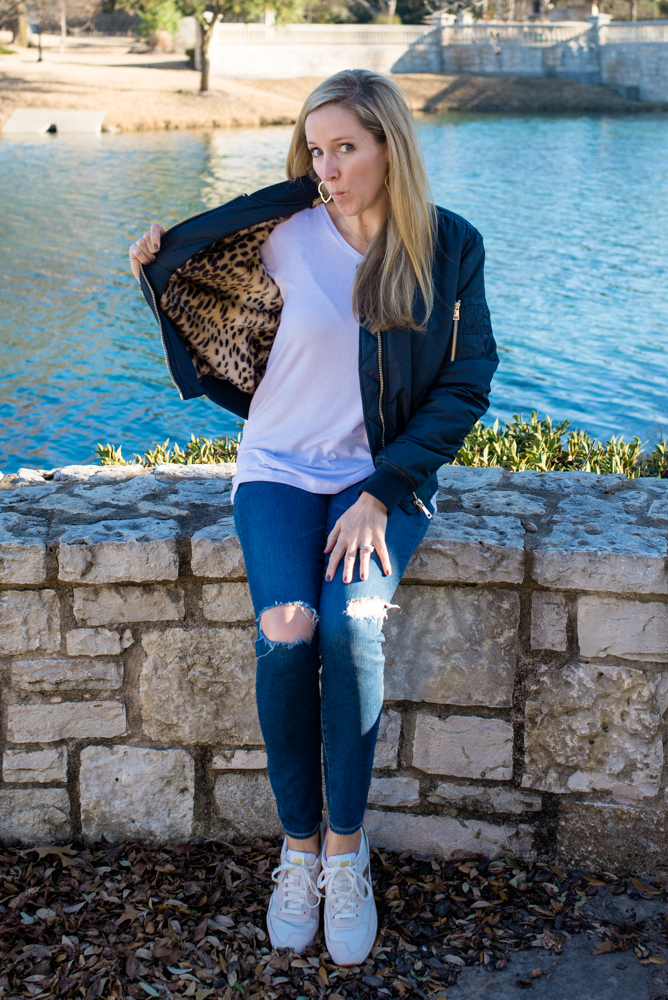 Here's a closer image with the keyhole earrings on! Aren't they great? They are so lightweight too! With the jacket on, I am only wearing the dottie pyrite necklace.  Perfect!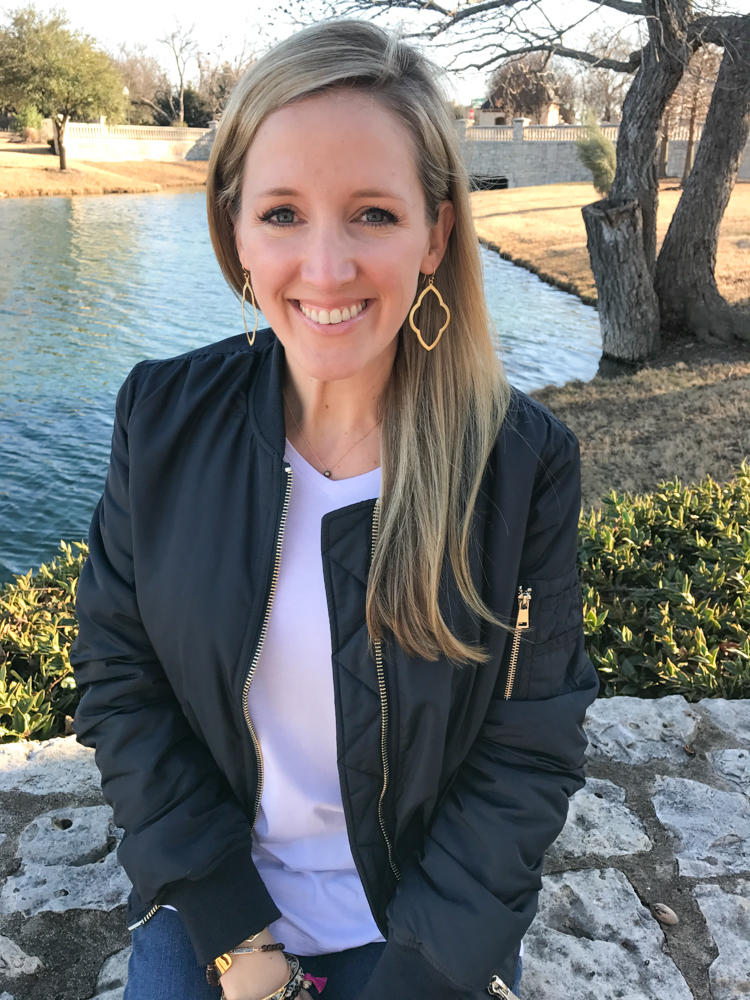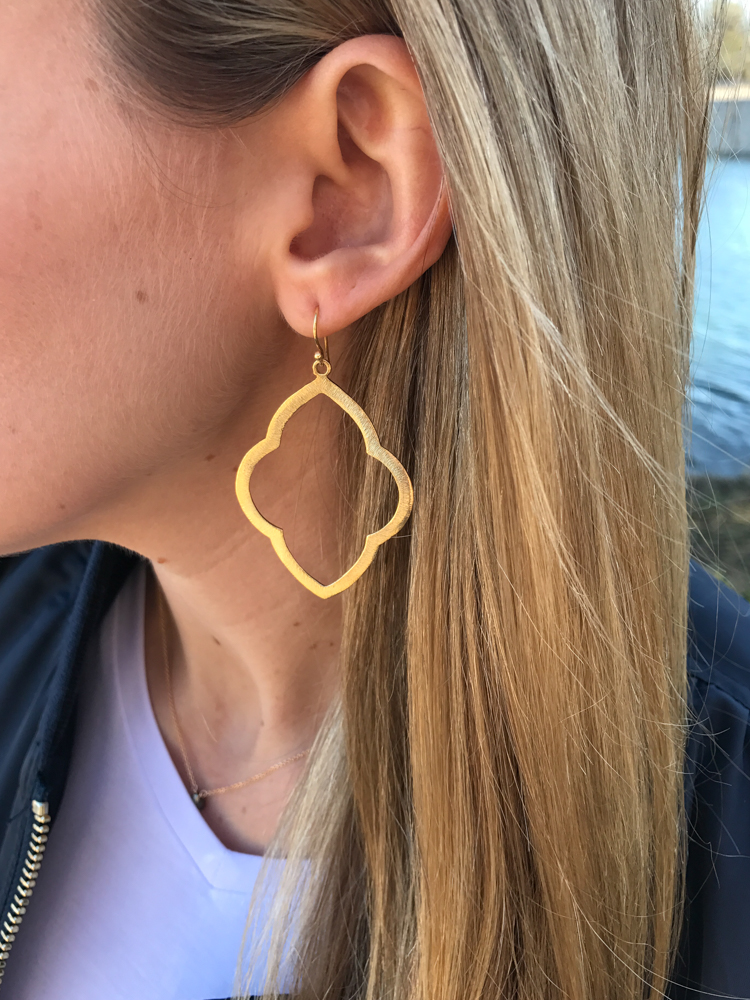 When it warms up, this casual outfit still looks great with this white t-shirt and your long necklace from SonyaRenee! This is the best white t-shirt! It is also available in tons of fun colors! I like how it hangs loosely because it is made out of modal jersey!  It's silky soft and has a wide v-neckline… perfection! I'm also wearing my Apple watch with my favorite gold band, it's great for a casual outfit like this!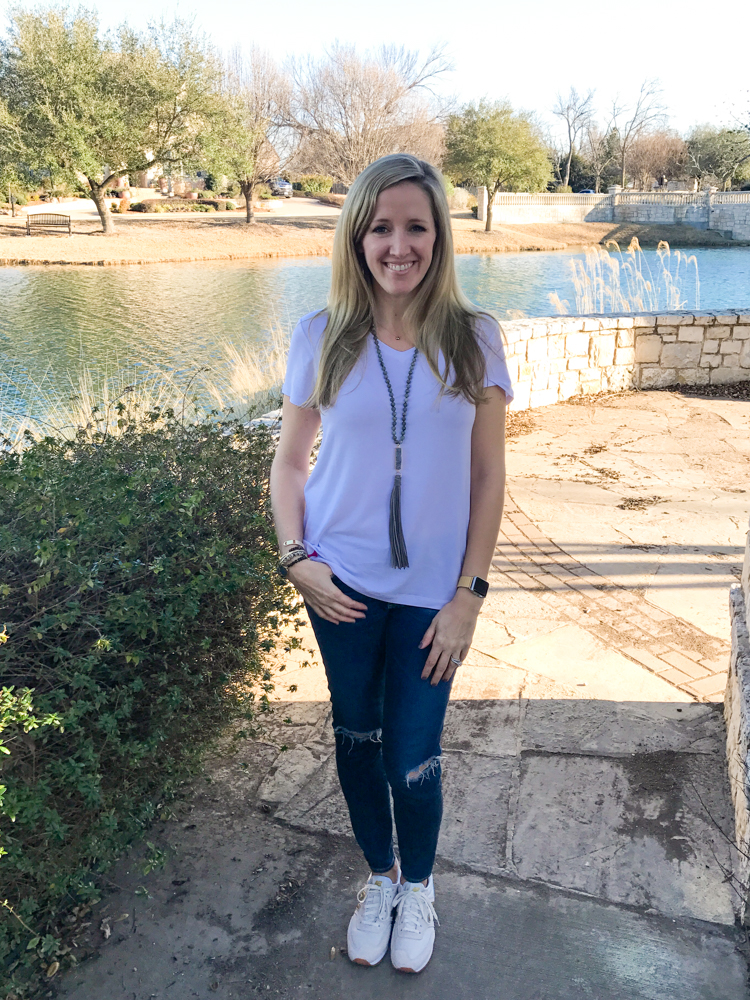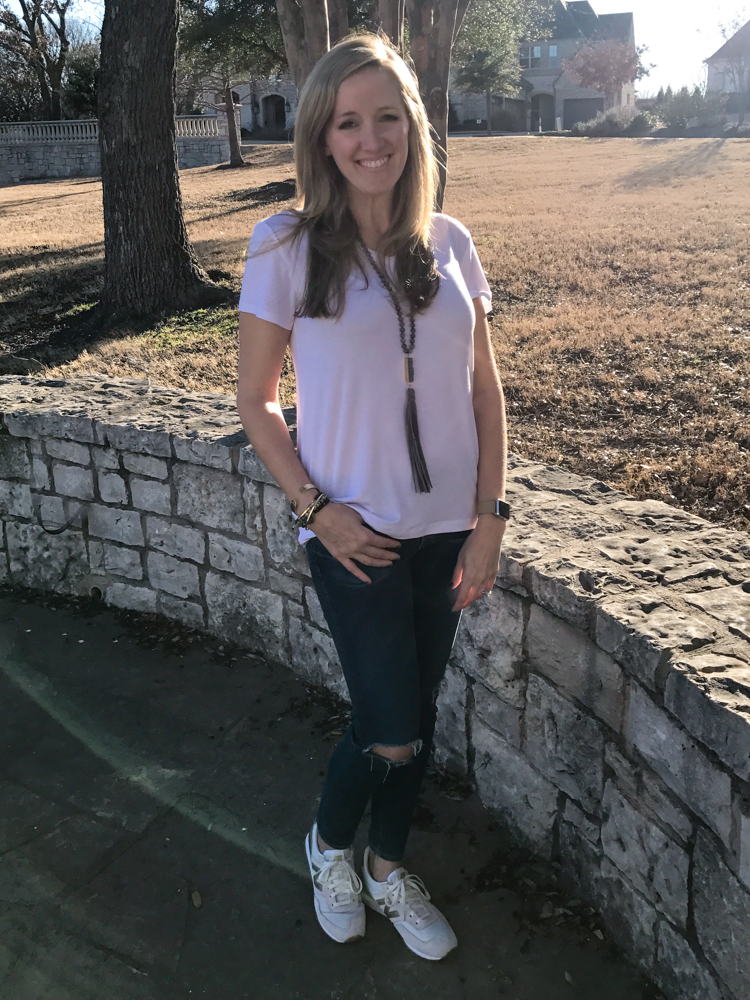 Remember these sneakers from new balance? Well, mine arrived and I am in love!!! They are so cute with jeans or leggings! (got almost 5 stars out of 197 reviews!) They have sold out twice already so grab your snow before they sell out again.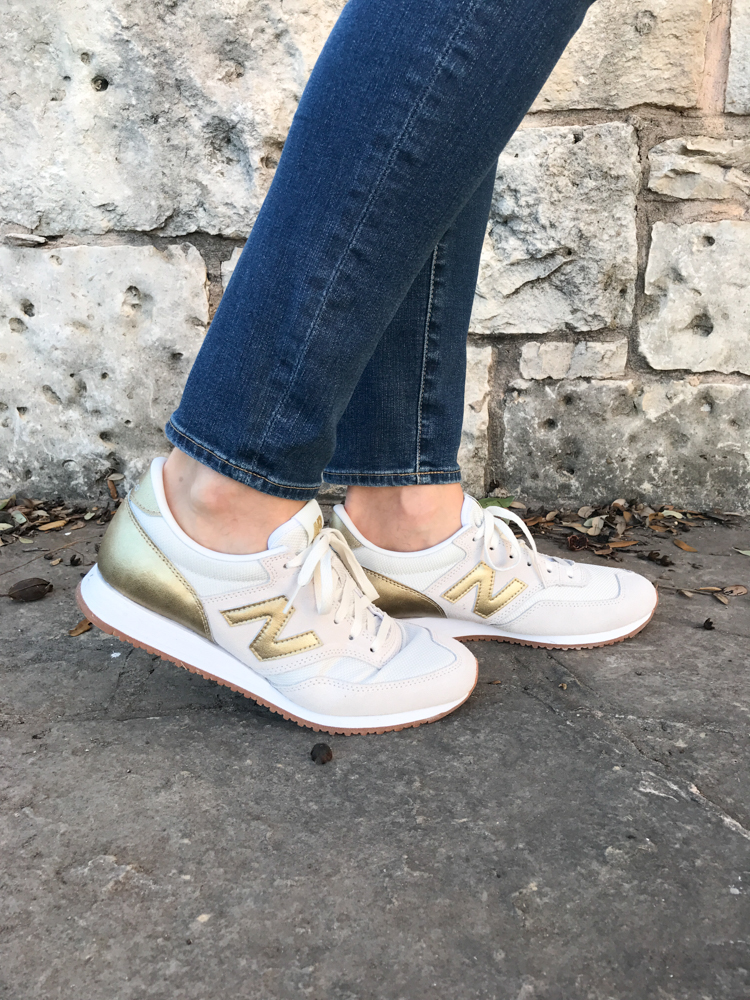 Next up is this ensemble that features my FAVORITE new v-neck shirt that is available in five colors.  Just wait until you see how affordable it is! I bought the olive burnt color (pictured) and the black.  I will workout in these too! The navy evening is really pretty too, it's in my shopping cart!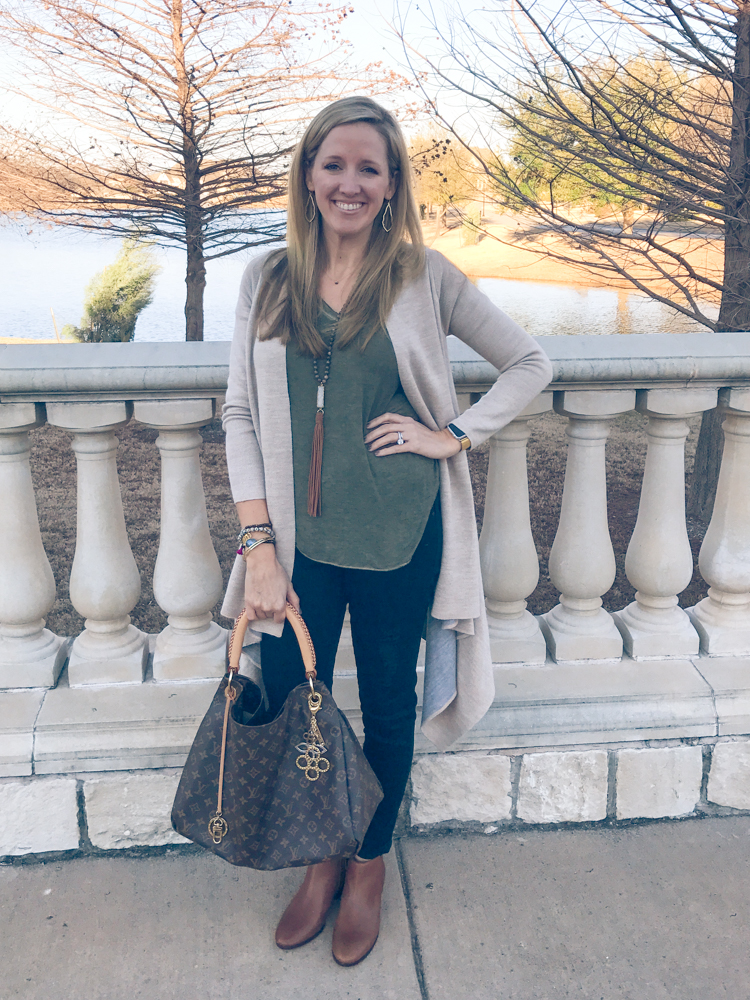 I'm wearing the beaded pyrite earrings and the brown quartz long necklace with this outfit.  This cardigan is really soft and comfortable! I like how the inside is gray and the outside is oatmeal.  They also offer it with navy outside and black on the inside.  This one I did size up on, I'm wearing the large.  I ordered these booties that had such great reviews, that are on SALE, and I see why they are so popular! They have a low profile so they look good with various length skinny jeans.  I chose the deep saddle leather and they don't disappoint!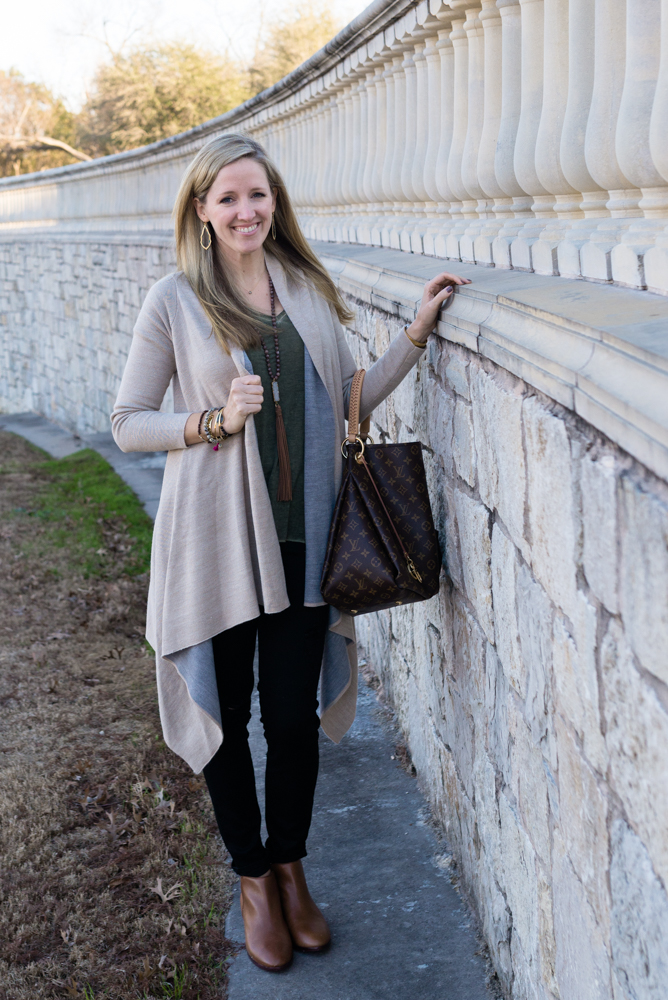 I am loving these black distressed skinny jeans and they are super affordable! I went one size down in these, I love when I have to do that! 😉 Has anyone tried this brand? I'll feature another pair of their denim soon! You can't beat the price! You can see the distressing in the knee and lower thigh in this picture.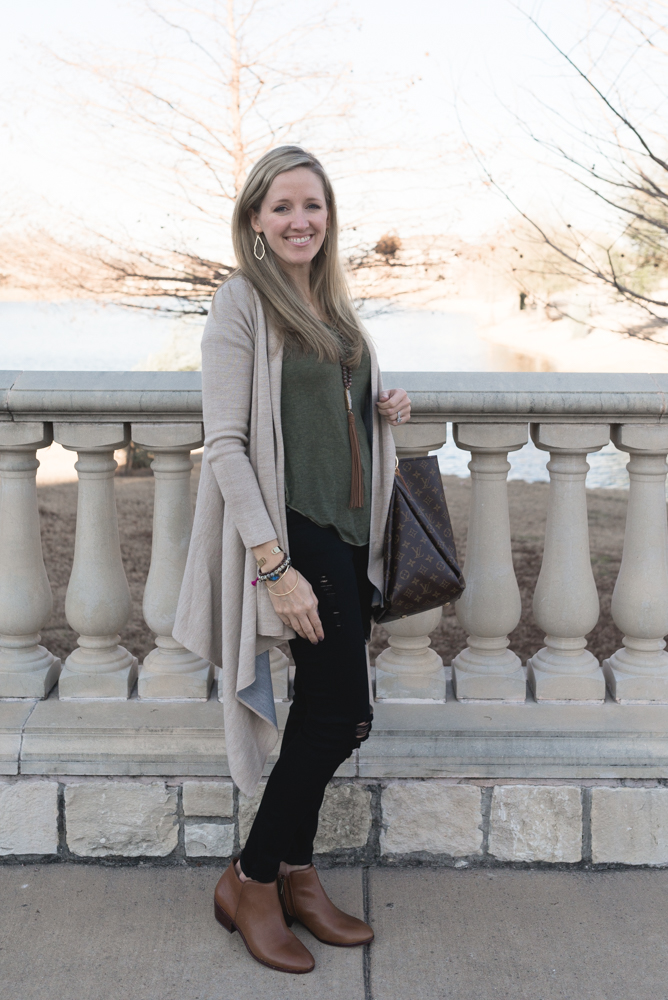 They have great reviews too! So I am NOT the only one who loves these!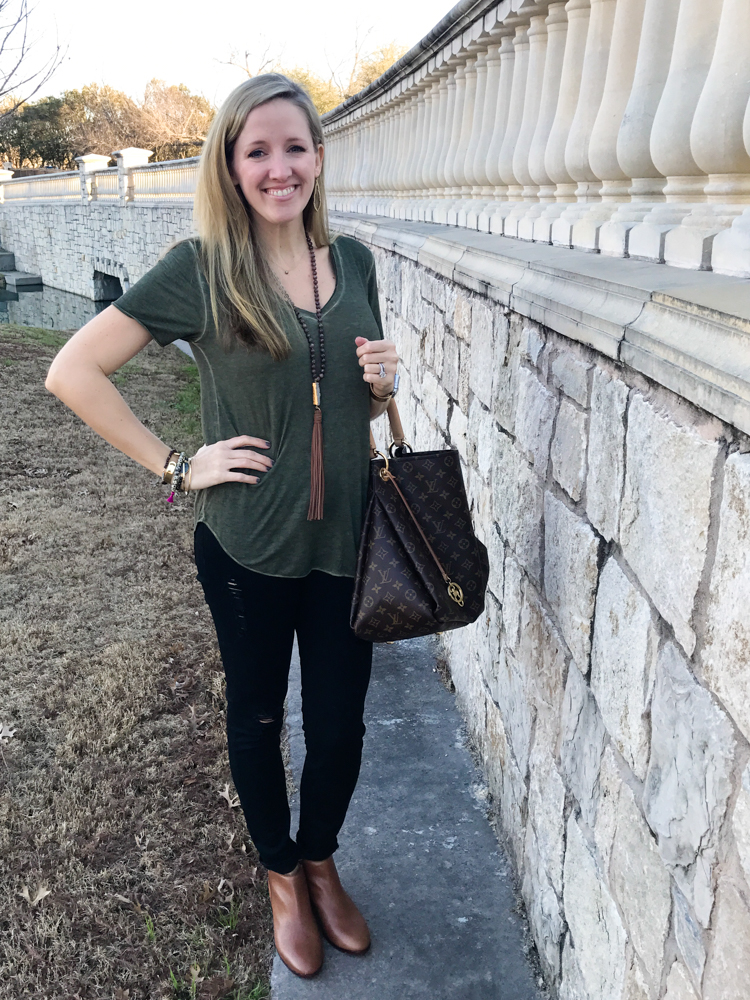 So when Spring comes, you can wear this outfit without the cute cardigan and still look put together! Love the booties with this necklace!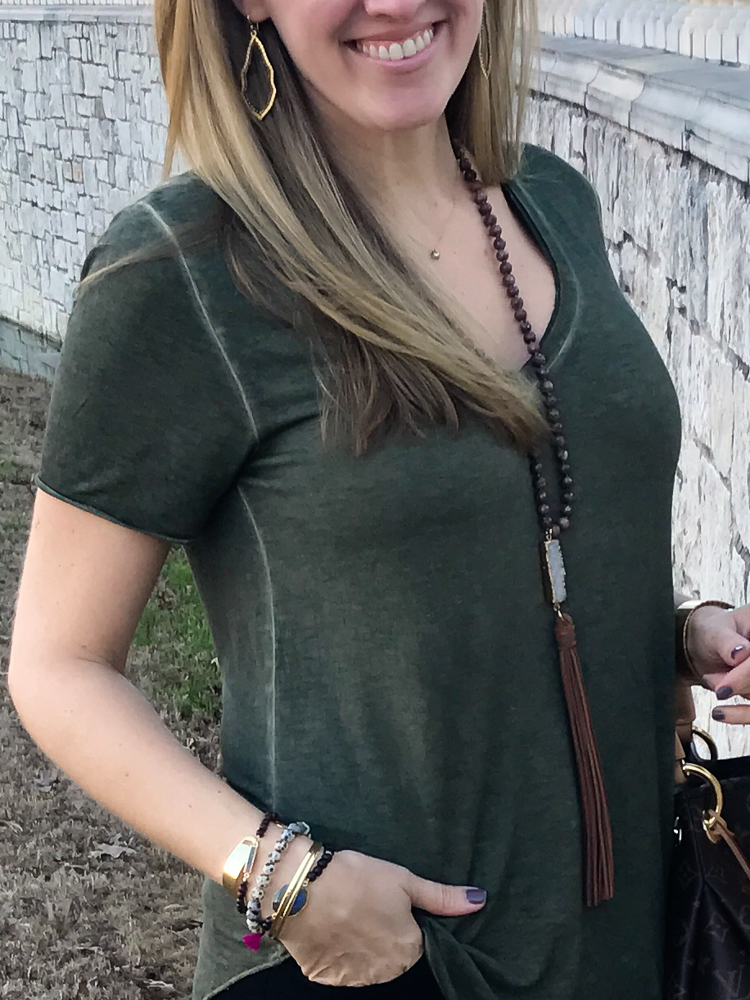 This bracelet stack is so versatile, you can wear it with black or brown! I can't tell you how much I love it!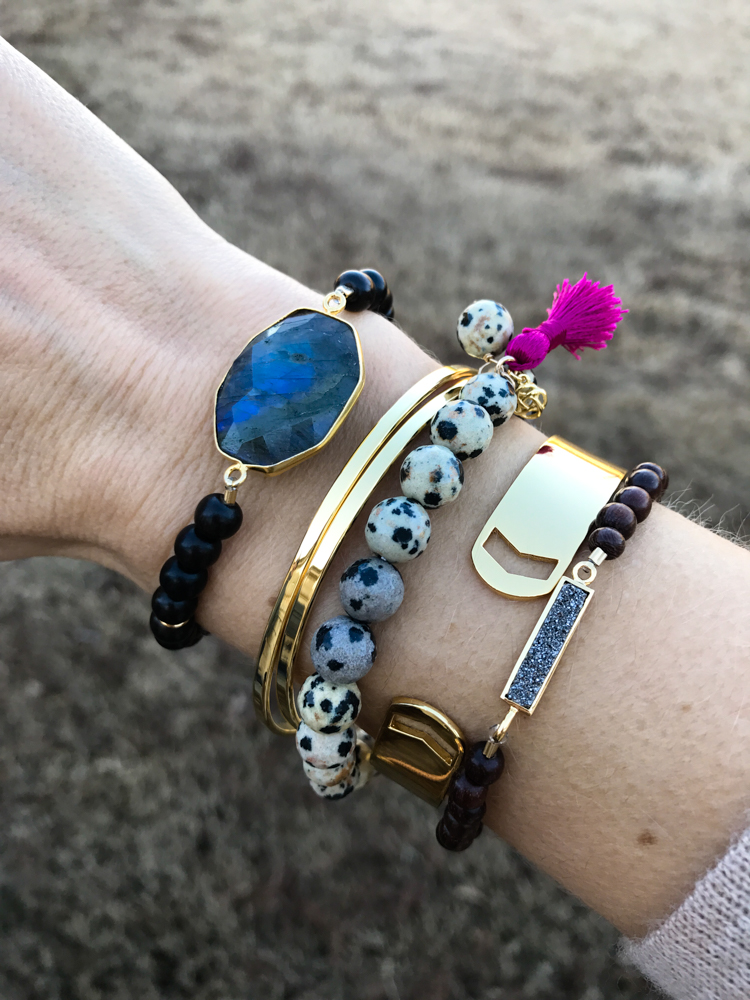 Here is a close-up of most of the pieces from SonyaRenee!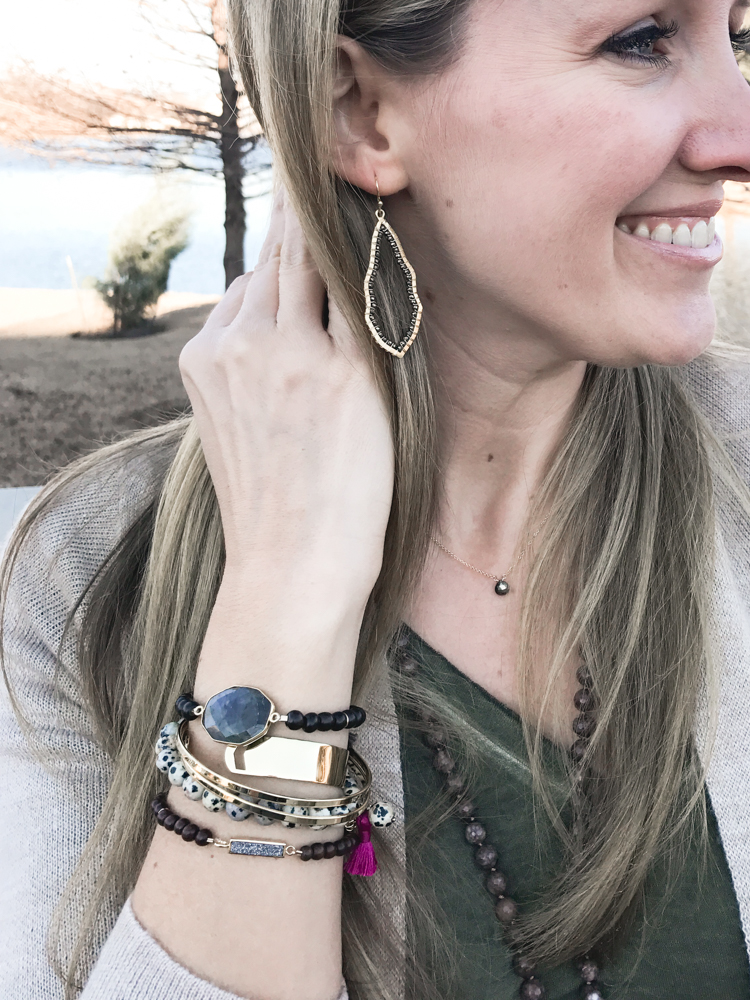 As promised, SonyaRenee is offering all of you a fantastic discount, 25% off! Use code: HARGROVE25, valid until 2/24/17. I encourage you to look through their website because they offer so many pretty things! Thank you so much to SonyaRenee for allowing me to share my favorite picks! Don't forget to enter the giveaway for the key hole earrings in gold! Happy shopping!
SonyaRenee Key Hole Earring Giveaway

Learn more about Barrett & see all of her posts HERE
Follow Wear it with Barrett on Instagram.
**This post contains affiliate links. If you purchase I may receive a small commission. Thank you!**