I have been on the hunt for the perfect down comforter.  I love a fluffy, cozy, comfy comforter that is the perfect weight.  We love snuggling in bed as a family and getting all cozy under the covers together, so I was looking for one that we would all love, would be low maintenance and would hold up!  The hunt is over!  I found the best down comforter ever and had to share it with yall!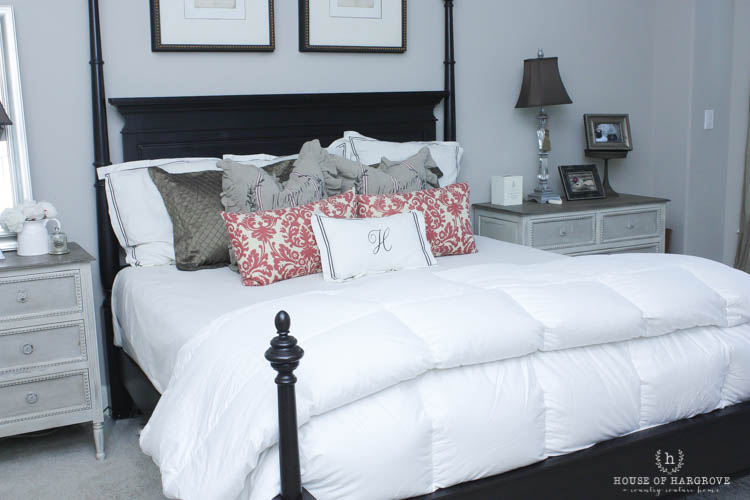 Our family spends lots of time in bed.  Yes, I love a good nap….but, we spend lots of time in bed not sleeping.  We have an adjustable bed base that sits our bed up and makes it like the comfiest sofa ever.  We love to crawl in bed with our kiddos and watch movies under the covers.  I also do most of my blogging from bed.  I am actually in my bed as I write this post.  So our bed is basically a movie room, an office and a place to sleep…also don't forget the scene for lots of good pillow fights!  Needless to say having comfortable bedding was a huge priority for us!
I LOVE The Company Store!  I am obsessed with their flannel sheets.  I have had them on my bed ever since high school and I literally will not use another sheet.  When my husband and I first got married he was totally against sleeping on flannel sheets.  He thought they would be way too hot…..well, I could not compromise on this (you have to pick your battles and this was one I was willing to pick 🙂 ) and now he has totally converted too!  He LOVES the flannel sheets.  They are not too hot, they are just soft and cozy (noticing a theme here).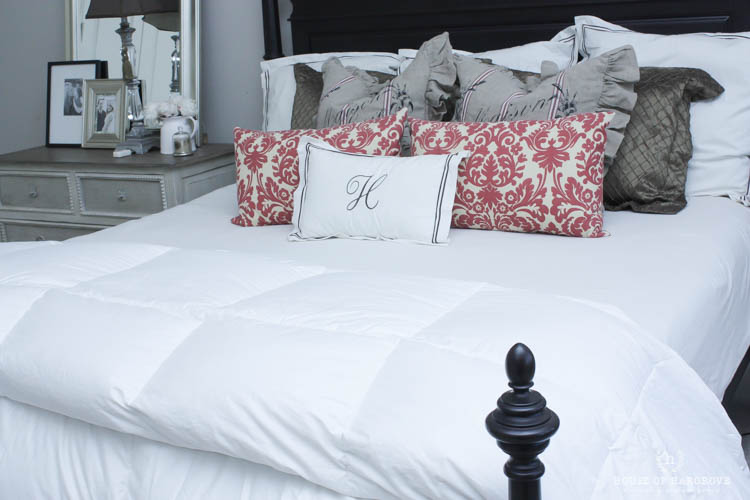 Our old down comforter was on its last leg.  It had gone totally flat, all the feathers had shifted to one side of the comforter so one side was huge and the other was like a plain sheet. No amount of rotating would help it.  I knew I wanted to try The Company Store one because I had heard amazing things from friends that have one and the reviews are incredible!  They have lots of different styles/types to choose from.
Here are some of the things I love about The Company Store Down Comforters.
They have options for every budget
Most styles have the option to pick the amount of fill.  Do you like them light weight?  Do you like lots of fill so they are very warm?  Totally up to you.  You can customize to get exactly what you want!
Several styles also have the option to make the comforter oversized!!  This is awesome if you want extra width on the comforter!
Every style option has a 4.5+ review!!  Seriously….read them.  You will see that everyone loves their products!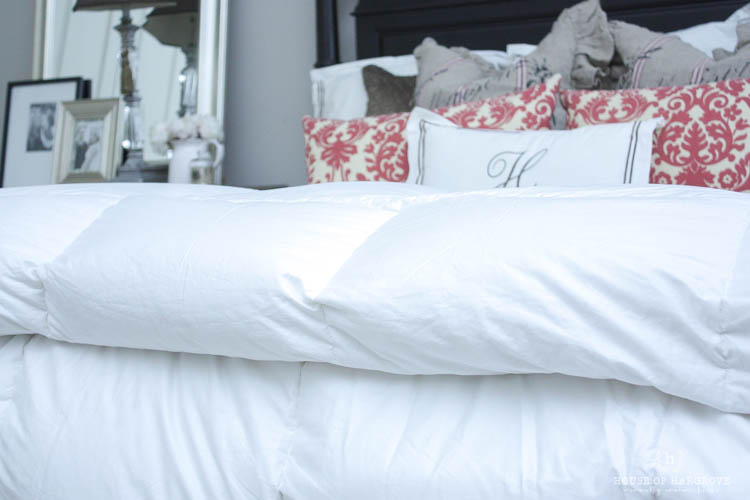 When I started my search I knew that I wanted a plain white (no shinny plaid patterns or anything), king sized comforter with extra fluff.  After reading all the reviews I ended up going with the Legends Luxury Geneva Down Comforter in the standard King size with Extra Warmth.  This has the most fill (51 oz) so it is extra fluffy.  This is obviously the warmest comforter and we live in Texas (which is crazy hot), but the thing about down comforters is they are very breathable.  I like to keep my room really cool at night and I am just the right amount of warm with this comforter.  I know it is a personal choice so there are many options and you can pick the one that is best for how you like to sleep.
I am in LOVE with this comforter.  It is so so cozy, fluffy, beautiful and comfortable.  Here are some of the features that stood out to me and why I picked it:
the cover is 400 thread count cotton sateen fabric so it is very comfortable.  I don't usually have a cover on it because I love the way the down comforters look.
The way the pockets are sewn prevents the feathers from shifting.  This was a huge problem with our last comforter
It has a lifetime guarantee
It is solid white
I could pick extra warmth for the fill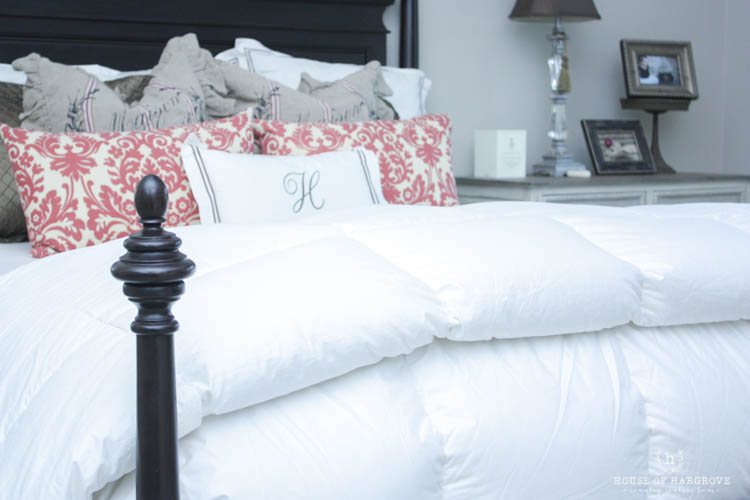 As you can see from the photos above it is super fluffy.  That is exactly what I wanted.  My kiddos love it too.  They have really enjoyed cuddling up in the covers!  We had a family slumber party the other night and Avery slept in our bed and kept saying how soft it was.
It adds some extra cushion when jumping on the bed with your favorite trolls 😉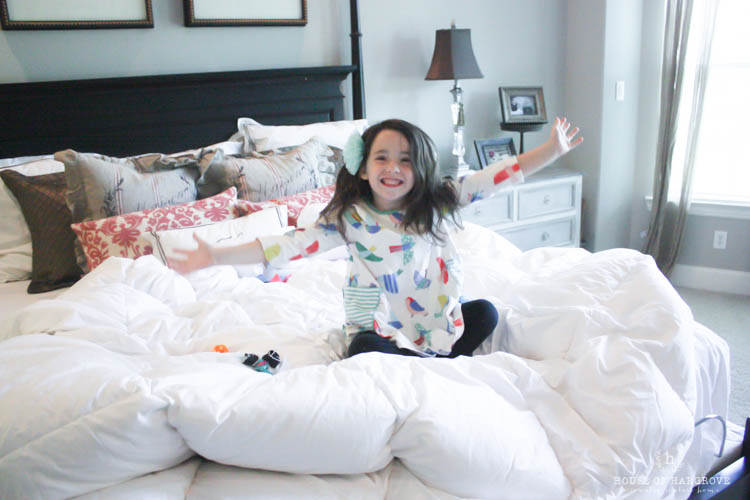 If you are needing bedding I highly suggest The Company Store.  Like I mentioned above I have been a customer for over 2 decades (I may have just cried a little as I typed that….how was high school that long ago?!).  While this comforter was a bit of a splurge I will tell you it is totally worth it.  Not only is it soooo much better than the other ones I have had, it has a life time guarantee.  At this point, this is my 4th comforter.  I had to replace my others after a few years.  While I paid less for them, when you add the 3 up it is more than this one cost and this one is guaranteed for my life time!  Please let me know if you have any questions that I didn't answer above and I will try my best to answer!!
I reached out to The Company Store when I found this comforter and they gifted it to me for my review.  Thank you.  I knew they had the best stuff and couldn't wait to try it.  All opinions are my own and I would never recommend something I didn't truly love.