Last week I shared how to create the most beautiful gallery walls ever with Nebraska Furniture Mart's new Snap to Frame tool.  Well friends….my canvases have arrived and they are by far my favorite!  I seriously want to re-do every family photo in my home.  There are soooo many options to choose from with Snap to Frame from the printing material (metal, acrylic, etc) to the frames, but I fell in love with the farmhouse, rustic reclaimed barn wood frames! Here are my favorite canvas prints ever and guess what…..there is an exclusive coupon code for House of Hargrove readers below!! Merry Christmas!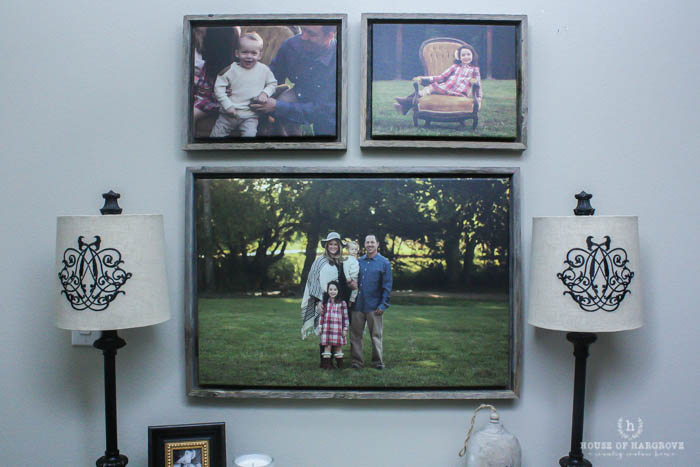 There are so many things I love about these canvases.
QUALITY: The quality is amazing.  I have other canvases in my home that I ordered from other places and they don't even come close to comparing.  The thickness, the detail, the coloring, the beautiful backing with felt pieces to keep them from sliding, the packaging they were shipped in….they pay attention to every single detail!
EASY TO HANG: This is a huge one for me!!!  All of my photos have approximately 15 holes behind them because I can never get things hung straight.  I measure, mark, measure again and it never fails….crooked!  These canvases came with a template for the exact layout I ordered.  All I had to do was hang it on my wall, make sure it was level, put my nails where the spots were on the template and ta da…..it was perfect!  Seriously took me 5 minutes!  My husband couldn't believe how fast I did it!  I would order again for the template alone!  I saved it in case I ever decide to move the photos in my home or hang in the next home!
FAST TURN AROUND:  I got everything in about 10 days.
OPTIONS: Like I mentioned before there are so many options to choose from.  The in store kiosk and the app make it so easy to get exactly what you want.
Step 1:  Hang the amazing template
step 2: hammered in my nails
step 3: hang art
Ta da…..just like that!  In less than 5 minutes…A beautiful gallery wall.
I ordered the wrap around canvas with the reclaimed barnwood floater frame in Driftwood.  I love everything about the way it turned out.  It adds so much character to a canvas.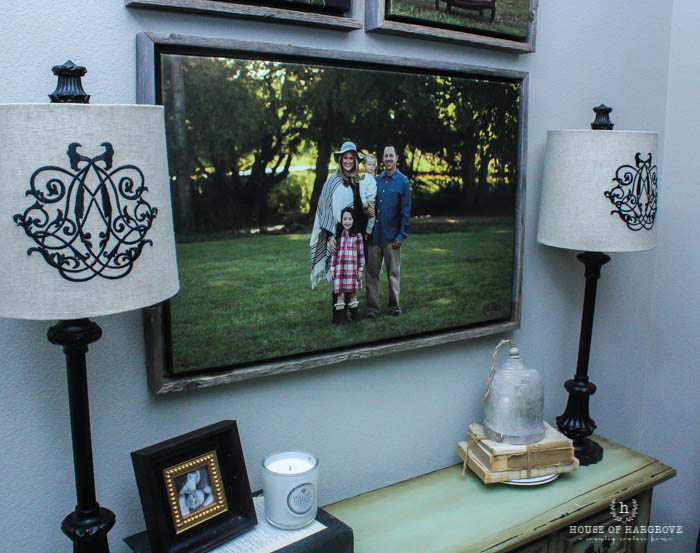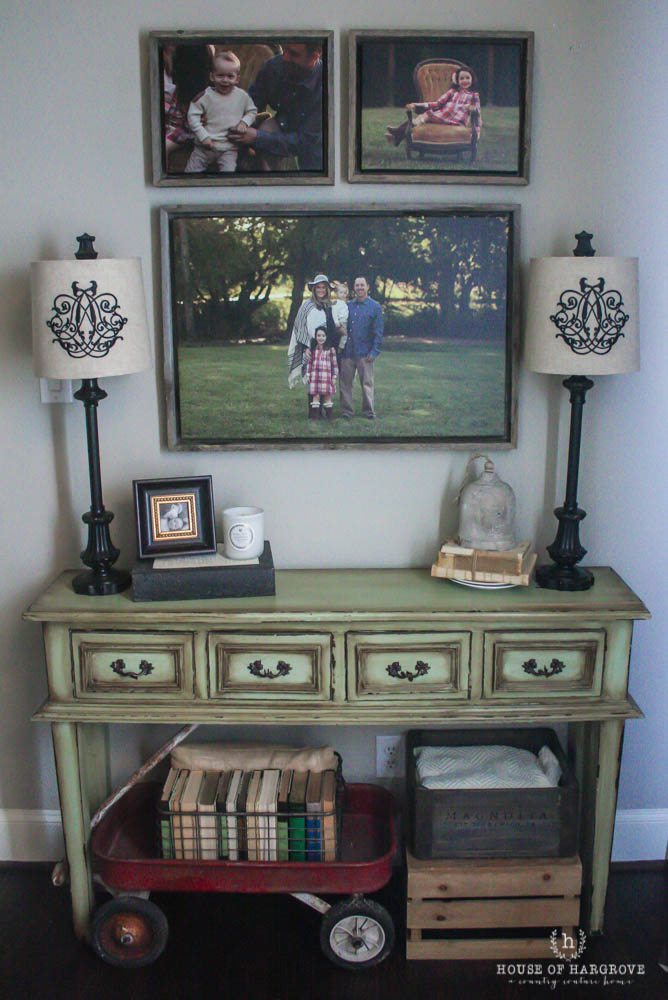 Here are close up detail shots of the frame.  Since my walls are light I loved the contrast and it makes the canvas look more finished.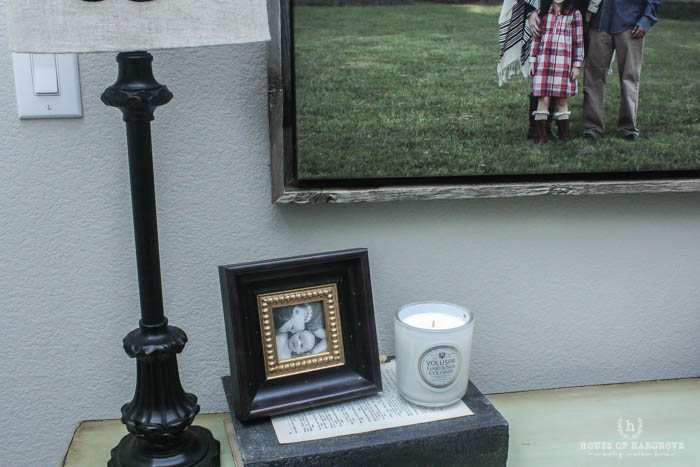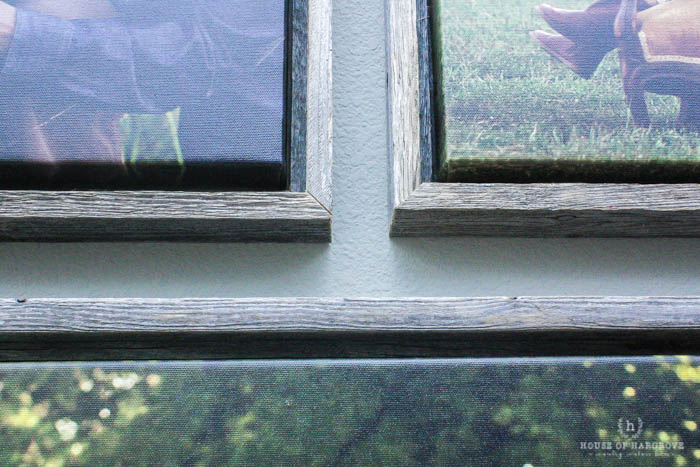 My other favorite frame was the reclaimed barnwood floater frame in whitewash.  It is a distressed white and the inside set back part of the frame is dark wood.  I had ordered my favorite black and white picture of the kiddos with that frame.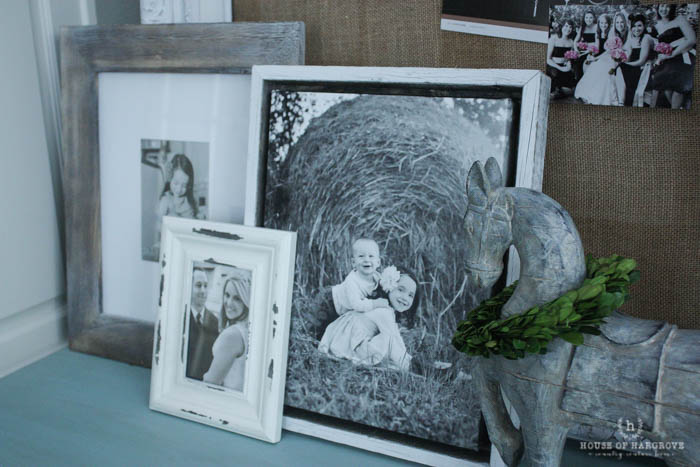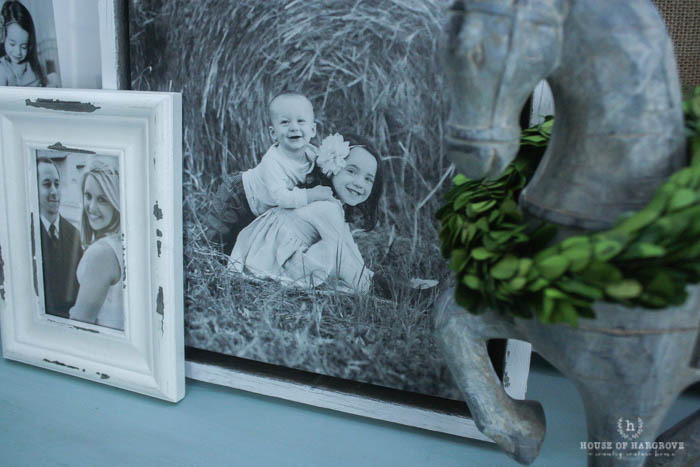 Here is a detailed shot of the frame.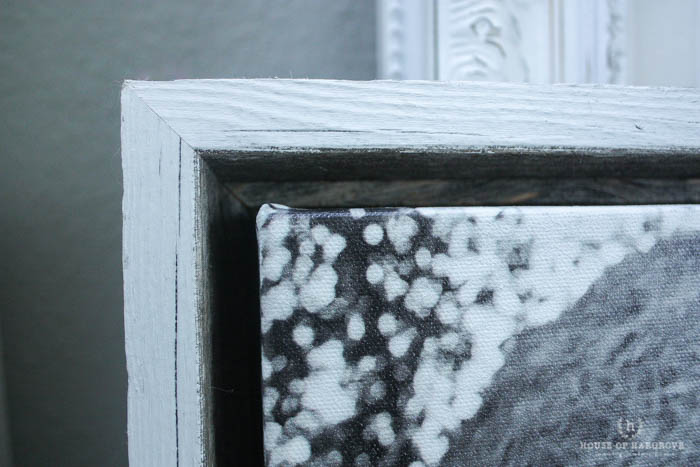 I have a black and white canvas wall up my back staircase that I would love to do in these frames!
I wish I could invite you all over to see them in person because the pictures really don't do them justice.  Buy one last Christmas present….one for yourself and your family to enjoy!  Everyone needs one of these in their home.
Get 25% off your Snap to Frame order with CODE: 25NFMHHG
Head to Nebraska Furniture Mart or download the app to order today!
Expires Feb 10
Click HERE for a full step by step tutorial on how to use Snap to Frame.
Here is a quick video on how to use the Snap to Frame Kiosk.
While you are at Nebraska Furniture Mart be sure to check out their other amazing items.  The Magnolia Home Line by Joanna Gaines is just amazing!  You can read all about it here!
PIN Photo below to save this coupon code on my favorite canvas prints