Friday I shared Part 1 of our Mexico family vacation and today I am sharing part 2 with a full review of our resort….Dreams Playa Mujeres.  Lets jump right in….again, lots of pictures!
DAY 4
We pretty much got into a routine on the trip.  Wake up, eat breakfast at the buffet, go to our favorite spot at the infinity pool, then have lunch at the buffet or Tides cafe, head over to the water park/lazy river and then head up around 4 for Braden to take a nap and the adults get ready for the evening.  I also took a few glorious naps and read a great book.  I read the Couple Next Door and couldn't put it down!  Some days during nap time Avery and Geoff would go do Daddy Daughter stuff which I love.  I like it when we each have one on one time with the kids.  Anyway, this day we all went up to get ready because we wanted to get pictures on the beach and were trying to get the perfect light!
Yay….Mexico!!
Haha….we could not get this one to work.  We were going for all the kids jumping in the air and after about 20 pics this is the best we got…you can only imagine what the other 19 looked like!  Don't worry…this was not an action shot of Braden getting kicked in the face!  It looks like it is about to happen, but she is actually quite a bit in front of him.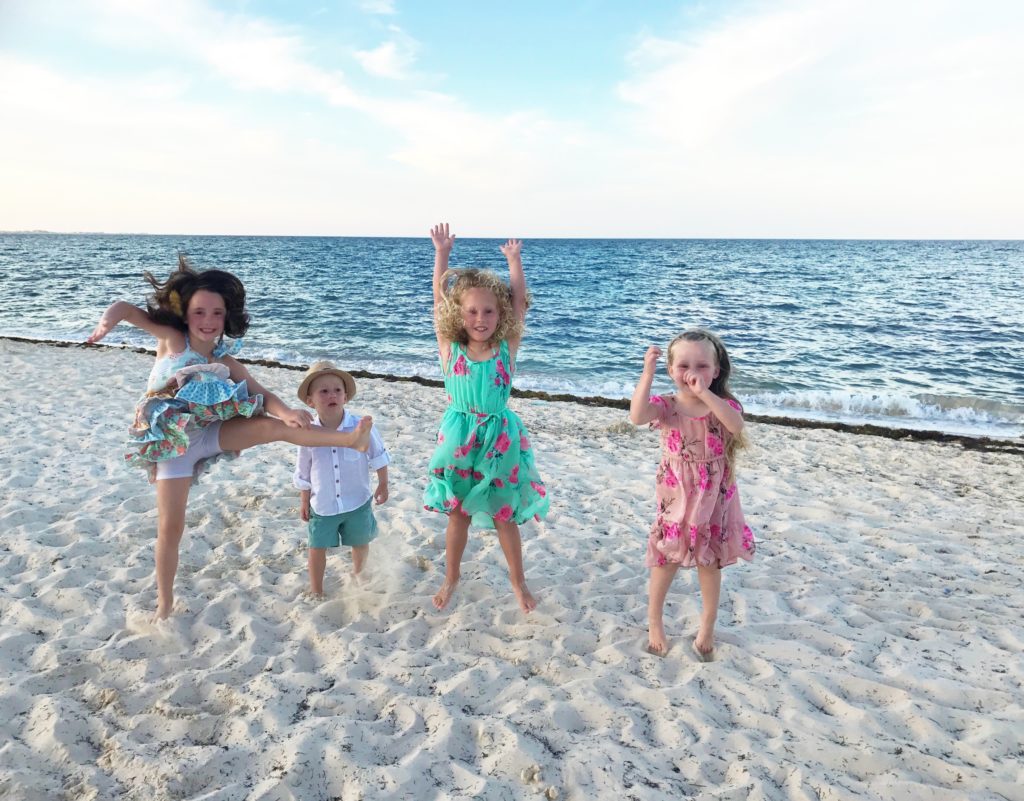 Much better, no jumping and didn't matter if they weren't looking at the camera!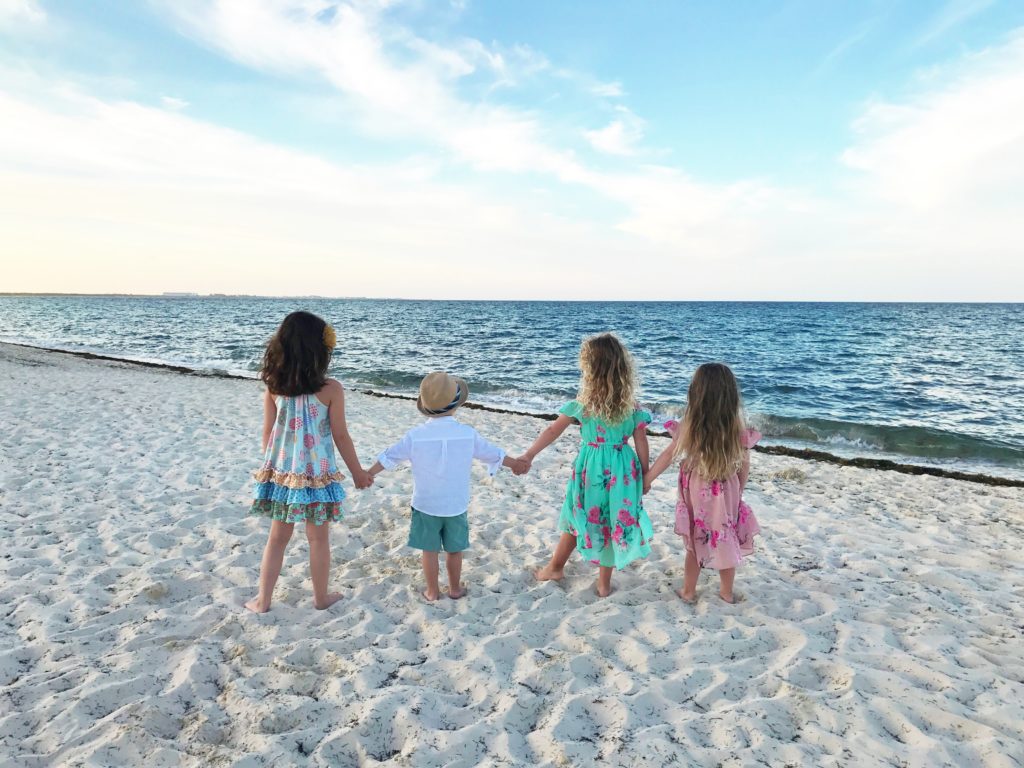 Framily!
After these pics we were ready for a drink 🙂 .  We headed to Maris the seafood restaurant for dinner and it was pretty good.  After that we went to the Magic show…um, not so good.  That is definitely a night you can skip and do something else.  It was more like comedy than magic, the adults didn't enjoy it and the kids didn't get it.  Just keepin it real!
DAY 5
A sweet family that was leaving the resort let us keep their watermelon float the rest of the trip and the kids loved it!  This picture just sums up summer to me!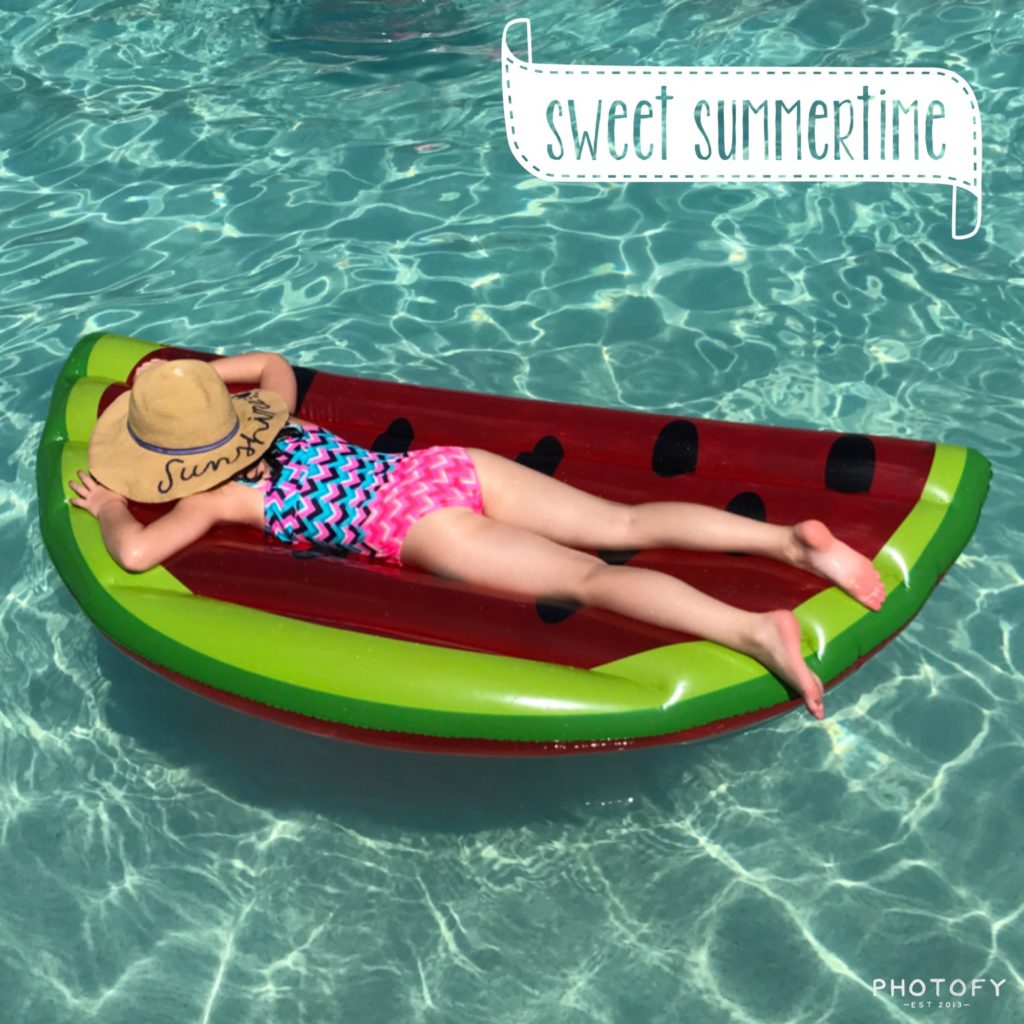 This afternoon they were passing around yummy fruit poolside.  It was so cute!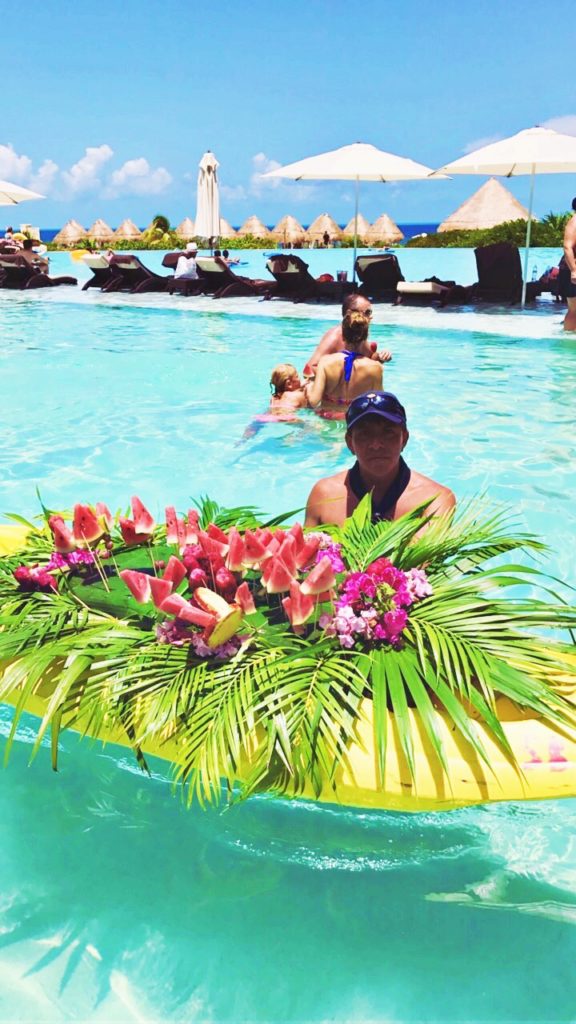 I asked Avery one of her favorite things on the trip and she said the yummy treats! The kids had virgin pina coladas, strawberry daiquiris, mudslides and of course ice cream!  The swim up bar was a huge hit!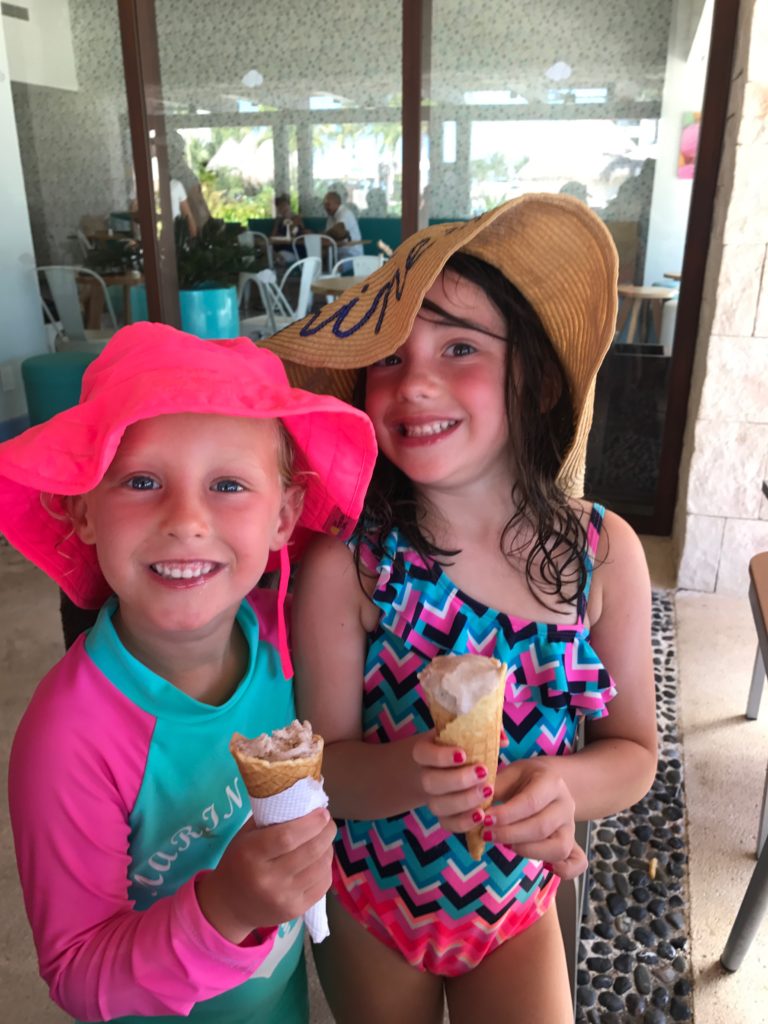 It was another fun filled day in the books and our last night of vacay!  We had dinner at the Mediterranean restaurant and the food was pretty good there too!  After dinner we headed back up to the room for…you guessed it….movies and cards…also a little packing!  Here are our crazies kiddos enjoying their last movie night on the trip.
As a special treat we let them order dessert from room service.  They thought that was the coolest thing!  Avery wants room service at home now….haha!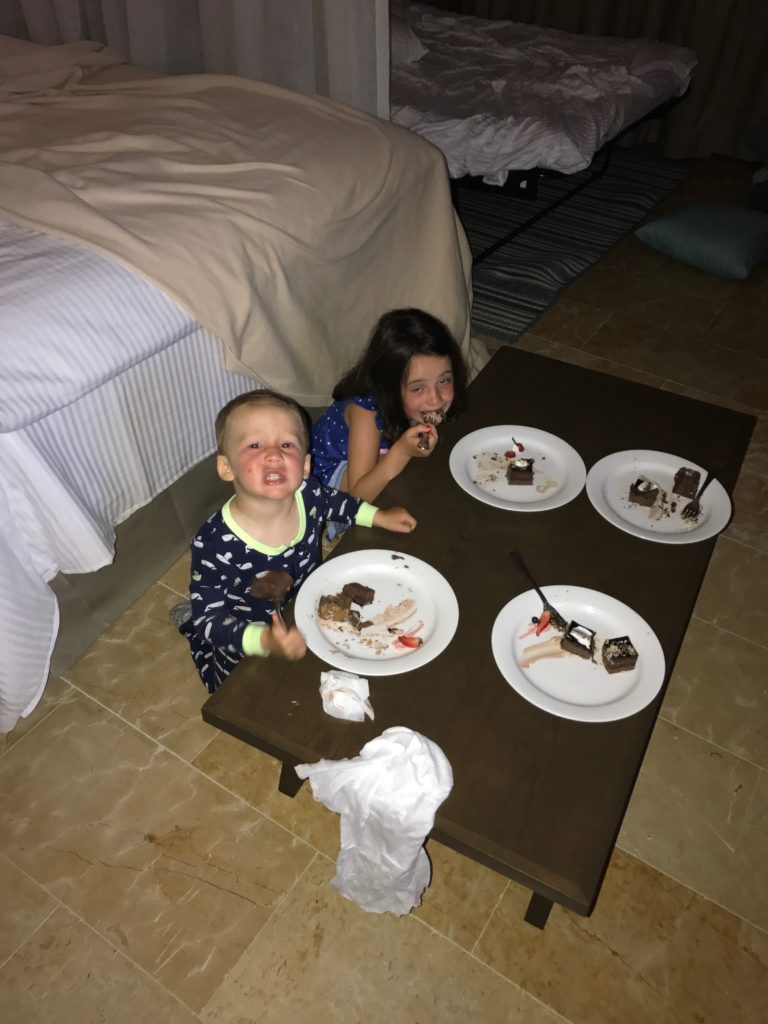 DAY 6
We were sad to say goodbye to Mexico.  Avery's shirt sums it up best…"namaste on vacay".  We had an amazing time and made so many memories.  As they say "tan lines fade but the memories last forever".  I love this annual tradition we have started and cannot wait for the next one!
I shared tons of Instastories from our trip and yall had lots of questions.  So….let me start with this disclaimer ( I shared this on my Part 1 post…but wanted to share here too).  I am always very honest with yall.  It means the world to me that you read my blog, trust my opinions and take my advice.  I don't take that lightly.  Due to that reason I always give you all the true details.  2nd disclaimer….every year my hubby and I go on an adults only trip to Mexico with some friends.   We stay at Secrets Maroma Beach and it is my favorite resort ever!  We have been spoiled rotten.  I honestly cannot think of 1 thing I don't like about it.  The beach is incredible, the food amazing, the service, the pool, the rooms….you name it, I LOVE it!  I would highly recommend this resort to everyone.  We have now been back 3 times because we love it so much.  Having said all of this, I compare every resort to Secrets Maroma Beach so it is hard to live up to that!  With all of that said….here is my review of Dreams Playa Mujeres.
RESORT REVIEW
So overall the resort was good.  We had a really nice time, made tons of memories and I would go back.  Would it be the top place I recommend….NO, because again, if I am going to give it a 100% stamp of approval I want it to be pretty close to perfect.  Do I think most people would really like it….YES!  DO I think everyone would LOVE Secrets Maroma Beach…YES!!!  I 100% recommend that one if you are looking for an adults only vacay.
BEACH:  It was fine.  Nice white sand, the seaweed was not ideal and wish it was more flat right when you enter the water.  Would felt more comfortable for the kids and the water would have been clearer.  Other than that it was a pretty beach.  Large, etc.
FOOD:  The food got better each night, but it was not spectacular.  It was fine, nothing I would rave about.  The Fusion restaurant (hibachi) was hands down the best.  Maris was our second favorite (the seafood one).  We also ate at Mezes which was decent too.  DON'T eat at Goucho.  None of us thought it was good.
ACTIVITIES:  This part was great.  There was tons to do.  There were so many different pool spots, great swim up bars, tons of games, aerobics, etc.  There was also a water park that was super cool.  It had a splash pad for the little kids with lots of slides, etc and had 2 large slides that were fun for everyone.  There was a lazy river that was fun and our kiddos liked seeing the dolphins from the beach.  There is also a HUGE kids camp area.  I heard amazing things about this, but we didn't participate in it.  I cannot give a personal review, but the area looked great.  Lots of parents dropped their kids off there and they had fun all day.  Then the parents had dinners, alone, etc.  They also have a Spa that got amazing reviews (we didn't try it) and a golf course that we didn't try.  You get a free round each day so I think this would be super cool for many people.  Our kids are still little so we spend lots of time as a family and skipped out on Spa and Golf this round.
ROOMS:  The room was nice.  Again, not as high end as Secrets, but good space and storage.  The TV was amazing like I mentioned above.  It had Netflix and lots of games the kids loved.  The one thing I didn't like is the sheets had a sour smell.  The kind where you leave your wet clothes in the dryer too long.  It was like this every night.  I am sure this is an issue in tropical climates due to the humidity, but I haven't had an issue with this at any other resort?  Not sure if it happened to everyone but both our friends room and ours had this issue.  We called about it and even the new sheets they brought had the same smell.
ENTERTAINMENT:  We only went to 2 shows while we were there and they were not that great.  The Cirque-esque show was the best, but pretty strange.  Again, the kids liked it, but wasn't the best.  We also went to a magic show and it was not good.  Was ready for it to be over.
BEAUTY:  Hands down absolutely beautiful!  No complaints at all!  The pools were amazing, the views were amazing, pretty flowers and decor/design.  You will all love the ambiance and asthetics of this resort!
OTHER: One really cool thing is this resort is attached to a Secrets resort.  Secrets Playa Mujeres is right next door and you had access to both resorts.  I know many people had their kids in the Kids camp at Dreams and would go have dinner at Secrets, etc.  We didn't do this, but I think it is a really cool feature.  If it is anything like the food at Secrets Maroma Beach it would be amazing!  This resort was beautiful as well.  Leslie and I ran over there for a little bit to explore while the guys had the kiddos.  Here are some pics.
Ok, I think I answered all the questions, but if you have any more please leave in the comments!!