The NORDSTROM ANNIVERSARY SALE IS NOW OPEN TO EVERYONE!!  YAY!!  Most of my NSale purchases have arrived (still missing a few items).   I have tried them on and here are the things I love and am keeping!  I like to buy a few great staple pieces during the sale and then mix and match them!  Most items are in stock and hopefully they will be restocking several of the sold out items soon!
You can see my NSale dressing room try on session HERE
You can see my complete Nordstrom Anniversary Sale guide by category HERE. 
♥ FOR SIZING REFERENCE I AM 5'9″ AND TYPICALLY WEAR A M/L IN TOPS & DRESSES, SIZE 10/30 IN JEANS
♥ SHARING TRY ON VIDEOS AND VIDEOS OF OTHER JEWELRY/ACCESSORIES/SHOES & KIDS CLOTHES ON INSTAGRAM STORIES UNDER THE NSALE HIGHLIGHT BUTTON ON MY FEED.
♥ WHAT I AM WEARING/USED IN MOST PICTURES:
Ok, on to the try on session!
NSALE TRY ON SESSIONS
Like I mentioned above the NSale is not a time to go broke.  It is a time to grab great staple pieces you can mix and match and combine with items you already own.  I am a look for less shopper who likes to invest in a few statement pieces now and then.  Almost all the items I purchased are below $50.  You will see the same pair of jeans in every outfit, plus my favorite must have leggings!  I also alternate between 3 pairs of shoes.  A grey option, a tan option and a tall boot.
OUTFIT 1
OUTFIT 2
Here I show the must have cami in cream.
I paired it with a cardigan I already owned.  If I was going to get a new cardigan to go with this outfit I would have bought my favorite Barefoot Dreams cardigan.  I already have 2 so I didn't need one during this sale, but if you don't have one. . . this is the time to snag one!  The one I love is $79.90 during the sale, but goes back up to $120 afterwards.  Here is another cardigan option similar to what I am wearing and only $31.90
Same jeans, same booties
OUTFIT 3
I really love this convertible top.  It can be worn off the shoulders or as a cowl neck.  Several color options available.  Would be so cute paired with a skirt or white denim.  It is very soft and I liked the sleeve shape.  This could be dressed up or down.  I got a Medium in this top.
Same jeans and booties as above.
OUTFIT 4
I LOVE this sweater.  It was one of my favorite finds from the sale.  It is cozy and soft.  Sweaters can be tricky because I hate itchy!!  This one is not itchy at all.  SIZE DOWN.  I got a large and need to switch it out for a medium.  This is a great find for Fall!
Same jeans and booties.
OUTFIT 5
Another great top.  This one is soft, a lighter weight waffle texture and a cute cowl neck.  Several cute colors.  $29.90 ($49 after sale).  I got a large in this top and like the way it fits.  Looks cute with a front tuck and undone.
My other favorite pair of booties.  They are comfortable and I love the neutral tan color.  ONLY $52.48!!  Multiple colors.  True to size.
Same jeans
OUTFIT 6
My other favorite sweater from the sale.  WOW!  I LOVE this one.  This Side Snap Tunic Sweater is a must have.  It is cozy, soft and a great length.  The snaps up the side are such a fun detail.  I got a L because I wanted it a little roomier.  Also looks super cute as a dress on shorter people.  It would be too short as a dress for me, but I have seen it on others and it is adorable!!  Comes in several colors.  $49.90
Same jeans and tan booties
OUTFIT 7
Since I LOVE this sweater so much and know I will live in it this Fall I styled it a few different ways.
Ok friends, listen up. . .you NEED these leggings!  WOW!  They are a woman's best friend.  They are so flattering and comfortable.  They smooth you out and suck you in!  6,000 5 star reviews!!  That should tell you something.  I loved them so much I ordered a 2nd pair.  I will be living in these this fall.  Also available in Plus Size .  I got a L in these leggings.
Same tan booties as above
OUTFIT 8
Since I loved this sweater and legging so much (same as above) I styled them with a different boot option!
My new over the knee boots.  These boots are amazing.  They are comfortable and so cute.  Less than $100 and come in multiple color options!
I will be wearing this outfit a lot this fall!  Throw on a hat and a scarf to add even more pop to the outfit!
OUTFIT 9
This was another tunic top I tried on.  I liked it, but it was too big.  I ordered a L, but I would definitely size down in this one.  It's lighter weight with pretty woven details.  Such a great length and I love the side slit and sleeve shape. $38.90
Same must have leggings
Same over the knee boots
MUST HAVE ITEMS
I hope you loved my outfits.  These are all things I personally own and LOVE.  If you are wanting to narrow down your list here are my MUST HAVE|TOP PICKS from what I purchased:
SHOP MY NSALE PURCHASES
CLICK LINKS ABOVE OR PHOTOS BELOW TO SHOP

SHOE SALE
There is an amazing Fall shoe sale going on over at Nordstrom Rack.  I shared all about it HERE.  So many beautiful options it was so hard to narrow them down.  I ended up keeping the 3 pair I shared above (grey booties, tan booties, grey over the knee boot).  Here are the other 2 pair I ordered and loved, but didn't end up keeping.  I thought I would share in case you loved them!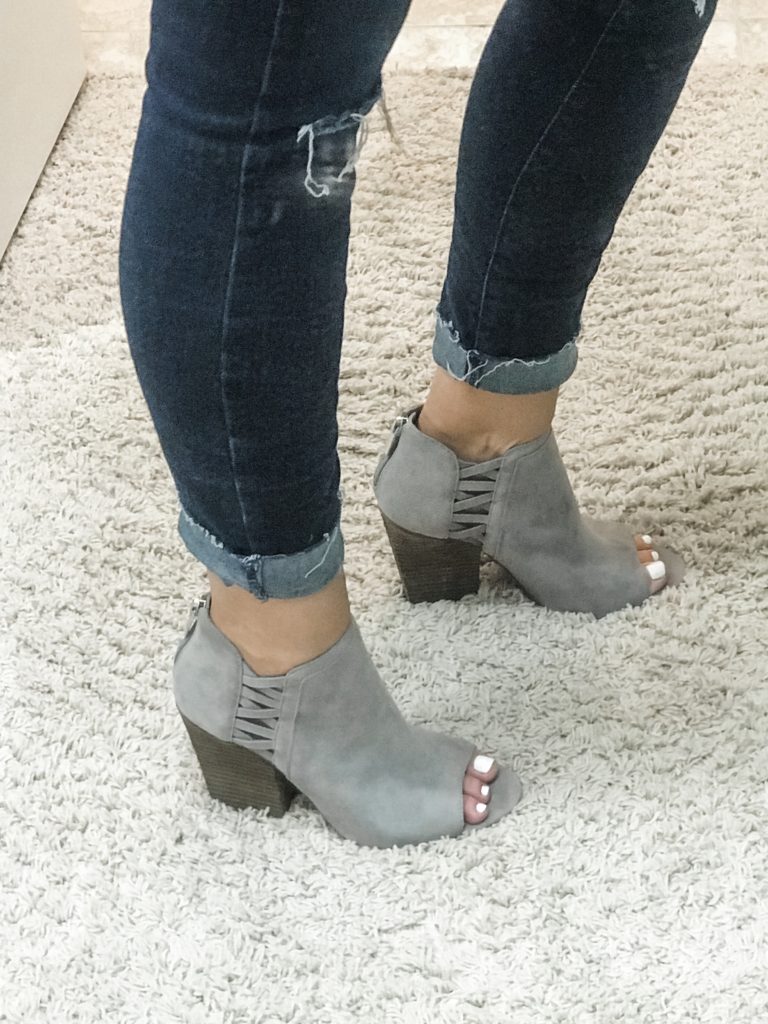 How cute is this Vince Camuto bootie?  I loved the open toe, heel shape and side detail.  Multiple colors available.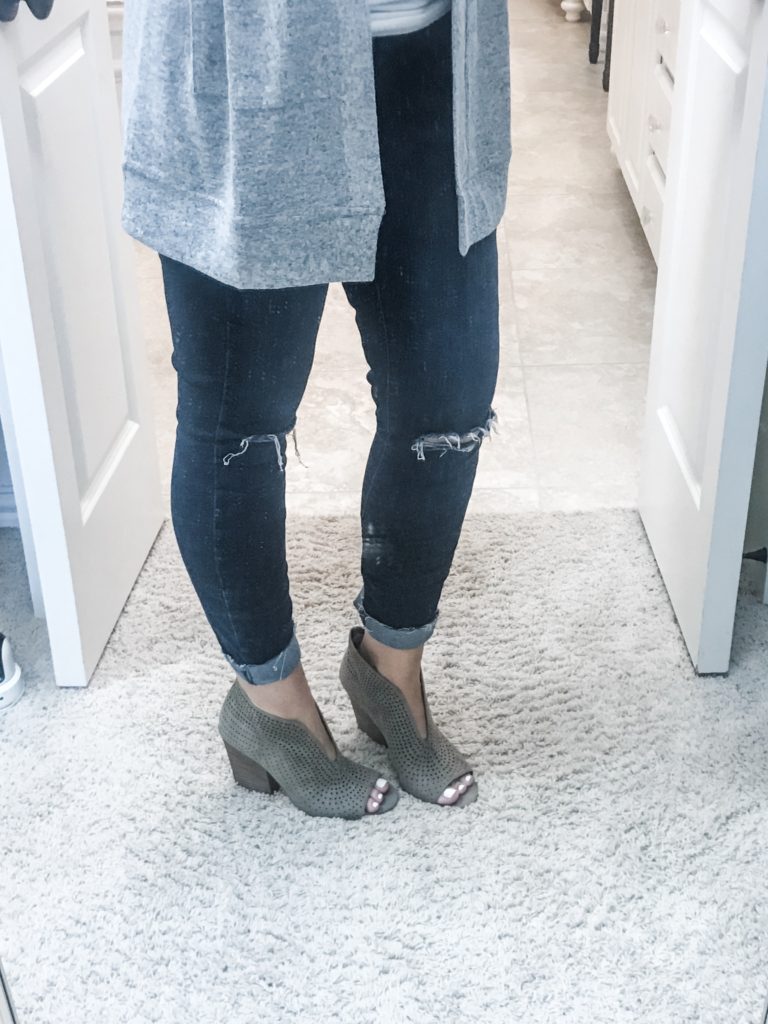 Another great pair of booties that I had really wanted to keep!  46-60% off depending on color.  Loved the slit detail in the front.  I felt like it make your legs look longer.  Very comfortable.
Ok, there was a lot of info in this post.  Hope you found some things you love.  It is 100 degrees here, but I am now ready for Fall!!  Happy NSale shopping to all everyone who gained access today!  I will be checking for restocks and updating Instagram stories!
This post contains affiliate links.  If you purchase I may receive a small commission.  Thanks for supporting my blog!