Saturday we celebrated Avery's 6th Birthday and she wanted an Annie themed birthday party.  She is obsessed with that movie right now and was even Molly in Annie Jr The Musical this summer! There is not much Annie decor out there so I had to get creative, but it was such a fun party to plan.  I shared lots of sneaks on InstaStories and yall were all so sweet.  I promised to share all the details so here you go.
Avery's Annie Themed Birthday Party
We had her party at a local gymnastics place.  We do 1 combined party of family and friends since it is always the weekend before school.  I used to do a friends party and a separate family party, but that is just too much due to timing.  This particular gym lets you rent out the entire place which works well for our large crew.
I found this amazing backdrop on ETSY that you could customize with your daughters name.  It was perfect!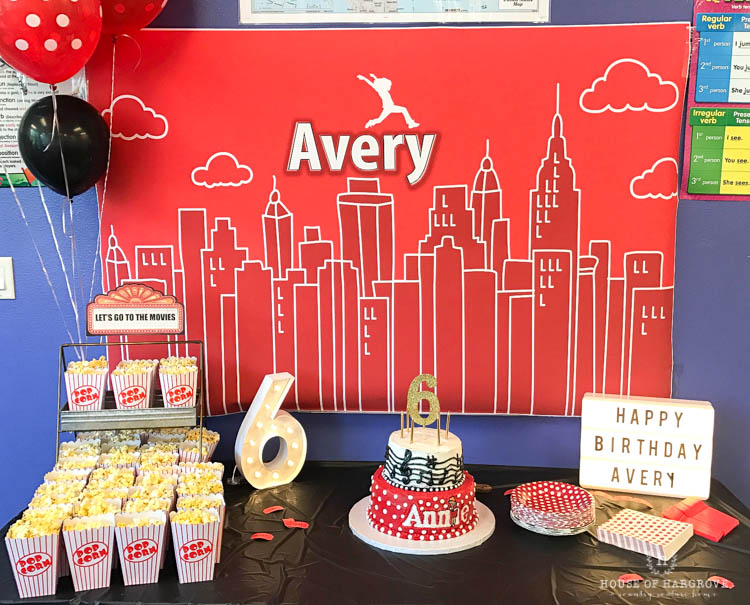 popcorn boxes| marquee 6| light box | light box letters
The party was a bit of a combo between the new and original Annie….but mostly the original.  We served popcorn and cake.  The popcorn was a tribute to the "lets go to the movies" scene, the marquee 6 ties into the marquee lights in NYC, the cake was by an amazing local cake designer and the light box also felt like movies and NYC to me.
I got the candles, glitter 6, plates & napkins at Hobby Lobby, but have linked similar in case you don't have one near you.
My sweet almost 6 year old!!
PARTY FAVORS: This was our party favor table.  I did caramel apples for everyone.  I ordered them from a local lady who did a great job.  Then each girl got a locket and each boy got a Daddy Warbuck's "Money Bag" filled with chocolate gold coins.
The lockets turned out so cute and were very inexpensive.  They were less than $1.50 each.  I bought the lockets in bulk (set of 20, the 14″ chain in a bulk set of 20 and the jump rings to combine the locket to the chain in a bulk set).  I couldn't believe how in expensive it was!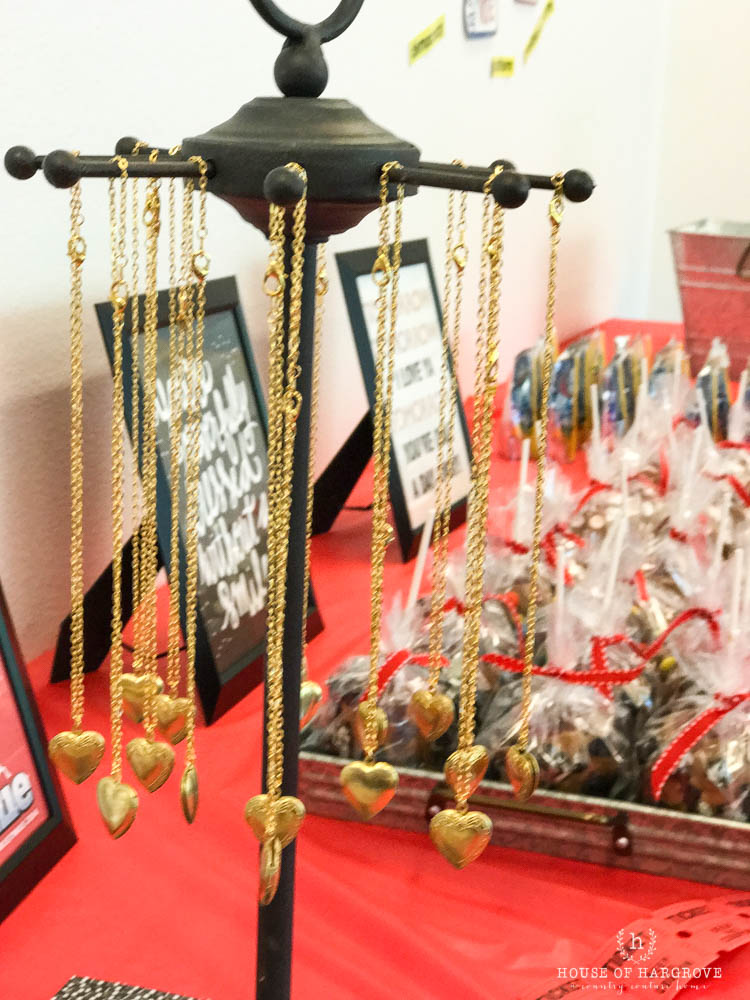 lockets| chain| jump ring (attaches locket to chain)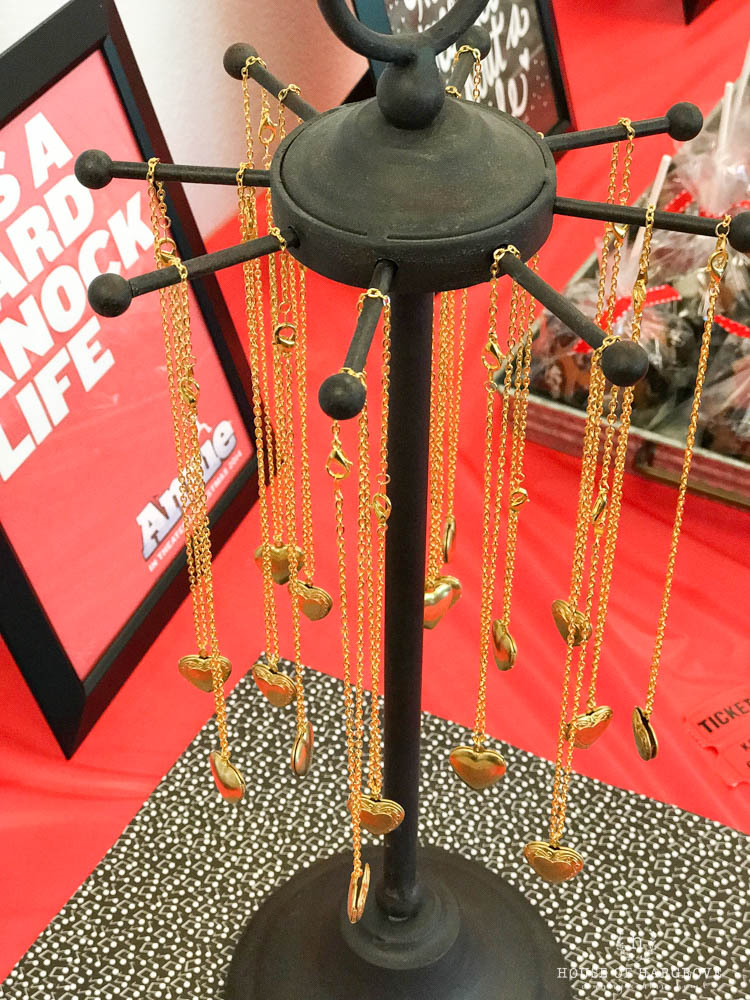 All the little girls really loved these.   They are so signature to Annie and like I mentioned the price was amazing and the quality was good.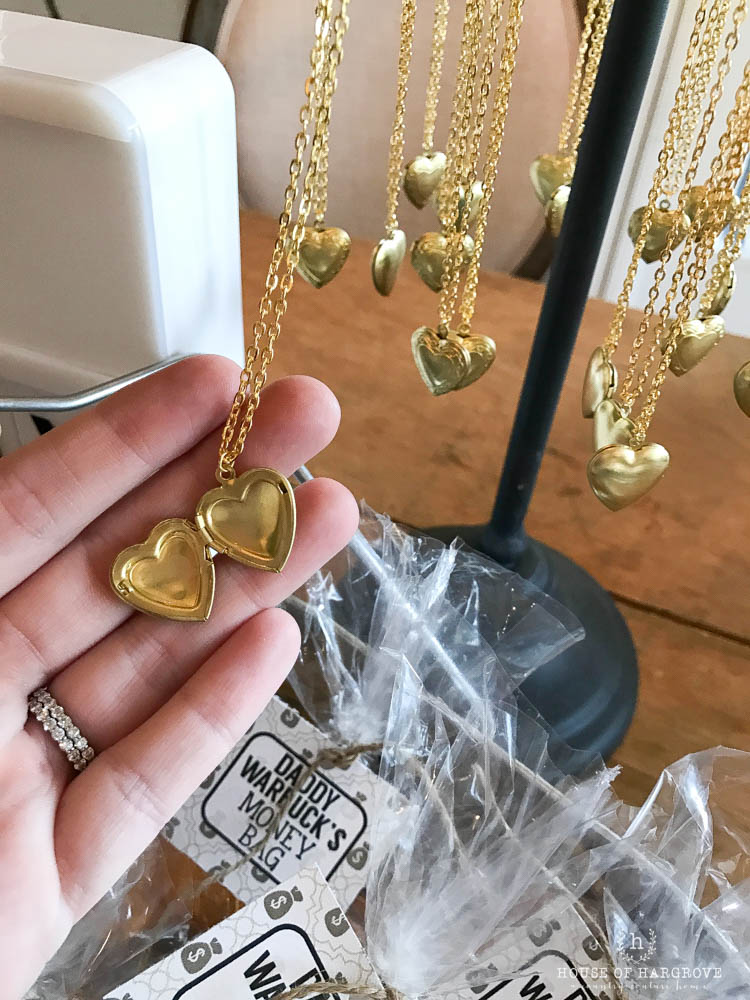 For the boys I made these little Daddy Warbuck's money bags filled with chocolate coins.  I share the printable below.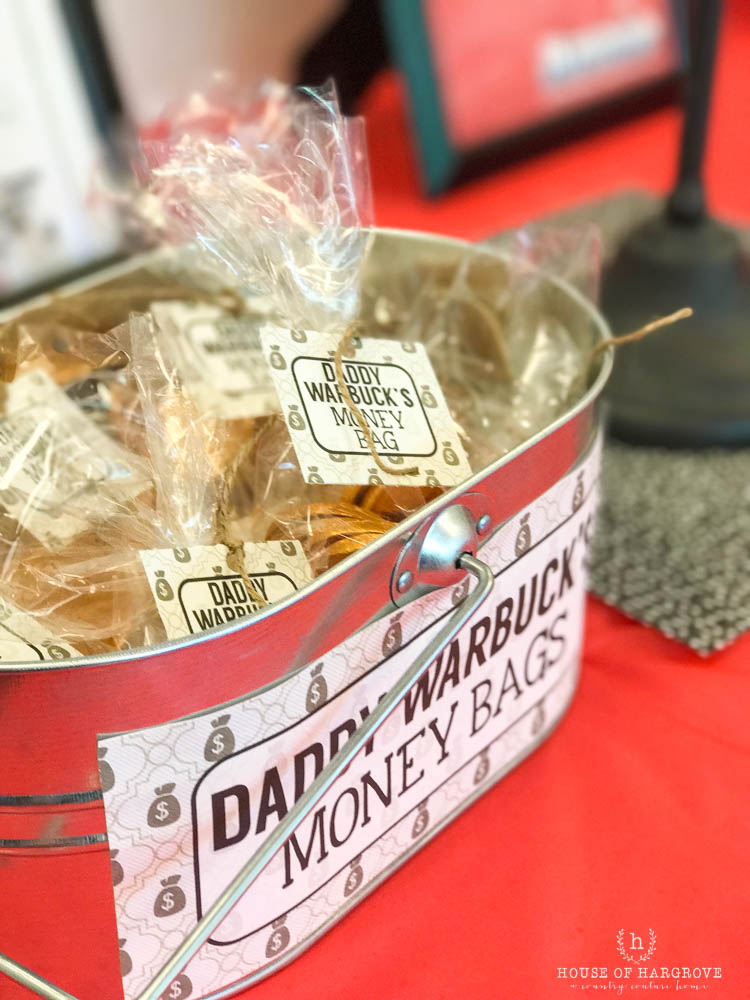 I made these fun chalkboard photo props with famous quotes from the movie so the kiddos could take fun pictures with them!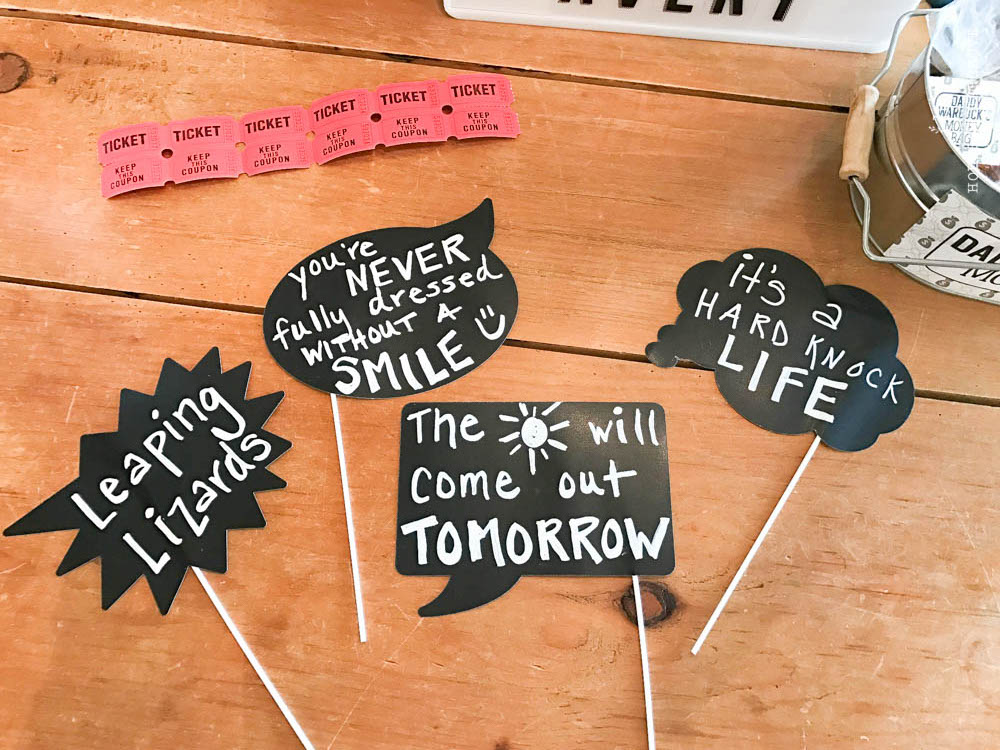 red tickets for decoration| chalk board signs
We had so much fun at this party and the theme was really fun and different.
I listed some of the sources above, but list them all here too so everything is in 1 spot.  Here are all the details/sources of Avery's Annie themed birthday party!
PRINTABLES

Tomorrow Tomorrow Art| It's a Hard Knock Life Art| Never Full Dressed Art
Large Daddy Warbucks Sign| Daddy Warbuck's Money Bags tags| Let's go to the Movies Popcorn Topper
SOURCE LIST
Gold 6 cake topper| gold candles
OTHER BIRTHDAY PARTIES
Braden's Vintage Barnyard 1st birthday
Braden's Taco "Two's-day" 2nd birthday
Avery's My Little Pony 5th birthday
if you love this idea Pin photo below

This post contains affiliate links. If you purchase I may receive a small commission.  Thanks for supporting my blog.