If you follow my blog or social media you know our family has been busy car shopping.  Our Honda CRV is 8 years old and we have out grown it!  We narrowed it down to 2 choices, the Nissan Armada and the Ford Explorer Sport and I shared my full reviews on both over the last 2 weeks.  I truly LOVED both cars so it was a very hard decision.  Below I will compare/contrast each car and then reveal our decision!
I wrote this disclaimer in my Explorer post, but wanted to put it here too.  Many people have said that I should be comparing the Armada and the Expedition because they are more similar.  Yes, they are more similar, BUT that is why I'm not comparing those two.  I wasn't sure if we need a really large car yet or if we just need a car with a 3rd row that is mid-size.  If we need a HUGE car….the Armada is the winner.  If we need a mid-size….the Explorer is the winner.  This may be strange to some, but for me when I car shop looks is where I start my search.  My 2 favorite looking cars (in my price range) are the Armada for a large car and the Explorer for more of a mid-size.  Borrowing these 2 cars and having my family in each of them helped me decide which is the better fit for us at this stage in life.
LOOKS:
So this is a personal thing.  For me personally, I like the looks of the Armada the best.  I just think it is so pretty.  I do like the looks of the Explorer, but not as much.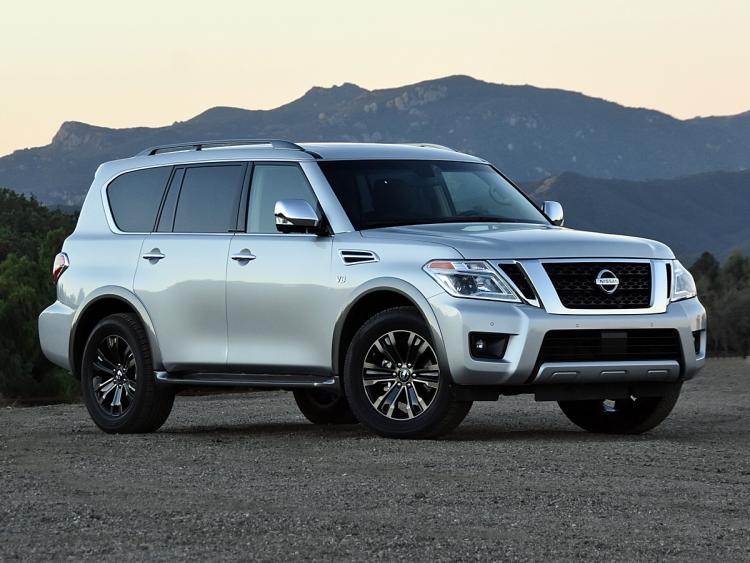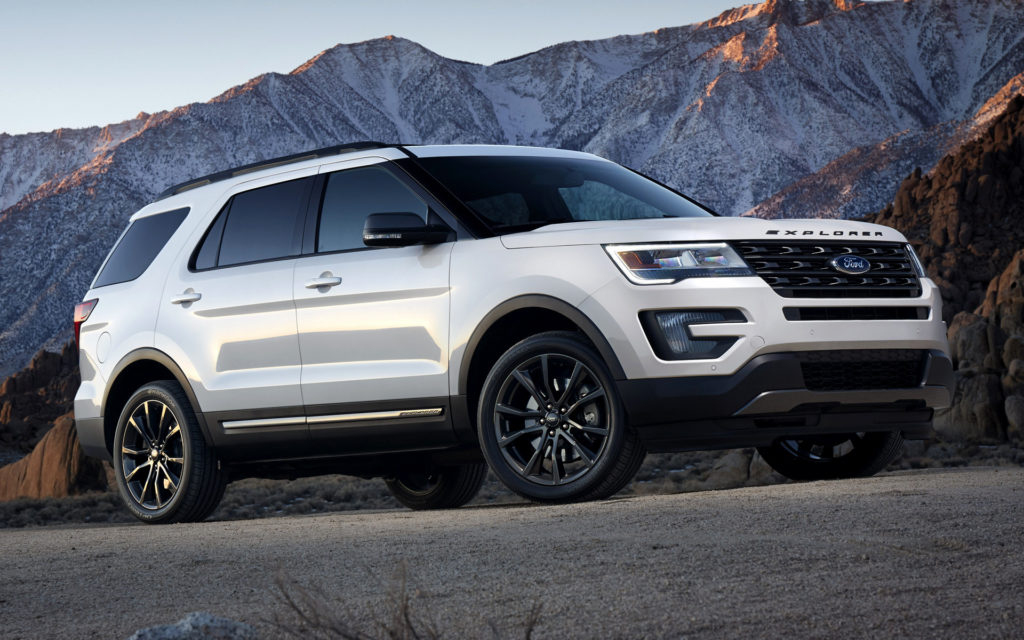 SIZE:
The Armada is much larger.  It is taller, longer, and much roomier inside.  If you are looking for a large family car than the Armada is the one for you.  There is more leg room in the 2nd and 3rd row and if you get bucket seats in the 2nd row the Armada seats 7 where the Explorer only seats 6.  Having said that the Explorer was plenty big enough for our family.  I felt like it was actually pretty spacious.  I read some reviews that people thought the Explorer was very tight, but I didn't feel that way.  Again, it depends what you are used to.  It is much roomier than the CRV and at this phase in our families life I don't think we need HUGE.  When our kids our older, I may feel differently.  I preferred driving/parking the Explorer.  The Armada felt like a bus compared to what I am used to.  I am sure I would get used to it, but just from the start it felt so big.  Their camera system is awesome though and really helps with parking!
FEATURES:
Cameras: I prefer the cameras in the Armada.  They have one that shows you a view from up above which was amazing for parking.  You could see exactly where you are in the lines and it gave a split screen so you could see that view and another view side by side.  This was very helpful.  The Explorer cameras are good….but they don't have the up above camera and I loved that.
Nav/Computer System:  I preferred Ford Explorer on this one.  They have Apple Car play which is amazing.  I have an Iphone so it pulls up your apps on the screen and basically looks like your phone.  I loved this feature.  Everything was fine with the Armada, but I love the Apple Car Play feature!!
Extras:  The Ford Explorer Sport had more bells and whistles.  They had ambient lighting that you could change the colors of, the pedals and steering wheel both can adjust to your perfect height, heated AND cooled seats, heated steering wheel, etc.  Both cars have memory seating, remote engine start, Homelink, etc but in the Armada you had to get the Platinum to get cooled seats, heated steering wheel and some of the other features.
Seats: ok this was a big one for me (might not matter to some)….Ford Explorer won this hands down. Both cars have electronic fold down 3rd row seats.  It is awesome.  You can fold down, 1, both, half way, all the way, etc….however for some reason I thought the Armada was SUPER slow!!!  Like if I am waiting with a toddler and a cart full of groceries I would be like…"anyday now".  It probably isn't really THAT slow, but enough for me to notice!  The Explorer is super fast!  You can adjust to any configuration you need quickly!!!  That was a win for me.  Back to size…the Armada has way more storage room, but for functionality the Explorer wins!!
Cupholders:  The Explorer had extra cupholders compared to the Armada if you remove the 2nd row middle console.  This is big for me as well.  I love lots of storage and organizing features like that.
UPGRADES: 
In both cars I want to upgrade the moon roof, bucket seats and technology package.  Below is the breakdown of the costs.  The Explorer moonroof is a double moonroof so it is in the 2nd row as well.  The Explorer sport comes standard with All Wheel Drive….this is an upgrade in the Armada.
| | | |
| --- | --- | --- |
| | EXPLORER | ARMADA |
| Moonroof |  $1,695 |  $800 |
| Tech Package |  $2,965 |  $1,770 |
| 2nd row bucket seats |  $695 |  $0 |
|  TOTAL |  $5,355 |  $2,570 |
COMFORT/EASE OF USE:
Both cars come with bucket seats.  The Explorer has the option of no console when you purchase.  The Armada comes with the middle console, but you can have it removed.  Both will be easy access to the 3rd row, but you have to do an extra step with the Armada.  The Armada is roomier so it is easier access to move around in the car, but the Explorer is just fine.  The size of the Explorer is more comfortable to me for the reasons I mentioned above, but I think the Armada would be more comfortable if you kids were older.  Both are great…just depends what you need.
KIDS:
Both cars work well with kids.  Easy 3rd row access, 2nd row bucket seats, good storage, 2nd row vents, USB ports in the back.  If you tend to carry more kids in your car/have more kids than the Armada has 1 extra seat vs the Explorer.  My kids are younger (5 and 2) so the Armada was a lot to handle.  It was hard for them to crawl in because it was so tall, it is very wide and the doors are very heavy so the thought of them opening the doors on their own scared me….I don't want to door ding every car in town!  This would not be a problem if your kids are older.
GAS MILEAGE:
Explorer wins this one.  While the Sport gets worse gas mileage than the other types of Explorers it is still way better than the Armada.  The Armada gets 13 city/18 hwy and averaged 13.6 while having it.  The Explorer Sport gets 16 city/22 hwy and averaged 19.2 while having it.  The Armada gas tank is much larger, but will cost way more to fill up!
PRICE:
The price is pretty comparable between the 2 vehicles.  MSRP on the Armada (SL with 4 wheel drive) is $56,215  the MSRP on the Explorer Sport is $51,655.  Both of these cars come with different levels/prices, but comparing the 2 we were interested in it was less than a 5K difference with MSRP.
So having said all of this and giving a full recap….
THE WINNER IS……
The Ford Explorer Sport!!!!!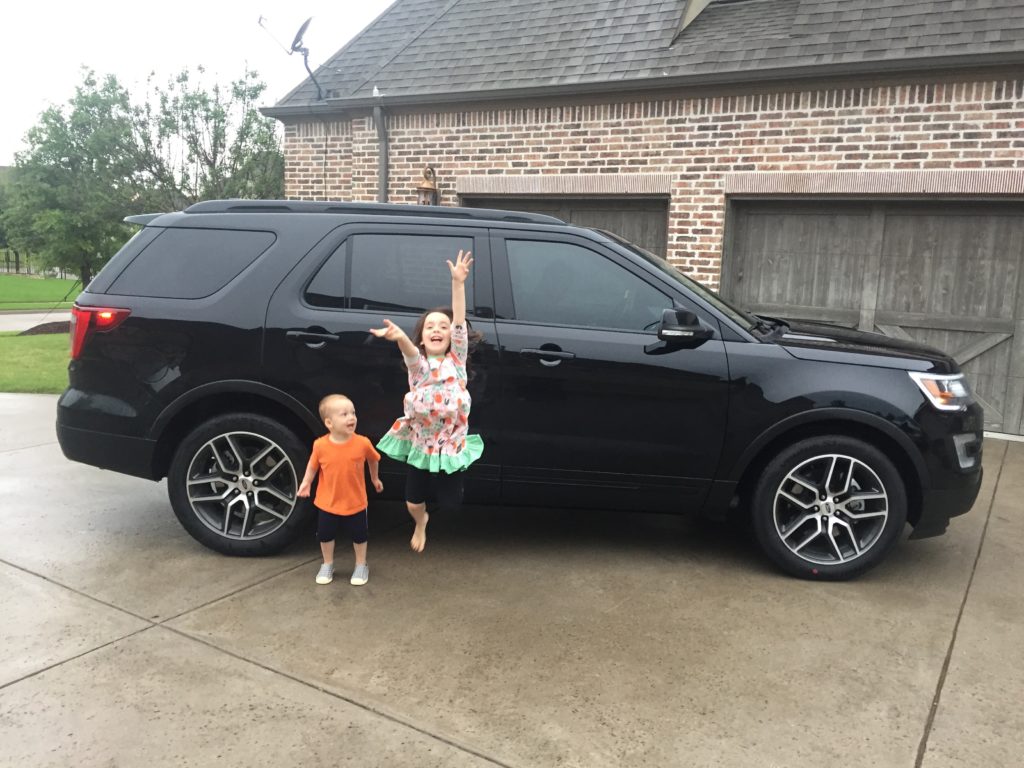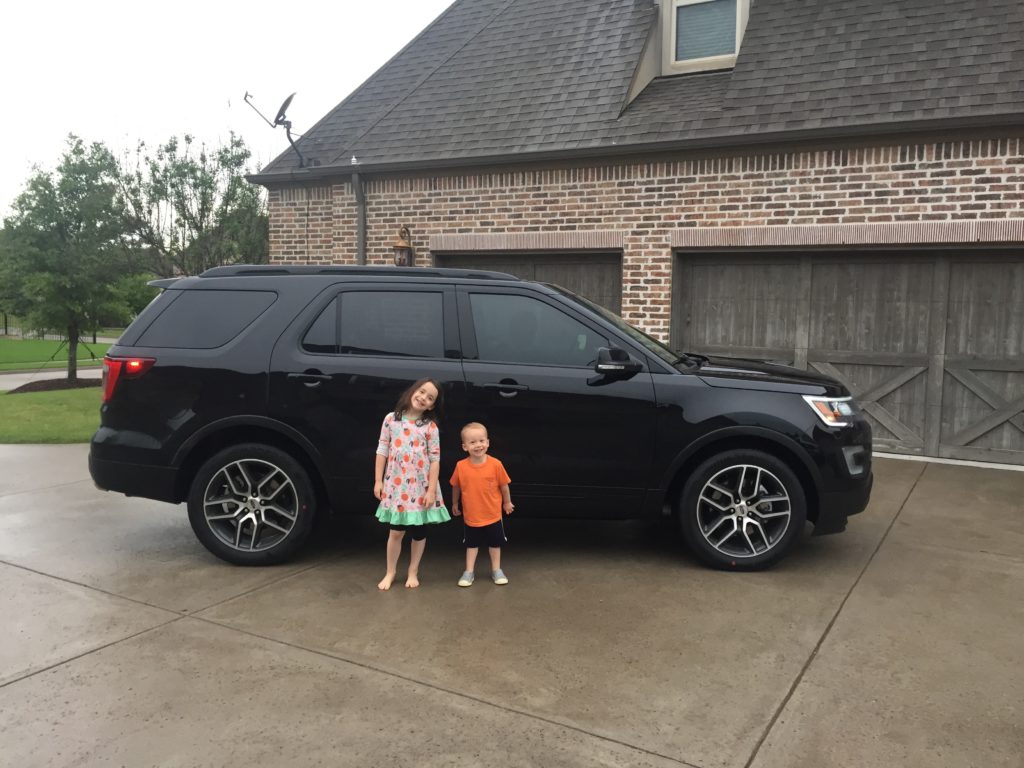 Honestly, I would recommend either car.  At this stage in our life the Ford Explorer Sport was the best fit for our family.  It is a good size (plenty big for our needs), easier to handle for both the kids and I, got better gas mileage and was just so much fun to drive.  I honestly have never driven a more fun car!  I am not sure if it is the engine or what (that is techy for me), but it is so sporty.  I love how fast the seats fold down,  makes it super convenient for all of our needs and my kids LOVE the double moon roof and ambient lighting.  We have had the car about 2 weeks and I LOVE it!  So far there is nothing I don't love.  It is so easy to use, I can store so much more, I love the feature where you can kick under the trunk and it pops open….really helps with full hands and while it is bigger it doesn't feel too big.  Yall have all been so sweet with your comments and input and it sounds like everyone loves both cars!  There really isn't a wrong choice to be made, but we are thrilled with ours.
If you live in the DFW area I cannot say enough great things about Grapevine Ford.  The dealership is beautiful and the team was incredible.  Dustin, Craig and everyone we dealt with made the process fun, fast and so enjoyable.  They found exactly what we wanted, loaned us a car until the one we wanted arrived and were just the nicest.  If you are looking for a car I highly recommend going there.  Tell them I said hello!  I also had a great experience at Crest Nissan.  Ask for Tony.  I know buying a car can be a tedious experience at times, but these guys were great and very patient!
I tried to answer all the questions I could think of, but if I missed anything leave it in the comments and I am happy to answer!  I know I had a million questions when I started my search so I am happy to help!  Thanks for following along in our car shopping journey!