If you follow me on Instagram you have seen that my family and I are in the market for a new car.  We have narrowed it down to the 2017 Nissan Armada or the 2017 Ford Explorer Sport.  2 local dealerships loaned me each car for a few days and this was super helpful to really see how I felt about each car.  I have shared several IG stories with videos of each car and it has been so much fun hearing from everyone on their opinions of each car.  Like me…the decision is split.  So many people LOVE the Armada and so many people LOVE the Explorer.  This is a great sign that either car will be great! Last week I shared my full review of the Nissan Armada and today I am going to share my full review of the Ford Explorer Sport.  The amazing people over at Grapevine Ford loaned me one for a few days and here are my thoughts.
First up….many people have said that I should be comparing the Armada and the Expedition because they are more similar.  Yes, they are more similar, BUT that is why I'm not comparing those two.  I have not decided if we need a really large car yet or if we just need a car with a 3rd row that is mid-size.  If we need a HUGE car….the Armada is the winner.  If we need a mid-size….the Explorer is the winner.  This may be strange to some, but for me when I car shop looks is where I start my search.  My 2 favorite looking cars (in my price range) are the Armada for a large car and the Explorer for more of a mid-size.  Borrowing these 2 cars and having my family in each of them will help me decide which is the better fit for us at this stage in life.
To be honest the Explorer wasn't really on my radar until my friend, who used to own a Range Rover, picked me up one day and when I hopped in I noticed something was different, but wasn't sure what.   She told me she sold her Range Rover and this was her new car…a Ford Explorer.  I honestly didn't even notice at first.  I thought they looked pretty similar.  Riding around in her car I couldn't believe how nice it was.  I loved the way it looked, it drove amazing, the features were so nice, etc.  In high school many of my friends got an Explorer for their first car so that is kinda the way I thought of them in my mind….the new Explorer is NOTHING like the ones my friends had in high school!
Below you can see the Range Rover vs the Explorer.  They are not exactly the same, but I really think they look similar.   Turns out the chief engineer for the Ford Explorer redesign was the same person who designed the Range Rover!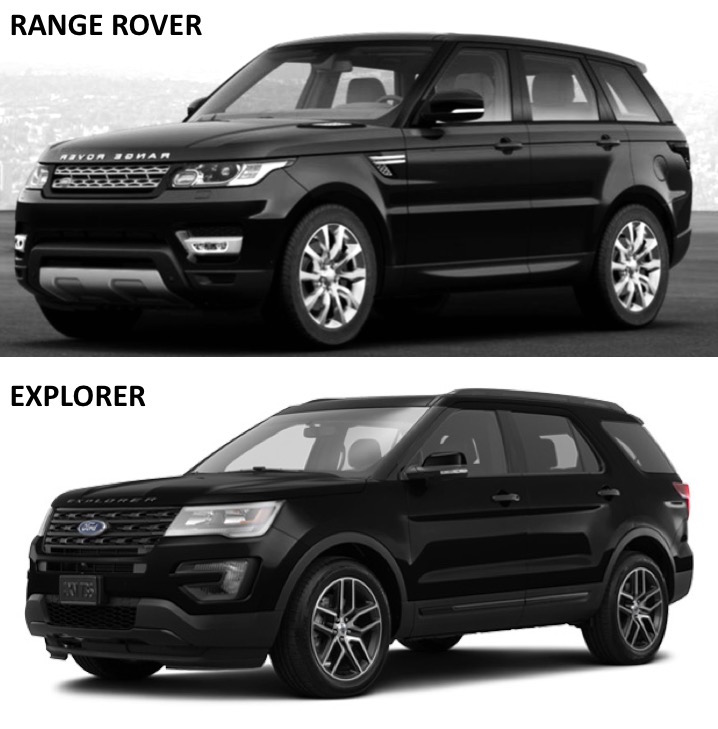 So there are several different levels of Ford Explorers.  I am only interested in the SPORT and honestly the main reason is because of the way it looks.  The SPORT has a black grill, different rims, it says EXPLORER across the hood, and it has the upgrades I want (will go into more detail on this below).  I was considering the LIMITED with the Sports Appearance Package because it had better gas milage, however while the outside has the same appearance of the Sport….the inside has suede inserts inside the leather seats and this was a deal breaker for me personally.  First….I don't like the way it looks…Second….one of the reasons I want leather is because it is easy to clean and I have small children.  The last thing I need is having my kids spill juice on suede!  There is a higher level….Platinum, but I didn't need those extras (think seat massagers) and I still liked the look of the SPORT better.  There are 5 levels (Explorer, XLT, Limited, Sport and Platinum).  There is really something for everyone.  Some people prefer the chrome details so Sport would not be for you.
FULL REVIEW OF FORD EXPLORER SPORT:
LOOKS: Like I mentioned above I love the way it looks.  I want black exterior and black interior.  Each level has different details that change the looks.  The black Explorer Sport looks….well "sportier" to me 🙂  The interior is super nice.  It is sleek, black, looks very modern, I love the ambient lighting and the looks of the dash, knobs, etc.  The Sport has 20 inch rims, black grill and handles, no chrome sections, says EXPLORER across the hood and the trunk.  You can see them compared below.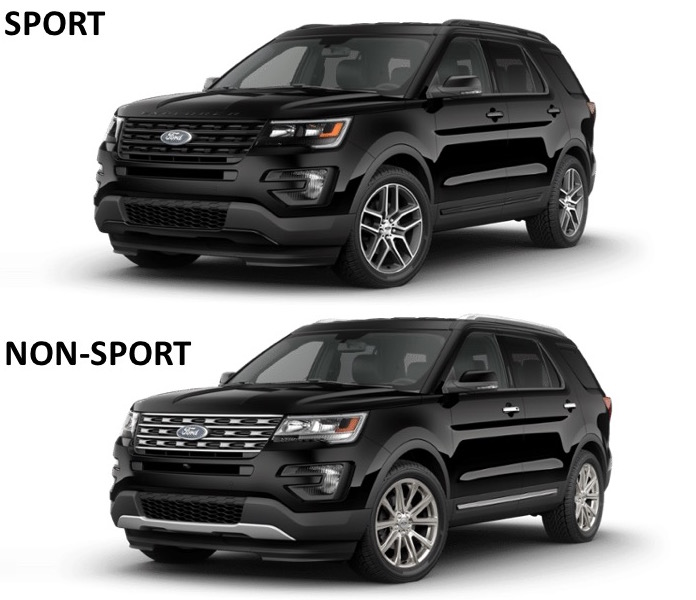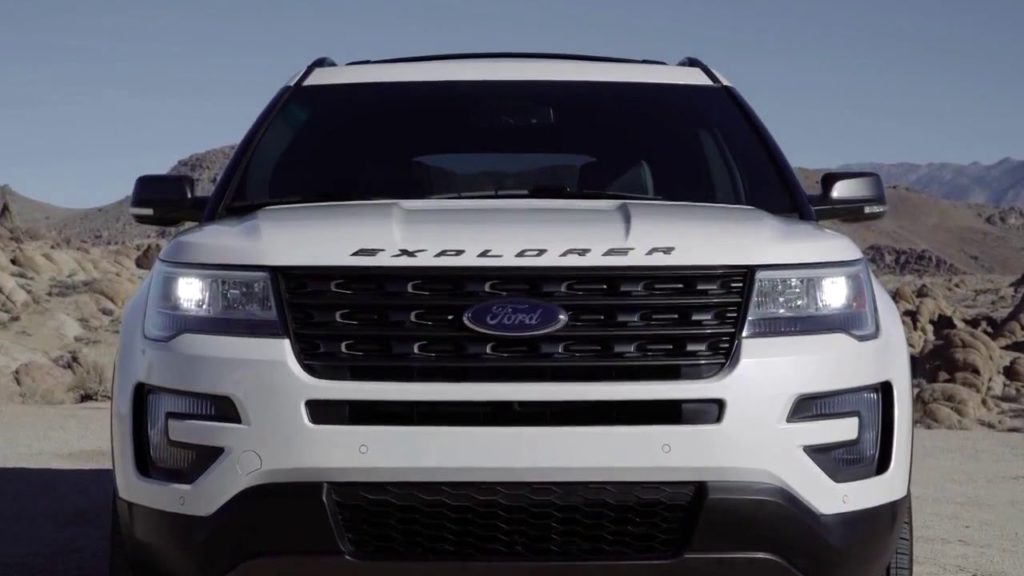 SIZE:  I am used to a Honda CRV so this size was more in line with what I am used to.  It is larger than a CRV, but not HUGE.  I really liked the size, but it only seats 6.  We want captain seats and the 3rd row only seats 2.  I don't think this will be a problem for our family, but is something I am considering.  Several people have said it felt small inside, but I actually felt the opposite.  Again, if you are used to a HUGE car….a Suburban, etc….it will feel small.  My friend (mentioned above) drove 6 moms to our kids field trip and we were all in the car for an hour and I was actually surprised how spacious it felt. We were all very comfortable!
Below is a photo with all of the seats down and it is very spacious.  You could definitely fit a decent sized piece of furniture in there.  Again, if you saw my IG Insta-stories you saw me sharing all of the seat features and configurations!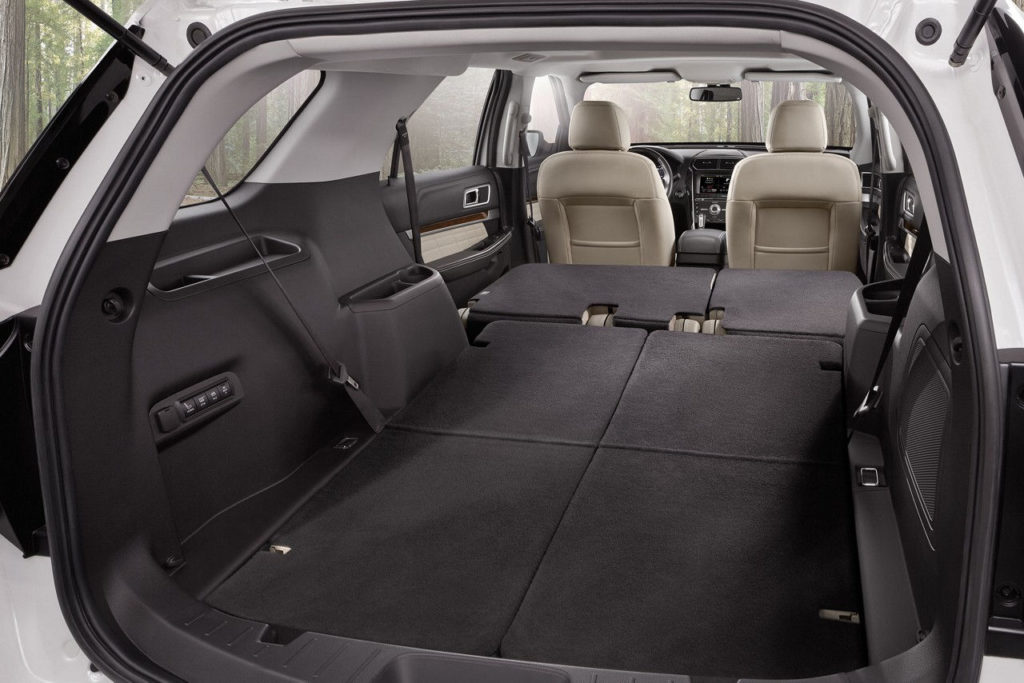 FEATURES:  The Explorer Sport has all the features I could ever want.  Heated/cooled seats, heated steering wheel, 4 wheel drive, tons of cupholders, USB ports in front and back, upgraded SONY stereo, remote start, blind spot warning, cameras, keyless entry, ambient lighting, double moonroof, electronic folding seats, etc.  It has a feature where you can kick under the trunk and the back will automatically open.  This is amazing for MOMS with hands full trying to load a car.  I LOVE this feature.  My husband didn't get the big deal, but he is never loading a car at Target with a baby in his arms, a 5 year old trying to "help" and a cart full of groceries 🙂
UPGRADES: The upgrades we would add are the double moon roof ($1695), 2nd row bucket seats…no console($695), 401 A Safety package ($2965)….this has all the features I love like blind spot protection, heated/cooled seats, etc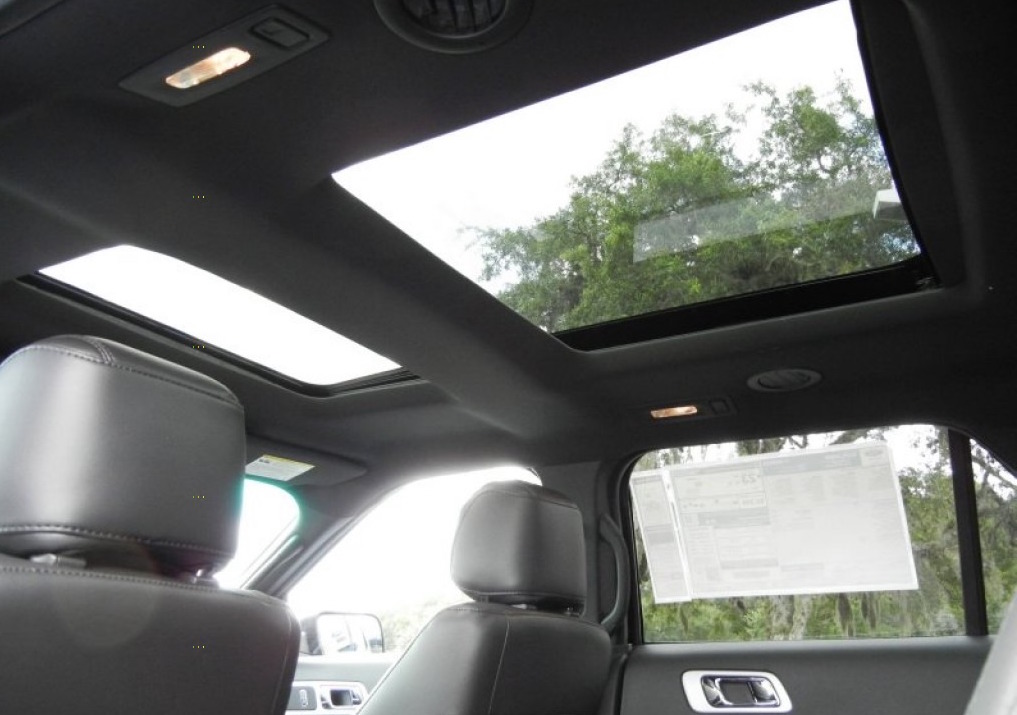 COFORT/EASE OF USE:  This car was so comfortable to me.  The seats were super cozy, it was high off the road, but not too high, lots of storage/cupholders, the car was soooo much fun to drive!  I don't know much about engines, but I really had fun driving this car. it is a V6 Ecoboost. I have owned several cars and this was the most fun.  It had great pick up.  I love the power folding seats in the 3rd row.  They are FAST.  Several cars we had looked at took a while for the seats to fold (ain't nobody got time for that).  There are lots of options on how you can configure your trunk and I love that when the 3rd row is up the trunk is sunken a little bit adding more storage (photo below).  The 2nd row has a captain seat option with walk through which is a must for our family.  We must have easy access to the 3rd row.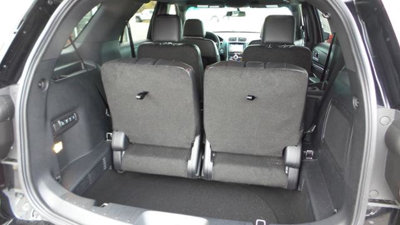 KIDS:  My kids are 2 and 5 and it was very comfortable with them in the car.  Both carseats were in the captain seats and fit nicely.  They LOVE the 2nd row moonroof.  Avery said it was like being on a safari??  She also loved the ambient lighting feature!  You can change the color of the lights from the dash.  Feeling like purple one day, next day blue?….no problem.  While this is very cool I feel like she will have me changing them all the time if we get this car.  If my kids were older/bigger I might want a larger car.  I am just not sure right now.  At this stage of life it felt very roomy.
GAS MILEAGE: 16 city/22 highway.  The Sport has worse gas mileage than the other models, but still better than a larger SUV.  My average was 18.6 while borrowing it for a few days.
PRICE: With the added features we want and the current rebates if you build online it comes to $48,905
OVERALL:  I LOVED the Ford Explorer!  Even more than I expected too.  It was fun to drive, roomy, had great upgraded features.  Just like the Armada, I really loved it.  The prices are pretty comparable so it is honestly going to come down to the size we feel is best for our family….do we need 7 seats?  And the gas mileage would be a factor.  We do lots of driving so is the extra size worth the extra gas?
I will share what we decided was the best for our family soon.  If you are looking for a 3rd row car I highly recommend the Explorer!  I was blown away with the luxury of it and there is a level for many different budgets and appearance preferences! If you live in the DFW are the people at Grapevine Ford were just the nicest!  Dustin, Craig and their entire team were amazing to work with.  Very helpful, beautiful show room and great car selection!
I am very ready for a new car so stay tuned…..I will be sharing the winner (and the reasons why) very soon!
**If you have an specific questions leave them below and I am happy to answer!  I tried to think of everything that would be helpful, but I am sure I missed some stuff!**
Pin the photo below if you are car shopping and found this helpful!