My family is in the market for a new car and have narrowed it down to 2 choices.  The 2017 Nissan Armada SL and the 2017 Ford Explorer Sport.  We need a larger car and definitely want a 3rd row.  I really love both cars and was having a hard time deciding so the amazing people from CREST Nissan loaned me the Armada for a few days and the amazing people at Grapevine Ford are loaning me the Explorer for a few days so I can really spend some time in them, see how practical they are with my kiddos and make my decision.  First up….the new 2017 Nissan Armada.
I initially fell in love with this car at the Texas State Fair car show.  I was walking through and was surprised to see an Infiniti QX80 in the show room because typically they don't have high end luxury cars at the show.  Well, to my surprise it was not the Infiniti, but the new Nissan Armada.  I mean they seriously look almost exactly the same and yall know I love the "look for less".  It was love at first site and this car quickly moved to the top of my list.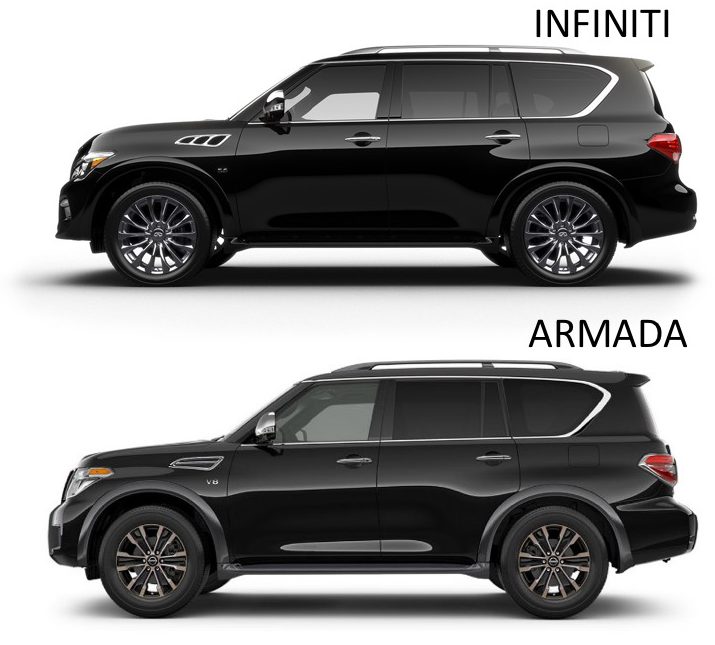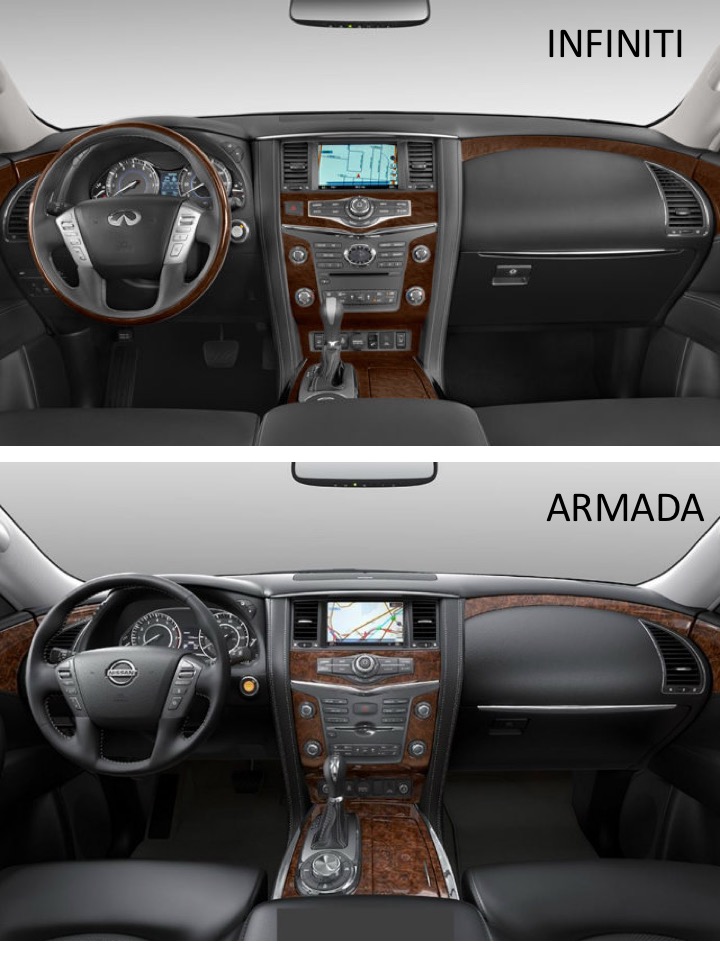 I mean can you believe how similar they are??!!  The guy at the dealership told me they are made at the same place and 1 gets a Nissan logo and the other gets an Infiniti logo.  I think this car is so beautiful.  I had it for 3 days last week and absolutely loved it.  I was sad to give it back.  If you follow me on Instagram you may have seen my Insta Stories where I gave a full tour of the car.
I took "her" (my Armada was a her) out to dinner for girls night.  My friends loved it.  They said it was beautiful, spacious and a great ride. Anyone recognize the one in the middle with me??  Yup…that is Barrett aka Wear it with Barrett!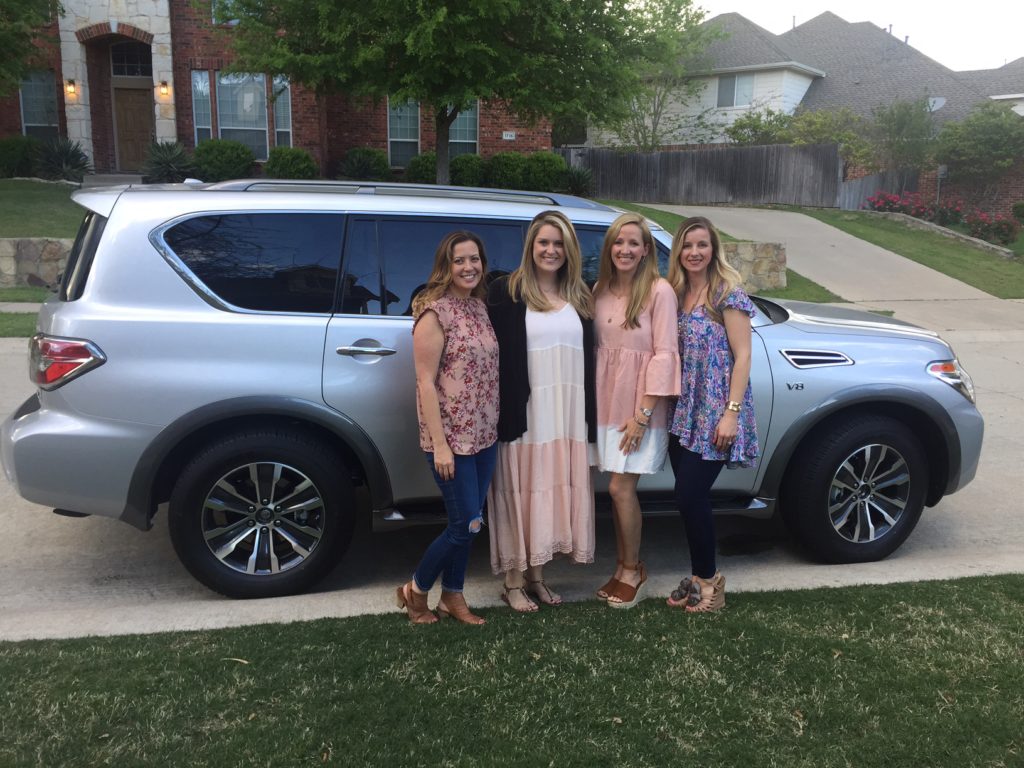 And….my kiddos loved it!  Avery loved how high we were, how much room she had and that she had her own vents.  Our current car (Honda CRV) has no vents in the back….terrible!  Especially in TX heat!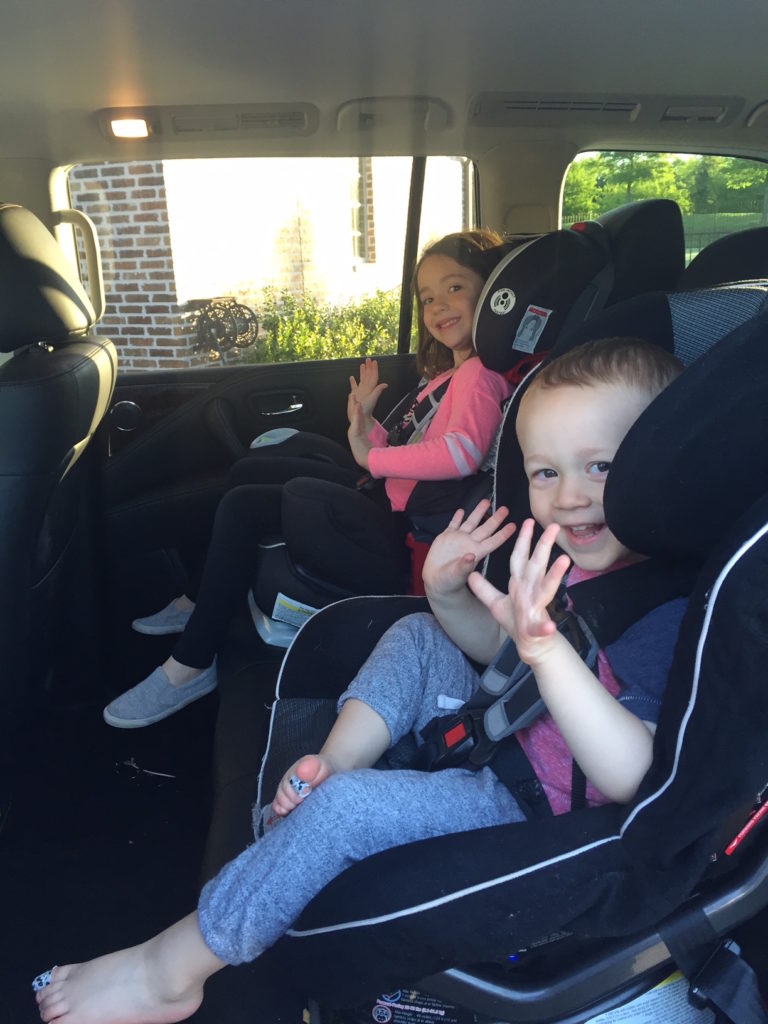 FULL Review of Nissan Armada:
**There are 3 options to choose from.  The SV, SL and Platinum.  We are interested in the SL.  It is the middle of the pack, it has leather seats ( a must for us) and we don't "need" all the features the Platinum has for $10k more.
LOOKS: I couldn't love the way it looks more.  I think it is such a pretty car and the finishes are all beautiful.  I test drove a silver one, but I want a black one with black/charcoal interior.  I have zero complaints in the look department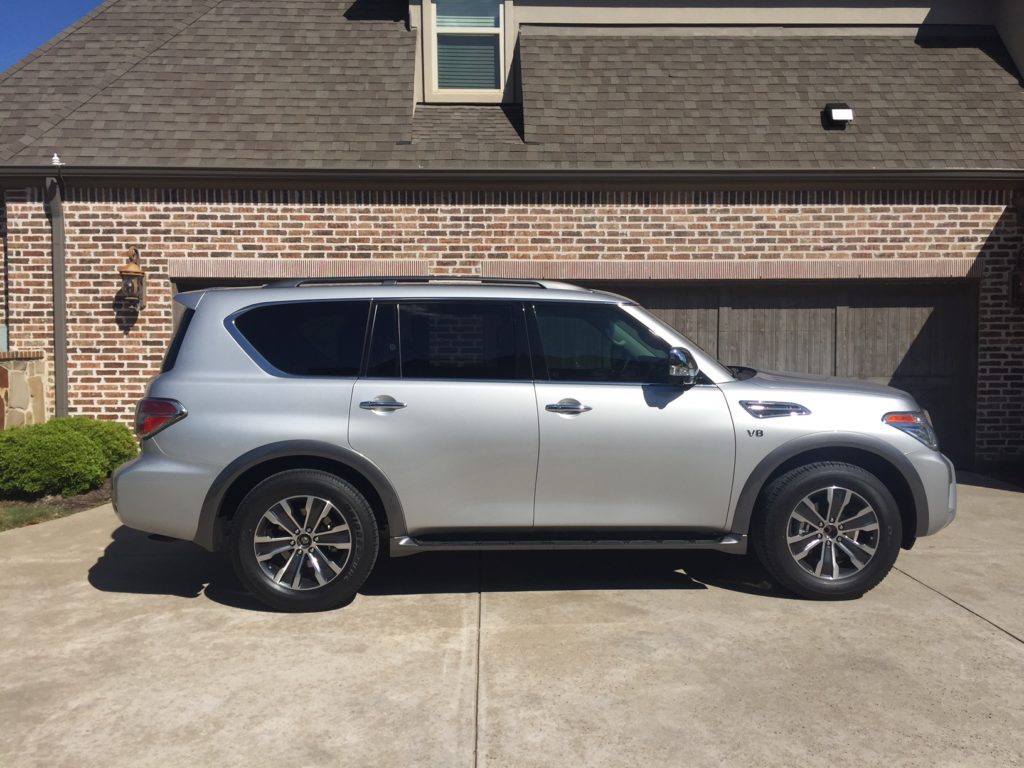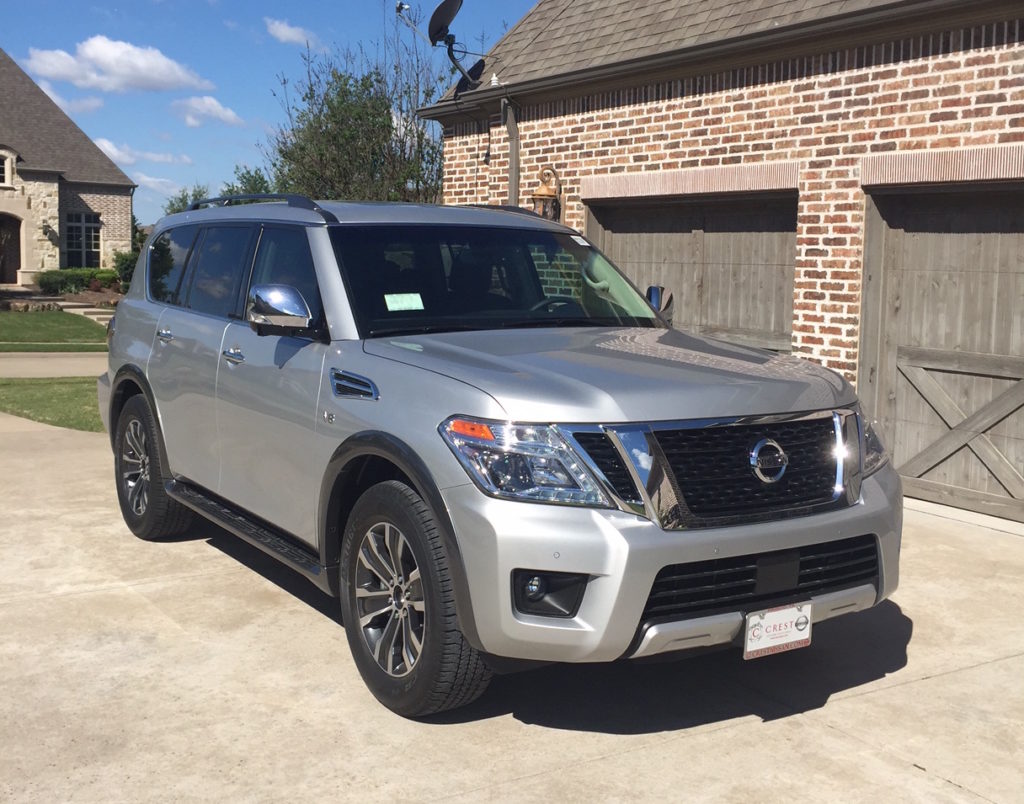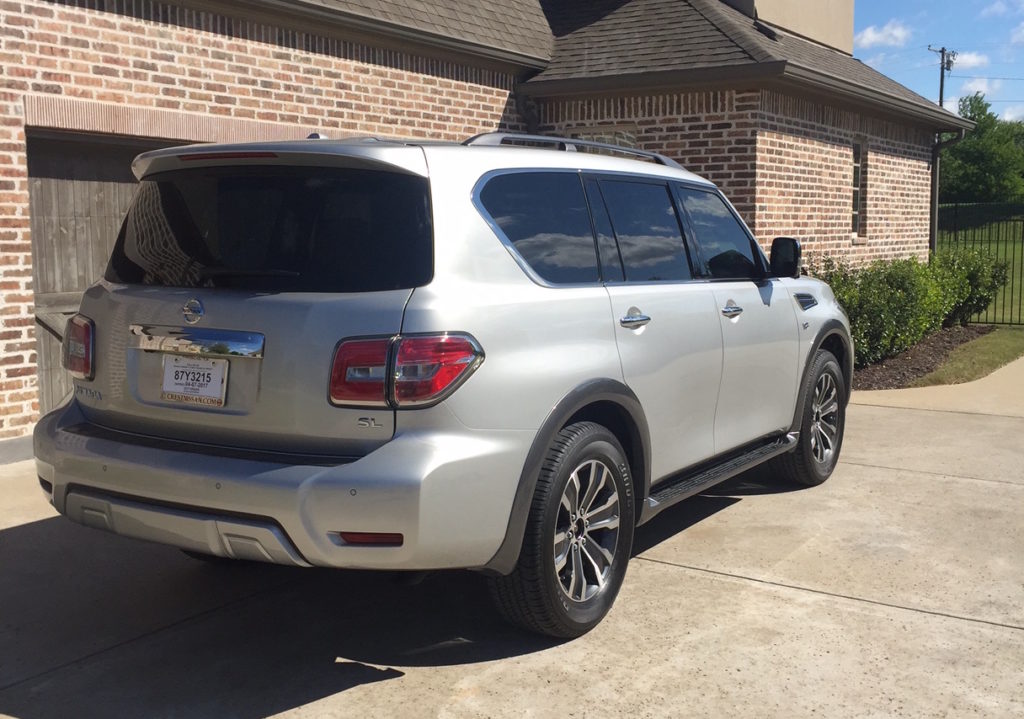 SIZE: it is HUGE.  This is good, but will take some getting used to.  I am currently in a Honda CRV so this was a big adjustment.  We want captain seats in the 2nd row.  The Armada has a console in the 2nd row when you get captain seats, but this can be removed.  I definitely want a pass through to the 3rd row because both of my kids are still in car seats and there is no access to the 3rd row without the pass thorough.  I do love that it seats 7 (2 front, 2 middle, 3 back row…can fit 8 if you get a bench seat in the 2nd row).  The doors are heavy and the car is HUGE (did I mention this) so it makes me a little nervous with my 5 year old opening the door by herself.  I don't want to cause a bunch of door dings around town!  There is tons of storage.  With the 3rd row lying down you can fit tons of stuff, when you lay down the 2nd and 3rd row you could fit a huge piece of furniture!  This is a plus.  We will not outgrow this car.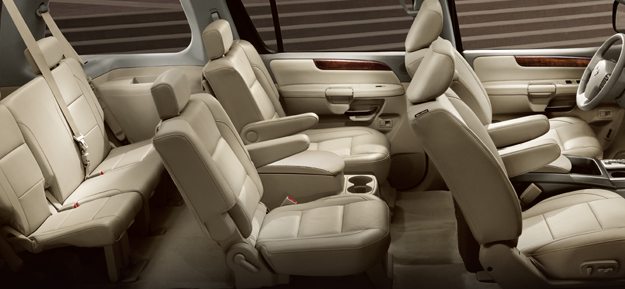 FEATURES:  V8 engine, heated seats, remote start engine, Bose sound system, Blue Tooth, Navigation, etc (I love cooled seats and heated steering wheel, but those are only options in the Platinum…again, not worth an extra 10k for us).  I LOVED their camera features.  They show a split screen where you see your front camera, but also a camera from the top.  This really helped me park between the lines in a parking spot with the size of this car.  GREAT feature!!!
UPGRADES: We would add a moon roof  ($800) and the technology package ($1770) which has all the safety features I want (blind spot warning, forward emergency breaking, collision warning, backup collision intervention, cruise control and distance control assist).  These are the only 2 upgrades we would need.
COMFORT/EASE OF USE: The car was very comfortable, lots of storage, cup holders, USB ports, etc.  The dashboard with all of the different apps was super easy to use.  I loved sitting up high because it felt like you were looking down at everyone else on the road.  I felt like I could really see everything around me.  With the size of this car I really loved the camera feature (mentioned above) because it helped me park it very well.
KIDS: It was very easy to install the car seats, there was tons of room, with the captain seats and console removed it will be perfect for easy access to the back row, there are lots of vents in the back so the kids get plenty of air, it will be a great size car that the kids can grow into.  They loved it!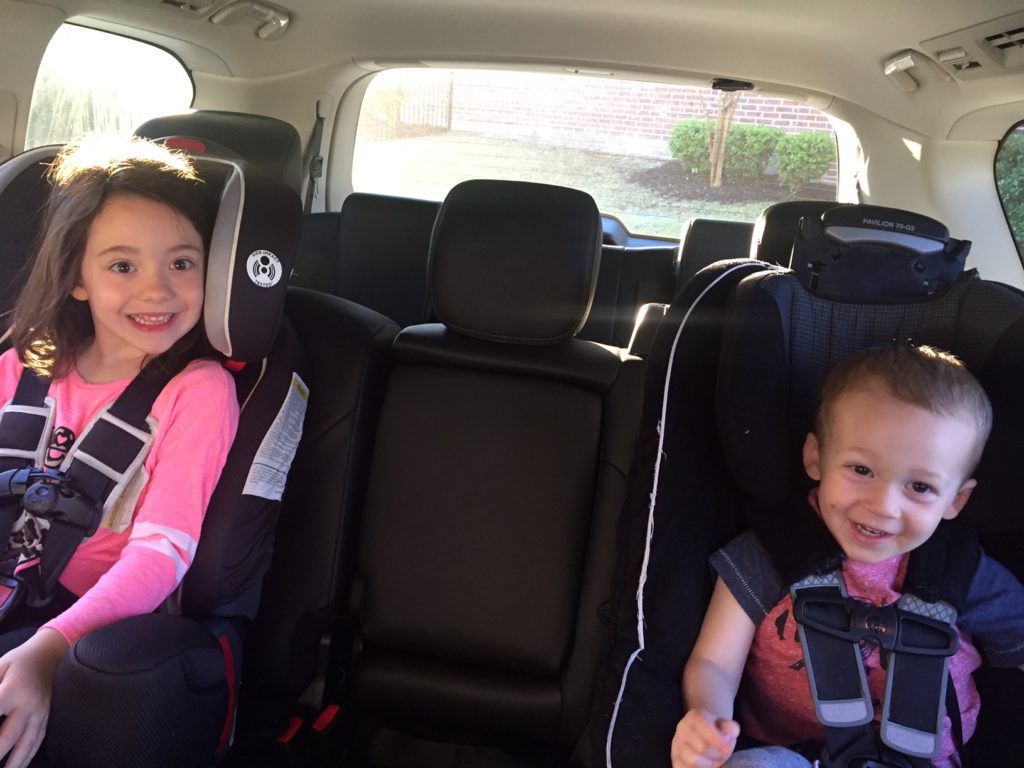 GAS MILEAGE: This was one downside to the Armada.  The gas milage is not great…it is more like a truck than a SUV when it comes to gas.  It gets 13 city/17 highway.  While I had the car for 3 days it averaged 13.8 mpg
PRICE:  The SL with the 2 added features we want (mentioned above) the price is $53,315
OVERALL:  I love the new Nissan Armada.  It is definitely in the running.  I have nothing bad to say except the gas mileage.  I feel like after I try the Explorer for a few days I will know which is the best decision for our family.  Either way we go, this is an amazing car and I highly recommend it.  For our family it will come down to size, price/features and gas mileage.
 I picked up the Explorer yesterday so I will give a full update on that car as well and then let you know our decision and why.  We are interested in the Explorer Sport so I will compare/contrast each car, the features, details, etc.  If you have any questions about the Armada post them in the comments and I will be happy to answer anything I can from my experience.  If you live in the DFW are the people at Crest Nissan were just the nicest!  Very helpful and great car selection!