Last weekend Geoff and I headed down to Austin for a late Valentine's getaway and we stopped by Waco to see the Magnolia Silos as part of our trip.  I have been dying to go, but just hadn't gotten around to it yet.  We headed down on Saturday and the weather was amazing.  This was both good and bad.  Good because it was so beautiful….but bad, because everyone else thought so too and decided it was the perfect day to go to the Magnolia Silos!  So we paid $10 to park and were literally there 30 minutes.  There were lines around the bakery, to get in to the Magnolia Market, for every single food truck, etc.  Since we were going to be headed back through Waco on our way home we decided to just come back and try again on Monday.  I was worried because Monday was President's Day, but it couldn't be any worse!
We had a wonderful trip in Austin and then Monday, headed back to the Silos…..great news…much less crowded!!  There were still lots of people there, but nothing like Saturday.  The weather was not as good so that helped too.  The  Magnolia Silos have been designed to be a destination that you can spend all day at.  Grab lunch, lay around and read a book, play a fun game, etc.  Bad weather actually helped us out this day.  You will see from my photos that they were shot on 2 different days.  Some of the photos have the most amazing blue sky ever….and some look super gloomy.  Ha!  Get cozy and prepare yourself for lots of pictures!
So without further ado….here is our trip to the Magnolia Silos!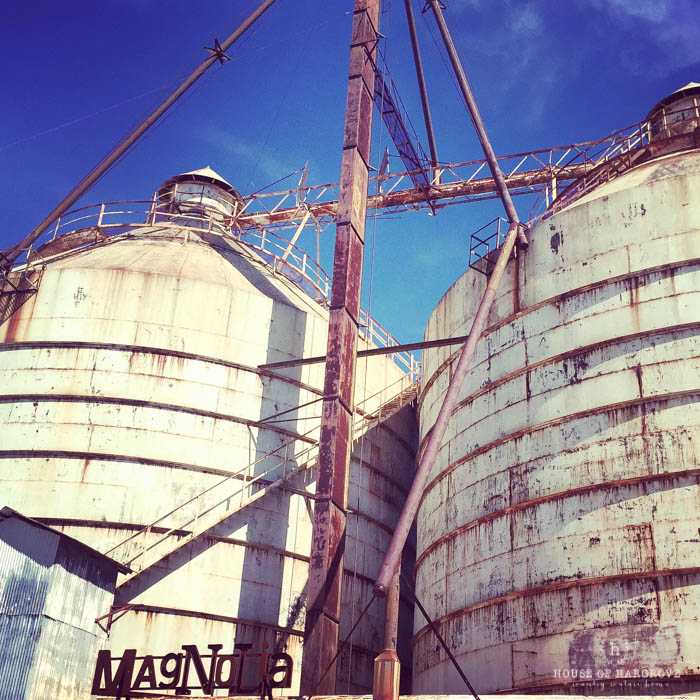 Below is an overview of what the property looks like.  The bottom right corner (12) is where you enter the property.  The brown building in that same corner is the bakery.  The grey area in the bottom left is Magnolia Market.  If you stay on the right hand side you see the Silos and then the top area is the garden section and Magnolia Seed + Supply.  Lining the top and top right are all food trucks with pretty seating areas in front of them to have a nice lunch.  The green area is an amazing field made of turf to picnic on, play on, etc.  The brown building (10) on the left is a huge original barn they put up that you can sit under for some shade.    This gives you a great overview of the property and what to expect when you visit!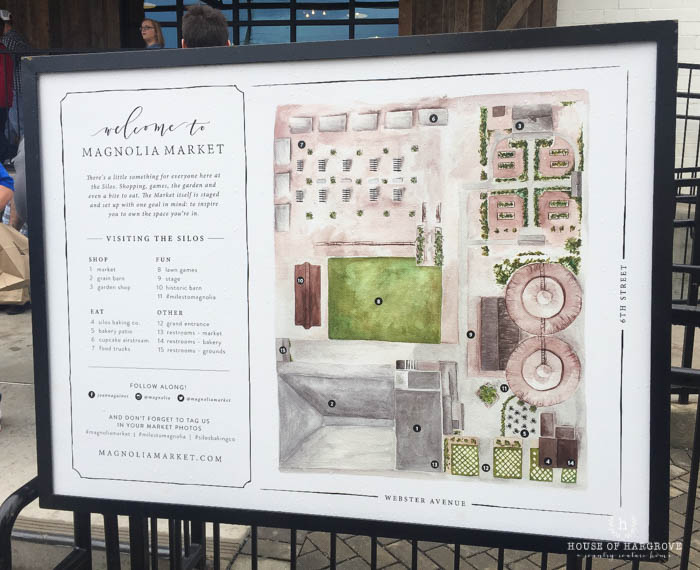 Here we are walking up from the parking lot.  There are several paid parking areas for $10, but if you keep going to the back of the Silos there is actually FREE parking.  We found this when we went back the 2nd time.  As we are walking up you can see the bakery with a line around the building!  You could seriously smell the cupcakes from here!
The Bakery!  There is already a famous bakery in New York named Magnolia so they named this one Silos Baking Co.  The Fixer Episode the week we came was actually on the bakery so it was fun to see it so quickly after that episode.  I will be sharing an entire post on the bakery later this week.  I just could not fit it all into 1 post.  Spoiler alert….the cupcakes are ah-mazing!!!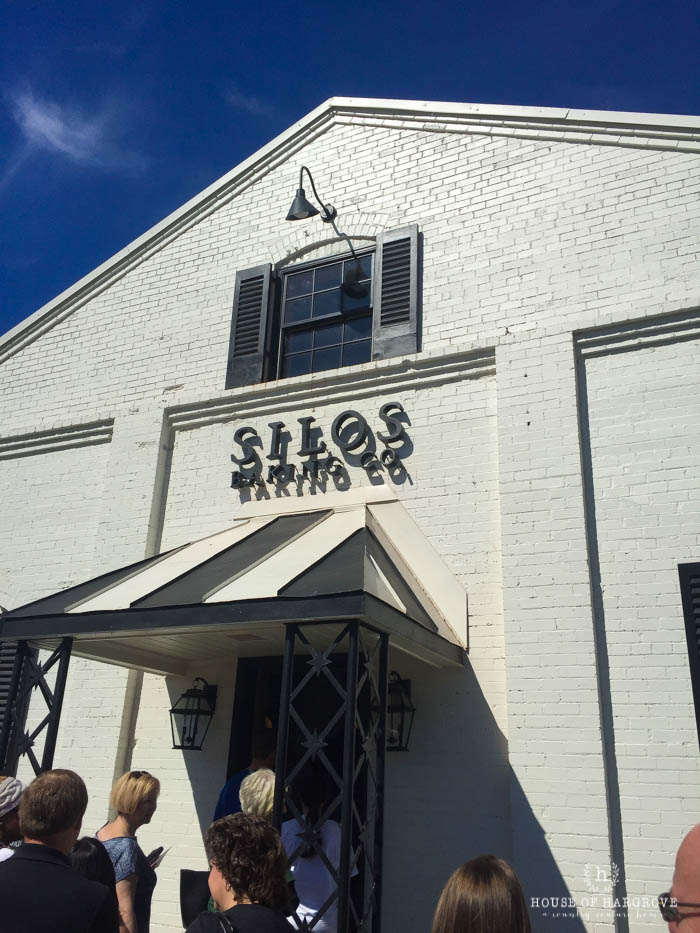 This is the view to the right once you enter the property.  Bakery on the right with a cute sitting area on the porch.  Magnolia Market is directly behind me at this view.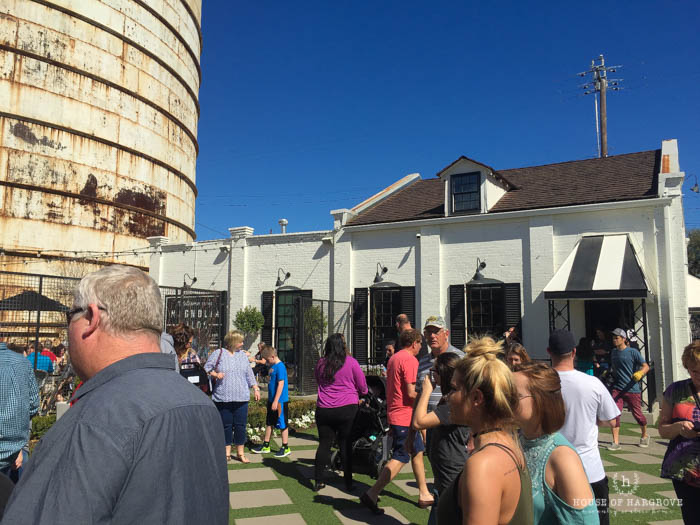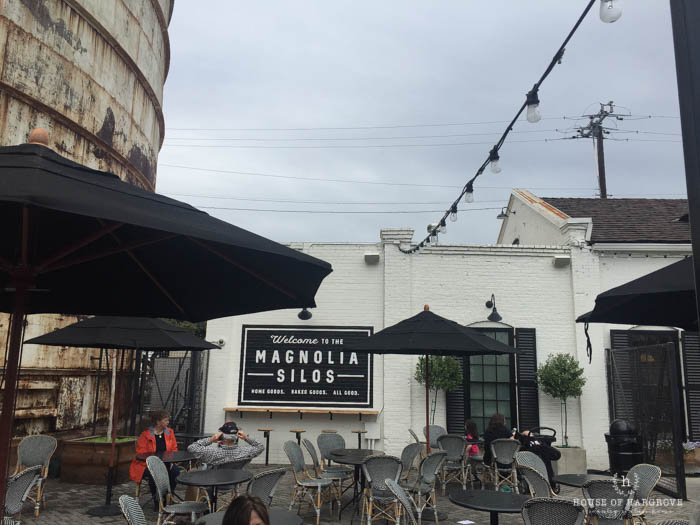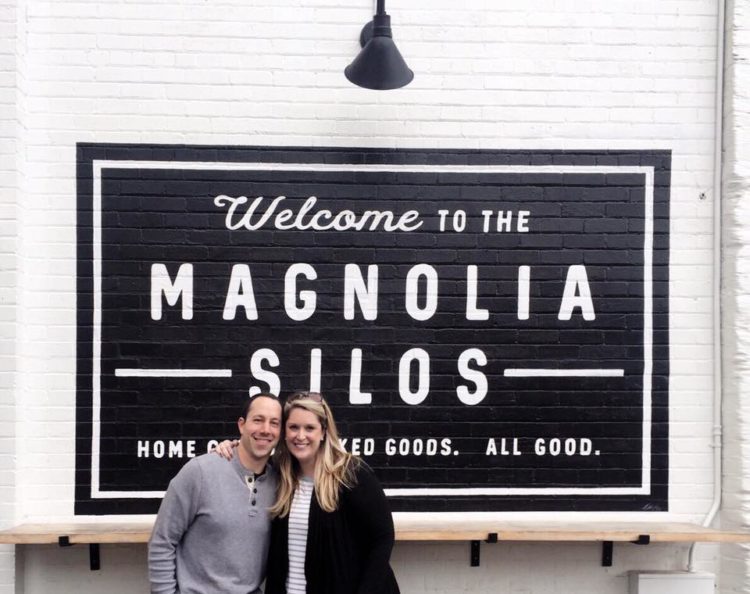 This picture below is taken from the back corner of the property by the food trucks.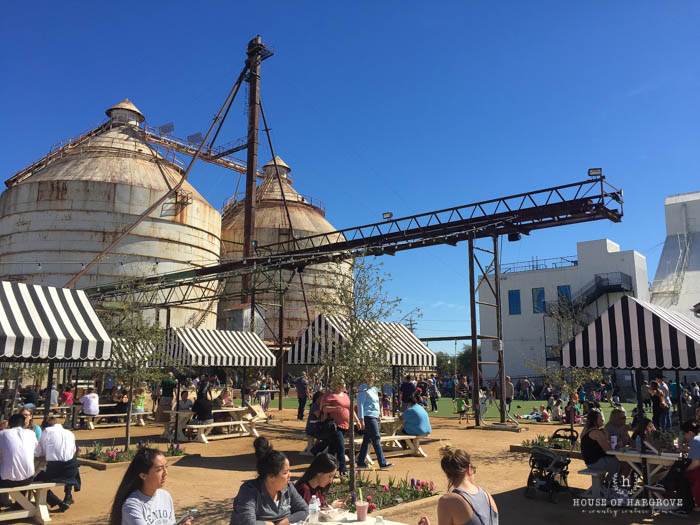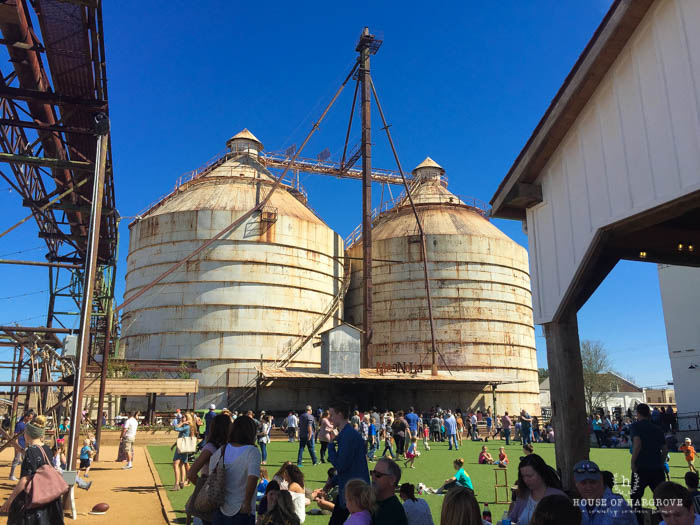 If you keep walking straight from the entrance you pass this cute car and are headed back to Magnolia Seed & Supply.  The details around the property are just amazing.  There are so many great photo ops!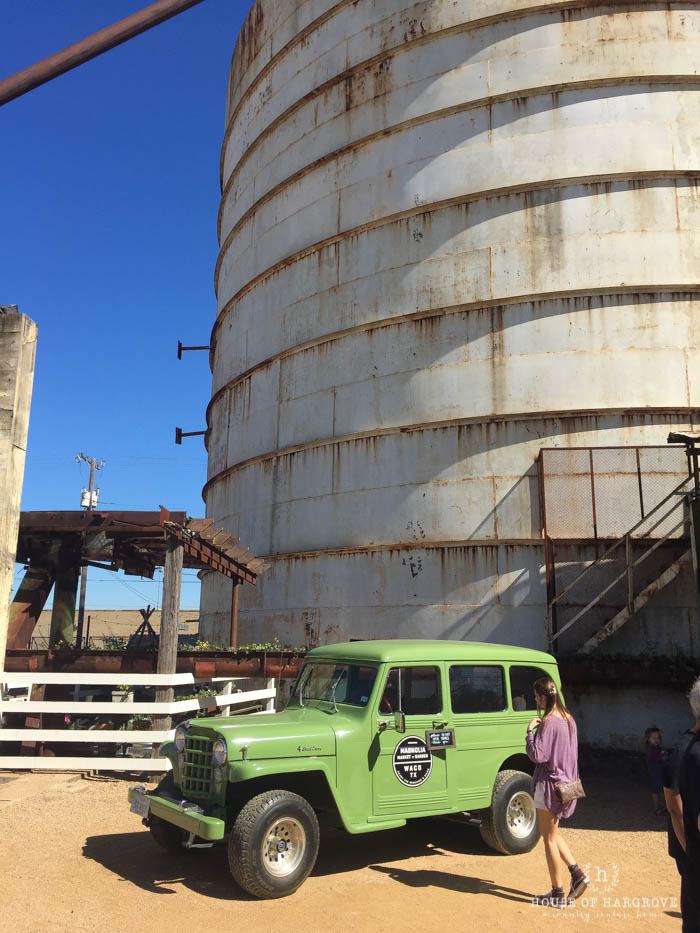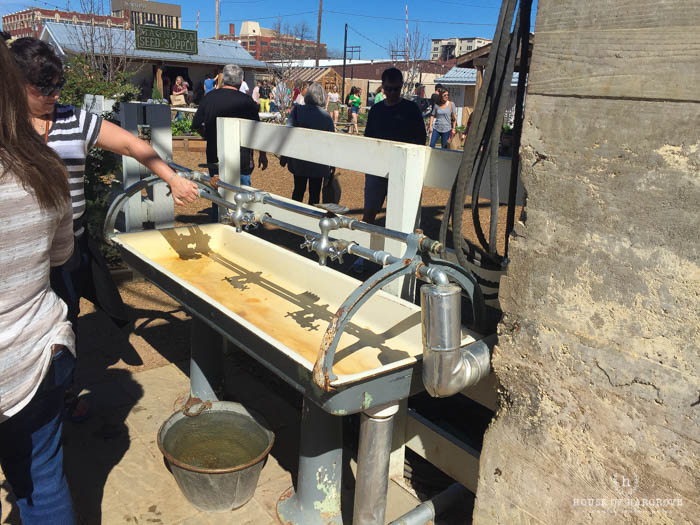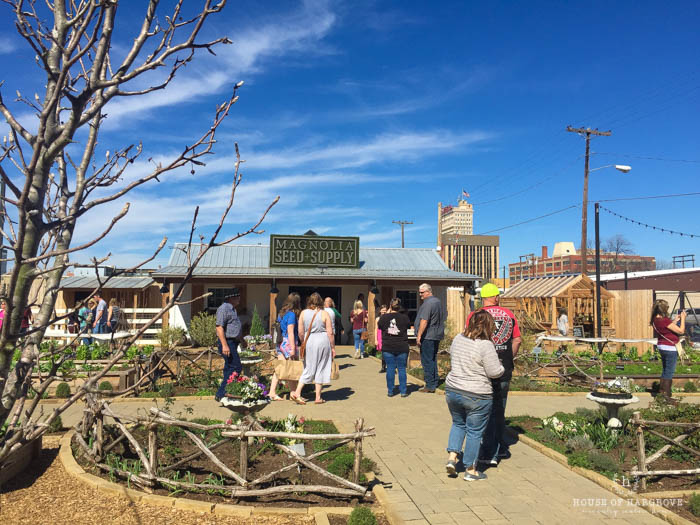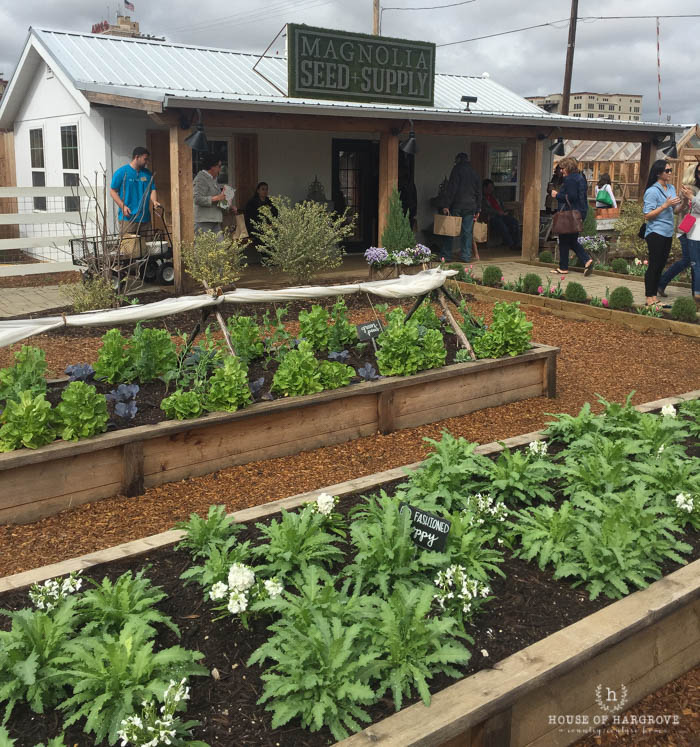 Magnolia Seed + Supply is pretty small, but packed with cuteness.  I LOVE this piece of furniture and check out those floors!  You can purchase items inside this shop.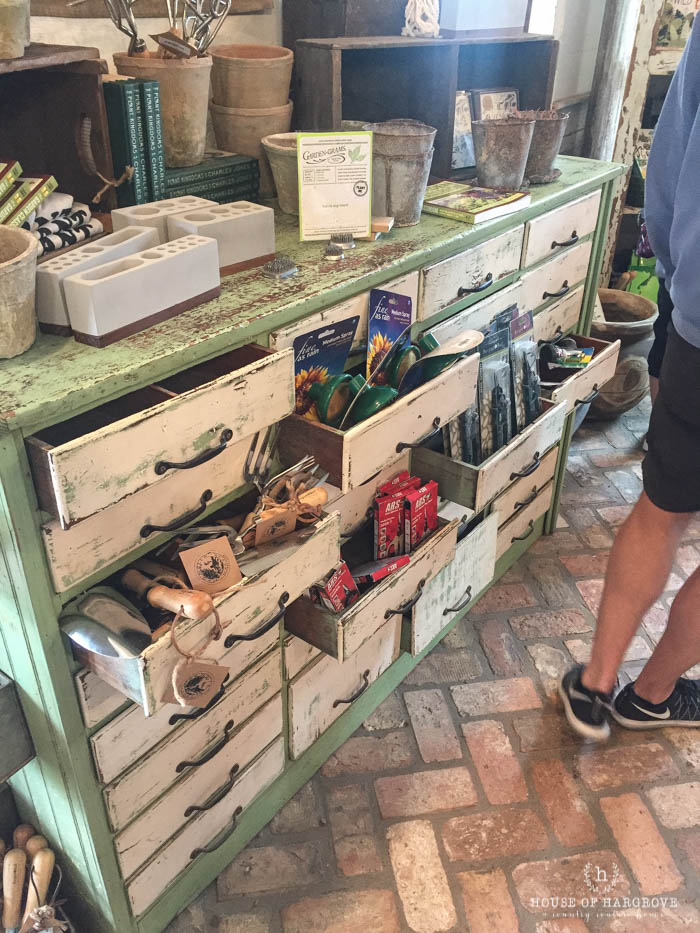 Random cute building set up by the gardens.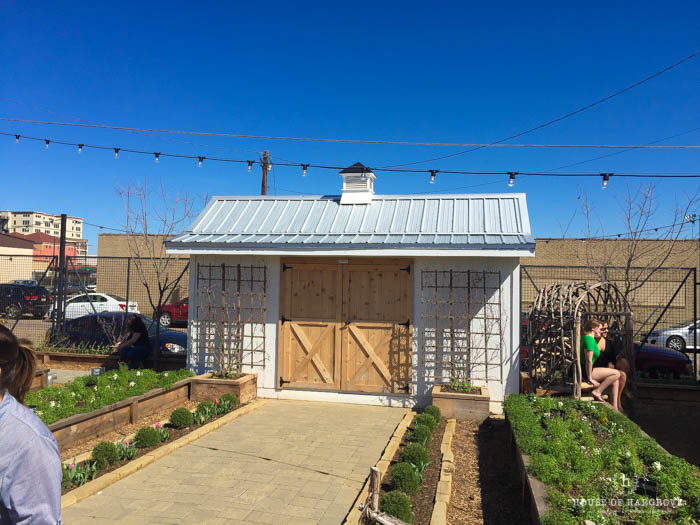 Cute greenhouse set up in the gardens.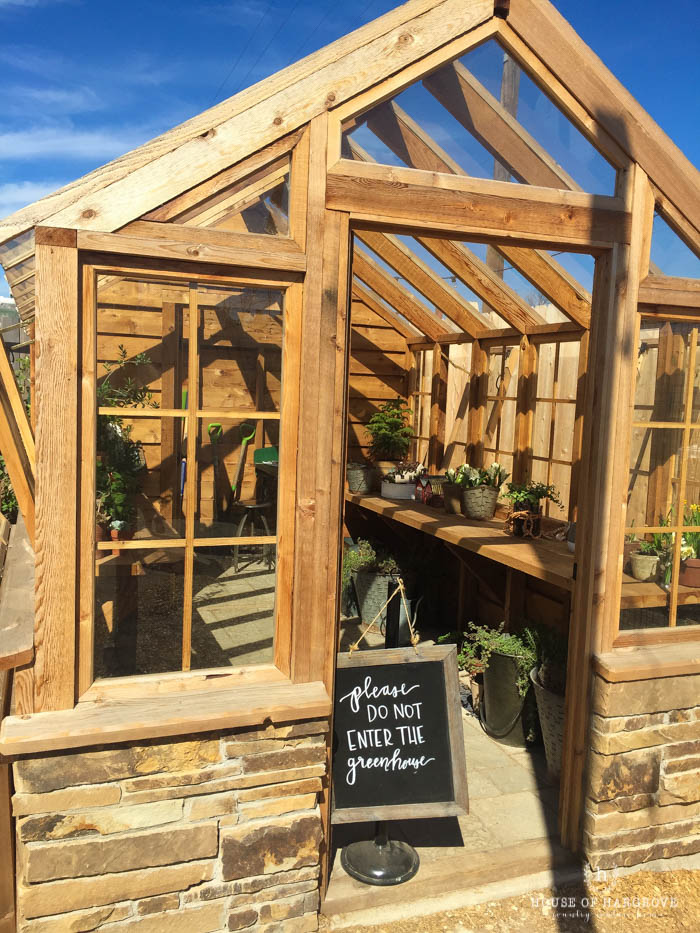 Here is a picture heading away from the seed store.  The next 2 pics are basically the same view, but different days….look at the sky difference!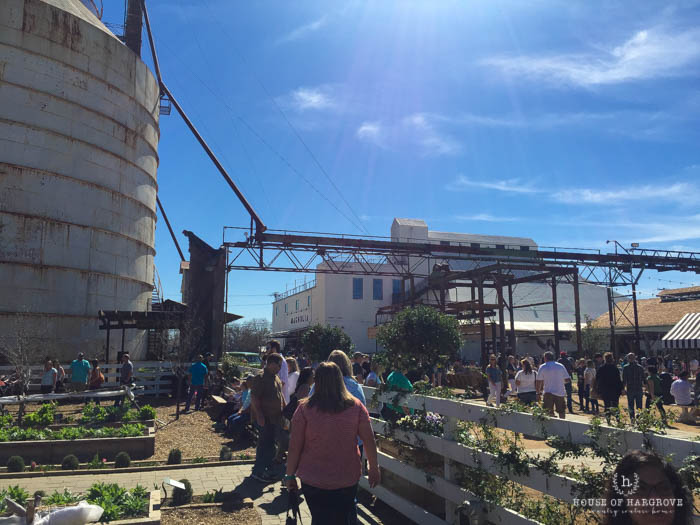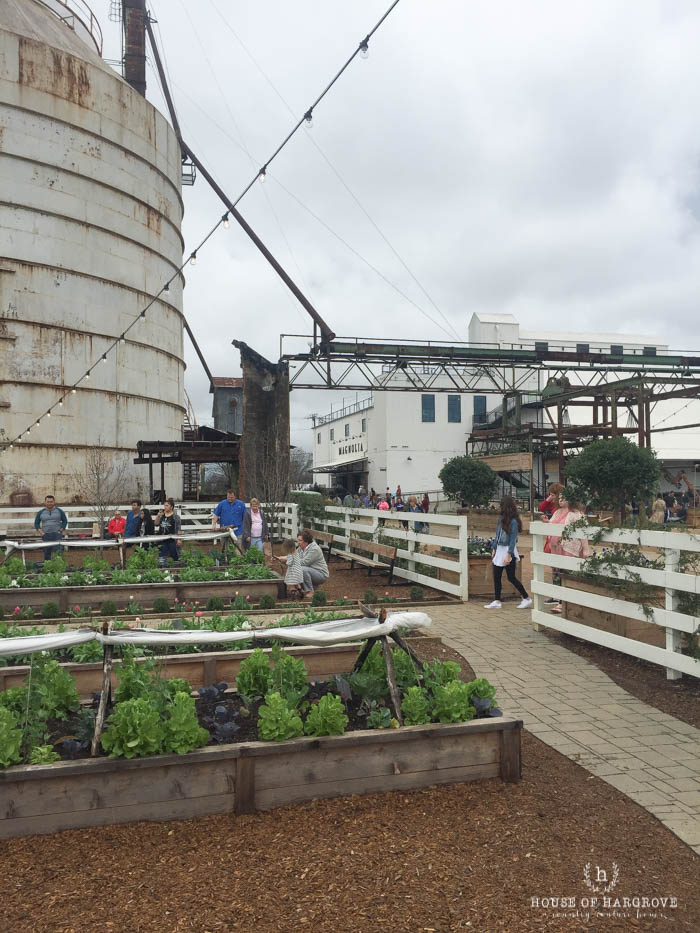 Like I mentioned, you can play games on the lawn.  They have huge Jenga, Corn-hole, etc.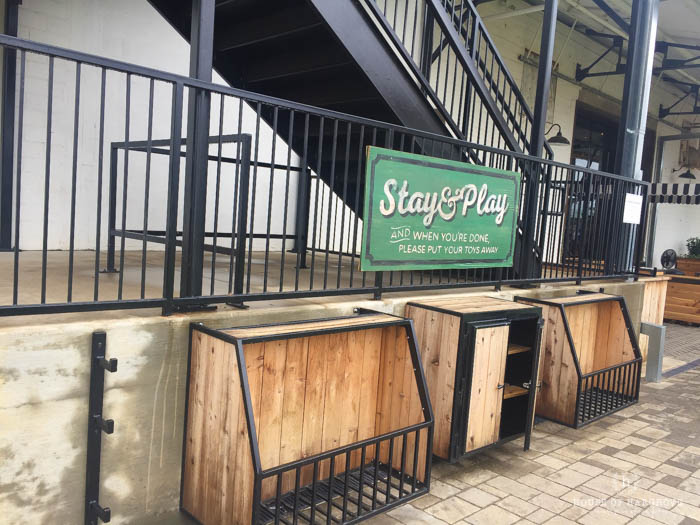 About to head into Magnolia Market! 🙂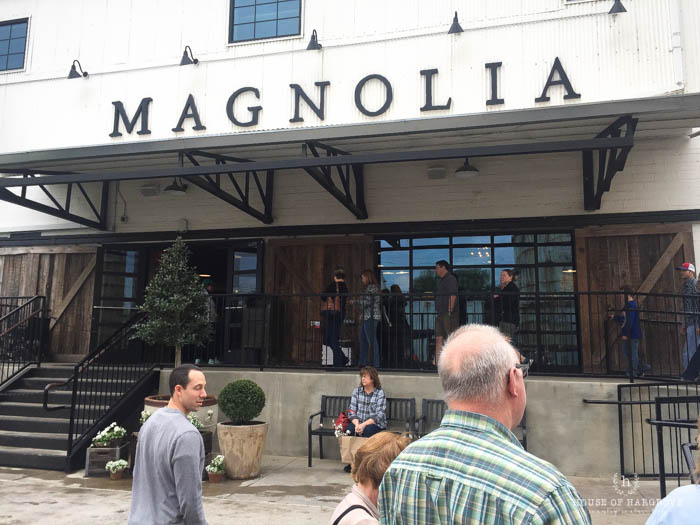 This is one of the displays right as you walk into the shop.  No surprise Joanna's displays are nothing short of extraordinary!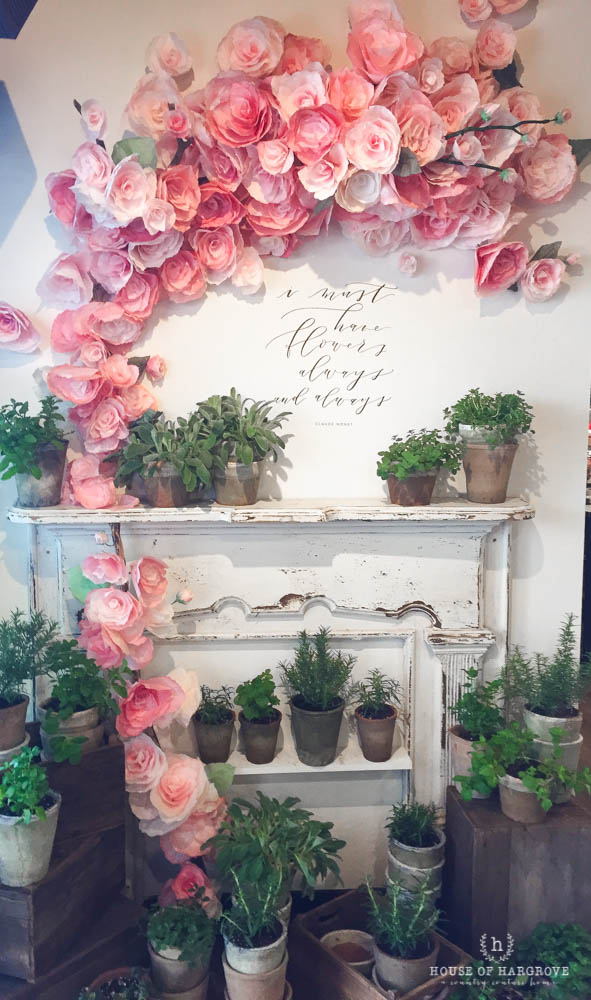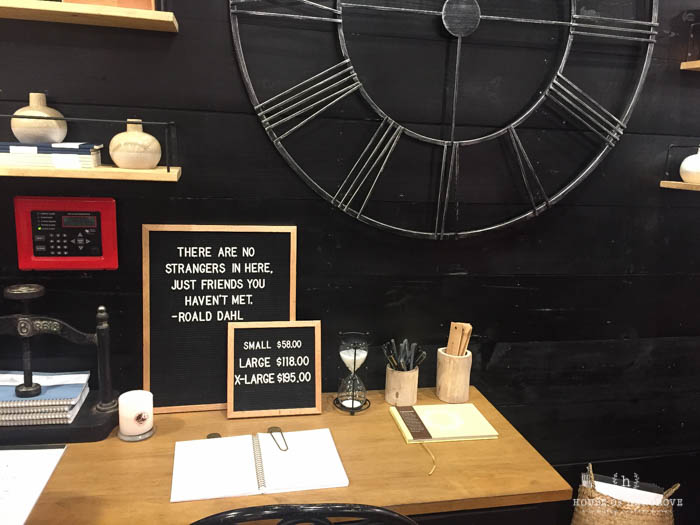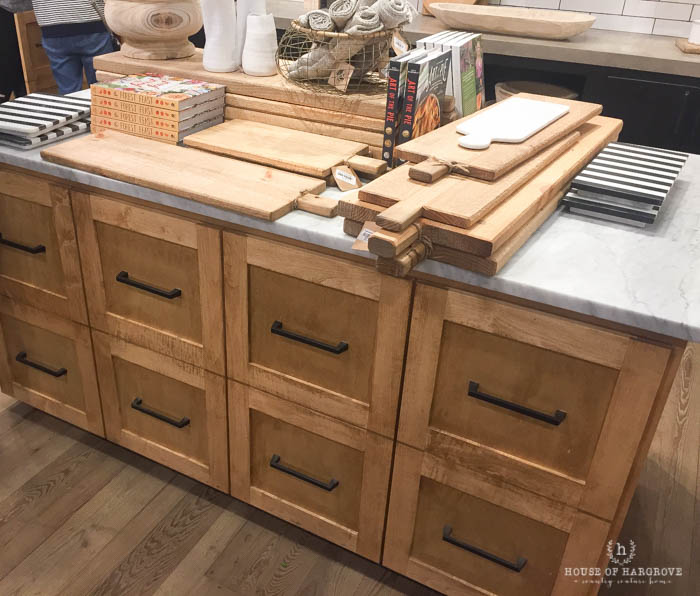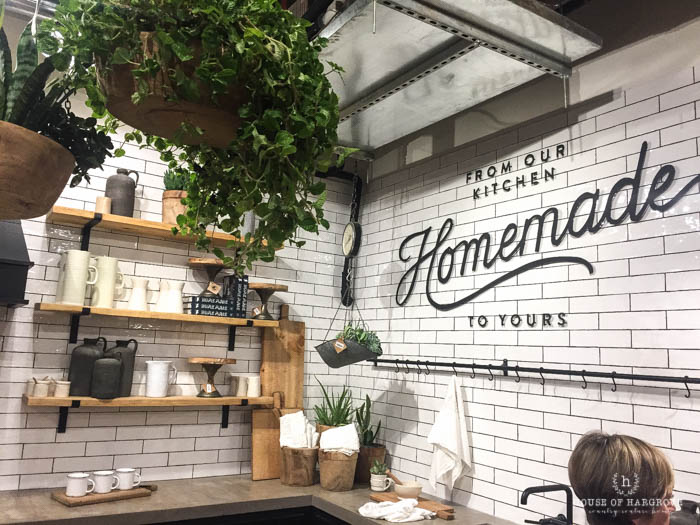 The Market is larger than I thought.  There is one room in the front when you walk in and then toward the back there is a set of stairs that go down into another room.  Tons of decor and furniture to see!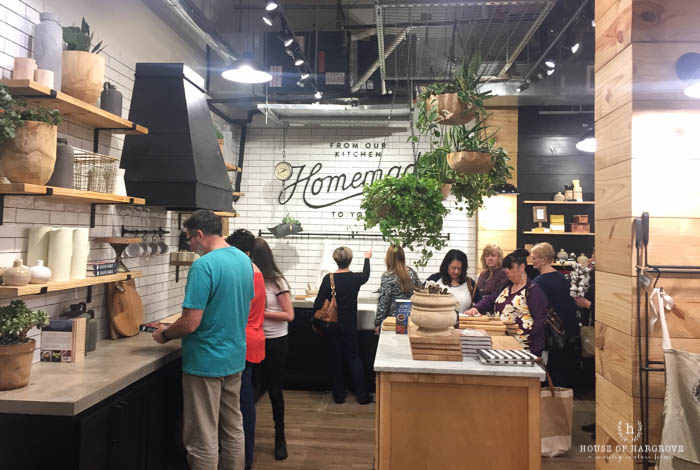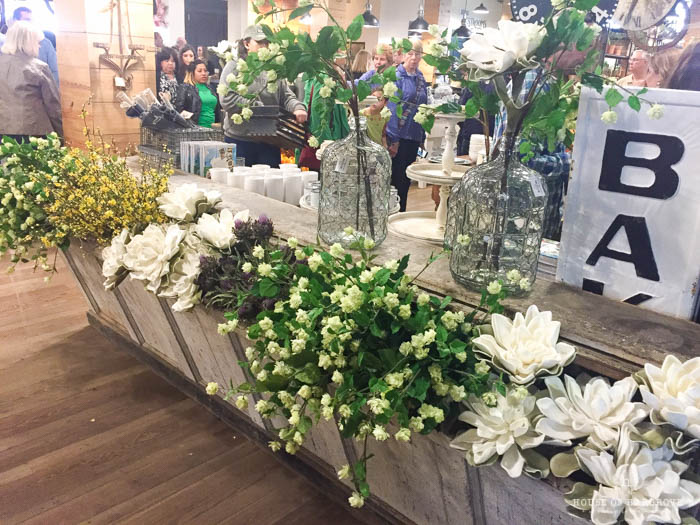 Chips space!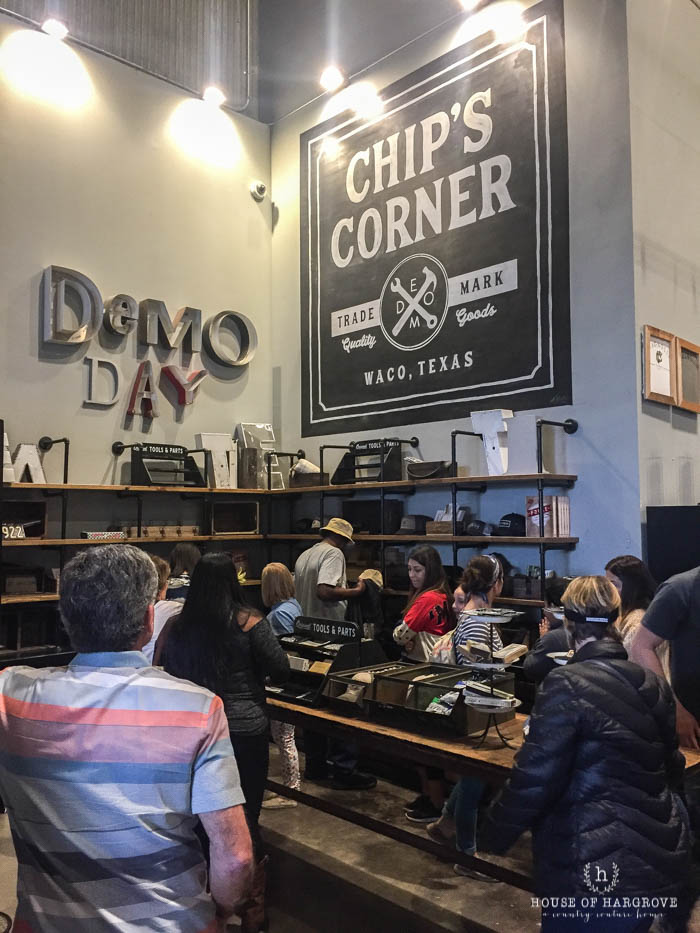 Another piece of dreamy furniture!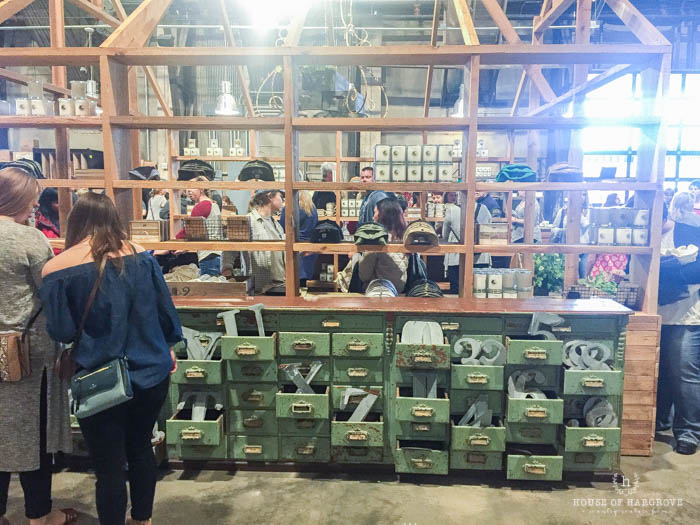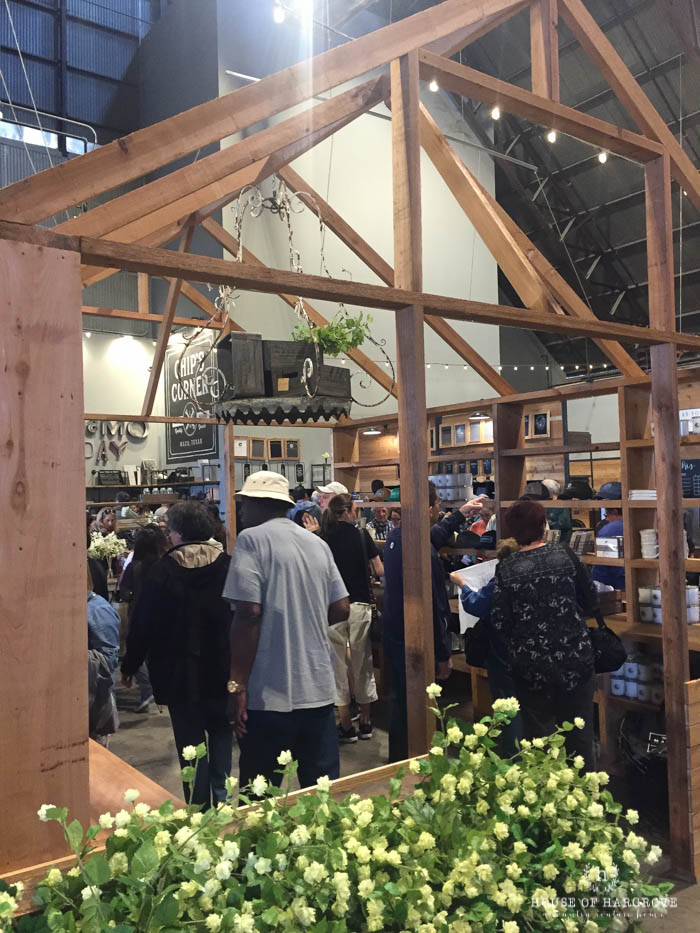 Jimmy Don's section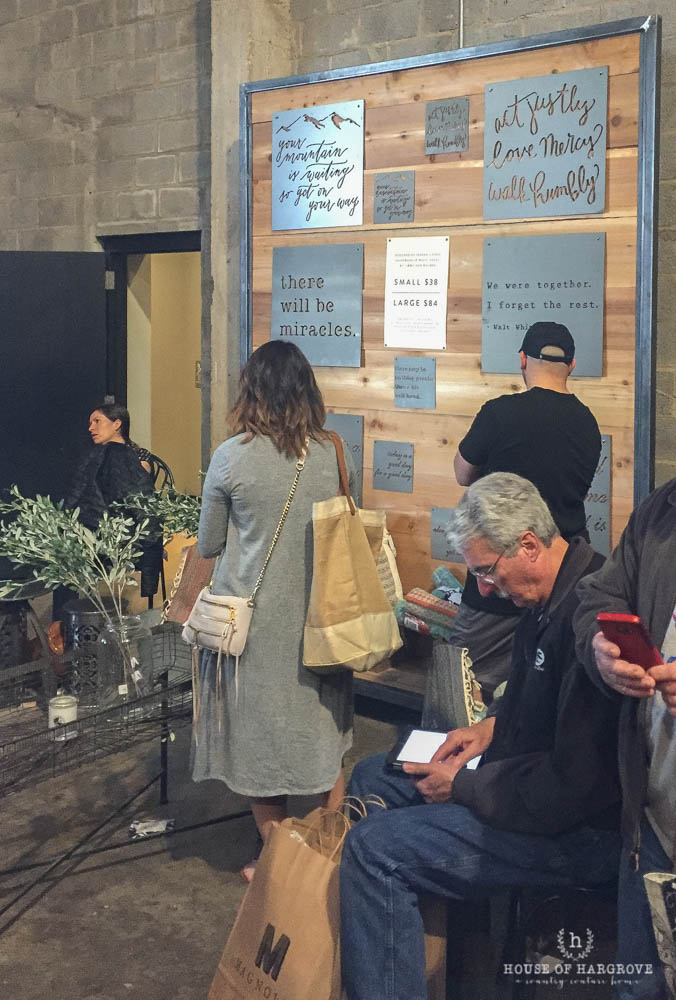 Her Matilda Jane line!  Avery has several pieces that I LOVE!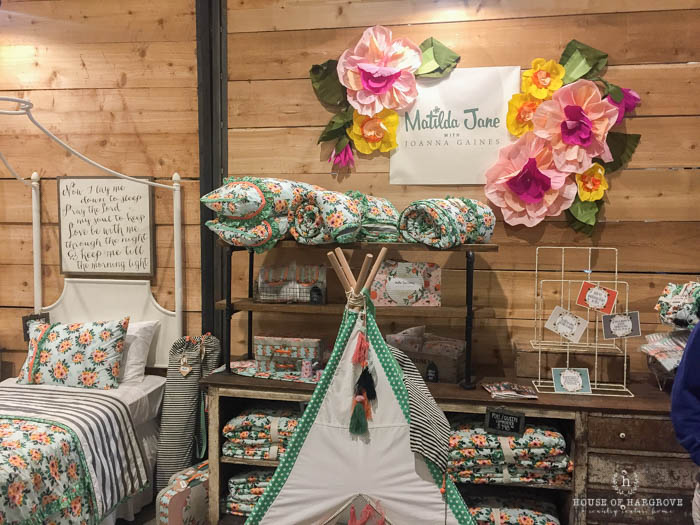 Magnolia Paint!  You can see my paint review here!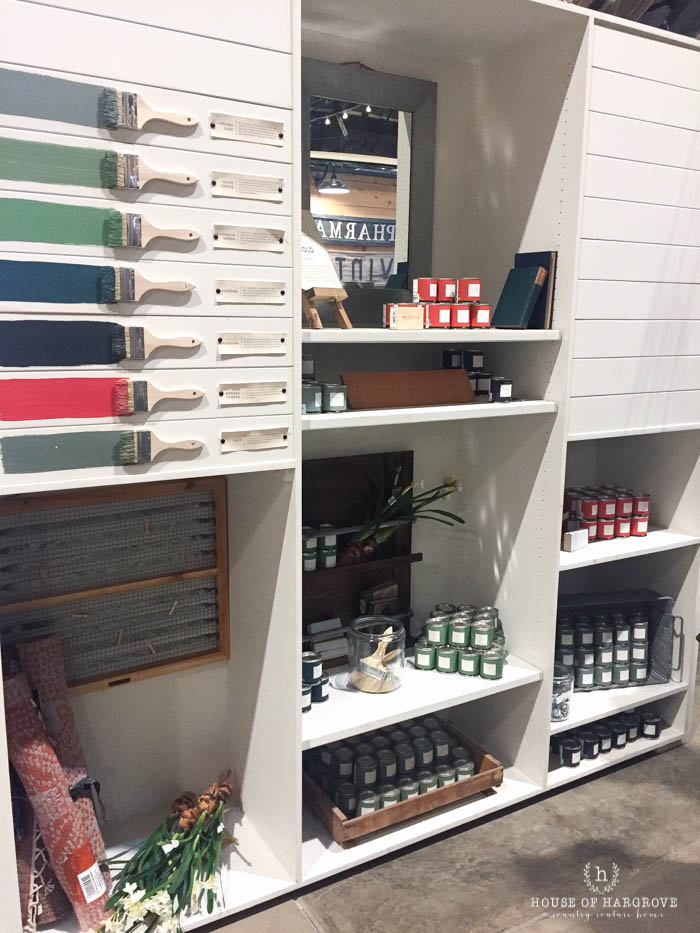 Some pretty wallpaper Joanna designed.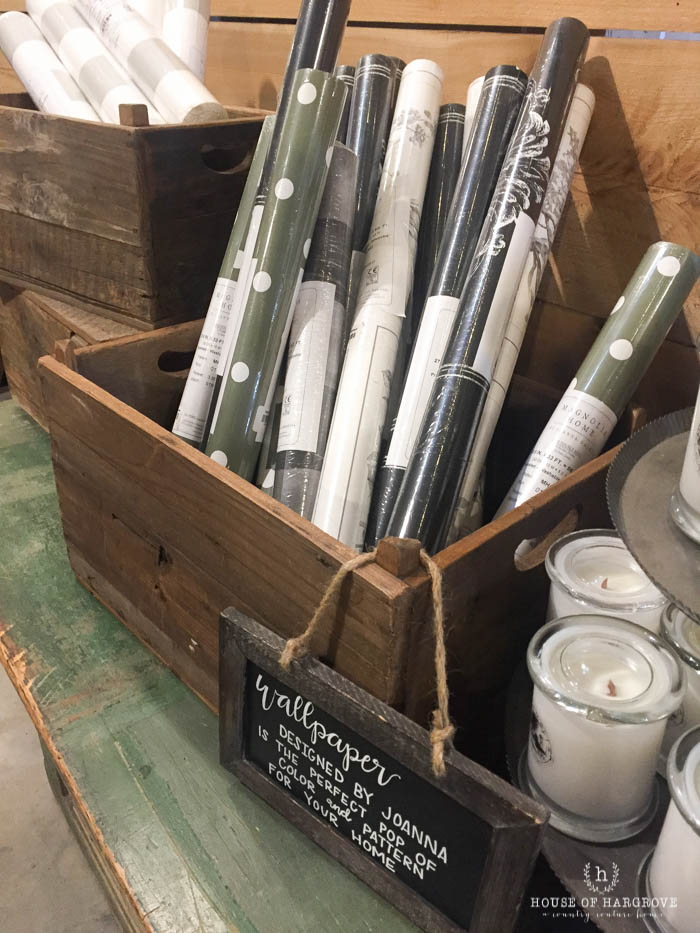 I loved this tablescape full of tulips.  Hard to believe they were not real!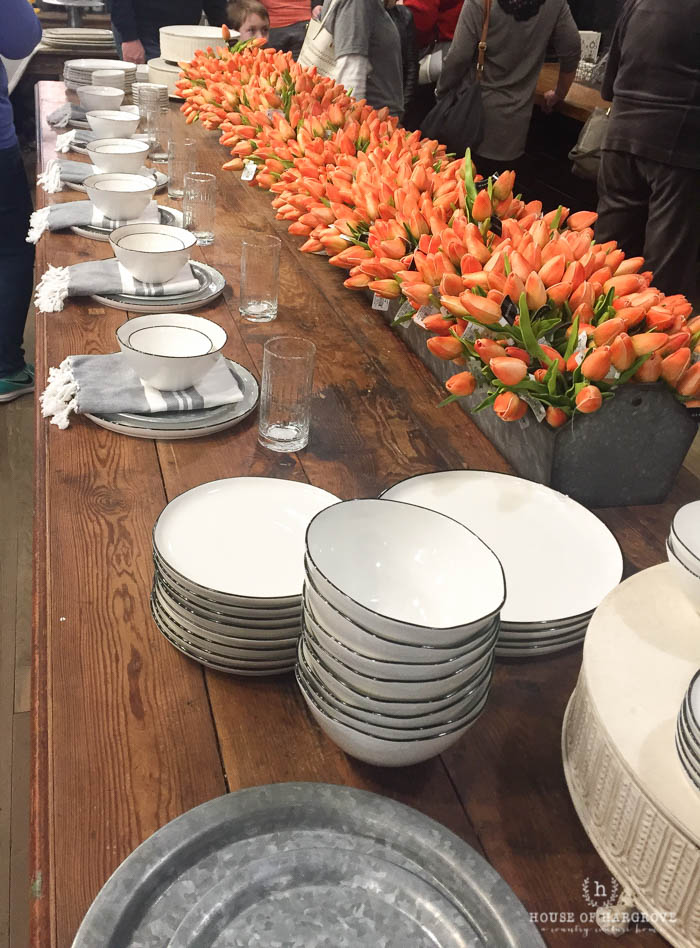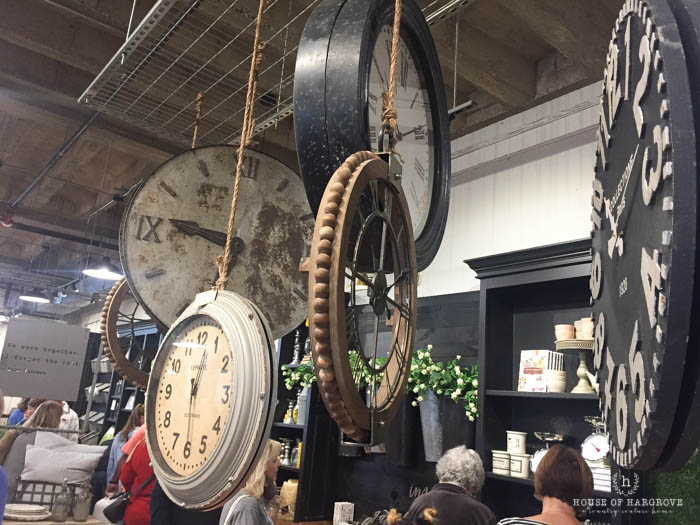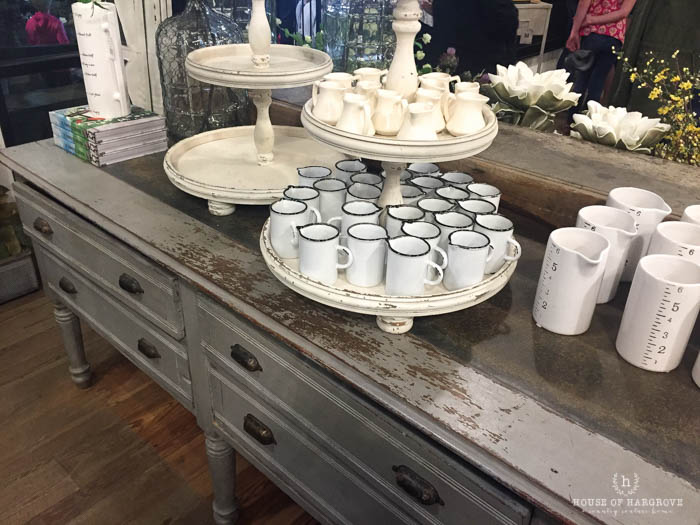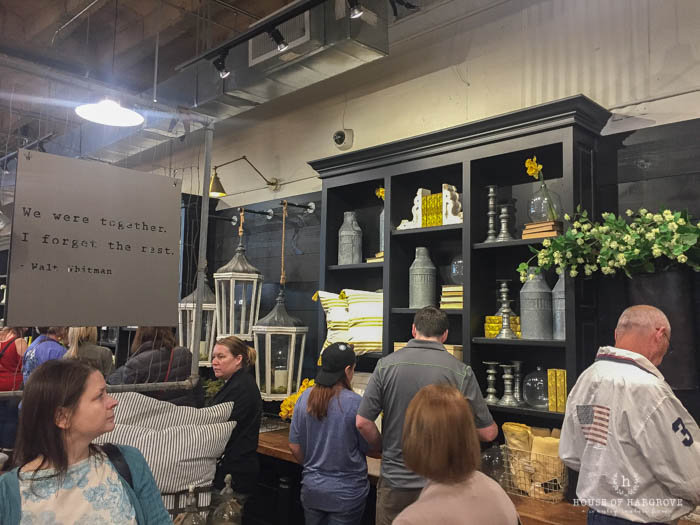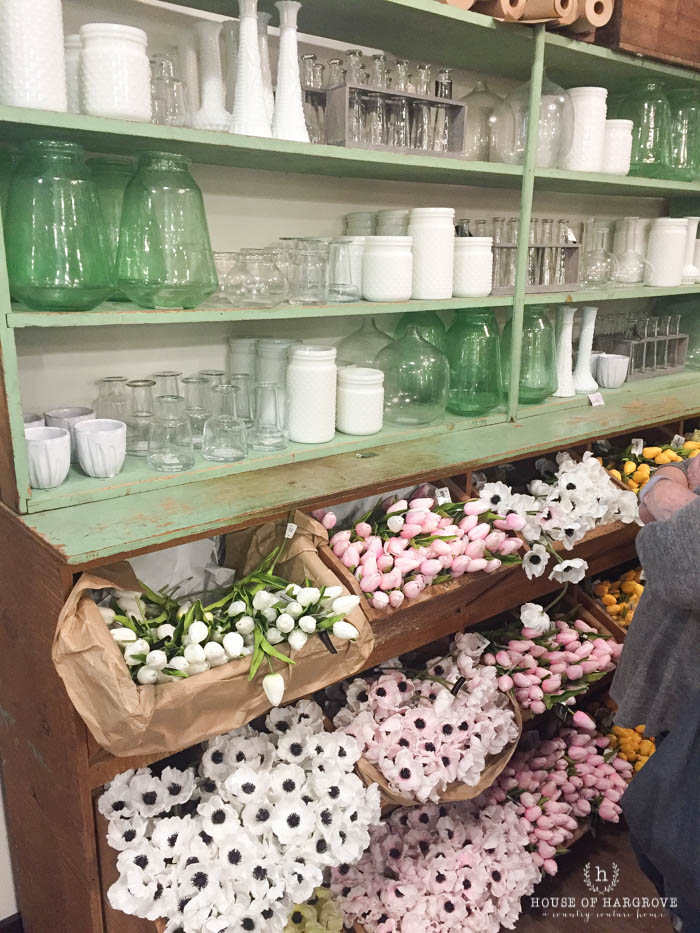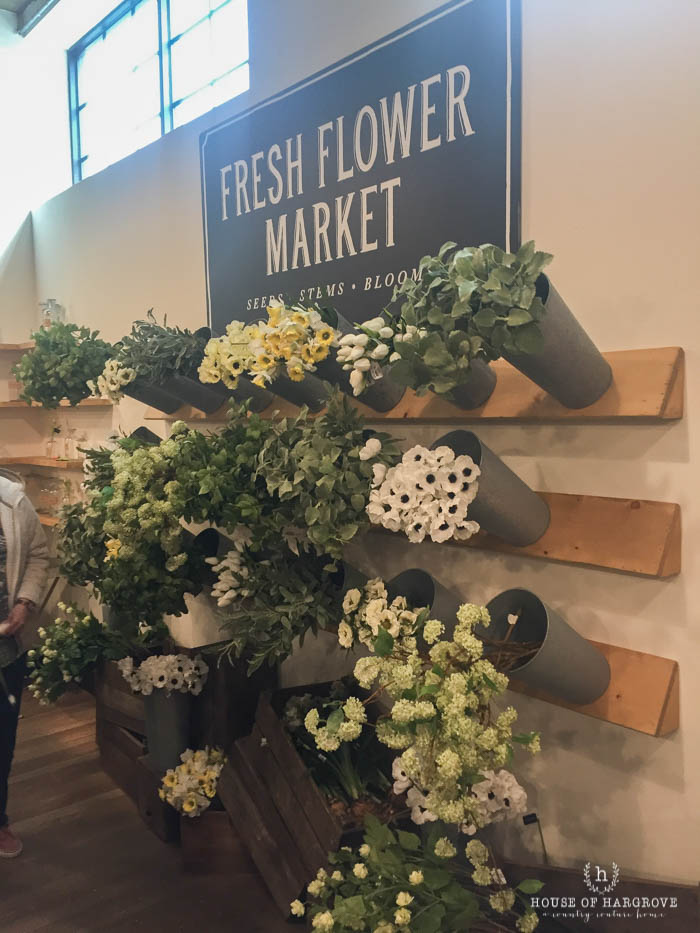 This is the back behind the check out counter.  I cannot say enough about how nice everyone was.  There was lots of help and they were all so friendly!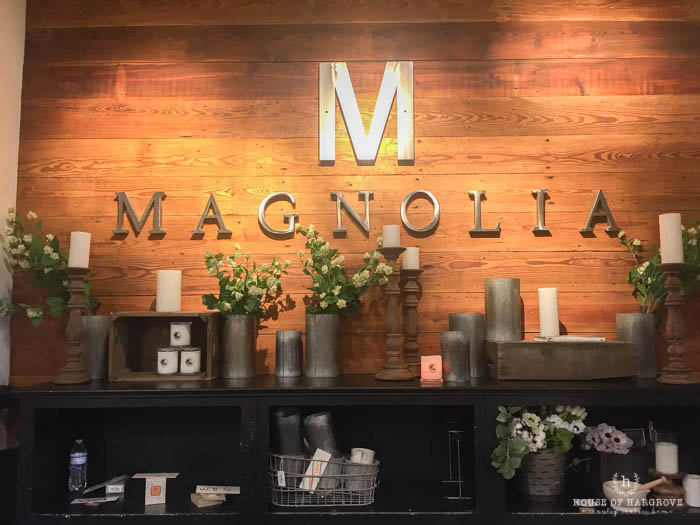 Chip and "Jojo's" handprints on the cement checkout counter!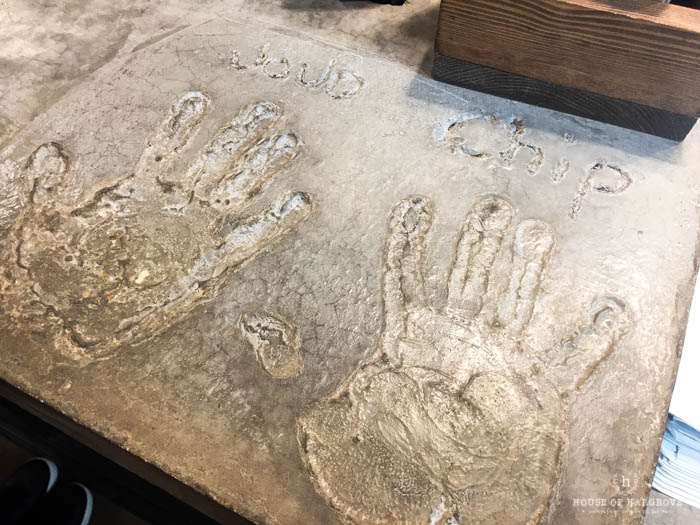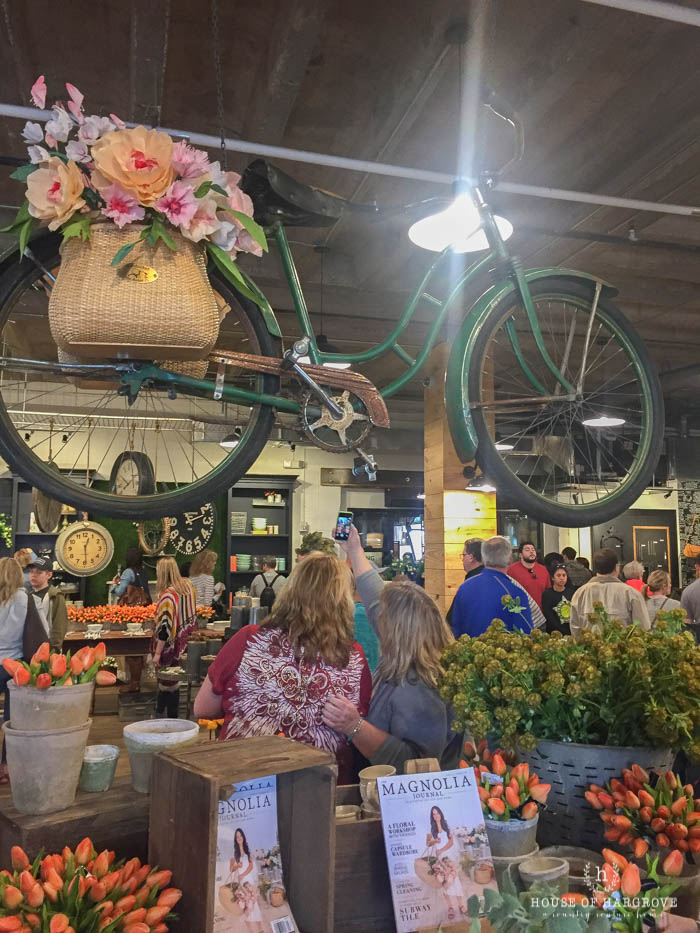 There were so many fun displays to be inspired by.  I purchase a Magnolia Journal on my way out and cannot wait to read it.  As I mentioned the attention to detail in everything Chip and Joanna does is really incredible.  This sweet note and seed paper was stuck in every bag with purchase!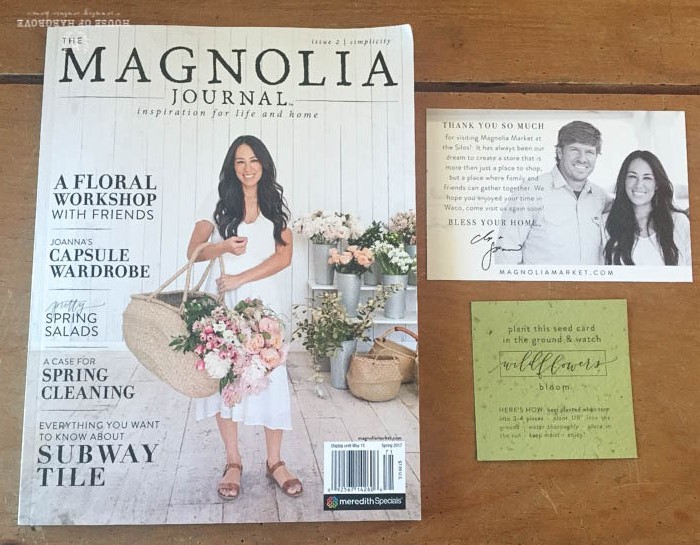 We had such an amazing time at the Magnolia Silos!  I cannot wait to go back.  I will be sharing details on the Bakery later this week.  There was just too much good stuff to fit everything in this post.   A while back I visited the original Magnolia Store on Bosque and it is truly incredible how far Joanna and Chip have come.  Such an inspiration to see.
Pin the photo below if you are headed out to the Magnolia Silos