If you read my blog you know how much I love the holidays.  So we pack in A-LOT in December (seriously, this post is long, but full of ideas…especially if you are local)!  We try to make the most of every moment!  If you come over to my house during this month I will most likely have a Christmas candle burning, Christmas carols playing in the background and our fire on!  Here is a list of some of our family Christmas traditions during December!
I am linking up with Erika, Narci and Andrea for Friday's favorite things!
ELF MOVIE NIGHT
We kick off the season the evening of November 30th.  We make hot chocolate and watch the Elf on the Shelf movie.  Our Elf…Elfie comes on Dec 1 so Avery looks forward to this night every year.  It is the start of a very fun month for us!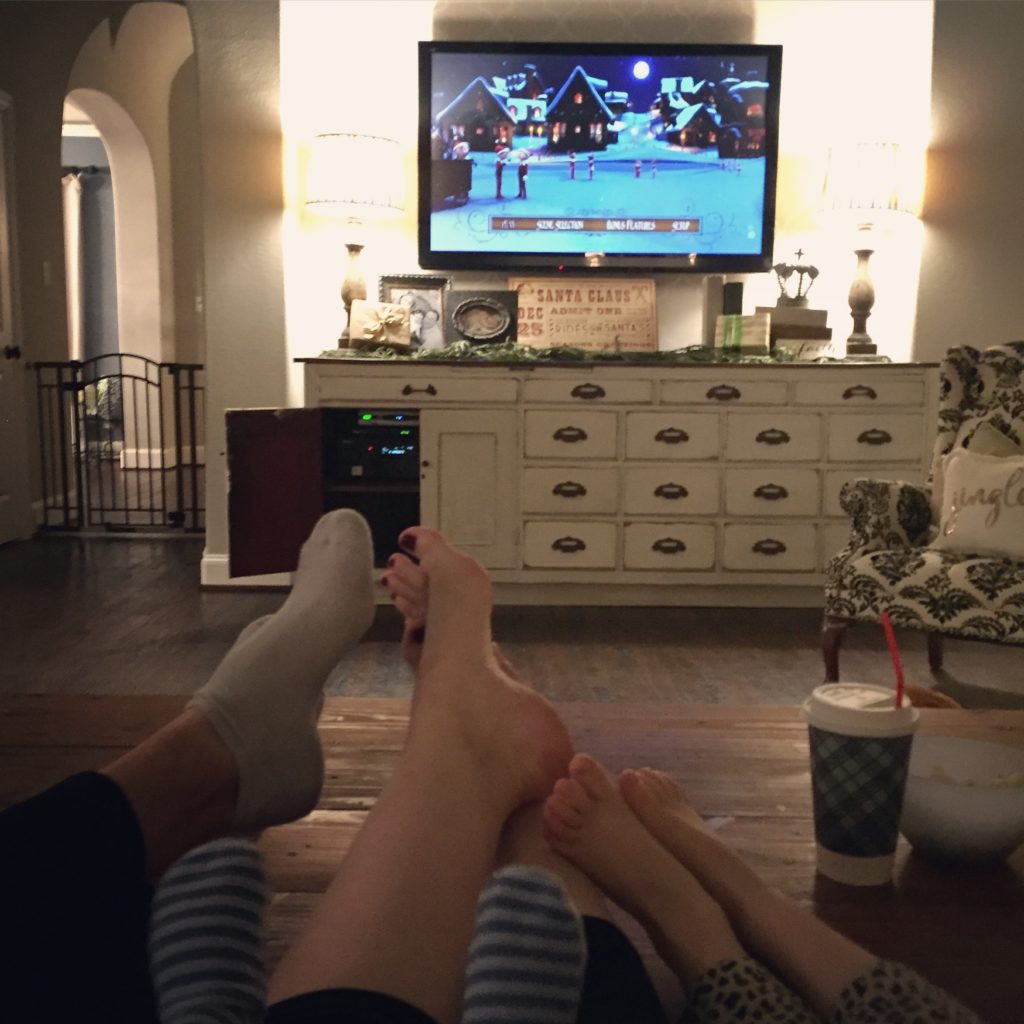 ELF BREAKFAST
The morning of December 1st, Elfie arrives with breakfast and some goodies for the kiddos!  He makes a very healthy breakfast consisting of powdered "snow" donuts, marshmallows and candy!  He always brings Christmas jammies and an advent calendar.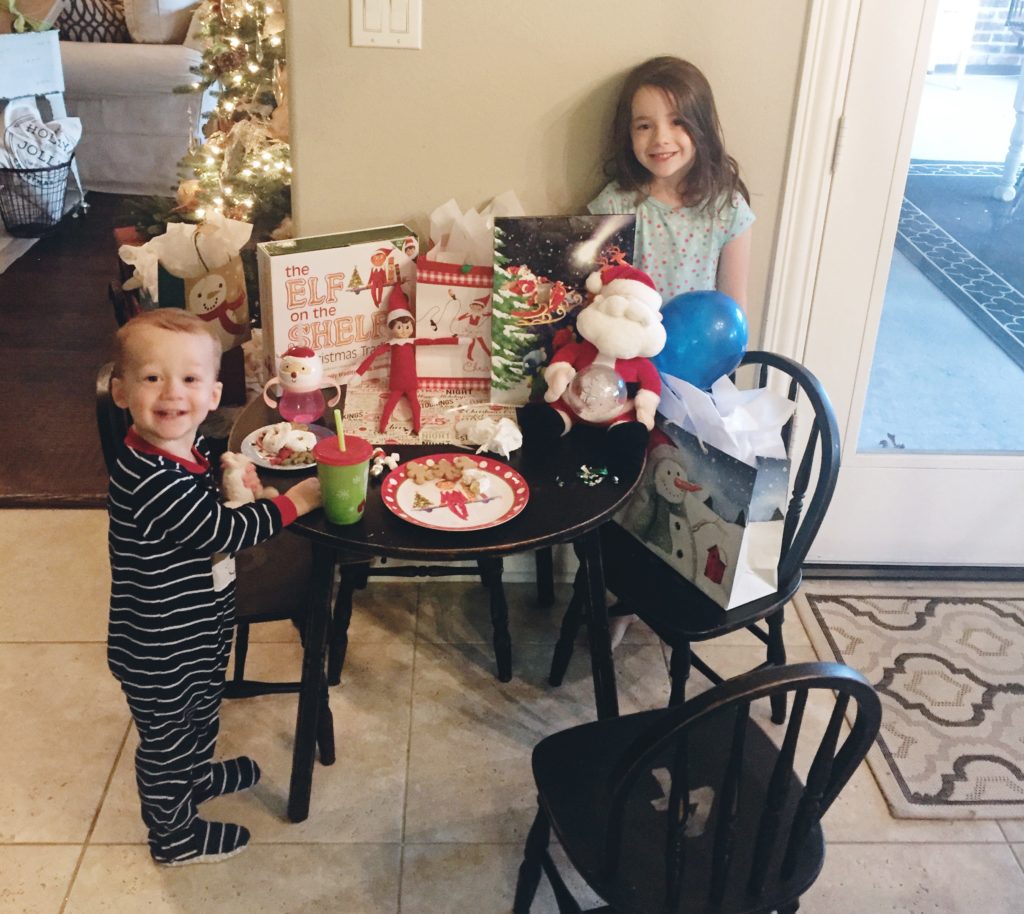 ELF ON THE SHELF
Sometimes having to remember to move this guy is a pain, but…I swear Avery likes him more than Santa.  Her love of Elfie makes it something I love to do.  Every morning she wakes up so excited to find her Elf and Braden is starting to get into it too!  One of my tips ladies….hit up the Target Dollar Spot!  Our Elf brings lots of fun, cheap things from "Santa's workshop" that makes it easy for me…and fun for them!  A pair of Christmas socks he sleeps in, silly string, a coloring book, etc.  He also always brings a gingerbread house that we do together as a family.  That is a super fun night!  Here are some of the things our Elfie was up to last year!  Also if you follow me on Instagram I share a lot of our Elf's shenanigans at night #elfontheshelfhoh.  This helps to give you ideas and remind you to move your elf!!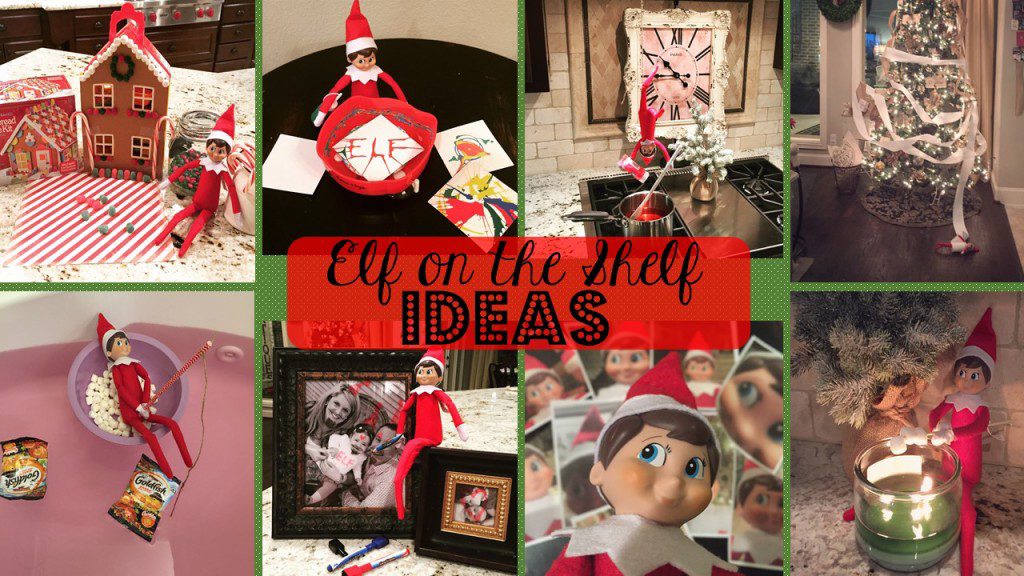 Gingerbread house decorating!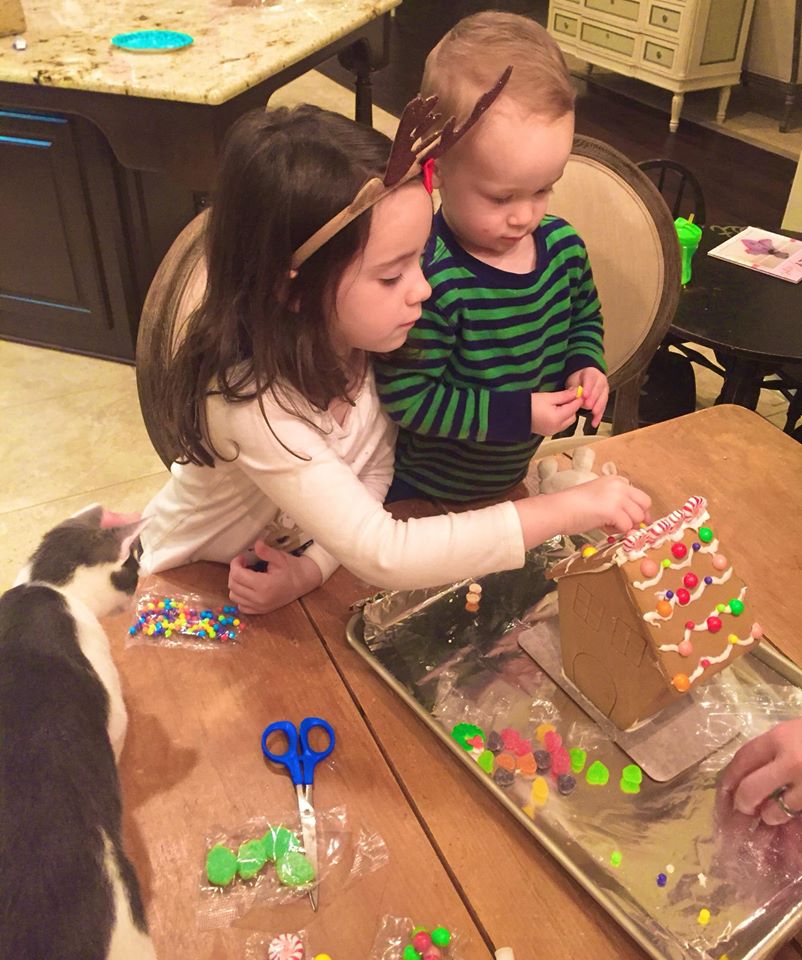 VETRUVIAN PARK
If you are local you have to go check this out!  It is a park in Addison that lights up hundreds of trees each in a different color.  It is magical!  Several Saturdays during the month they have food trucks, Santa, Frosty and live music playing.  We had so much fun here last year and are going back this year when my family is in town from Maine!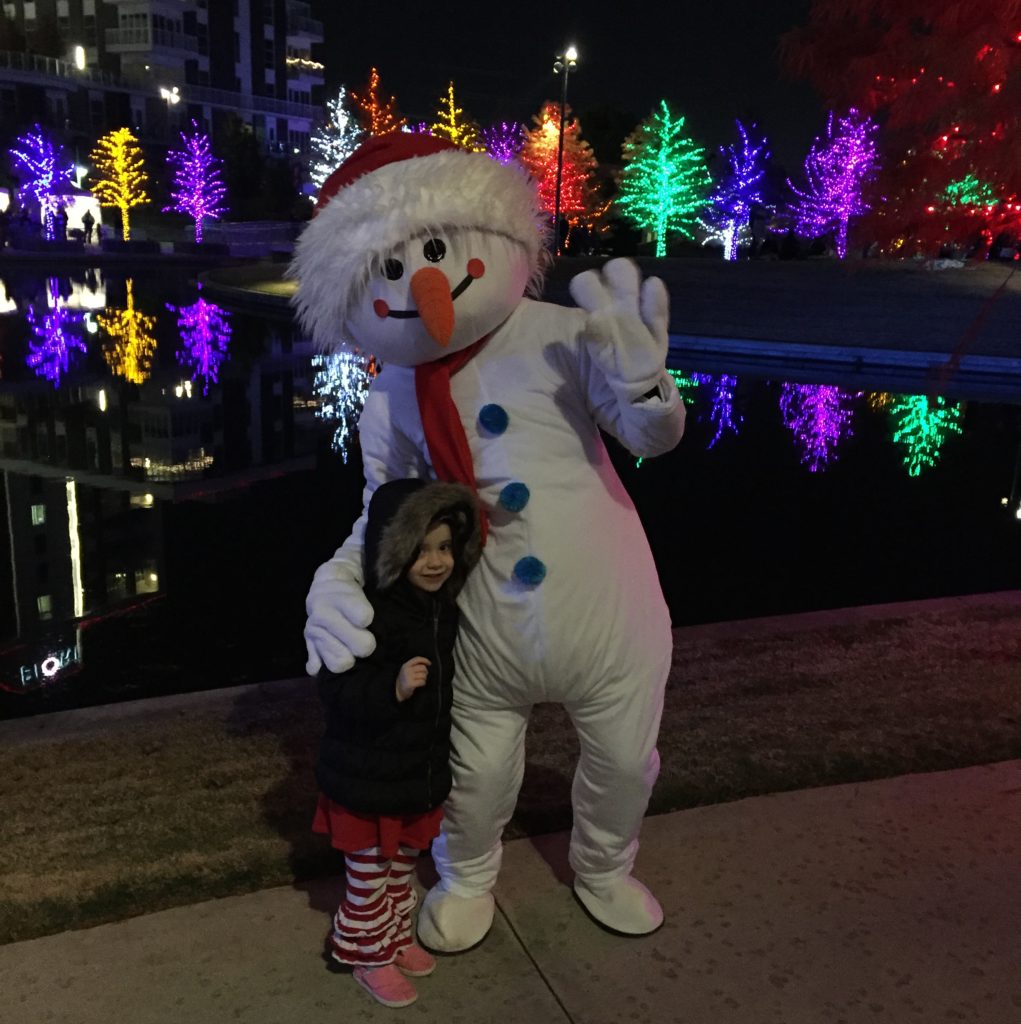 GALLERIA
The Galleria Mall is so beautiful this time of year.  I remember being a kid and loving to go ice skating around the HUGE Christmas tree!  We go every year, have lunch and just walk around and see the pretty decorations.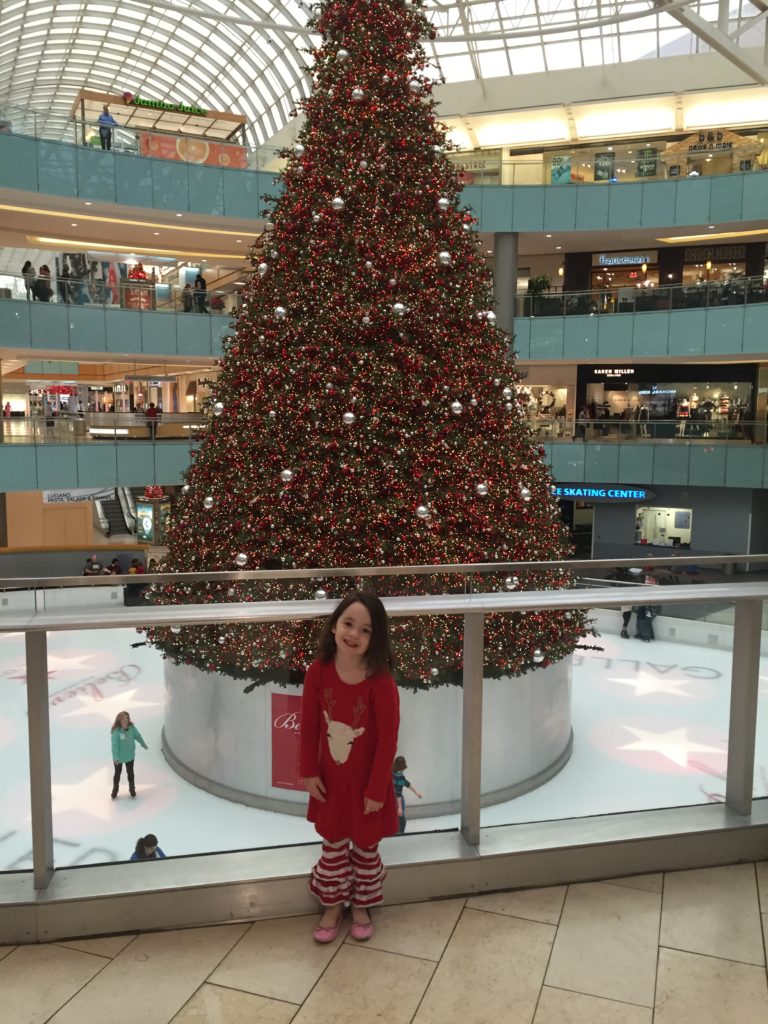 DECORATING
I love getting our home all festive each year.  There is something so cozy and magical about having your home lit up with Christmas lights.  It really sets the mood for the season.  The kiddos always help with the tree and this period of life all the non breakable ornaments go at the bottom of the tree, but I wouldn't have it any other way.  Braden is actually pretty good about it….its our cat Abby that thinks they are all toys!  You can see our full Holiday home tour here.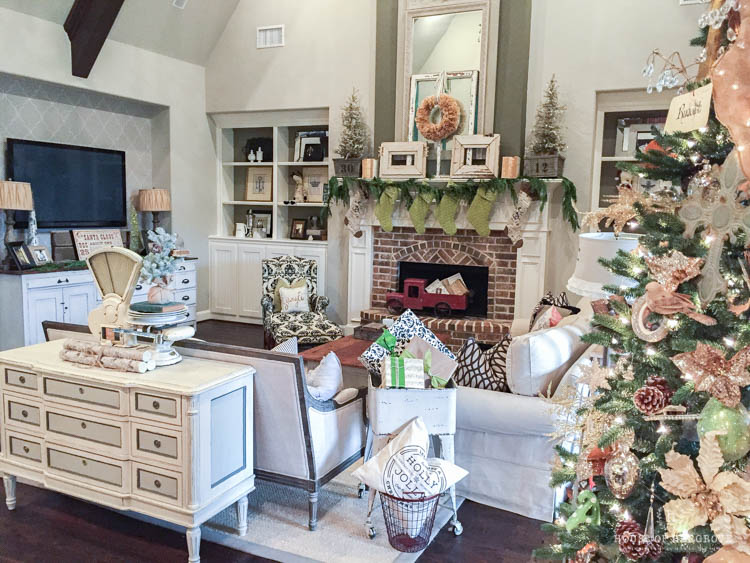 SHORTBREAD
We have a secret family shortbread recipe that has been in our family for years and we give it to friends, teachers, etc each year.  I remember growing up and making it with my mom and the tradition has continued.  Avery helps me each year and hopefully Braden can get in on the fun a little bit this year too!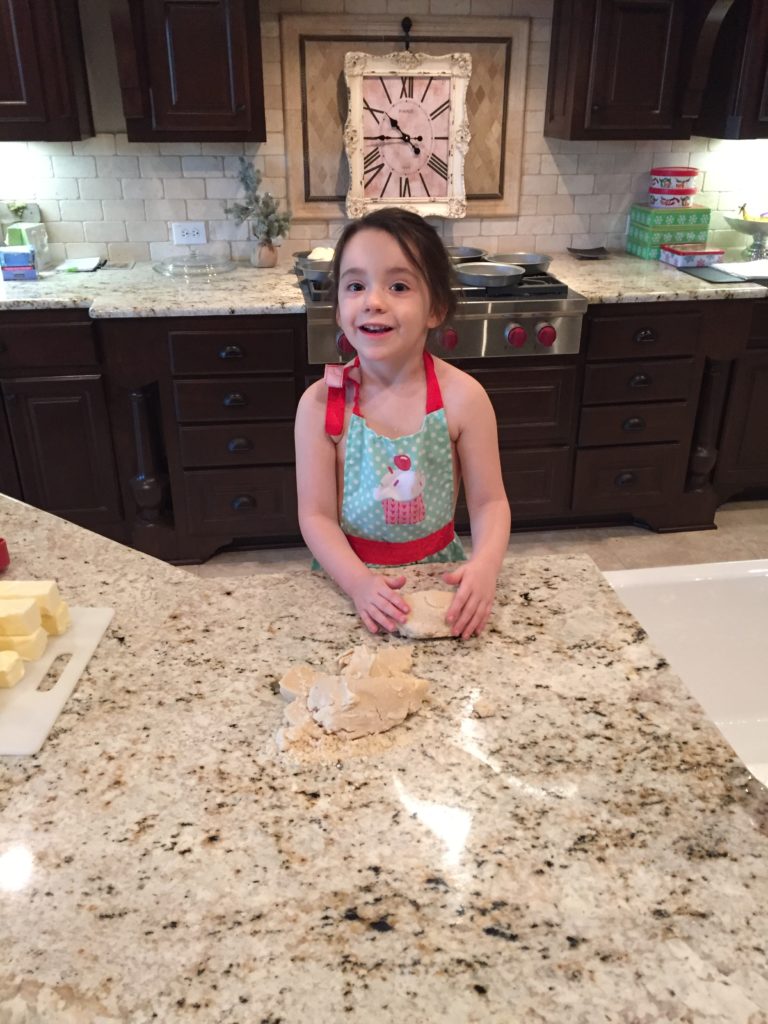 SANTA PICTURES
We head to Northpark Mall each year for Santa pictures.  Avery has started noticing that not all Santa's look alike so we have explained that the Northpark Santa is the real Santa…the others are just dressed up in costumes!  Honestly, I think he actually is the REAL SANTA!  Even at 34 I find him completely magical! He has been Santa for so long you will meet people waiting in line that went to him when they were little and now their kids are too.  It is usually pretty crowded, but we go early, get a ticket that usually has a late time slot, but we go have lunch, look at the other amazing decor and then go back to the line and they have always worked us in.  We make a fun family day of it and we have never actually waited that long for Santa pics.  Also….if you can make it to Santa storytime it is amazing!  He tells a different story every time and again….I swear he is real!  My kiddos love it!  There is also a Scrooge in the mall that shoots water at the kids and is kinda mean.  The first year Avery was scared of him, but now she thinks he is really funny.  As you can see….Braden was a HUGE Santa fan last year 🙂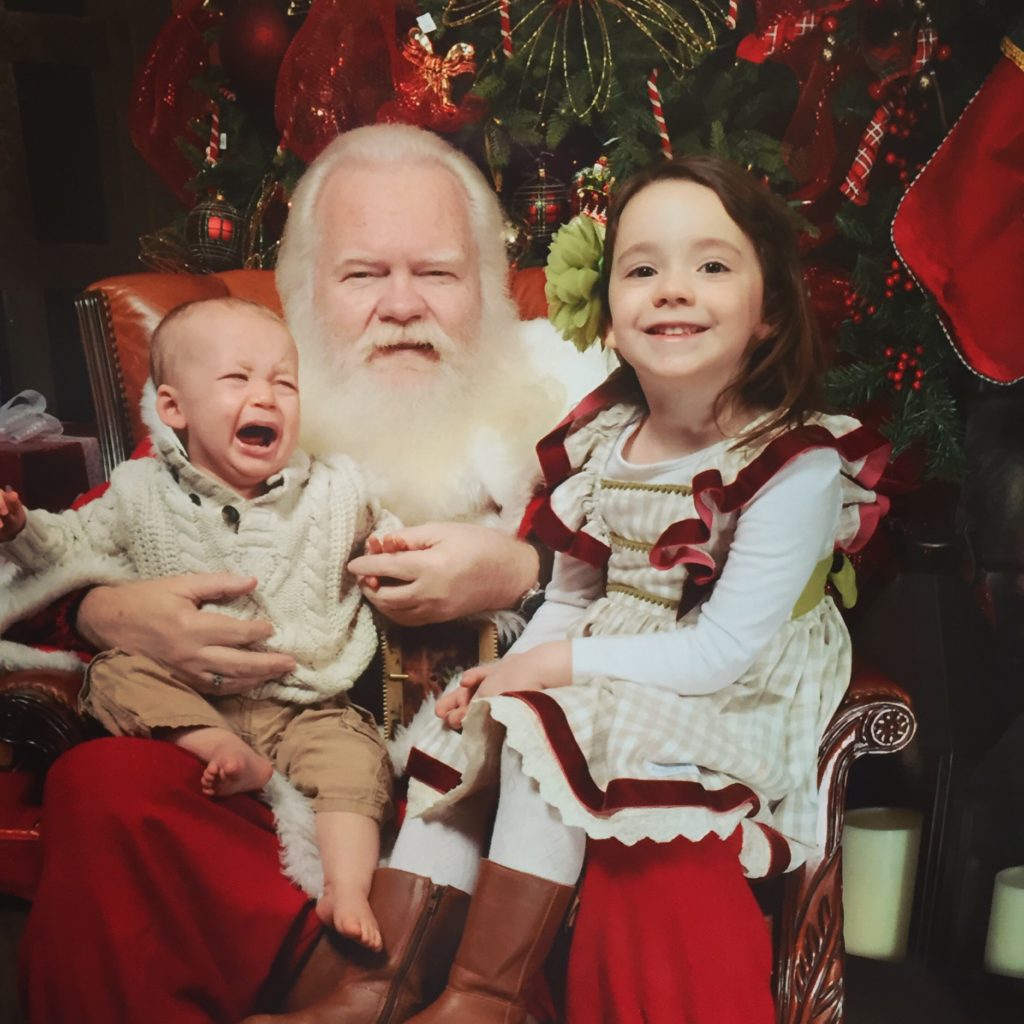 SCAVENGER HUNT
Geoff started this last year and Avery loved it.  He came up with things you had to find in the neighborhood like a reindeer, Santa, Sleigh, ask a neighbor for a piece of candy, etc and we went on a neighborhood scavenger hunt!  We are a big game family over here!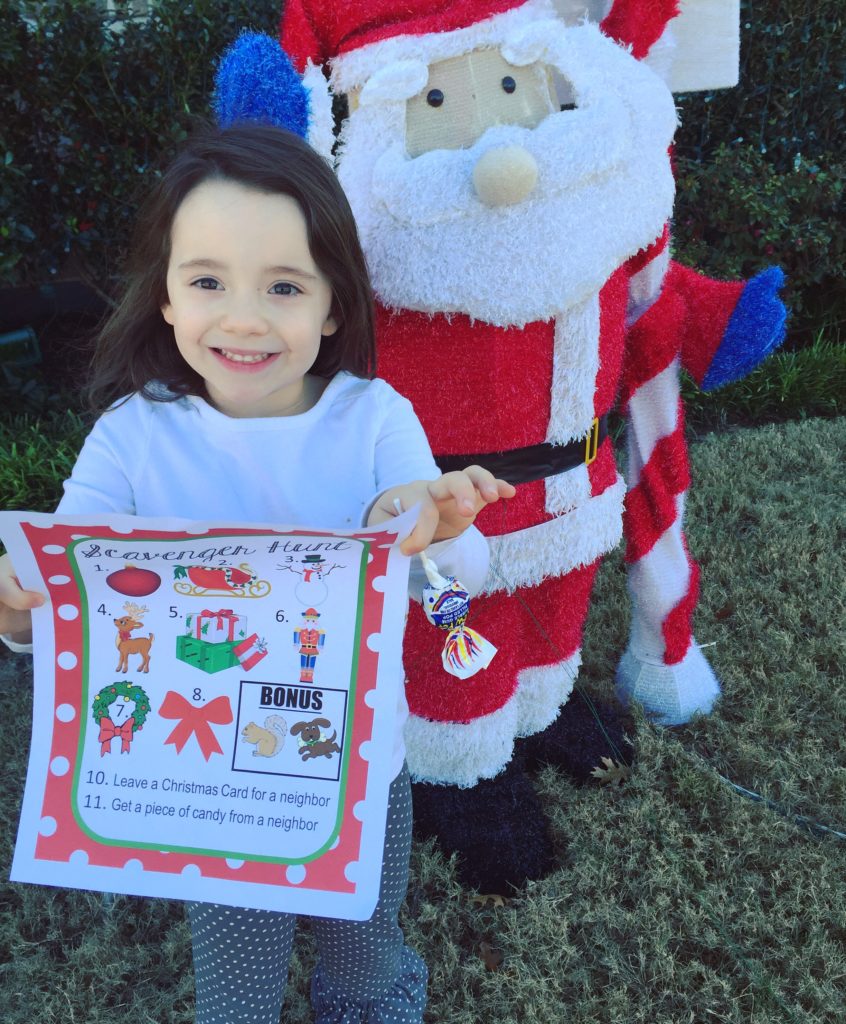 DOWNTOWN MCKINNEY-HOME FOR THE HOLIDAYS
We love our home town!  There are so many fun holiday activities there and they kick off the holiday season with Home for the Holidays the first weekend of December.  The square has so many fun things like a carousel, petting zoo, slide, amazing food, live music, Santa, Mrs. Clause, The Grinch, etc!  We went with friends and had a blast!  We love to go down there as many times as we can in December because it has such an amazing holiday vibe!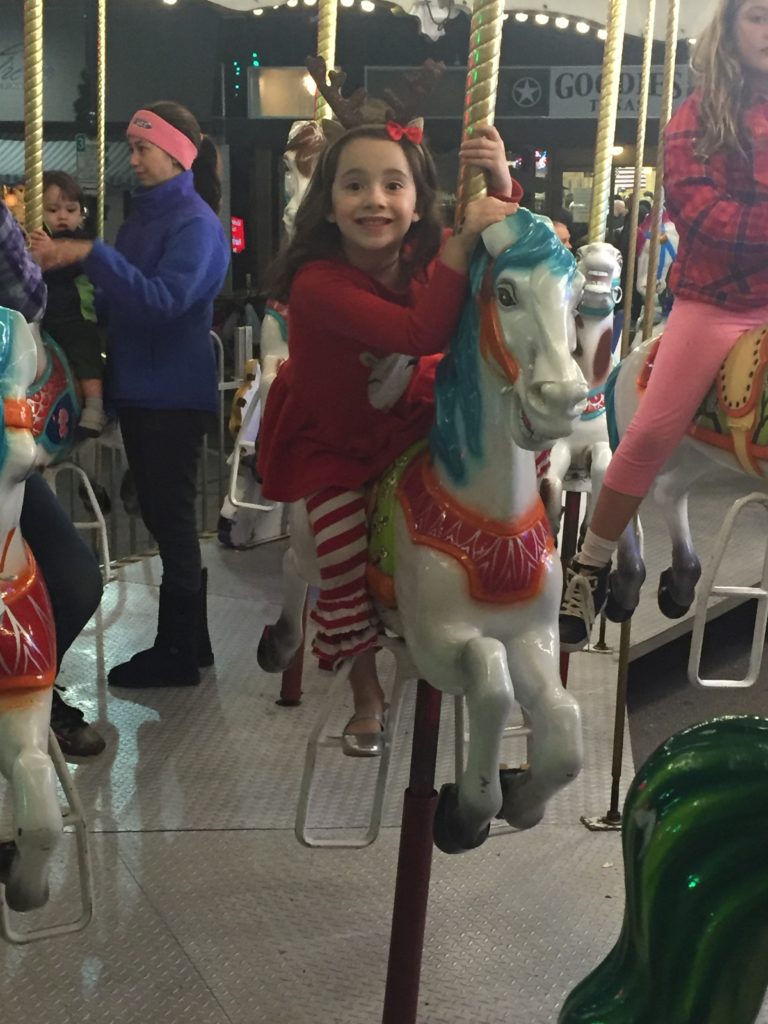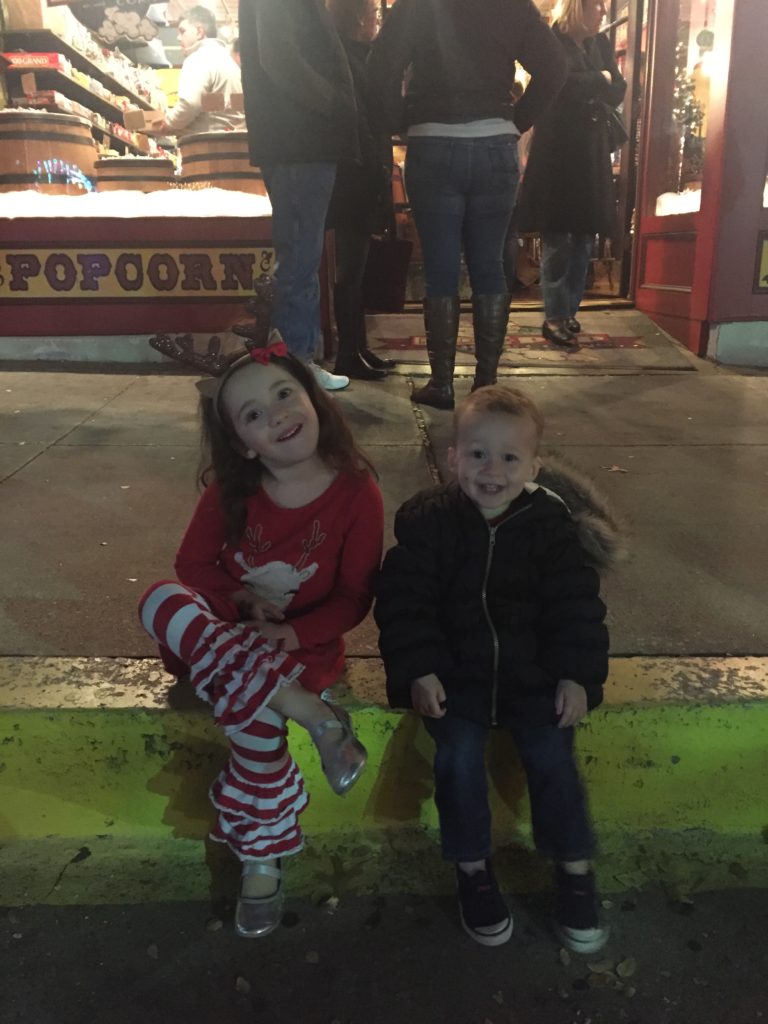 HOLIDAY HOME TOUR
I look forward to this every year.  It is a MUST on my list!  I even went one year in an ice storm.  If you are not from Texas you may not know….but we shut down during ice and snow!   HAHA….people from the North would totally laugh at us.  Anyway, our downtown has the most adorable historic homes with tons of charm!  5-7 are on the home tour each year all decorated for the holiday.  These homes are amazing!!  I mean the character is unreal!  I will be sharing a blog post on the home tour soon, but here are the ones from last year.  Seriously, there is so much good stuff I have to break it up into 2 posts!
McKinney home tour 2015 part 1,  McKinney home tour 2015 part 2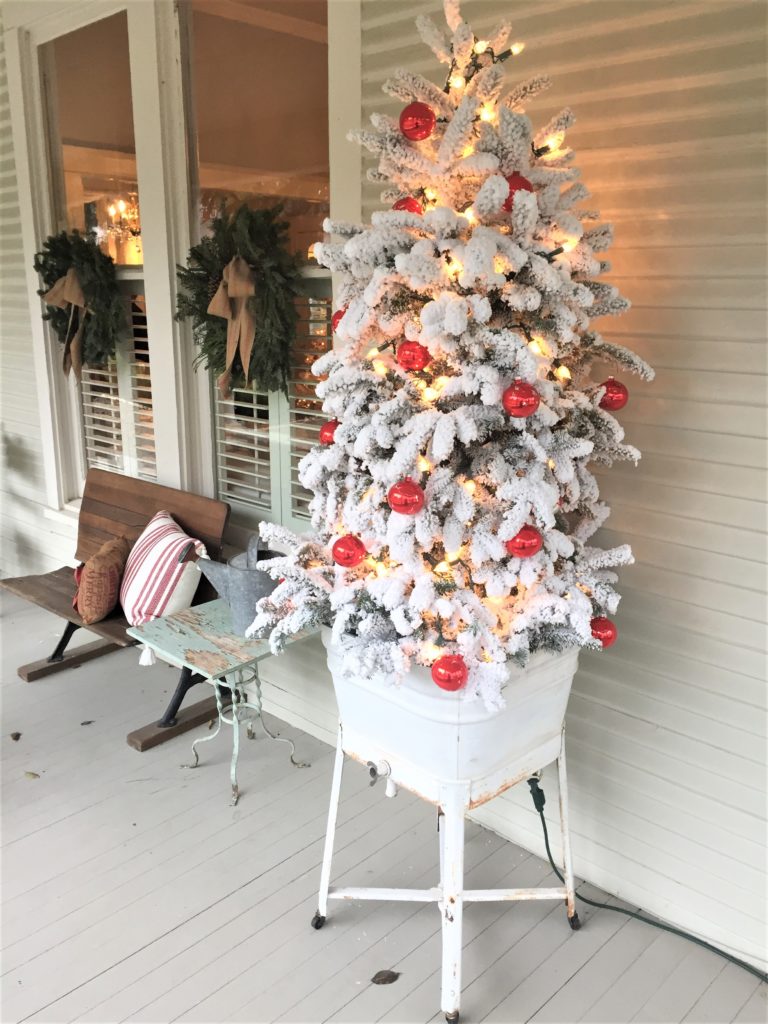 ICE/GAYLORD
The Gaylord is a HUGE hotel in the area and it is amazing during Christmas.  They decorate the entire thing and it is definitely worth going and looking around!  They also host ICE.  It is an exhibit completely made of ice.  We went one year and it was really fun….not something we will do every year, but was worth doing once.  We will do it again when Braden is old enough to enjoy it.  You don't need to go to ICE to make it worth going to the Gaylord!  Amazing photo spots here!  The kids LOVED the giant gingerbread house.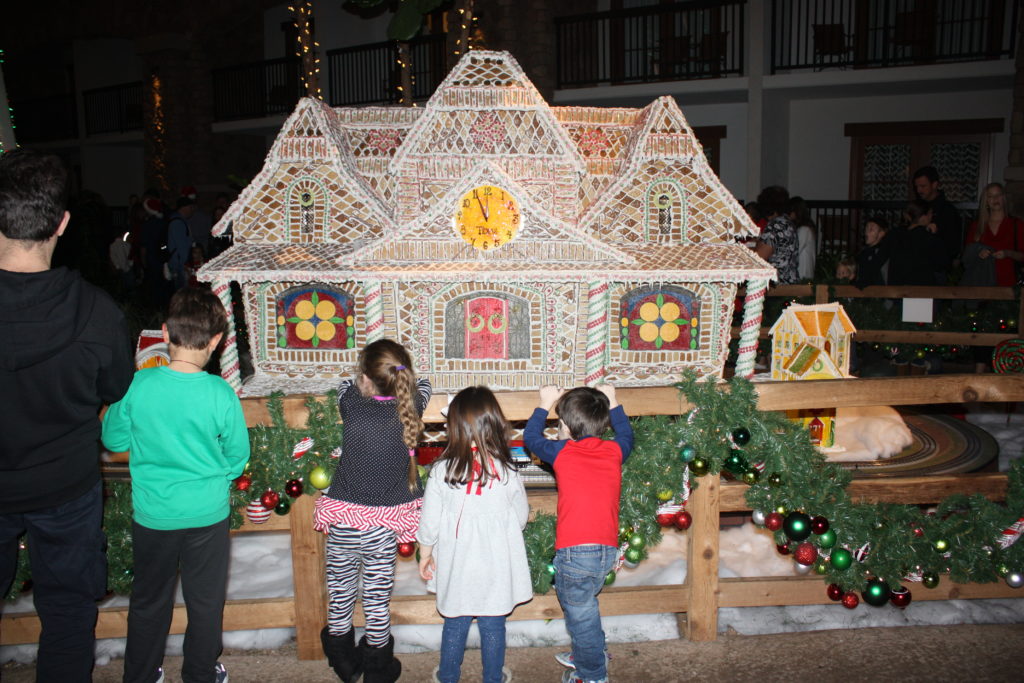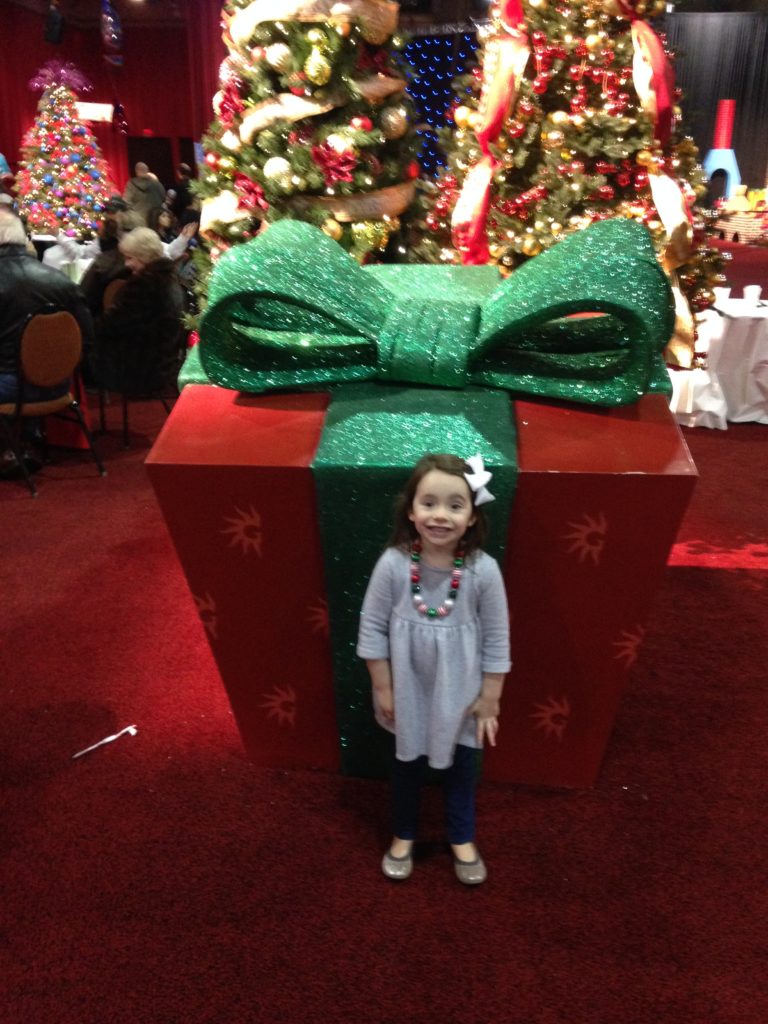 DOWNTOWN GRAPEVINE/POLAR EXPRESS
Downtown Grapevine is another spot we love to go.  It has a small town feel and gets very festive each year.  Again, lots of amazing photo ops!  They have a mistletoe kissing booth, lots of vintage set ups for pics, yummy food, great music, etc.  I think I take approx 5243 pics when we go there each year!  Everywhere you turn is another adorable spot.  They also host the POLAR EXPRESS train ride.  We went last year and it was fun, but not doing it again this year.  Again, it is probably something we will do again when Braden is old enough to enjoy, but that will be enough.  Not an every year activity for us….but downtown Grapevine definitely is.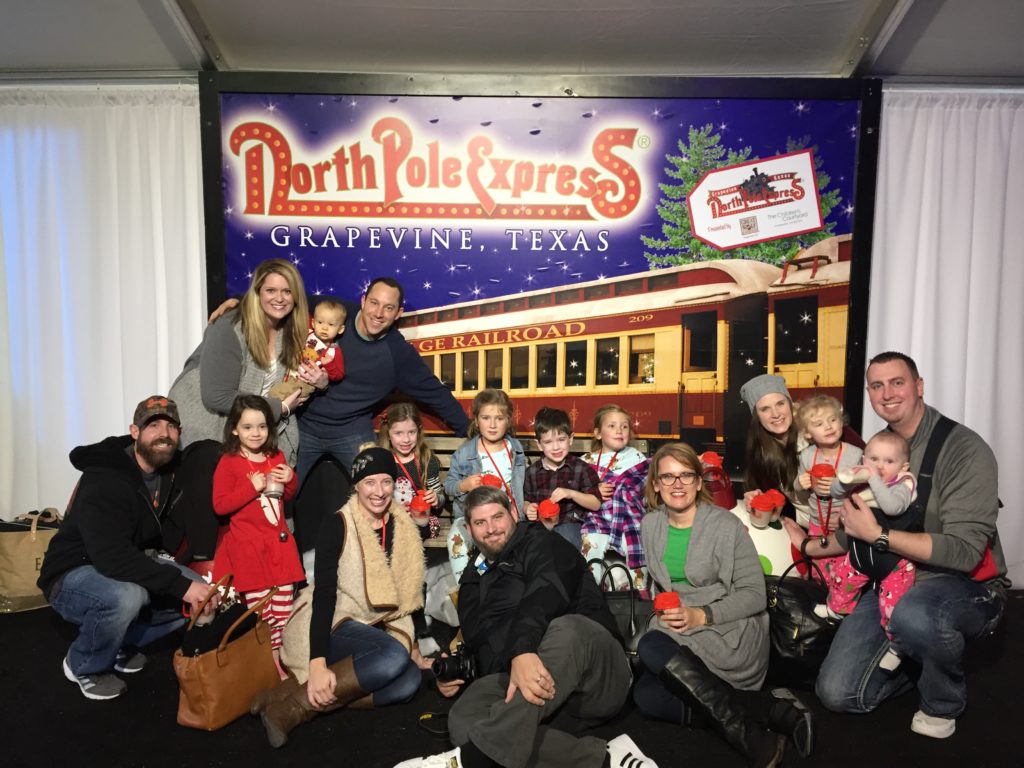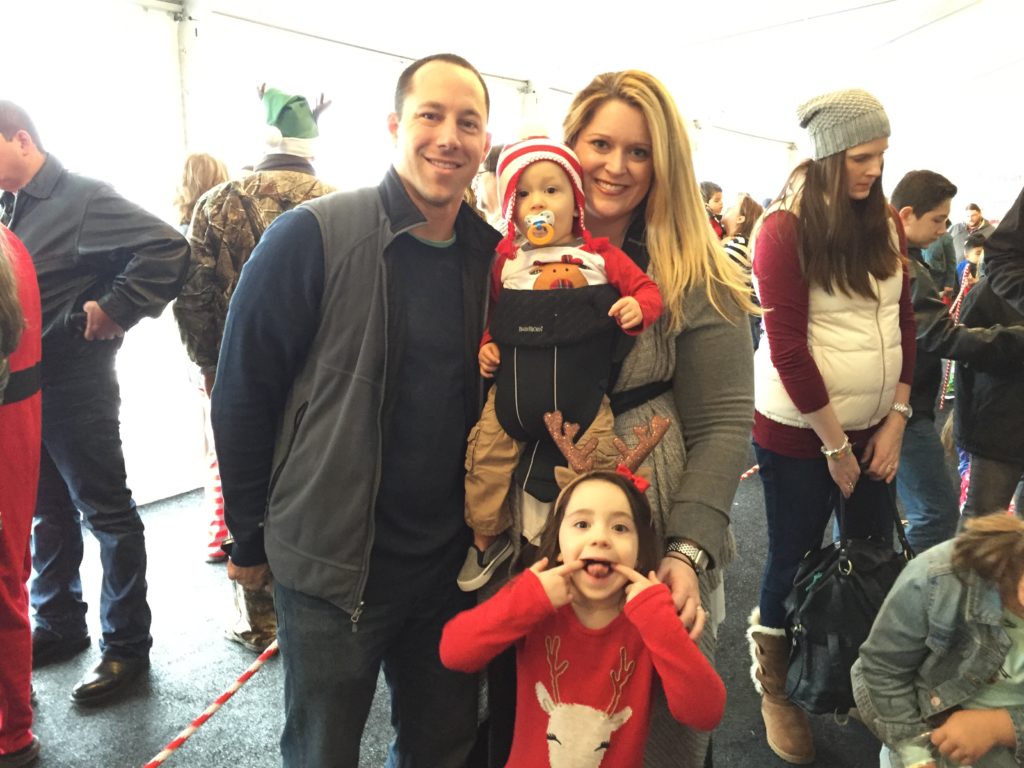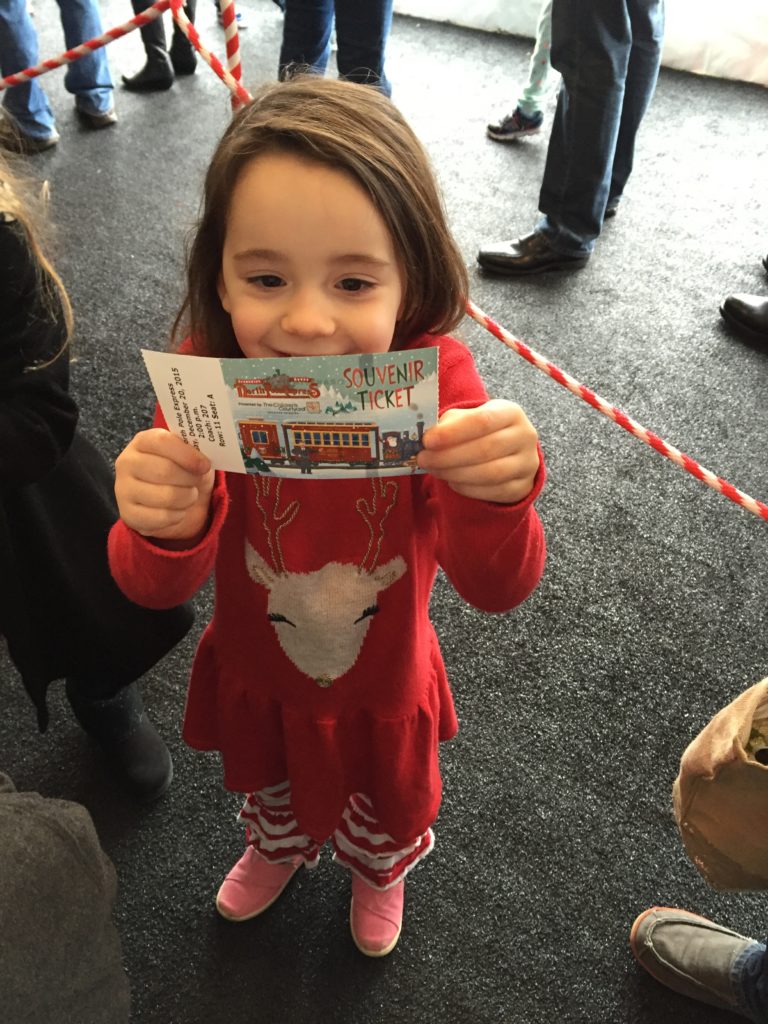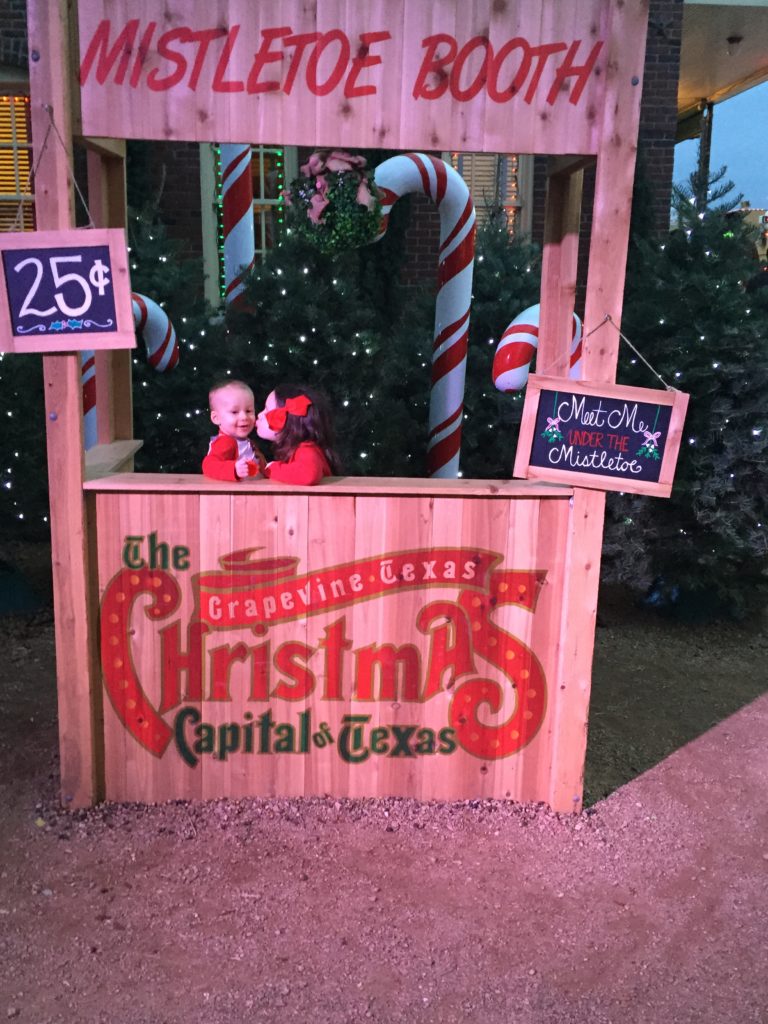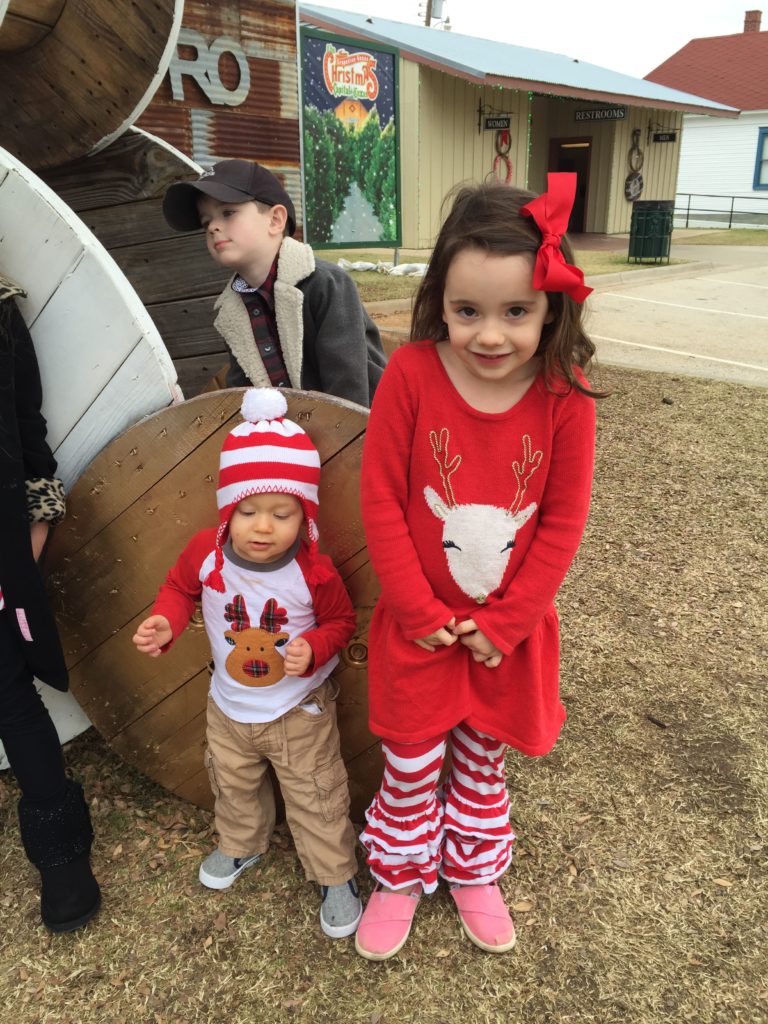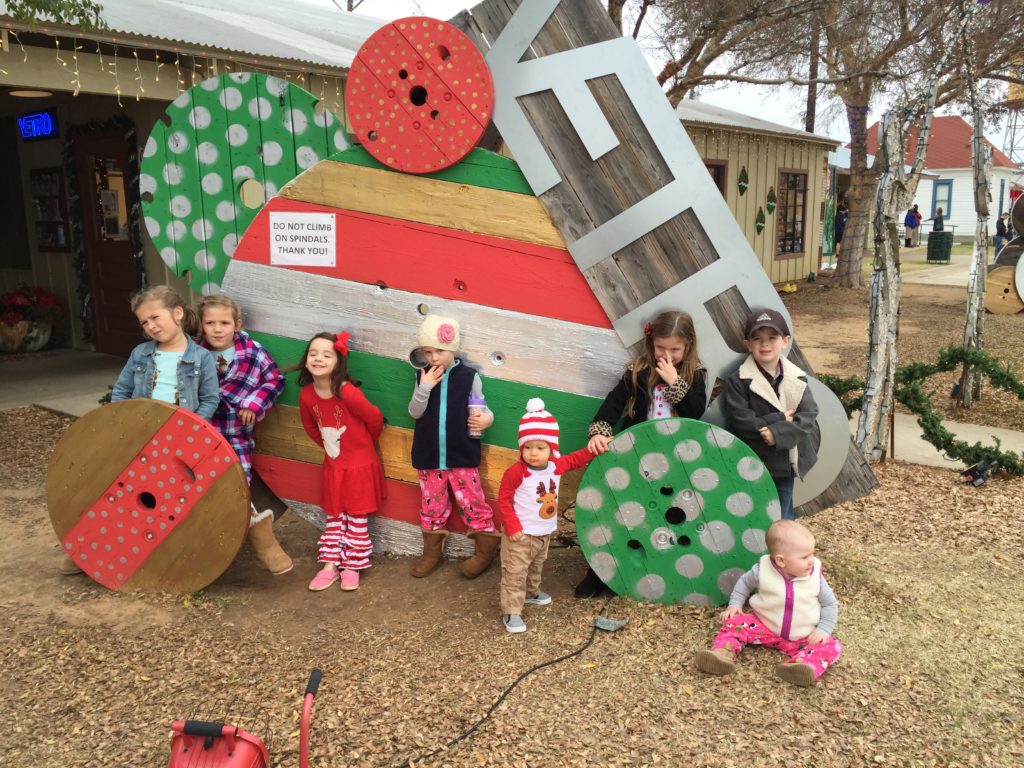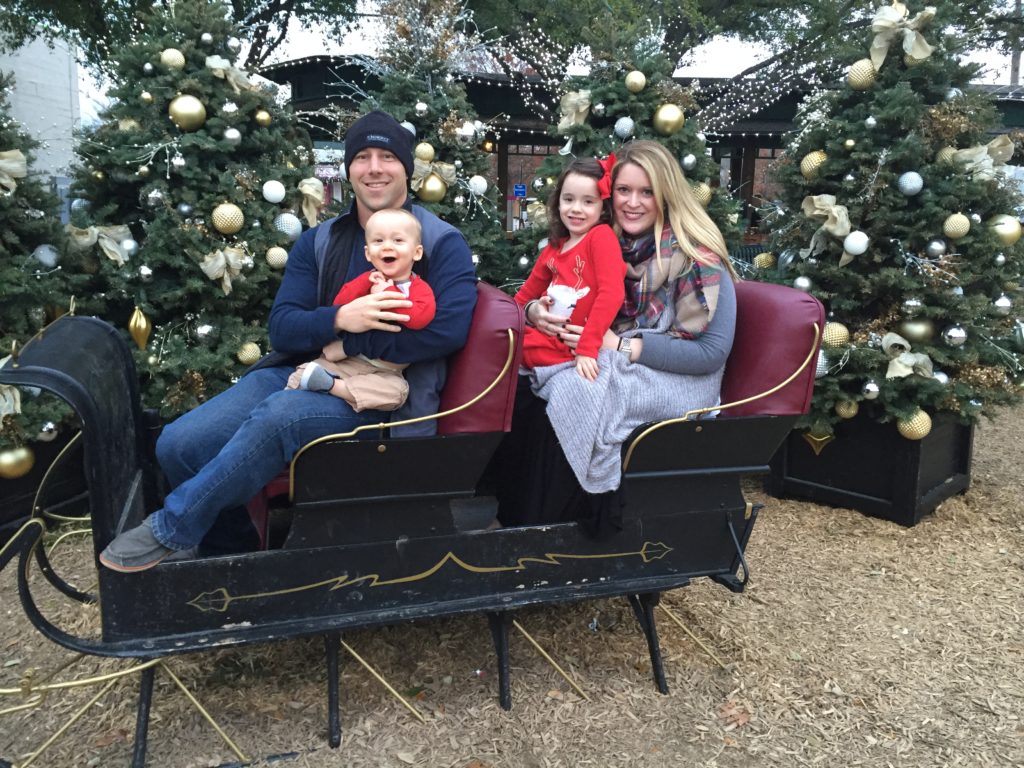 THE SHOPS AT WILLOW BEND
We usually just go up here for lunch one day and check out the spot in front of Santa because they let you go in there without paying for Santa pics and it feels like you are in a snow globe!  The kids love it!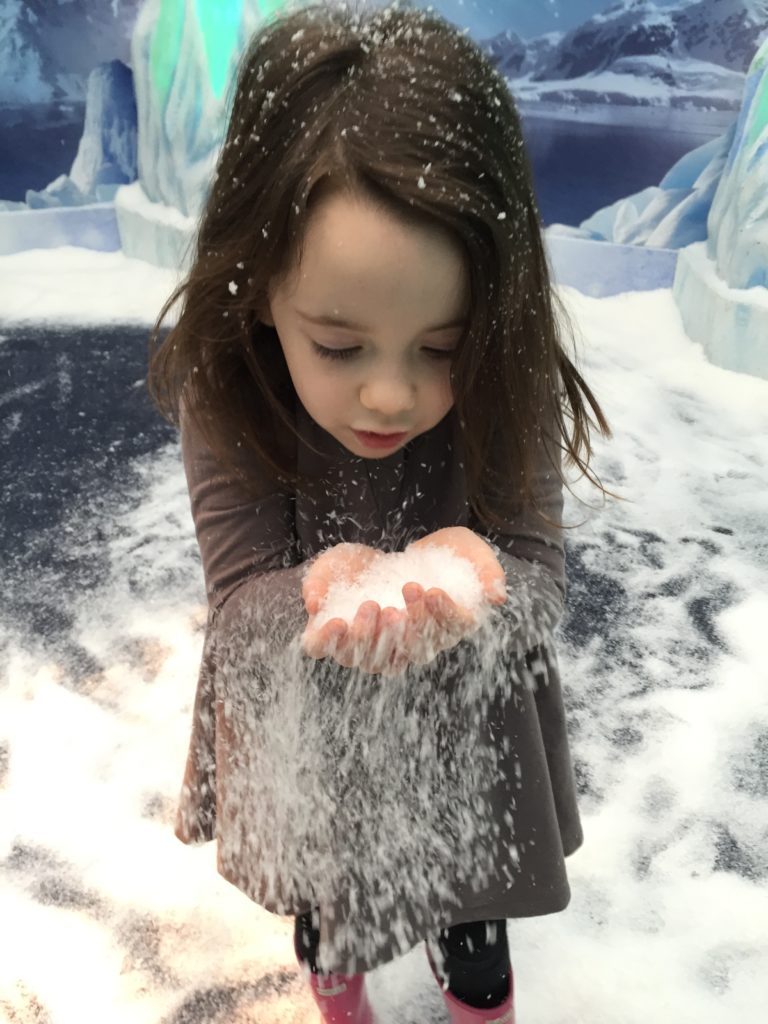 THE GIFT OF CHRISTMAS AT PRESTONWOOD CHURCH
This was pretty amazing.  Prestonwood church puts it on each year and it is like a Broadway performance.  I was blown away with how great it was!  Lots of singing, dancing, live animals, etc!  Seriously, live camels walk on the stage!  It is fun and then ends with the true meaning of Christmas!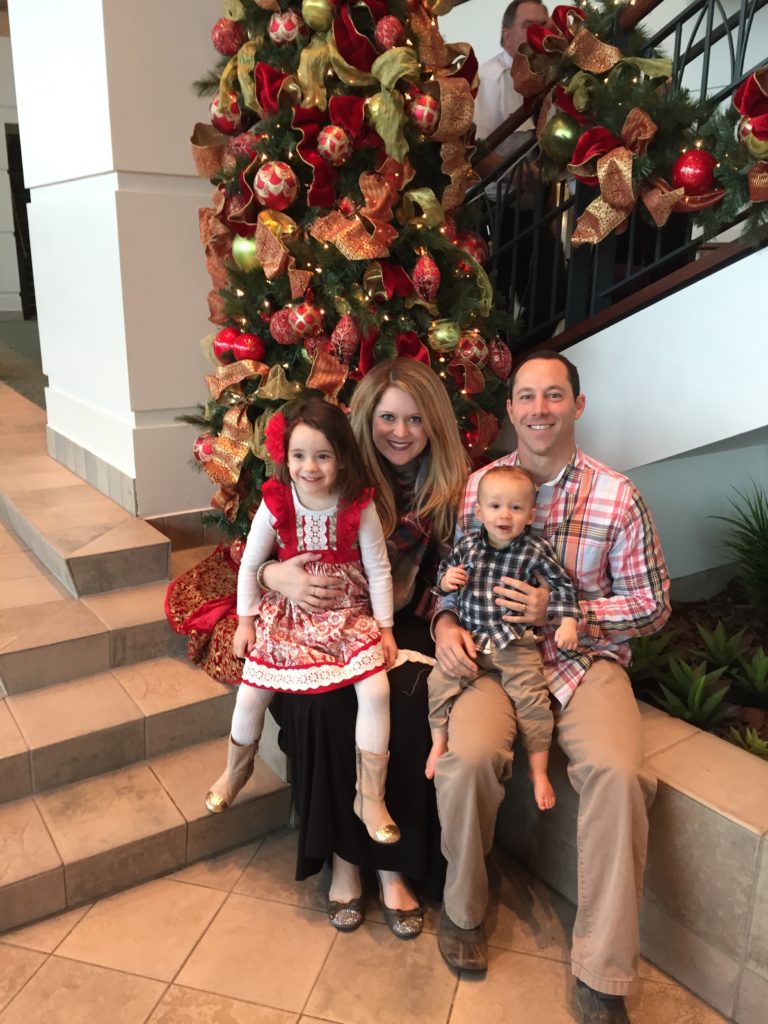 MOVIE NIGHTS
If we have a night at home we like to watch Christmas movies.  Home Alone and Polar Express are a must each year…we even had a Polar Express movie party 1 year.  We have a movie party each year…this year we did Finding Dory.  Maybe I am the only one, but Polar Express is a little creepy to me?!  Anyone else?  I mean we watch it every year, but its pretty strange in my opinion.  Geoff and I also watch Family Man each year.  I am not a huge Nicholas Cage fan, but I love this movie!  Very feel good!
Our Polar Express movie night 2 years ago!  Braden was 1 month old!!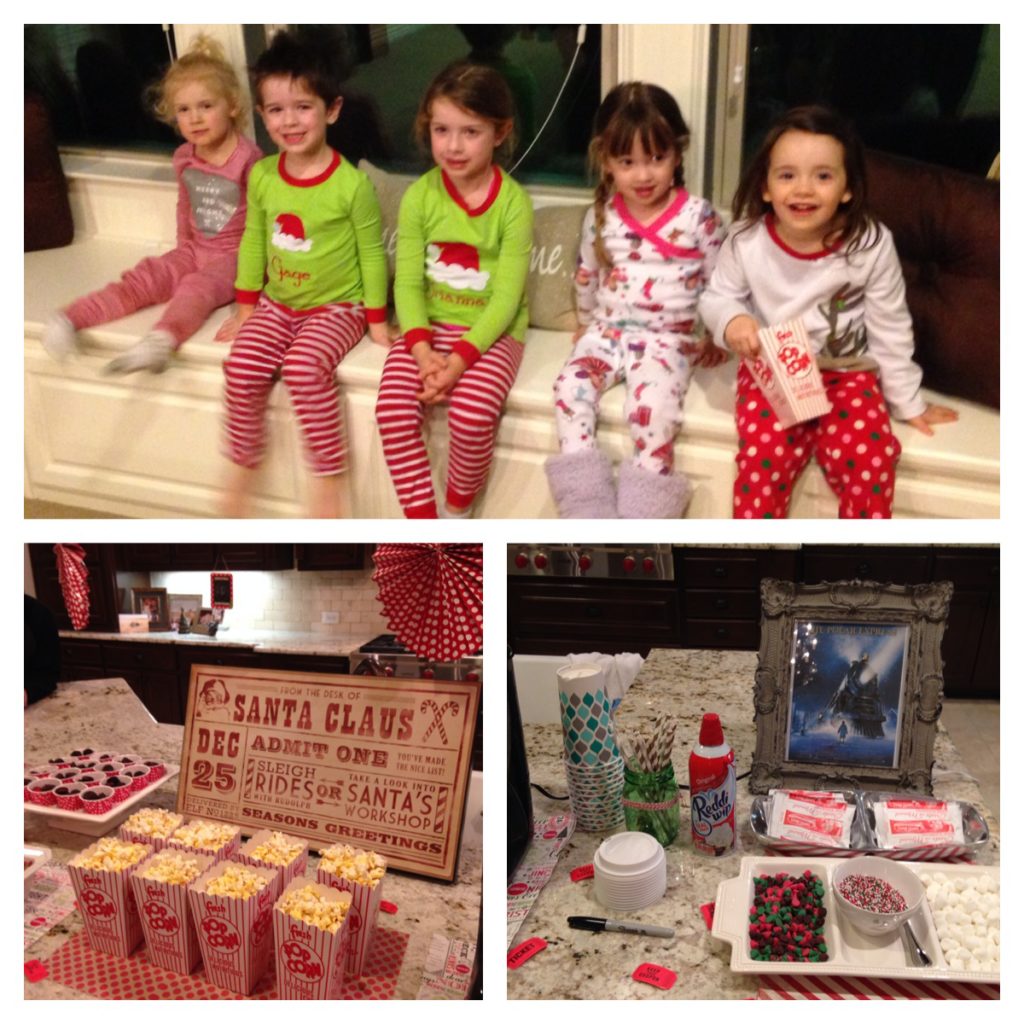 HOLIDAY PARTIES/GIRLS NIGHTS
Our friends throw amazing parties each year.  They are always back to back weekends and such a blast.  Both have white elephant gift exchanges and one of them does Minute to Win It games!  We are so blessed to have great friends and we try to make the most of it with all of them this time of year!  I LOVE me some girl time!  I do 3 different girls night/gift exchanges each year!  1 group does…bring your favorite $20 gift and then we draw numbers and can steal them.  Another group used an Elf app that secretly sends you a persons name to shop for.  We do a $40 budget for this one.  The last group we do a huge dinner party. My friend Jill decks out her home for the holidays and she cooks an amazing meal.  We each bring a dish. Having great women in your life is super important!
DOWNTOWN FRISCO
Downtown Frisco has a huge Christmas event once a year where Santa parachutes in.  We have never been to that before, but we like to go eat down there and look at the lights.  It is so pretty and has lights strung over the road and all over the courthouse that are synchronized to music.  Friday & Saturday nights snow falls every 15 minutes.  This is a BIG deal in Texas as we barely ever get snow!
PROSPER LIGHTS
The same night we eat in downtown Frisco we typically drive over to Prosper to see the most amazing Christmas lights!  I mean this house was on a TV show for the most amazing Christmas light display!!  We go every year and love it.  I cannot even imagine how long it takes to put all of the lights up!!  Below is a photo of them all like but they are synchronized to 31 Christmas songs and it is just so beautiful how they have it done!  Our family loves it!!  We pick up hot cocoa after dinner and drink it while we watch!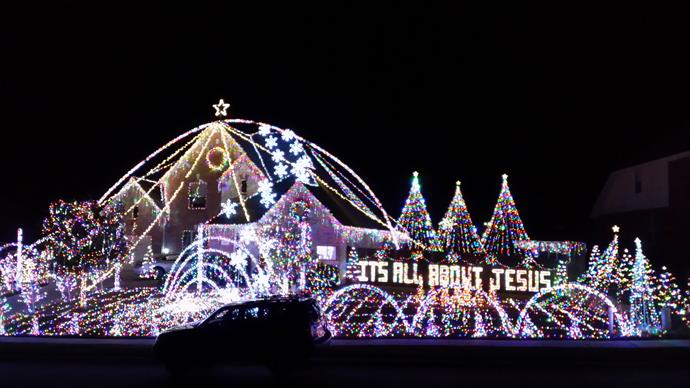 DEERFIELD CHRISTMAS LIGHTS
This neighborhood in Plano goes all out for Christmas!  It is a cool story….back when the neighborhood was built it was kinda in the middle of nowhere so the builders gave huge prizes for the best decorations to get people to drive out there and look at the houses for sale.  The tradition stuck and they have been doing amazing light displays ever since.  If you live close I highly recommend driving around this neighborhood.
WATTERS CREEK
There are lots of various events that go on here, but we like to go have dinner over here during the holidays.  The lights are really pretty.  The lights on the tree at Mi Cocina are just stunning.  It is a HUGE old oak tree!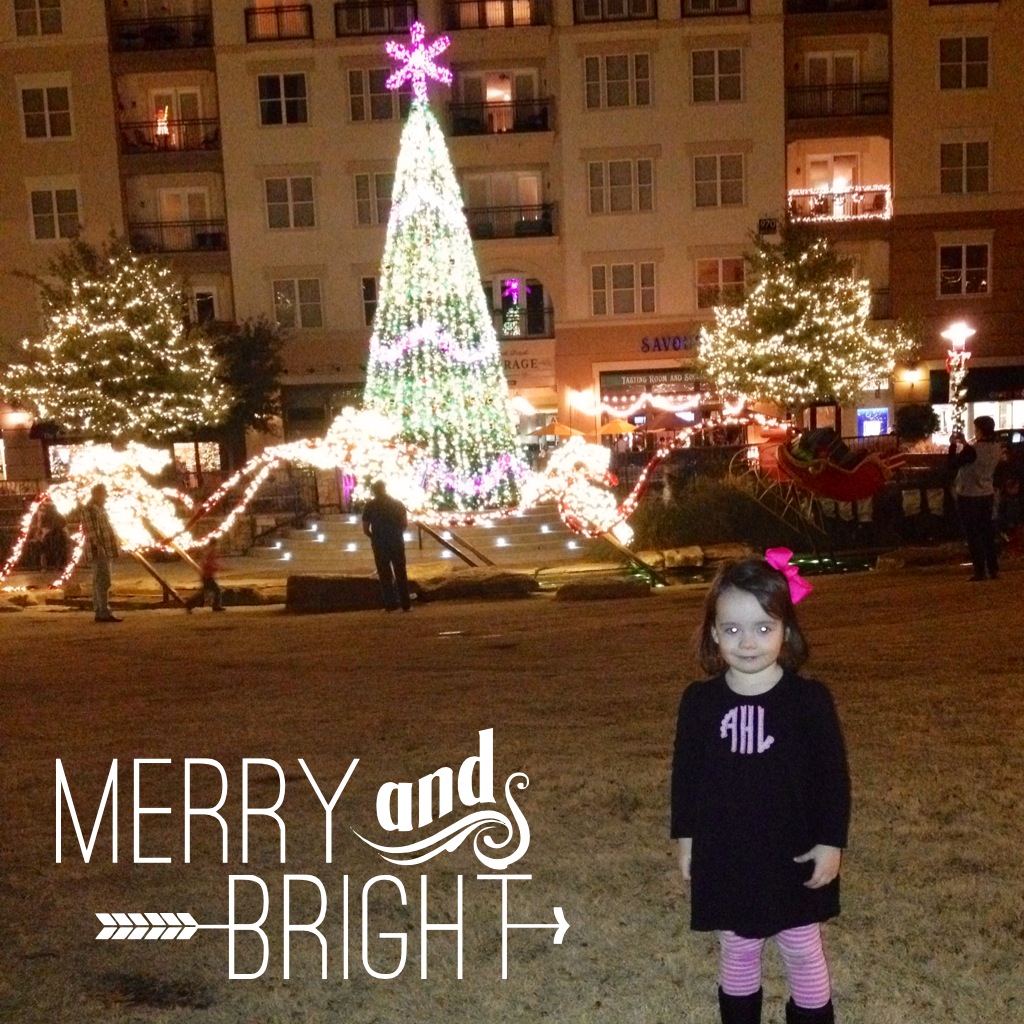 HIGHLAND PARK LIGHTS
If you have time…grab dinner in Highland Park Village.  It is so beautiful this time of year….then head over to Highland Park and look at the amazing homes all done up for Christmas!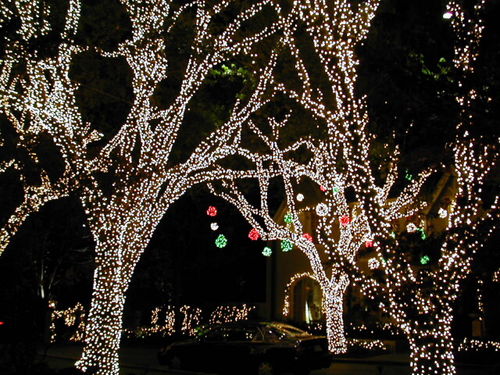 PRAIRIE LIGHTS
We have never done this before, but we are going to check it out this year.  I have heard great things about it.  It is in Grand Prairie and its 4 million lights over 2 miles.  You drive through and there is a Holiday village in the middle you can stop at, meet Santa, go to a light show, etc.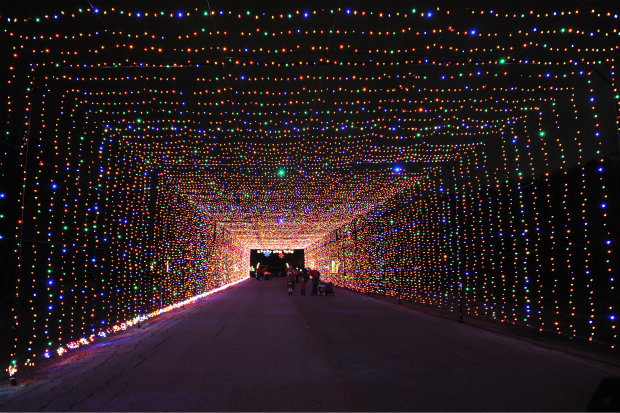 TRAIL OF LIGHTS-AUSTIN
Austin is one of my most favorite cities.  I went to school at UT and I just love going back there.  It feels like my second home.  I LOVE the Trail of Lights.  I went every year in college and have gone back many years since then.  We took Avery a couple of years ago and we will probably go back next year.  If you are in the Austin area….you have to go!  It is absolutely amazing!!  You have to spin under the huge tree of lights in the sky.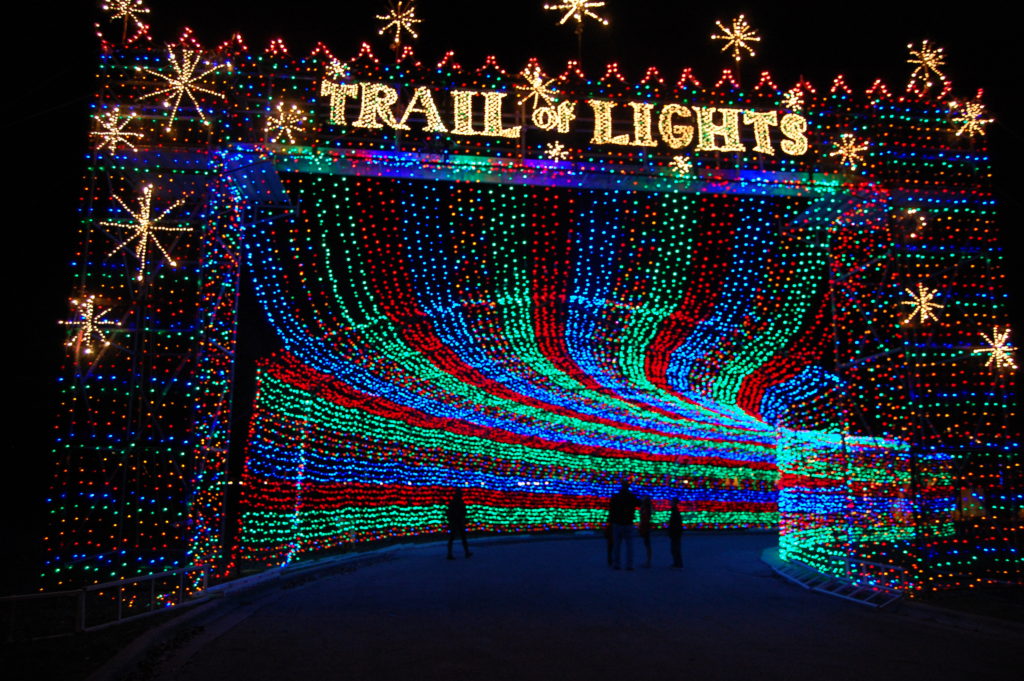 ANGEL TREE
Each year we have Avery adopt an angel.  I love seeing her get excited about gifting others!  This is what the season is really all about!
COMPASSION PROJECT
This event happens different times during the year at different locations, but we have never gone before.  I am very excited to go this year.  It is a free event at local churches and it walks you through the life of 3 children living in Uganda, the Philippians and the Dominican Republic.  We are all so blessed and especially this time of year I want my children to see what it is like in other parts of the country.  These children live on less than $1.90 a day and you get to experience their homes, schools and markets.  Seems like an amazing opportunity!
Ok, whew…..I told you that was a lot!  Hope you got some fun ideas to do with your families.  I would love to hear your traditions in the comments!  Always fun to hear what other people do to celebrate!
Happy Holidays!